My New Touring Bike
~As of Fall 02001~
Ok, in case anyone cares here are the specs and pictures of my new bike.
In short, I really love this bike. It is the most comfortable, and best handling bike that I have ever had. Without any bags the bike weighs in at a plump 31.5 pounds. But, you know, I don't really feel any added weight. Also, it is the only touring bike that I have ever had that I would be willing to take on a longish stretch of gravel, thanks to those over-the-top Conti TT2k 47's (see below).
The rational for this bike was to be able to handle a 6' 4" 220 lb rider (that's me), who likes to over-do it in terms of distance and terrain on tour (also me), and hopes to use it for some rather intense expedition-type touring (me, once again, but still a fantasy at this point).
Below is a list of the hardware, then some pix, followed by my comments and answers to some anticipated questions.
Frame:

Cycles LaMoure Custom, True Temper OX-Gold Tubing, Henry James dropouts & shell; 145-mm rear spacing

Wheels:

Built by Peter J. White
Rims
Sun Rims Ryhno Lite 48 Hole
Spokes
DT Alpine III
Hubs
Front; Phil Wood fsa
Rear; Phil Wood fsa, 145 mm axle
Skewers
Salsa
Tires
Continental Top Touring 2000
700 x 37, or 700 x 47

Components:

Headset
Chris King, 1" threaded
Handlebars
TTT Prima 199, 46-cm
Stem
TTT Status, 13-cm
Bar Tape
Cinelli Cork, Black
Shifters/levers
Shimano 105 9-speed
Brakes
DiaCompe "Big Dog", Shimano Pads
Front Derailer
Shimano Ultegra triple
Rear Derailer
Shimano XTR mega-9, Long cage
Cassette
Shimano XT/11-34, 9 speed
Chain
Rohloff, 9 Speed
Bottom Bracket
Phil Wood, 113 mm
Crank Arms
Race Face Turbine LP, 180 mm
Chainrings
Engagement/TA, 54/40/28
Pedals
Shimano Ultegra SPD
Seatpost
Thompson Road Elite
Saddle
Brooks Swift, brown
Computer
Cateye AT-100

Odds & Ends

"Big Cage", 1.5 liter water bottle cage
Third Eye Chain Watcher
Rear Rack
Jandd Extreme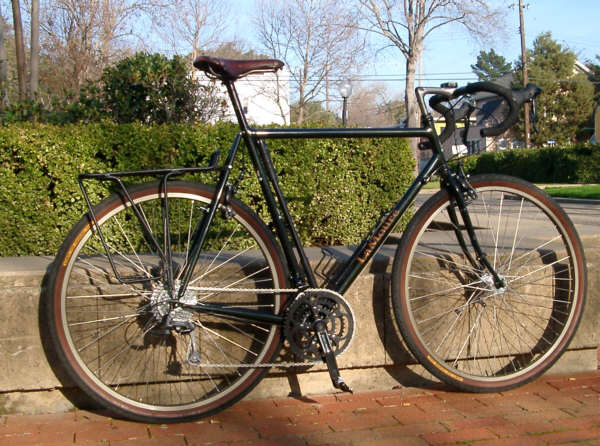 Here it is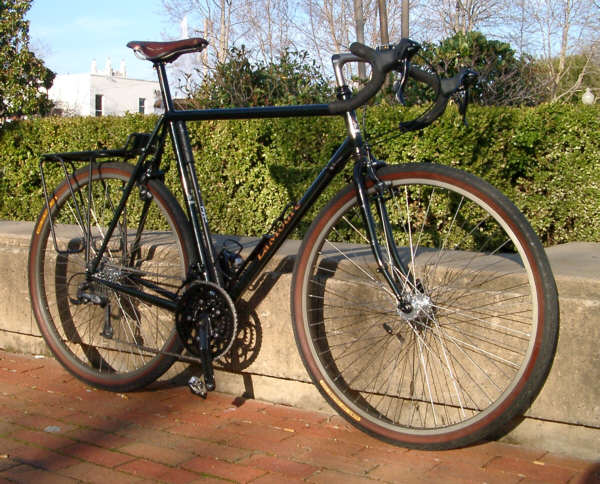 And a shot with my new (beautiful) pair of Arkel panniers attached: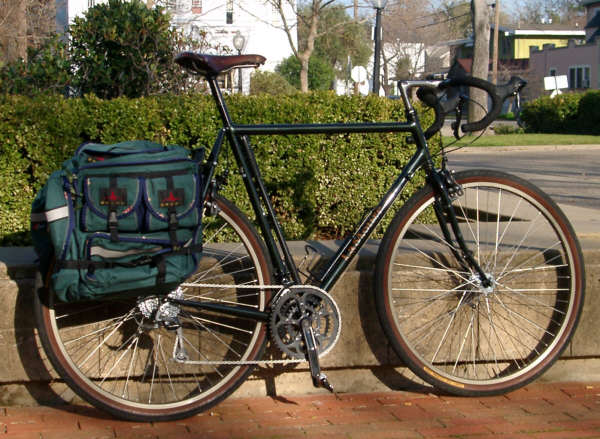 The Frame: When I first talked with Mitch, the framebuilder, I asked for three things; A good touring geometry, clearance for the 47 tires, and a 145 mm rear axle. He had no problems with any of this, and had some nice suggestions as well. We discussed all of the little details (which I really enjoyed) like the fact that I did not want an extra bottle cage mount on the seat tube (because that's where I like to put my pump). Mitch did a great job on the frame, though it took a while ;-) and the joinery is really beautiful.
The Wheels: I wanted overkill, and that's what I got. These are great wheels, and Peter did a masterful job of building them. I have had rims fail on tour before (twice) and it isn't fun. I'm expecting much better from this set. It took me weeks, or months, of scouring the 'net to research exactly what hardware I wanted, and it wasn't easy to find all of it in the end. I definitely wanted 48 spoke wheels, but the rims needed to be wide enough to accept the Conti 47's. Not an easy combination, but I finally located some Sun RhynoLite's that fit the bill at TandemsEast. Of course, they are not making them any longer, so I bought the last 4 that they had with the brown-gray finish (must have a couple of spares!). The other nice thing is that the combination of a 145 mm axle and the Phil hubs make a rear wheel with zero dish (woo hoo!). I know that with a well-built wheel, a little dish is no big deal. But I like this situation for field-repair purposes. I have built several of my own wheels, and I know that if I ever have to repair this one in the middle of nowhere, I'll have a much easier time of it this way.
"Big Dog" brakes. Huh?: I had the most difficulty in finding brakes that I was happy with. It is probably a personal bias, but I just don't like either cantilever or v- brakes. I find them to be a pain in the neck to set up properly, the pad life always seems too short to me, and I've never really liked their braking feel. All of my other touring bikes have been more of the "sport-touring" type, and had plain vanilla 105 caliper brakes. If I could have used these again, I would have in a heartbeat. But, alas, they will just barely fit a 32 tire, so what is one to do? Well, after many hours of searching the 'net I discovered another option. DiaCompe once made (yes, another discontinued product) a brake for BMX bikes called the Big Dog. They are dual pivot calipers with a reach of 70-90 mm and plenty of room for the 47 tires.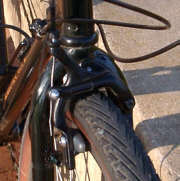 A Big Dog on the front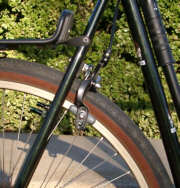 And the rear can be mounted inside the rear triangle for easy access when the rack is installed
Of course, being discontinued, they were a pain to locate. Finally, I found some from PeopleMovers (the recumbent folks) in Southern California. St Johns Street Cycles in the UK also still has some.
Right now, all I can say is these brakes are fantastic. They have more than enough braking power, give a lever response that's just the way I like it, and don't make a sound (Yeah!). Also, I can use my favorite pads, plain old Shimano threaded road pads, which usually give me at least 8000 miles. The brakes look to be sturdily built, but I guess time will tell how durable they are. However, I did not find these until after I had the frame built, so if I ever have to throw some more mainstream v's or cantis on, I have the posts already brazed on and ready to go.
It's too bad that DiaCompe never sold these brakes to the touring/tandem builders. I think that they would have made a nice addition to these types of bikes.
A narrow saddle like the Swift! What's up with that?: What can I say, I've always been a narrow saddle kind of guy. I broke this one in on my previous bike, and it already has a bit over 8000 miles on it, and it feels great :-). In a bit of irony, though, the only titanium that is on this bike are the rails of the "old-fashioned" Swift. That wasn't intentional, though. I really like the natural brown color, but the Swift is the only narrow Brooks that comes that way (at least I think it is)
A 54 up front! Are you nuts!? Well, I don't think so, and at least I know enough to keep my big mouth shut during all of those "That gearing is too high for loaded touring!" debates.
It's just me, but I like a very wide range for a touring bike. And the range on this bike is just right for me, the 30-34 gives a granny of about 24 gear-inches, which is plenty low enough for me (I'm a rather big guy, remember), and the 54-11 gives 132.5 gr-in. That is a pleasant gear for me in my home terrain, and where I often tour. Ok, so I probably won't use it when crossing Kansas, but I like having it none the less. The shifting is not quite perfect up front (only the granny>middle shift is a little problematic) but I can live with that.
I promise that I won't ever suggest this combination to any novice tourists out there! ;-)
No fenders! You're crazy!: Ok, maybe I'll concede the point on that one. I can't really say why, but I've just never been very enamoured with fenders, illogical as that may be. I guess I'm just used to spending 95% of the time that I tour covered in road dirt anyway (good thing I usually tour solo, eh?). I do think that I will, at some point, home-build a little extension to the rear rack to help out with backstripe.
How are the Conti TT2k 47's?: You know, I am quite surprised at how nice the ride is with these. I expected a smoother ride over rough pavement, and that is the case. But I also thought that there would be much more rolling resistance, and to tell the truth, I just don't notice any if it's there at all (I could just be a big, insensitive oaf, though).
However, I always planned on only using the 47's on tours where I know there will be really lousy roads, or gravel riding. Most of the time, I'll use the more common 37 size.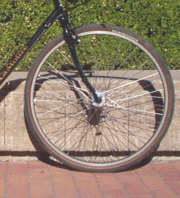 Even with a poor photo, the 37's look more "normal"
STI, not Barcons? Well, I have toured with Barcons, and I like them. And I have toured with STI and I like them also. In the end I'd rather go with STI, because I am now more comfortable with their performance. For a very long tour I will, however, use the trick of carrying a down-tube friction shifter just in case. Made sure that the frame can take 'em ;-)
What's up with all the Black?: You noticed that, did you? Here's the story. I am one of those renegade tourists who likes to freestyle camp whenever possible. On rare occasions, this may mean stashing the bike in the bushes somewhere when it's too hard to bring it to where I'll set up my tent. Done with care this is never a concern. But, I thought that it might be a good idea to try and minimize the amount of shiny reflective parts just in case.
So, I tried to buy a black component if it was available that way. Ok, so, admittedly, I lost control from there on and if possible I either black-anodized (brakes, chainring, pedal housings), or painted with black epoxy-enamel (shift levers, part of the bottle cage, down-tube cable stops, the rear rack struts, and the outside of the front derailer cage) whatever was silver and shiny. The rims are already anodized a dull gray-brown color, the cassette and chain will, of course, be black with oily dirt before too long (hey, no nagging about that!) and if I could have figured out how to do the hubs without ruining them I would have.
Another plus about doing this is that, since I was painting anyway, I was able to almost completely "de-logo" the entire bike. A nice label on the frame is one thing, but giant white lettering on every part gets to be a bit much for me. I really don't want to be a rolling ad for the whole bike industry. The big offenders here that got the "treatment" were the RaceFace crank arms, the Chris King headset (sorry Chris) and the Salsa skewers.
You have to admit, though, that it is a nice look: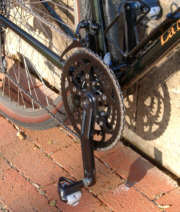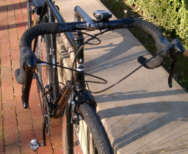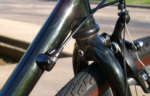 So, that's it, thanks for looking &
Happy Touring!
---