A Mixed Bag in Thailand
June 16, 2021
CYCLING & TRAVEL
Once I had been freed from my Bangkok quarantine, I was more than ready to get started with a moderately-lengthy tour in Thailand. That would be both a major relief and often a logistically frustrating experience. Additionally, Thailand would be another duplicate country, one that I had visited on my previous long tour. In most cases that might be a factor that would disqualify a particular place from inclusion in a tour route, but, once again, I mollified those concerns in my mind because my earlier tour in the country had been somewhat truncated. That was not due to any particular problem or deficiency of Thailand itself, but rather because I decided to add a visit to Laos, at the last minute, with the result that I had to bypass a large portion of the country. This time I intended to compensate for that change by spending most of my time in areas that I had skipped previously. Thailand is rather regionally homogeneous, so I was not really expecting to see anything that would be particularly novel to me this time. Instead I focused most of my attention on what might have changed, or not, relative to my first tour, fifteen years earlier.
One of the most important factors for the success and enjoyability of a long tour, namely the suitability of the road network for cycling, exhibited some similarities and some differences compared my first visit. This time I was quite impressed by the extensive network of secondary and minor roads, almost all of which were in excellent condition with good shoulders. I had no particular memory relating to Thai roads from the last time, and I think that I would have, had they been of that quality back then, so a considerable amount of improvements must have been made during the intervening years. Additionally, a greater percentage of the signage today also displays English in addition to Thai, or at least transliteration into the latin alphabet. Street View is decidedly more comprehensive in the country than many other places I have been during the Tour, so, together with the factors already mentioned, devising a good route is generally easy. However, there were a few instances where particular roads that looked nice on Satellite or Street View had been downgraded (also known as widened) some time in the years since the imagery was recorded. In those cases, and some others where other options were not readily available, using the larger highways, which always had wide shoulders, was possible, though neither interesting, nor very enjoyable. Another issue that remained unchanged was an especially annoying characteristic of local roadway design. That is, when one needs to make a right turn onto a major road you are forced to travel in the wrong direction, often for a considerable distance, and then make a U-turn to return to your intended course. Fifteen years earlier, that deficiency led to an incident that eventually caused my bike to split into two pieces in a remote part of Laos. Consequently, I was especially cognizant of the possibility for a repeat of a similar mishap in such situations this time. Fortunately, traffic behavior seemed considerably less chaotic most of the time, perhaps due to covid slowdowns, so I managed to avoid any troubles. Specific infrastructure for cycling was rarely present, though in most cases it wasn't really necessary. I noticed just one separated bicycle path, perplexingly located parallel to a small road in a rural location, and two or three striped lanes on secondary roads. The latter were often marked with signs like the one shown below. I am not quite sure to whom that warning is directed, but every time I saw one I seemed to be reminded, for some reason, of the phrase Surrender Dorothy!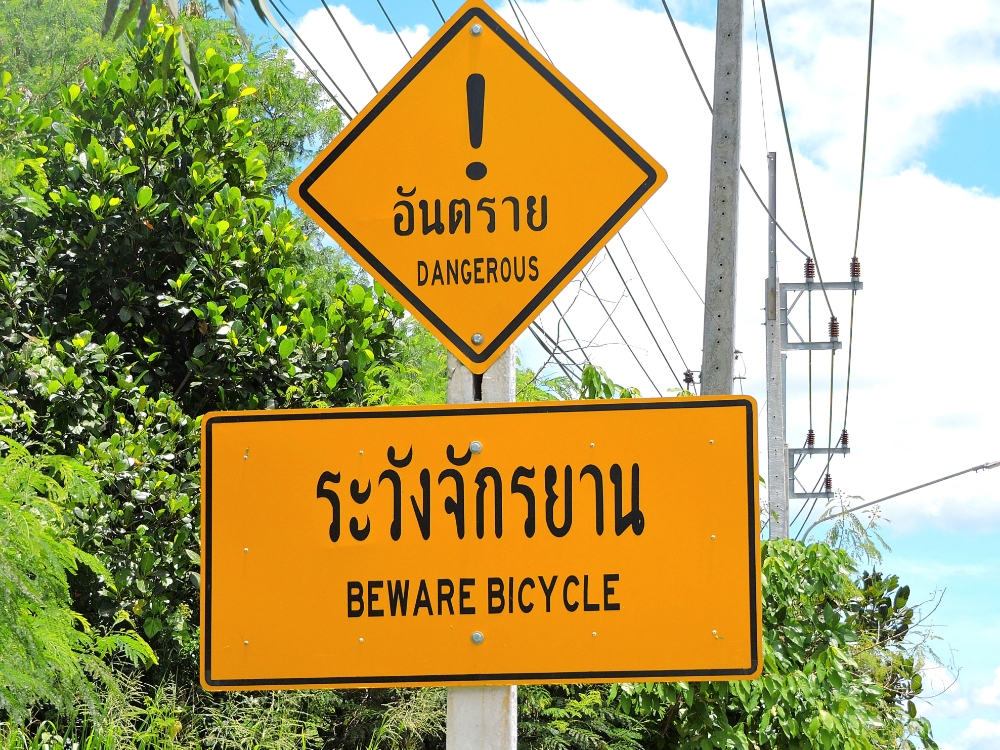 An important positive aspect that has also not changed, more or less, is that Thailand is still one of the most affordable nations to visit in Southeast Asia. For example, outside of Bangkok, a perfectly usable hotel room has a rate between fifteen and thirty Dollars per night. I have never been sure exactly why this is the case, since Thailand is generally a very westernized country (or, more accurately, it exhibits Eastern-style Westernization,) and that situation usually leads to higher costs. Given my continuously-increasing level of overspending, however, I certainly didn't complain. Thailand is also one of the World's best food destinations, but, unfortunately, this time whenever it was time to eat, the best food and I were rarely in the same place simultaneously. That was a fairly big disappointment, and I wasn't really able to enjoy the best dishes until near the end of my visit. Like many East Asian countries, convenience stores are one of the most popular places to get food, especially the omnipresent 7-Eleven chain, which, except in the most rural places, seem to be located every few hundred meters along the roadways. I utilized those frequently during the earlier tour, partially for their namesake convenience, but also because they always have their air conditioning cranked up to the maximum, and I did so again this time, for the same reasons.
That was especially important this time, because, compared to the earlier tour, which took place during December and January, this visit, in April and May, felt significantly hotter. Indeed, during the World2 Tour all of the T countries, Trinidad, Turkey, Togo, and now Thailand, have been exceedingly hot and usually humid. This time, that fact really took its toll on me, physically, and that caused me to set a slower pace over much of the route, though with no real deadlines looming that was not really a problem. Another situation I noticed was definitely a big improvement compared to last time. Back then it was a common practice around Southeast Asia for local people to burn garbage on the roadside, though that was probably more of an issue in neighboring countries, and, with a high percentage of plastic in the waste stream, this created a huge mess. Today, this seemed to have been mostly eliminated, and together with a noticeable decrease in the number of crappy diesel vehicles in use on the roads, the air quality was amazingly better than before. There was one final thing that I noticed was unchanged, namely the practice common in Thailand of stringing utility cables anywhere and everywhere, as shown below, frequently spoiling scenic vistas and the appearance of cultural sites. Many people might not even notice such as circumstance, but that, in addition to the hot climate, caused me to take significantly fewer photographs on this tour than I normally would have.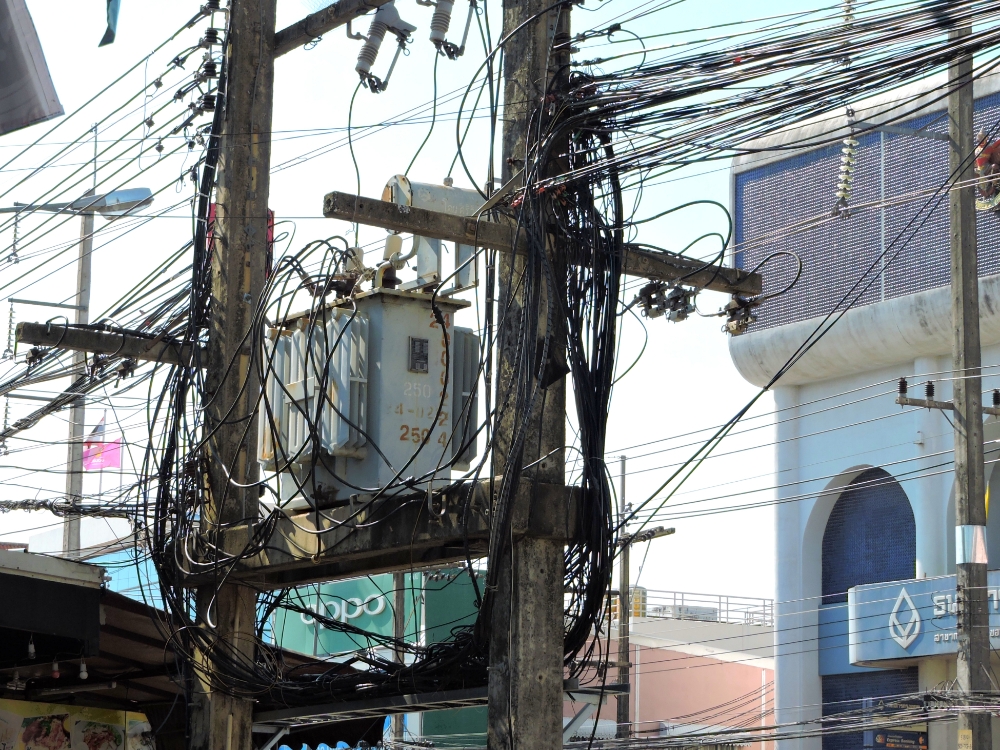 When it was finally time to depart Bangkok, there were two issues that concerned me. First was that city's reputation for having horrible congestion and few good routes for cycling. Fortunately, I had selected a quarantine hotel that was located the closest to the edge of the city center in the direction that I needed to go, and during my two weeks of incarceration I had plenty of time to research which roads would be the best to use. The only thing I was still unsure about was how to cross the Chao Phraya River. Street View indicated that the bridges would be unpleasant, at best, and I couldn't verify whether the numerous small ferries would allow bikes. Thankfully, they do, and I, along with only one other passenger, was quickly taken across at nine in the morning. Continuing on, at first, most of the route that day involved large, urban roads, normally an unwelcome situation. However, traffic seemed surprisingly light, and I passed through the city fairly quickly, heading towards the southwest. In that direction the city ends abruptly as it abuts the Chao Phraya delta, where the terrain is board flat and the roads are good and relatively quiet. All around the country, interesting sites occasionally punctuate a route, providing a certain amount of visual variety. Most frequent are the many Wats, or temple complexes, which can be found almost anywhere. Though their appearance is often partially spoiled by ill-placed utility cables, they are always attractive, and occasionally their roofs exhibit perfect examples of the official Tour colors, which is always a good sign.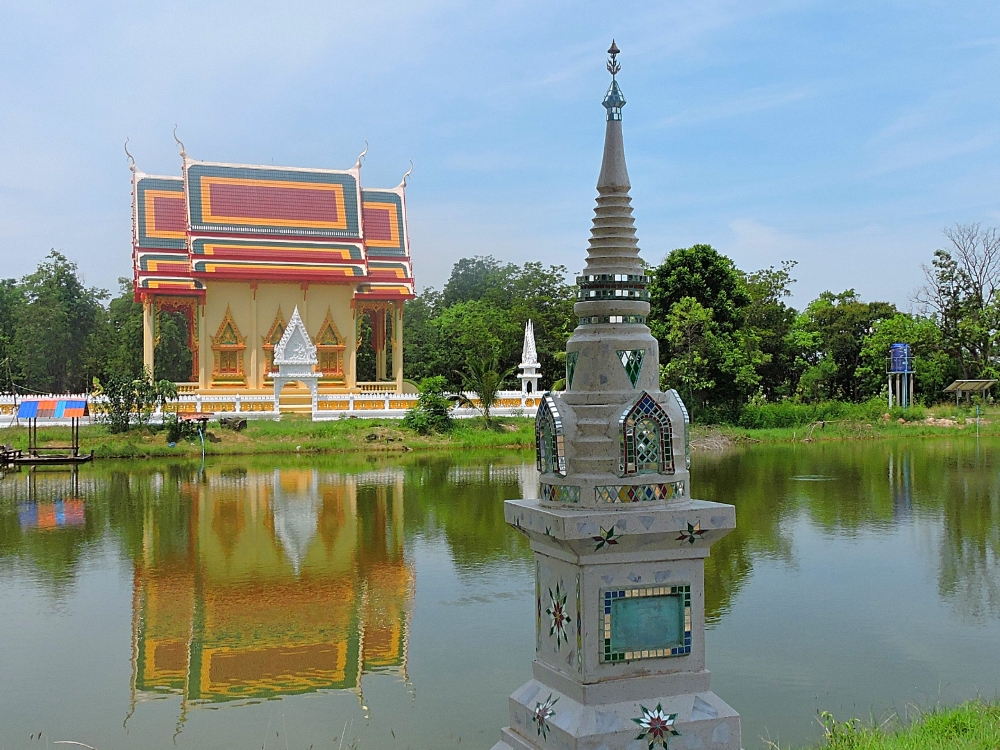 The other issue that made me a little anxious was uncertainty about how another long layoff had affected my fitness level. The most suitable town to reach on the first day was located at what normally would be a full day's distance for this Tour, and with the flat terrain that should have been easy. However, to play it safe I chose to split that into two days. That was the plan, at least, but after only a couple of hours, just after I had reached the delta, the heat and five weeks of inactivity really took their toll, blowing up my condition. Consequently, that supposedly normal first day took me three in reality. I knew from experience that recovery from a long interruption during a tour usually takes just a few days, so, thankfully, before long things were back to normal.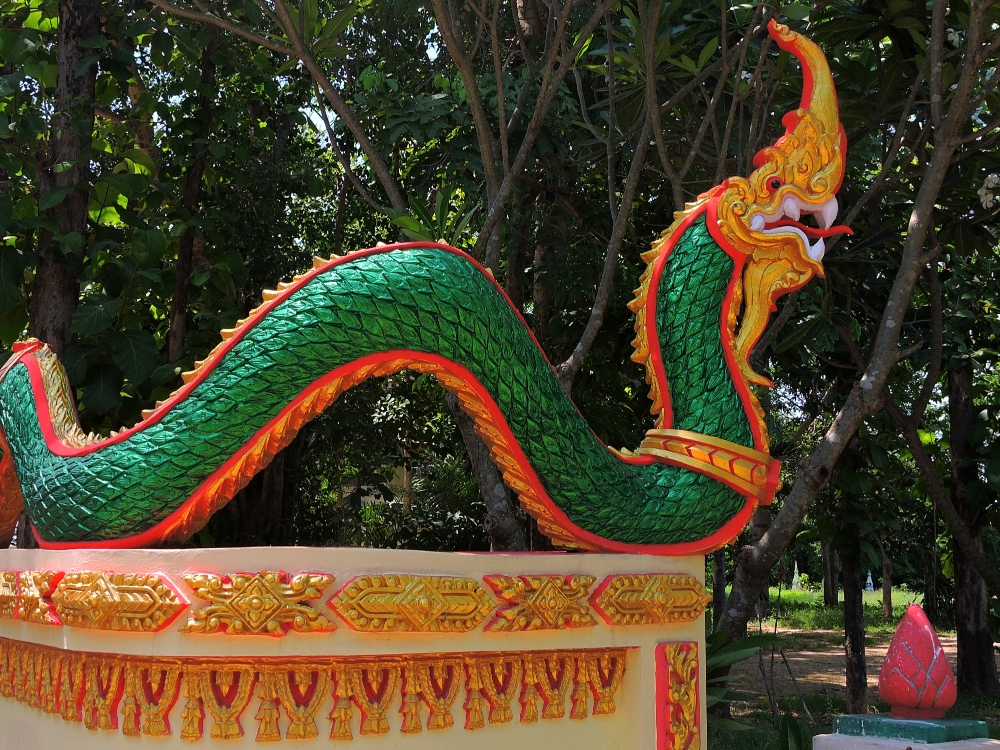 My route first took me a short distance to the south, to Kaeng Krachan National Park, but then reversed course, in order to bring me to the northern provinces of the country. When I returned to the western fringes of Bangkok I needed to take a day off to visit the city again. For a while it had been time for me to replace the drivetrain components on the bike, and a short time earlier I had my last box of pre-packaged spare parts shipped to me. I had hoped to make those repairs while I was in quarantine, since I had little else to do, but it took a little longer than I expected for the shipment to get through customs. However, since I was going to be in the area again anyway, that wasn't too much of a problem. Not being interested in cycling back into the city again, I instead took the Mae Klong railway, famous for beginning in a station located within a public market that is so densely packed that the vendors need to roll up their awnings in order to let the train pass. That allowed me to get into the city, pick up my package, and return, with enough time to install the parts in the evening, for a day that was both restful and useful.
Few things can lift a cyclist's spirit during a tour with challenging conditions more than a fresh drivetrain. That was certainly the case for me, as the next several days were among the best of this section, with more quiet roads through mild terrain and even one day when clouds broke the heat for a while. Shortly later, things would become more complicated again, however.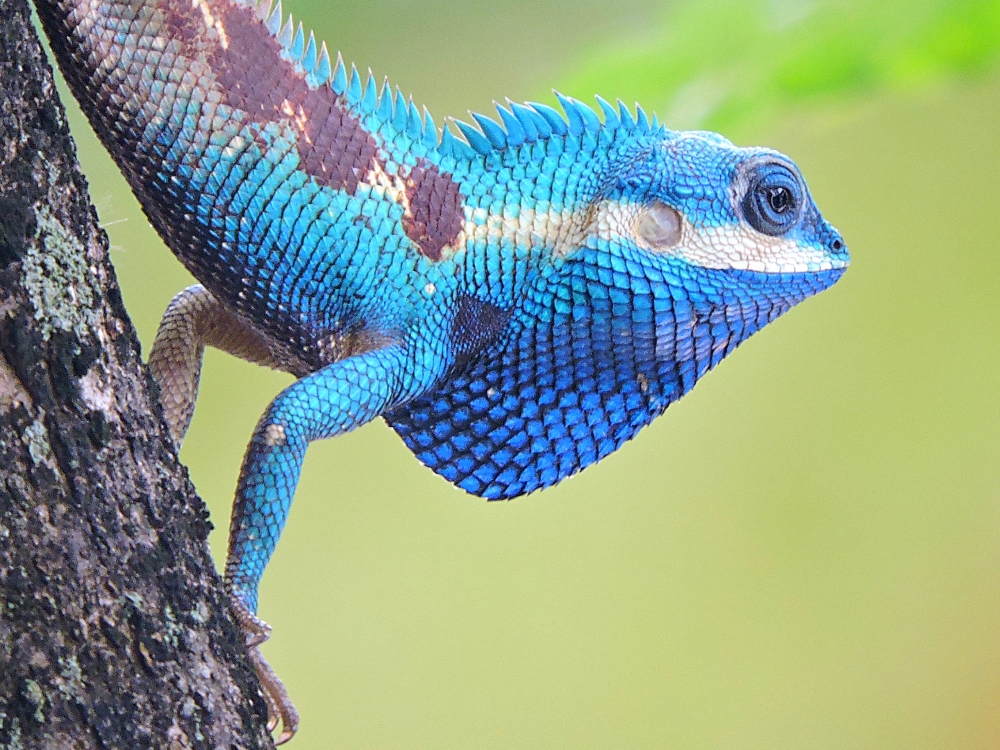 During a short rest break in Nakhon Sawan, when I was planning on firming up my plans for the north of the country, I became aware of the recently-imposed health closures in that region, which I have already mentioned in other posts. That posed a bit of a dilemma at the time. I could have continued my route towards Chiang Mai, but with the parks in that region closed, and possibly some of the other necessary services as well, I couldn't be sure if that would be worth the effort. Consequently, I made a quick decision to abandon the north and instead head towards the eastern region, where fewer restrictions had been imposed. That meant a bit of a scenic downgrade as far as the route was concerned, with interesting mountains being replaced by days of endless rice paddies. Since I had not been especially committed to seeing the north this time, that didn't really matter much, however.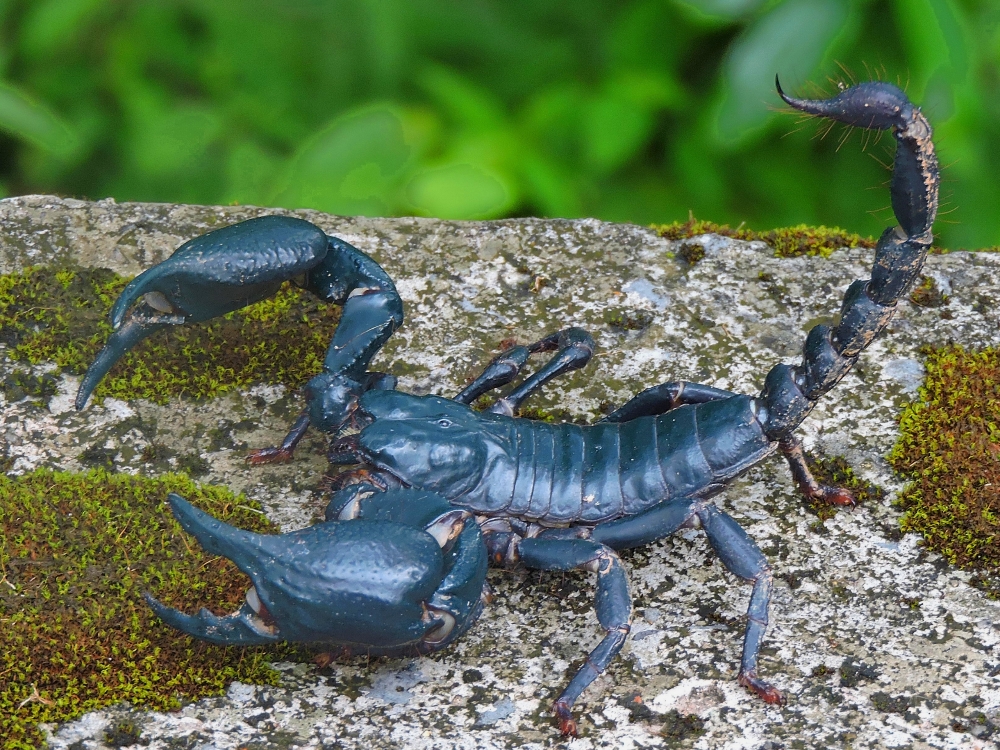 Before I had reached my destination near the eastern border of the country I needed to make another break to take care of an errand. With either my US or Canadian passports I would normally be allowed to visit Thailand for thirty days without a visa. With the new additional requirement for a quarantine, the Thai government had the good sense to extend that period to forty-five days. Had I continued with my original route plans the thirty-one available days remaining after quarantine would have just been adequate with a normal pace, but it still would have been rather tight. Since I had already been progressing at a substantially slower pace than I envisioned, and now with a revised route, it was clear that I would need to get a visa to extend my permitted stay. The city of Chaiyaphum, located along my route, has an immigration office, and during a day off, after another stack of paperwork and a sixty-five Dollar fee, I was able to get my extension for another thirty days. The mandatory insurance policy that I had to purchase before entering the country would expire ten days before I expected to leave, but I somehow forgot to mention that at the time.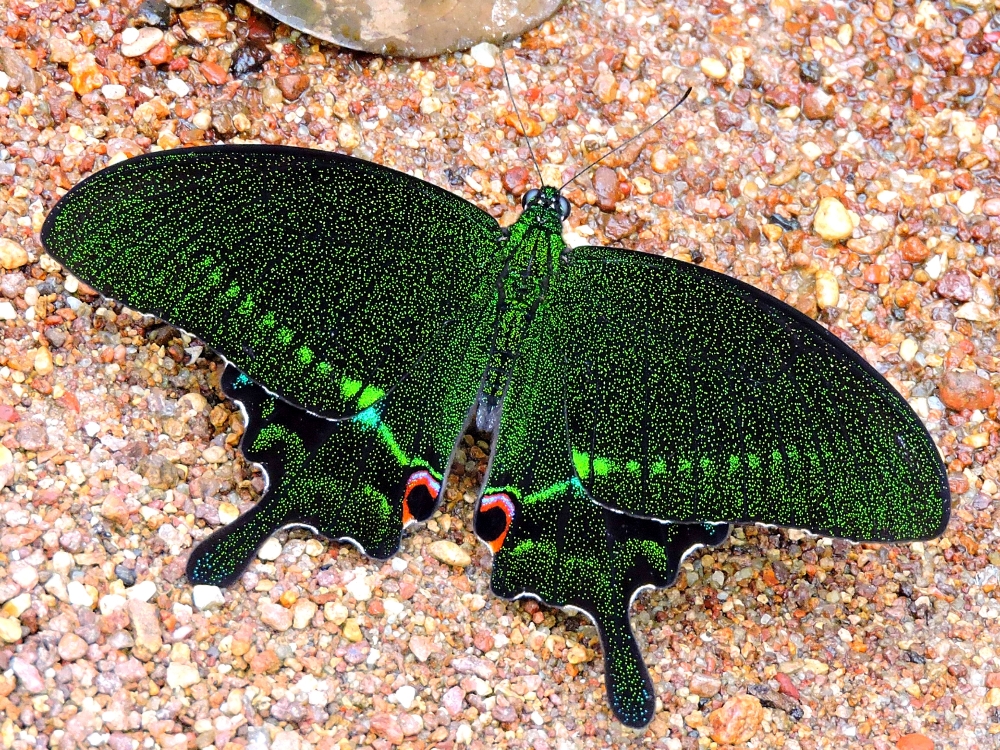 I certainly appreciated the extra time to complete my route. The eastern part of the country is on a plateau, not a particularly high one, only about two hundred meters above the sea, but it was noticeably drier in that area and that was where the heat really beat me down the most. So an even slower pace with a few more days off made a big difference. After reaching Ban Chiang, somewhat later than I had planned, but just after its World Heritage Site had reopened, it was finally time to close the loop and head back to Bangkok, where I would prepare for another unwelcome air transfer and take covid test number seventeen. Apart from a nice stop a Khao Yai National Park, and a steamy small climb to get through there, the rest of the route was rather uneventful, with more of the same, and another busy urban ride into the city.
The late addition of Thailand to the Tour, while far from my original goals, did give me a generally pleasant way to keep things moving forward, albeit in a very disjointed way, and I certainly appreciated that. Thailand is a great country to tour in with many positive features: an interesting culture, friendly people, good food, nice roads, and low expenses. This time, on the other hand, there were some aspects that detracted from the experience, the burden of quarantine, the ever-changing travel policies, and the heat. Especially the latter. I would have had a much better time if I had visited in January, better still if that had been January 2019. However, overall this visit was a strong positive.
One of the reasons I decided to go to Thailand initially was that the country's early success in holding back covid meant that there were some better possibilities for onward travel when departing from there. Unfortunately, the outbreaks that erupted during my quarantine closed the door on those possibilities, just a week or so before I wanted to leave. That forced me to come up with a Plan C, once again on short notice. I was able to do that, but, again, it wouldn't really be ideal. Another quarantine would be required. Ugh.
~End~