Huai Kha Khaeng Wildlife Sanctuary & Ban Chiang Archaeological Site
June 05, 2021
WORLD HERITAGE
When I did my first tour through Thailand, in 2006 during the Tour of Gondwana, the country possessed five Sites inscribed on the World Heritage List. Along the way I visited its three most impressive Sites. Today, Thailand's Site count still stands at five, but there are now also a handful of proposed Sites, with two of those expected to be evaluated for inscription soon. Consequently, my plan was to visit the two Sites I missed the first time around, and two of the tentative Sites. As it turned out, that effort was only partially successful.
My first stop was one of the tentative Sites, Kaeng Krachan National Park, southwest of Bangkok. Though I was unfortunately prohibited from cycling inside the Park, I did have a nice day birding there, as described in the Birding section. The Park stands a good chance of inscription later this year, and if that happens my count for the Tour will increase by one.
The first of the inscribed Sites on my route was Thungyai and Huai Kha Khaeng Wildlife Sanctuaries, two adjacent protected areas located several days of cycling further north, along the border with Myanmar. The Site was listed because it is an important example of the relatively rare Dry Tropical Forest biome and one of the few remaining habitats in Southeast Asia containing remnant populations of large mammals, notably tigers. Seeing any of the furry creatures is usually difficult, so I was primarily looking forward to a day of walking around the forest, where a nice selection of birds was also possible.
However, when I rode up to the gate, I was met by the disappointing word: Closed. Apparently, when I was halfway through my quarantine period, two relatively small (compared to other countries) outbreaks of covid broke out in the north of the country and in Bangkok. Consequently, many tourist attractions were closed for a two-week period. This was particularly frustrating for me, as the closure was not noted on the Park's Website, and because shutting that particular Park seemed rather arbitrary. According to reports, almost all of the cases in those outbreaks were associated with social gatherings at nightclubs, and so the act of closing a forest where almost no one goes didn't make much sense to me. I tried to made the best of the situation, however. The buffer zone forest around the park was fairly intact and I picked up a couple of nice birds there. A little later, I noticed that twenty kilometers further north another road reached right up to the edge of the main forest boundary. The sign in the second image below was along that road and says something like The green hills in distance are Huai Kha Khaeng. The road didn't actually enter the forest, but eventuality I found a footpath that led right to the edge and, a little farther on, a gap in the tall fence, which let me spend a brief moment actually standing on the core zone of the Site. I probably shouldn't count this as a Site visit, but, under the circumstances, I am going to.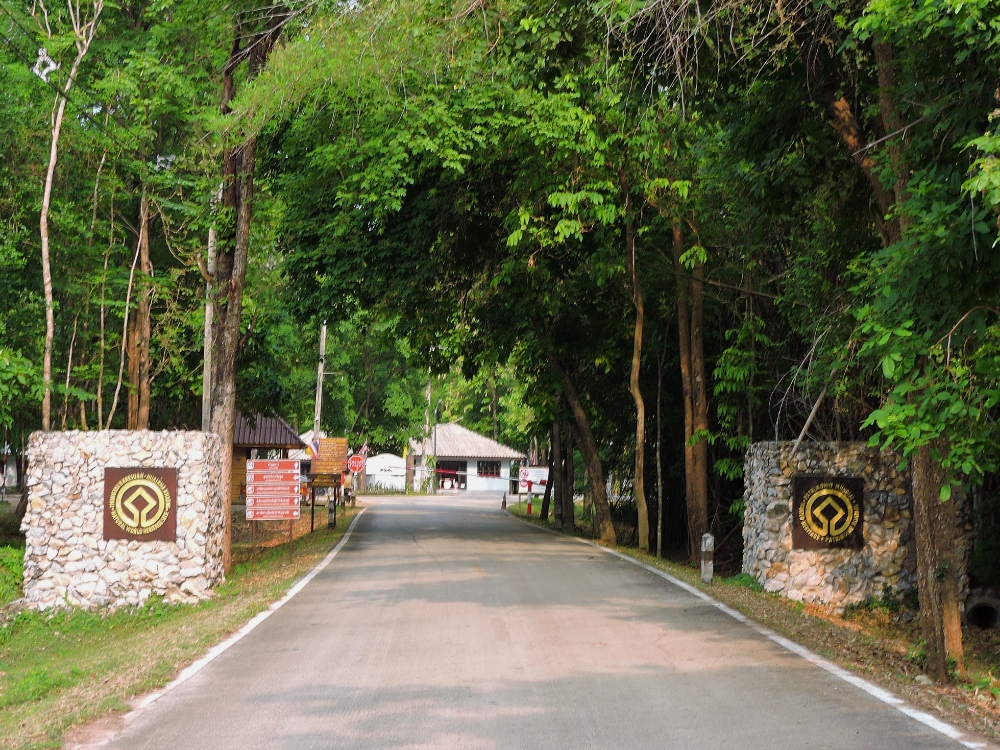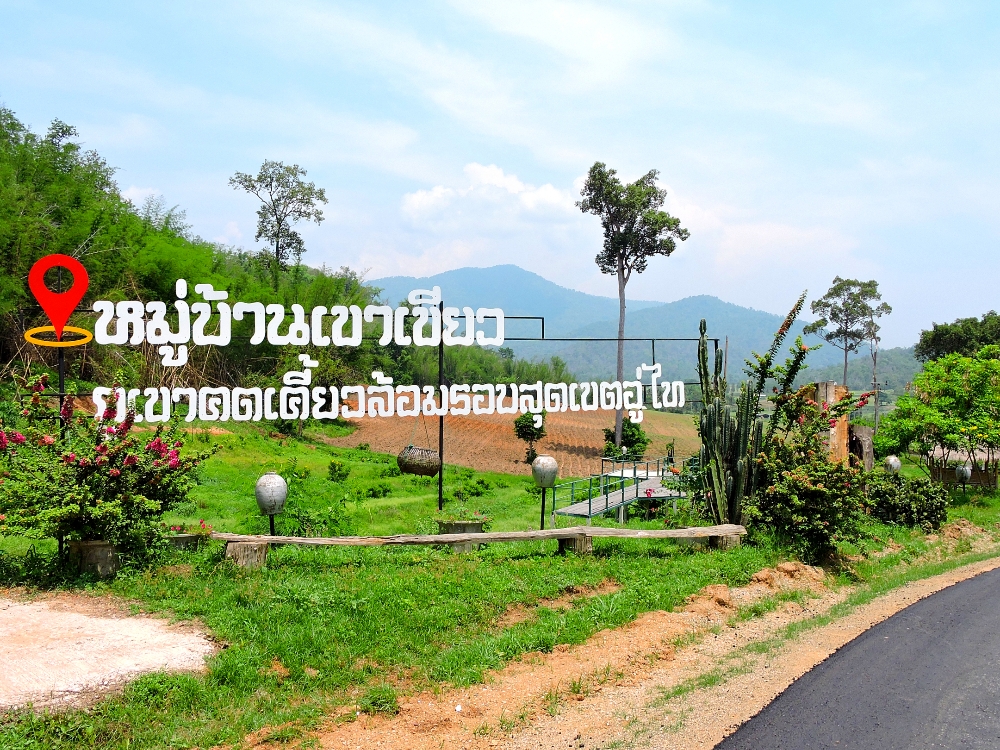 Along the way to the second inscribed Site I intended to visit another tentative Site, but, once more, I was greeted by a locked gate. The Si Thep Historical Park displays a small ancient town that contains some minor ruins from the Dvaravati and Khmer period, and I would have enjoyed strolling around there for a while. With another disappointment I decided to e-mail the National Museums of Thailand to find out if my next destination was also closed. They responded that it was, but the scheduled reopening was four days away. With a number of days of cycling needed to get there, I should have been alright, but I still couldn't be sure that the closures would not be extended.
This time luck was on my side, but I still needed to move extra slowly, not necessarily a bad thing considering the sweltering heat at the time, in order to arrive on a Wednesday, because the site is normally closed on Mondays and Tuesdays. At the pleasant little town of Ban Chiang, located in the northeastern part of the country, not far from the Laos border, lies an eponymous archeological site that revealed an ancient culture, one that was only discovered a little over fifty years ago. That society flourished around the surrounding region for three thousand years, until it melded into surrounding societies during the Iron Age around two thousand years ago. Like many other ancient cultures, much of what we know of Ban Chiang was revealed by the many artifacts of pottery that have been excavated there. However, the people of Ban Chiang took the production of ceramic wares to a new level, with large numbers of articles being found at every home site and grave. Their styles appear to be differentiated into three time periods: the Early Period, made with dark-colored clays and impressed with various artistic designs, the Middle Period, a more wealthy time, with a greater variety of clay colors and styles and when deceased residents were buried after being covered with the shards of many broken pots, and the Late Period, the most famous type, when larger light-colored vessels were usually painted in red with elaborate geometric designs. Unfortunately, a great number of these artifacts have been inappropriately extracted over the years for commercial sale, and a number of others sent overseas for display. However, the Site Museum still has an adequate number in its possession and provides an impressive display. Since I had not had an opportunity to visit many good museums during the last several months, I distinctly enjoyed seeing this one.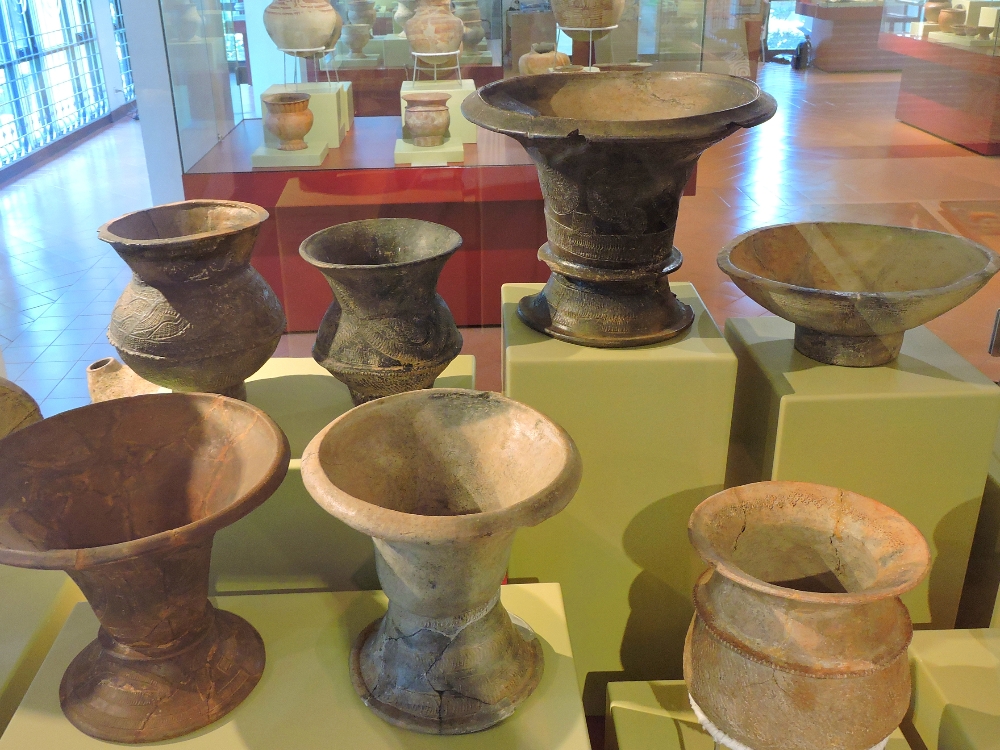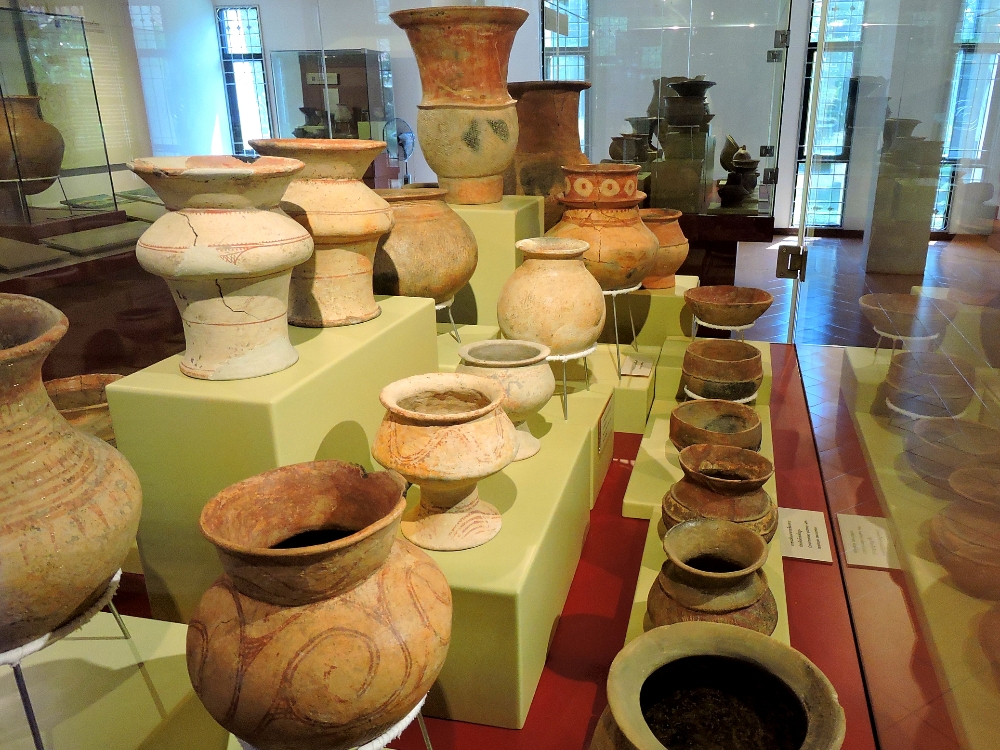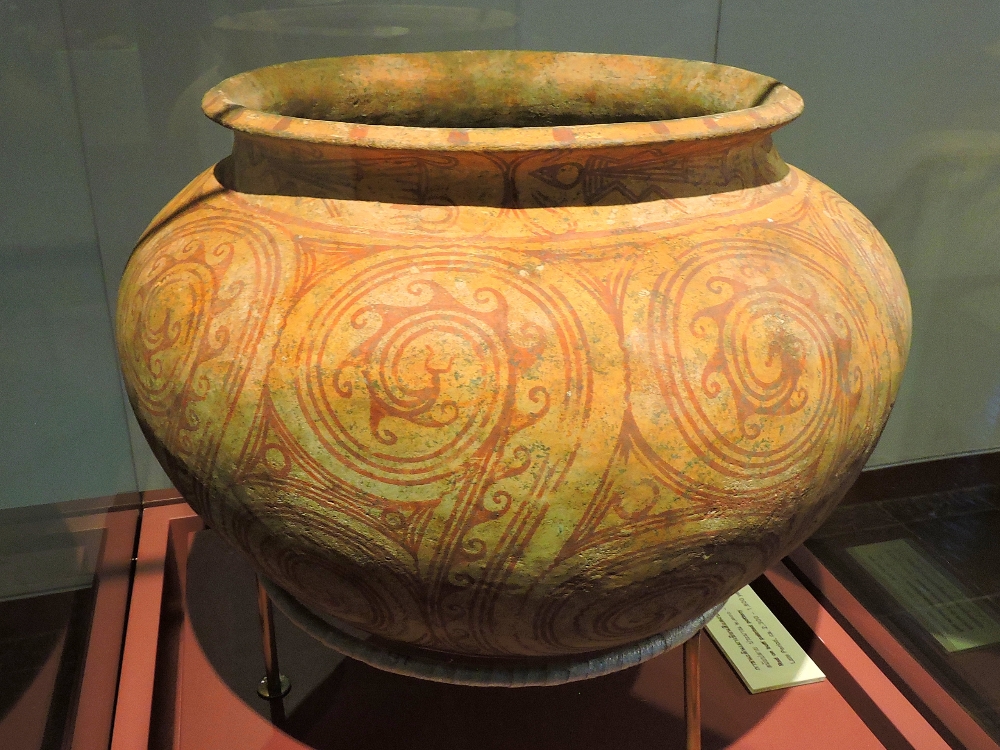 Another interesting aspect of the Ban Chiang Site is that a number of bronze artifacts have also been uncovered. Initially, the dating of these suggested that bronze-making technologies developed here earlier than in any other part of the World, and that caused quite a stir in the academic community. However, further tests using more accurate methods, and on a greater number of samples, pushed the date to a more recent, and more realistic, time period. Almost all of these artifacts were tools and personal adornments, as opposed to weapons, indicating that the Ban Chiang Culture was a generally peaceful society.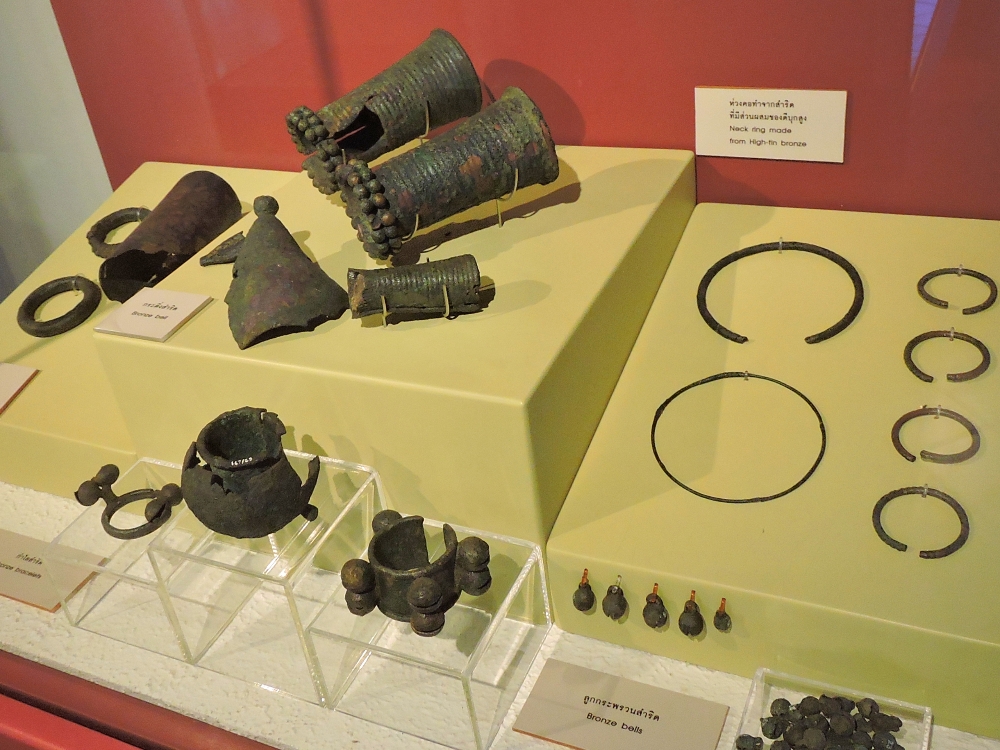 A few hundred meters away, one excavation site has been preserved for display, though because of weather damage many of the artifacts within are replicas. Therefore, this was not a particularly revealing part of the Site, but interesting nonetheless, and it is said that there are likely many similar amassments of artifacts located beneath most of the buildings in the modern village.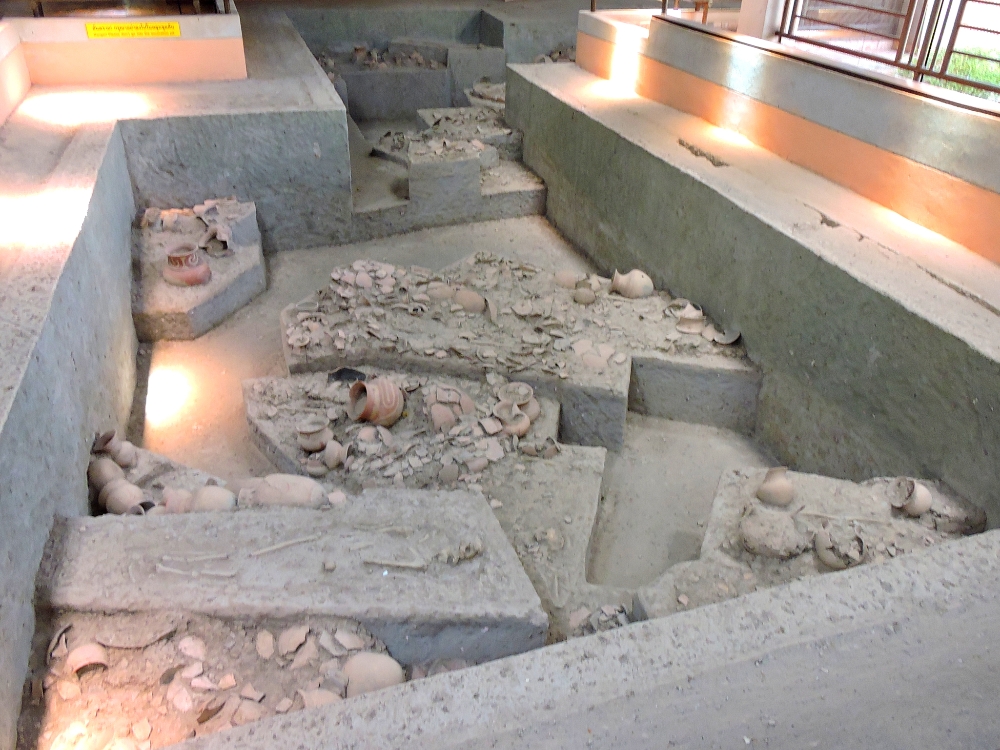 These Sites were not really as amazing as some others on the List are, and my visits were not particularly lengthy, nor detailed, but something is better than nothing, and I have now seen all of Thailand's inscribed Sites. As usual for the last year, what comes next is yet to be determined, but, whatever it is, I hope the Sites are open when I eventually arrive.
~End~