Pacific Northwest - Canadian Rockies
Bicycle Tour
San Francisco, California
to Edmonton, Alberta
~May 21 - July 9, 02004~
This tour followed a route that I had wanted to ride for a very long time. Fortunately, several circumstances fell into place at just the right time to allow me to begin the tour in the late spring of 02004. For one thing, I ended my previous employment in April of that year, which gave me the necessary time to schedule a nice, relaxing tour that would be able to visit some very interesting places. Originally, I had thought about starting in Portland or Seattle, but with extra time available, there was no good reason not to leave right from my home in the San Francisco area. Additionally, the half of my extended family which lives in Canada had a family reunion scheduled during July, in Edmonton, and since I had, unfortunately, never had the chance to meet most of them it was easy to pick that city as the terminus for the route.
One of the nice things about this route is that it included sections from three of the most popular touring routes, namely the Pacific Coast route, the ACA Northern Tier, and the Canadian Rockies. Of course, as I usually do, I gave myself many opportunities to deviate from these more well-traveled routes in order to explore several places that really interested me. Along the way I had the chance to visit 11 U.S. and Canadian National Parks, five UNESCO World Heritage Sites, to see both the source and mouth of the Columbia River (as well as several sections in between), make my eighth, ninth, and tenth crossings of the continental divide, and see many hundreds of kilometers of beautiful coastline, forests, desert, and, of course, mountains. There were many interesting cultural sites along the way, but this tour was really all about spectacular natural beauty. I was well aware of the world-class reputation of the scenery to be found in many places along the way, so I departed full of confidence that this would be one of my best trips. Although, I encountered more rain that I had on any previous tours (perhaps more than on all my previous tours combined,) the clouds always seemed to part at just the right time to reveal some of the best that North America has to offer.
Below the map is a brief description of each section of the tour, and the ride details are in the sidebar.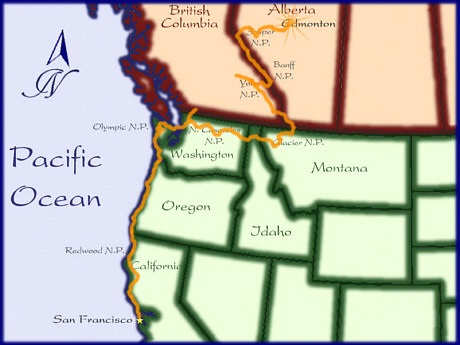 ---
Northern California
I have previously toured along the entire portion of the route between San Francisco and Florence, Oregon, and some sections in that area more than once. North of Florence, I would be seeing all of the places that I would visit for the first time. Because of that fact, I decided to push a fairly aggressive pace for the first week or two, in order to give myself a little more leeway in scheduling the latter part of the trip. Some long days also resulted from my use of the nice hiker-biker campsites in the California and Oregon state parks. Usually, I prefer to free camp, but when these facilities are available I always try to use them, to help to demonstrate their popularity to the park services. However, the coastal parks in California are spaced out in such a way that I usually opt to cover fairly long daily distances as opposed to somewhat shorter segments. Never one to shy away from a long day's ride while on tour, I put all thoughts of exhaustion aside and set out, determined to cover a lot of territory in the early days. Before long I would have to deal with the effects of that plan.
The California coast, as seen from the famous Highway 1, was just as it always has been. A twisting course winds between the shoreline and the headlands, often clinging to precarious positions on the cliff edges, and numerous beautiful vistas are revealed during midday when the morning fog finally burns away. The often-long distances between towns leads to many periods of relative isolation, which helps me to put thoughts of my regular life aside for a while and simply enjoy the surroundings.
When I reached the region of the north coast where groves of stately Redwoods still remain uncut, memories of my first tour in 01993, which was also the first time I had seen the magnificent trees, filled my mind and reminded me of just how much distance I had covered since then. One's first visit to a Redwood grove can never be surpassed, in terms of the effect it has on their worldview, but touring though the forests this time was every bit as impressive an experience as my earlier visits. Everyone should do a ride through a redwood grove at least once in his or her life.
Although the elevation remained fairly low, this section of the route was actually one of the most physically challenging portions of the entire tour. That I had this to contend with during the first few days of the trip didn't make things any easier. In fact, on only the third day, I began to experience some physical problems with my ankles, which was the type of situation that I had, fortunately, never had to worry much about on earlier tours. The previous day had been a very long, arduous ride, and by that afternoon, as I rode though Garberville, I began to notice some fairly intense pain in both of my Achilles' heels. It was not enough to prohibit me from riding, but I was concerned that if it continued, or, even worse, became more severe, my ability to finish the tour would be in doubt. I did what I thought was best in that situation, and paid closer attention to spinning properly and not over-exerting myself. Fortunately, I began to feel a little better in a couple of days, and after a week was back to normal. It was not until a few weeks later that I figured out what lead to that episode. Apparently, I had one pair of socks which had a tighter elastic ankle-band that all my others, despite the fact that they were all the same brand and same size. I had never noticed this when riding while wearing them at home, but then, I don't normally ride 186 km in one day at home very often.
Later, as I approached Eureka, my mild discomfort, combined with the annoyingly busy freeway sections that must be used in that area, and the late spring rainstorm that had just arrived, caused me to pull up in town and skip the afternoon part of the day's ride in favor of some unscheduled rest. I decided not to try and make up that lost time until later, however, because I had another planned stop a relatively short distance away. That would be one of my favorite places in the world, Flint Ridge campground in Redwood National Park. That site was recommended to my by a ranger at the end of my first tour, and I have always wanted to go back there. Flint Ridge is a ways off the main highway, and one has to push a bike a few hundred meters up the trail to the primitive campsite but it is well worth it. A nice trail leads inland to a splendid group of old-growth groves, while another leads in the opposite direction to a rocky beach at the mouth of the Klamath River. I spent a full afternoon and morning there enjoying the trees and watching the sea lions feed where the river met the sea. It was then, as the sand pushed up though my toes, that I settled down into a full touring frame of mind, finally leaving thoughts of all my worldly concerns behind. One more day's ride would take me to the northern border of California and ever closer to unfamiliar territory.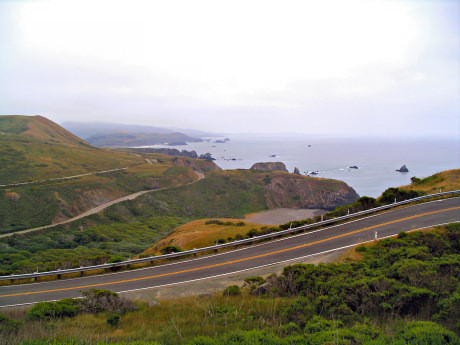 California Highway 1 winds along the coast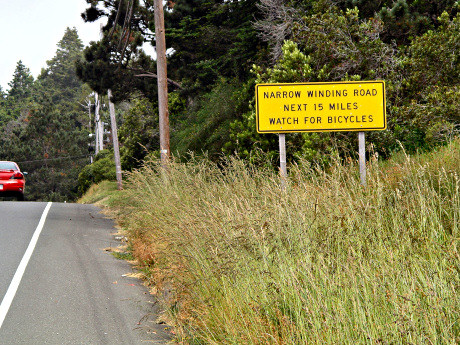 Thanks for your attention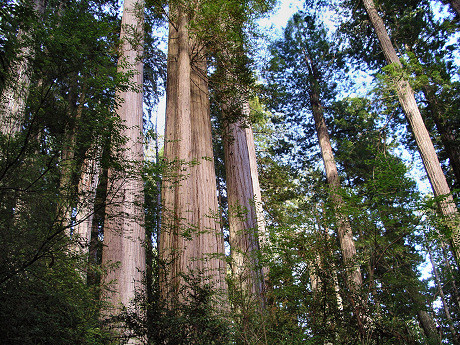 Mighty Redwoods at Flint Ridge, Redwood National Park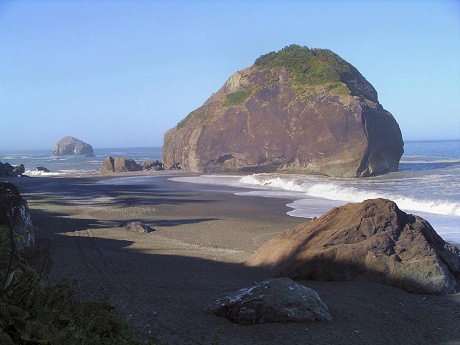 One of my favorite beaches at the mouth of the Klamath River
Oregon
Of all the places that I have ridden in The United Sates, Oregon is probably my favorite. I try to ride there as often as I can. So I knew what I was in for this time, namely great riding conditions and beautiful coastal scenery. I chose to stick with the established route, following Highway 101 along the coast (while taking the occasional local back-road alternates, of course) instead of a more meandering course though the Coast Range and the interior, which would have also been an attractive route. As with California, this was mainly to save time for later in the tour when I felt that I might need some extra days. However, the Oregon Coast never disappoints, and this time was no exception. The weather was generally quite nice, and the only drawback was that my time in the state coincided with the Memorial Day weekend, which resulted in some large crowds at a few inopportune times.
The south coast was rather easy going, with the exception of a few cases of rather strong headwinds in the aftenoon. Of course, that is to be expected when one stubbornly defies convention and travels the "wrong" way through Oregon. Indeed, of the fairly large number of other tourists I encountered there, I was the only one heading north Always have to be different, I suppose. One place that I definitely did not want to miss was Honeyman State Park at the Oregon Dunes National Recreation Area. That was also a place I visited on my first tour, and where I sighted the Pacific Ocean for the first time in my life. So I certainly wanted to make another stop there, and spent one of my mid-day breaks lounging about in the dunes and walking the beach. However, the aforementioned Memorial Day crowds and their noisy dune buggies kind of took a bit of the pleasure out of that stop.
Continuing north, I was now beginning the part of the route that was new to me, and that only served to make the sights that much more appealing. I especially liked the areas around Yachats and Cape Lookout, where there were some very nice conditions for riding. However, the surprisingly large amount of sprawl around Lincoln City was somewhat less appealing. I was now close to my original schedule again, so there was plenty of time for a fun visit to the Oregon Coast Aquarium in Newport. I had another planned rest day in Astoria, at the northern tip of the state, coming up so I did try and keep the pace brisk enough to get there with plenty of time left to relax.
Astoria is a town that I had wanted to visit for a long time, but I never had the chance until this tour. I planned on an afternoon and a full day off the bike there, which was just the thing after the sometimes tiring first week of the tour. That gave me plenty of time to have a couple nice meals, do some laundry and see the sights of the town. I enjoyed the nice Maritime Museum and the view from the Astoria Column. There, one of the ladies at the gift shop said that I must be tired from the long walk up the hill and to the top of the column. I replied that I wasn't and that this was what I was doing to relax on my day off. Astoria has managed to keep is original town center largely intact, and its surrounding amazingly free from sprawl. It's the kind of town that I could feel comfortable living in if the circumstances allowed. Of course, I 'm mot sure how long I could stand the famously bleak winter rain. The next day I was tempted to swing around to the southeast, and spend some more time in Oregon, but I knew that there were many more great things to see ahead, so I continued on with my original plan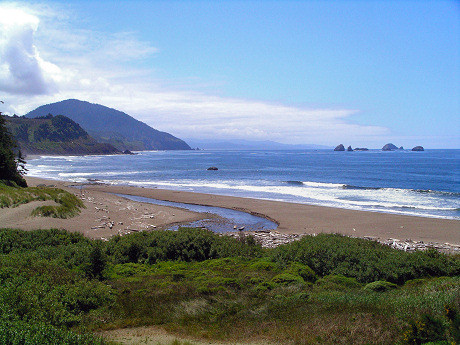 Humbug Mountain on the southern Oregon coast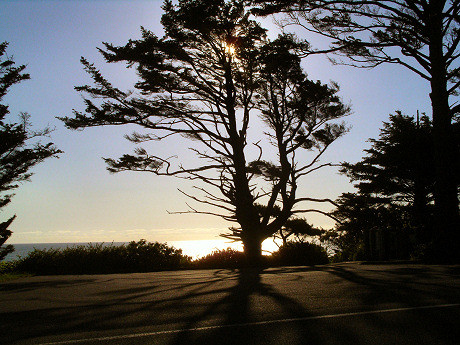 A weatherworn tree on the coast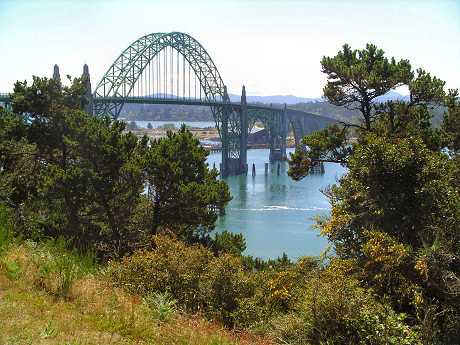 The US 101 bridge at Newport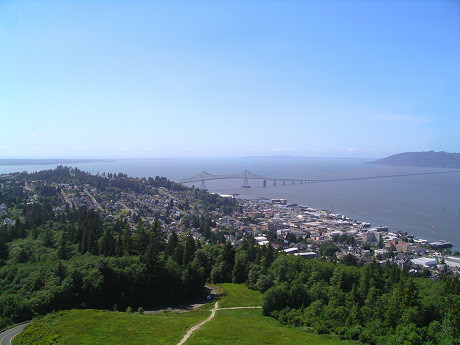 Astoria, Oregon and the Megler bridge over the Columbia River
Western Washington
Washington state was up next, and there were many places that I was looking forward to visiting there. This was where I began to depart from established routes, opting to go to the places that most interested me instead. One of these was the Olympic Peninsula, which I had never visited before, but had been high up on my list for a long time. Washington was also where I began to follow my normal touring practice of free camping. The ability to adjust the days plan on the spot which that method allows always makes my rides much more enjoyable. I also like the challenge of locating a really nice spot for camping, though it usually takes me a few days at the start of each tour to refresh my skills in that regard. I felt that the roadways of my route in Washington, were probably the best for cycling of any region of the entire tour, which also helped make this section a lot of fun. The Olympic Peninsula is a temperate rainforest, however, and it lived up to that designation while I was there. I got soaked a number of times, but never enough to completely distract me from the impressive scenery that I was passing through. All in all, it was a nice part of the route.
After crossing the long Megler bridge over the Columbia River from Astoria, I continued generally north, sometimes following US 101, other times on local roads whenever they were availabe. I avoided the lumber towns of Aberdeen and Hoquiam by taking the route along the coast that required me to use the Westport-Ocean Shores ferry. Though slightly longer that course was quite pleasant and worth the diversion. From Ocean Shores heading north there was some nice riding conditions, and pretty scenery, but very little in the way of services for the next few days. Food was only available at some of the small, rustic resorts along the way, at the mini-mart at Queets junction, and at one or two restaurants such as the Hard Rain Café on the Hoh Road, where I had two tasty meals. That particular establishment was up for sale at the time, in case anyone is interested.
Despite the frequent downpours, I stayed mostly on schedule and arrived at my nest rest stop, the Hoh Rainforest campground in Olympic National Park in the early afternoon. The Hoh Road was really beautiful and, actually, the rain seemed to add to the atmosphere of the place. I was hoping to rest in the park for a full day, and since it never stopped raining for long during the evening and through the night, I did manage to stretch out for a long semi-snooze. By the morning the rainfall had stopped and I took the opportunity do go on a couple of really nice hikes. I found the mossy rainforest in the area to be simply amazing. In the afternoon, since ther was no food availabe inside the park, I decided to leave a little early and cover a little more distance that day.
After leaving the park, I passed through Forks, the only town of any size in the area, and then made the easterly turn that I had been anticipating for several days. I was hoping that the change of direction would lead to more tailwinds. Of course, that sort of idea never really plays out, and in the days ahead there would be many instances where I would be pushing into the wind. Continuing east, I chose to go on state route 112 which runs along the shore of the Strait of Juan de Fuca, instead of the presumably busier Highway 101. This would not merit special mention were it not for the unusual sign, actually two, that were posted at the entrance to the road. The first said something like "Bicyclists, please stop and read the next sign in 1/4 mile." Obliging, I soon viewed the second, which rambled on about the road being narrow, full of logging trucks, and maybe cyclists don't really want to be here, or should just get out of the way, or words to that effect. Ha! I'll take my share of the road, thank you very much. In reality, I found that road to be quite nice, and very scenic. Narrow in places, to be sure, but not more so than many others I had already used. Traffic was quite light in the evening as well, and most of the trucks seemed to pass in the pre-dawn hours while I was still tucked away in the tent. I was pleased that I chose not to heed the warning of whomever put up that sign.
Actually, I wished that Rte. 112 had continued for longer, for after returning to Hwy 101, I found the next section between Port Angeles and Port Townsend to be very busy and rather unenjoyable. I pushed though that area as fast as I could and was glad to see things quiet down a little after crossing over to Whidbey Island on the ferry.
After traveling north along the island, I then returend to the mainland near Anacortes where the Norther Tier route begins. There I met several other tourist who were just setting out towards Bar Harbor a several thousand kilometers away. I wonder how their tours turned out?
Back on the mainland, I made a slight detour and briefly crossed the border into Canada, in order to visit my aunt, uncle and cousin who live in that area. It was quite nice to be greeted by friendly faces, get cleaned up, fed, and to grab a couple of good night's sleep. After that short visit, I crossed back into the U.S. and resumed my easterly course. The next place of interest was North Cascades National Park, which I would reach about a day later.
The approach to the park was quite nice, and may have lulled me into too relaxed a state of mind. I had planned on a full rest day in that park as well, but since the camping and accommodations were a little scarce, I decided to travel through to the eastern side instead. However, I didn't wasn't to ignore the park completely and spent some time at the Newhalem visitor center, and went on a couple of short hikes before beginning the big climb to Washington Pass. My mistake was dallying a little too long in the process, and stopping too frequently along the climb to take pictures. The climb from the visitor center to the pass had the greatest gain of the entire tour, and though the grade was reasonable, it took much longer than I thought it would for me to reach the summit. Consequently, by the time I crested the pass, there was only about 30 minutes of daylight left, and a cold dense fog had morphed into a slight drizzle at a bone-chilling 4 C. Fortunately, that left me just enough time to speed down to a more friendly altitude, where it was a little warmer, before settling my very tired self down for the evening.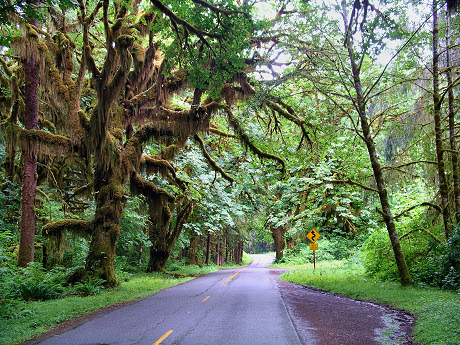 Entering the Hoh Rainforest, Olympic National Park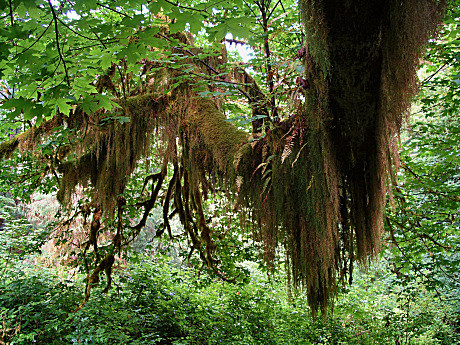 Along the Hall of Mosses Trail, Olympic, N.P.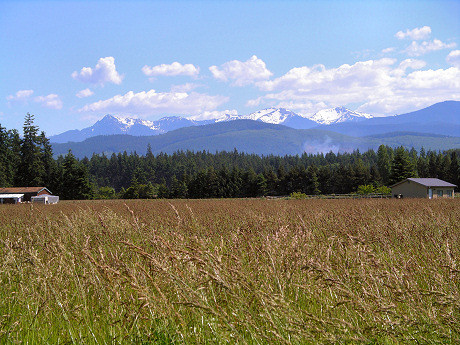 The Olympic Mountains seen from the north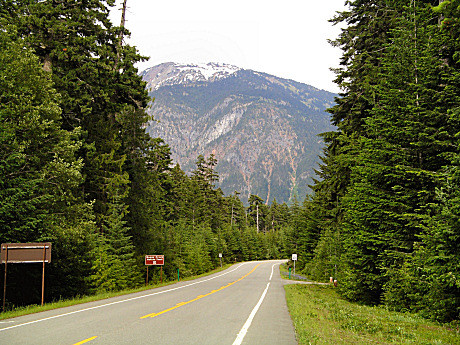 Climbing towards Washington Pass, North Cascades, N.P.
Eastern Washington & Idaho
As expected, on the east side of the Cascades the whole feel of the tour changed. The topography and ecosystem changed completely, of course, but also, after a couple of weeks of riding completed, I had settled into full "touring mode" both physically and mentally, which always helps a lot. Furthermore, my emergence into a more desert-like area, in the rain shadow of the Cascades, gave me several days of nice weather and some time to dry out for a while. The increasingly long hours of daylight helped as well. However, my hopes of constant tailwinds didn't play out, as there were several places with some monstrous headwinds to contend with, especially in the areas where the Columbia River cut through the surrounding plateau. On the bright side, the road conditions continued to be generally good, with many opportunities to divert onto secondary or local roads.
Continuing east from Washington pass, I rode though the pretty valley of the Methow River, but then departed from the more established route to take a more southerly option. I wanted to spend a little time in the high desert, and see the Grand Coulee Dam, so I chose to ride along Rtes 153 and 174 though Pateros and Bridgeport on the way to Grand Coulee. It was a nice change of pace, and though I didn't have the chance to go inside, the dam was interesting to look at from the shore.
The highlight of this section was the ride through the lands of the Colville Confederated Tribes. It was really wonderful to see some large areas of land which remain fairly close to their original conditions. I found the realtive absence of fences especially appealing. The nicest part was the small road that generally travels west-to-east from Nespelem to Inchelium. That proved to be one of the nicest roads of the entire tour, passing though a mix of meadows and largely undisturbed forests with a few nice climbs along the way. There was almost no traffic which made things even better. A few log trucks did pass by, but I never noticed any active logging in the area, so I assumed that they were transporting logs through the reservation from the national forest to the north.
The rest of the route though Washington was also quite nice, especially the local roads which ran along the west bank of Lake Roosevelt, and the east bank of the Pend Oreille River. Idaho, was also nice, but a bit of a blur. My trip though that state proved to be the only time that I have ever ridden across an entire state in a single day, and I did it all after lunch! Occasionally, one can really appreciates those states with panhandles. I entered Idaho on Highway 2, which was a little busy but not too bad, for the most part, and then passed through Sandpoint. That seemed like a very nice little town and might have made a good place to stop for a day had the timing worked out better. Continuing east, I chose to head for Montana on the smaller Route 200, which turned out to be a good decision. That road was quite scenic, with decreasing traffic as I slowly moved father away from Sandpoint. It had been a pretty long day, but as darkness fell I was in Montana, satisfied with my progress so far.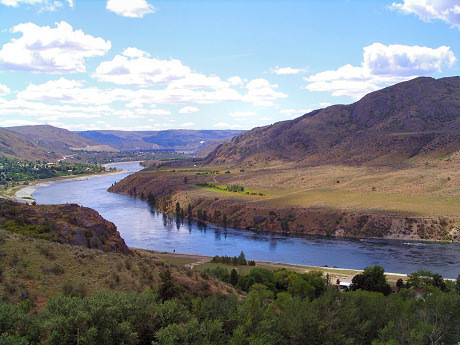 The Columbia River near Grand Coulee, Washington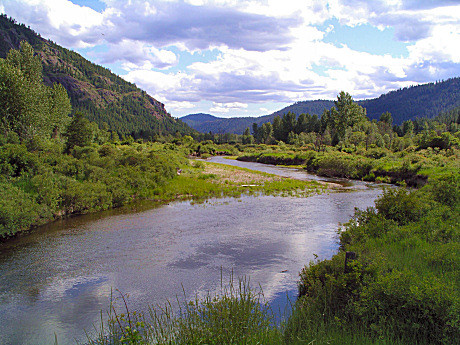 A natural scene on the Land of the Colville Confederated Tribes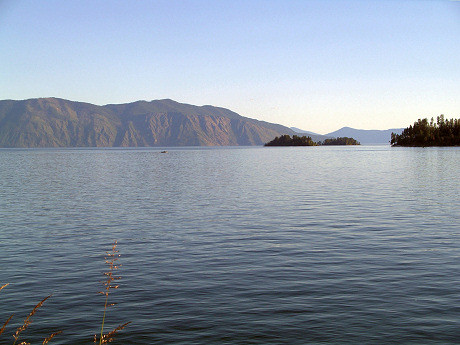 Lake Pend Oreille, Idaho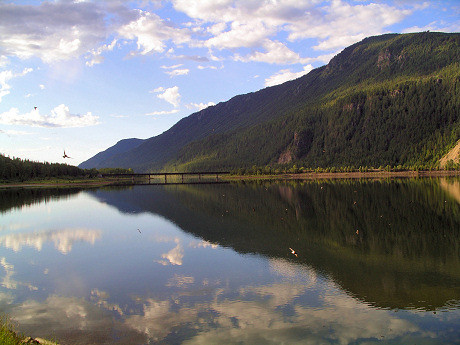 Evening on the Clark Fork
Montana
My very first visit to Montana was up next, and, of course, my primary goal there was a trip to Glacier National Park, which is another one of those places that should be on every touring cyclist list of destinations. There was a good bit of ground to cross before arriving there, however, and most of that was quite nice as well. Much of the area was fairly undeveloped and there were many nice places to camp along the way. On the other hand, occasional sections of narrow roads, complete with Montana's infamous rumble strips and 70 mph speed limits, tended to detract from the fun from time to time.
Before long I had reached the Flathead Reservation, and it provided a bit of a contrast from the Colville lands I had just left several days earlier. The southern part of the reservation was really beautiful with some very nice cycling along quiet roads. There, I tried to visit the National Bison Range, which is located in that area, but was not allowed to ride alogn the dirt roads of the range for "safety" reasons. However, the northern part of the reservation was a big contrast. The entire area around Flathead Lake was very busy, with many motorized tourists and a surprising amount of sprawl. That seemed out of place to me so, I passed though fairly quickly and before long was at the west gate of the park.
After spending most of a day at the service town of West Glacier cleaning up, doing laundry and feeding myself, I crossed into the park first thing in the morning. An early start was, of course, necessary to pass by Lake McDonald before the odd bicycle restrictions went into effect. I can, perhaps, understand the limits for the road over the pass later on, but the flat section by the lake seemed perfectly rideable at all times, to me at least. I learned later that another group of tourists didn't make it in time and had to get a lift somehow. I had planned to spend a lot of time sightseeing in the park, and so I only went as far as the Avalanche Creek camprgound, which had a nice hiker/biker site, before stopping for the day to do some hiking. Unfortunately, while I was doing that, the weather took a turn for the worse, and I began to get a little nervous that I would miss some of the best scenery of the tour. To make matters worse, back at the campsite, I discovered the only significant mechanical problem of the tour. One of the bearing sets in my right pedal (Look 4 x4) had failed, and the pedal body was slopping all over the place. I managed to stabilize it by jamming a piece of pvc pipe into the body, but I was a little worried that it would not last much longer. Since there were probably no places to get parts for quite a ways, and many mountains ahead, that was quite a concern. Fortunately it did manage to survive the rest of the tour, and after a while I didn't even notice its slight wobble. Nevertheless, the weather and that bike problem did not do much for my mood. The intense downpour that woke me up at 3 A.M. made things seem even worse.
To my surprise, conditions seemed much better at sunrise when most of the tourists gathered at the base of the famous Going-to-the Sun-Road set out for the climb to Logan Pass. There was retired fellow, riding solo, at my camprgound, and a group of 20, or so, ladies on a sag tour by Woman Tours, who had all stayed at the Lake McDonald Lodge, and a few others, most of whom departed earlier than my 6:30 AM start time. At that hour, there was still a good bit of fog blanketing the area, and I was still not sure just how nice the day would be. Happily, after I had climbed only about a hundred meters I broke through the fog into bright blue skies which enhanced the beauty of one of the truly great cycling roads to be found anywhere. It really did live up to its reputation, and Going-to-the Sun-Road now occupies a high spot on my list of all-time favorite touring roads.
I somehow managed to pass most of the others who had left before me during the climb, and it was a lot of fun to chat a little with each of them along the way. Add that to the spectacular scenery, and the great weather–sunny with just the right amount of chill for a lengthy climb, and it really was an unforgettable morning. Everyone met up at the Logan Pass visitor center, and it was fun to compare notes and chat for a while longer. I could sense that a few of the ladies from the group tour were fairly new to touring, and were already feeling proud of their accomplishments so far. That type of thing is always nice to see. After a short look around the summit, I zoomed down the east side of the pass and spent the rest of the day at the Rising Sun campground, where I went on a nice boat ride on Lake St Mary and took a fun wildflower hike.
With the U.S. portion of the tour nearing a close, I spent one more full day in Montana, leaving the park for a while to visit the Plains Indians Museum in Browning. After that stop, I turned to the north, and passed though a section of shortgrass prairie, which was an interesting change of scene. In the evening, I entered the park one last time, however, in order to stay at the Many Glaciers campground. For years I have heard people say that Glacier was their favorite national park, and now I can see why. It certainly is high up on my list too.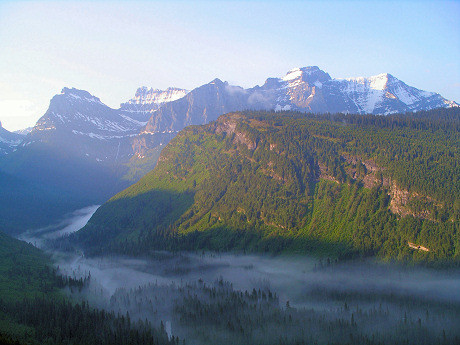 Near the base of Going-to-the-Sun Road, Glacier N.P.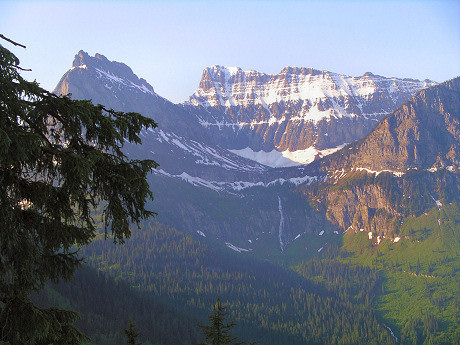 Going-to-the-Sun Road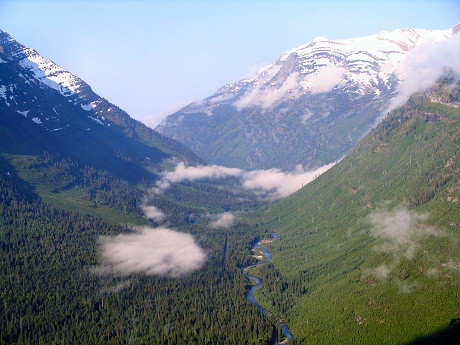 Looking back at the base of the climb, Going-to-the-Sun Road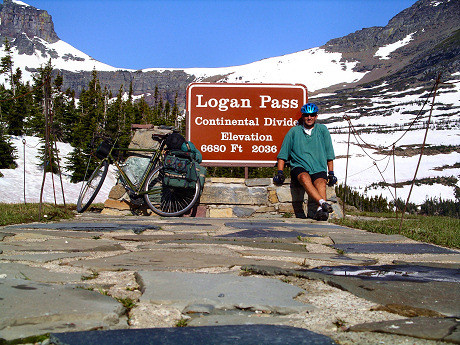 The obligatory "Here I am at Logan Pass&quot picture
British Colombia
Now the main goal of the tour was close at hand, namely a fun tour around the Rocky Mountain region of western Canada. The fist part would be a tour around the western ranges in British Columbia. However, in order to get there I had a day and a half of rigding to do to get across the southwest corner of Alberta. That began after crossing the border at the northern edge of Glacier park. From there I quickly arrived in Waterton Lakes National Park, the Canadian portion of the Waterton-Glacier International Peace Park. Since I had done a lot of cycling and hiking over the previous few days, and since the Canadian parks have more developed townsites within their boundaries, I decided to just get a nice meal there and then rest at the lakeshore for a few hours. Eventually, a strong cloudburst with hail forced me to call off that part of the plan a little early, and I set out again into the plains.
Before crossing the divide into B.C., I wanted to make one stop in Alberta, to see the interesting Head-Smashed-in-Buffalo Jump Historic site. The interpretive center there has some very interesting exhibits describing the ancient practice of hunting bison by herding them over the edge of a sheer cliff. From there I had a 35-km stretch of gravel road to deal with before joining the main highway, heading towards the Rockies again. This was one of the few time on this trip that I traveled due west, and by some bizarre stroke of luck, I actually had slight tailwinds all the way to Crowsnest Pass, at the B.C. border.
At only 1,330 meters, Crowsnest Pass was the lowest altitude crossing of the Continental Divide I have ever done. That fact has not slipped past the trucking companies of Canada, however, and they, and other motorized compatriots, were out in force on that section of highway In fact all of the route in B.C. turned out to be a mixed bag in that regard. There were some very nice, quite parts, to be sure, but many of the worst roads on the tour were there. Unfortunately, there were few opportunities to divert onto quiet secondary roads along the way. In spite of that, there were some very nice sights during this section.
However, the weather also decided to add a little bit of stress to the remaining days of the tour. In fact, just as I began to descend from Crowsnest Pass a huge downpour opened up, which lasted quiet a while and eventually forced me to bed down at a rather unsatisfactory place for a campsite. The next morning was not much better it was still raining, though much lighter, for most of the morning, and there was still a lot of traffic as Highway 3 curved around the edge of another range. Fortunately when the route turned to the north again at the country-store town of Elko, things improved rapidly. Though there were still a few big storms each day, the sun came out enough to lift my spirits. Travelling north on Routes 93 and 95 was also much nicer than the previous highway. Those roads gently rolled along through the broad valley between the Rocky and Selkirk ranges and provided easy cycling and many beautiful vistas. Even better, I had some great tailwinds in that section. The valley in that region is where the Columbia wetlands lie, forming the source of the Columbia River, which I had seen empty into the Pacific weeks earlier. Another highlight of that area was my short detour into Kootenay National Park to take a wonderfully soothing dip in the Radium Hot Springs Pool. That was just the ticket after several tough days on the road.
At that point, I was a little ahead of schedule, due to my aggressive pace at the start, and the increases I made, mostly by default, in my daily distances due to the very long hours of daylight at that time of the year. Therefore, I chose to visit an additional park, the Canadian version of Glacier National Park, to the northwest of the town of Golden. That may not have been the greatest choice, since getting from Golden to the park center at Rogers Pass entails cycling on the TransCanada Highway 1. It seemed a little strange to me that such a busy highway would cut straight through three of the countries most famous national parks, but I suppose that there are not a lot of other options. Indeed it is a very busy highway, and the worst part for cycling, at least of the portions I saw, was from Golden to Rogers pass. The traffic volume was heavy and moved at high speed, with many trucks. There were no, or only short sections of narrow shoulders, and to make thing worse, near the summit, one must go through five long, dark avalanche tunnels. Needless to say, when I reached the summit, I was feeling very frazzled, and when a small rain shower began, I decided to stay the night in the park lodge instead of dropping back down to the east side of the pass, as I had originally planned.
In the morning, the sun was out in full force for a change, and with the aid of gravity, the descent back down to Golden was much nicer that the climb the precious evening. Beacue of that, I had enough time to make a short detour to visit the Wolf Center which houses a few wolves that are used to help educate the public on their coexistence with people. After another break in Golden, I began the climb back into the Rockies, once again on the TransCanada highway, on the way to my visits of some of the most famous parks in the world. Fortunately, that section of highway was very much better than that on the previous day. The shoulders were mostly adequate and the grade was not too severe. Before too long, I arrived in the tiny park center of Field. There was a café or two and some cabins in the village, as well as a nice visitor center. It was the day of the Canadian national election, and the center was open late, as it was a polling place. I asked if they would let me vote, but they politely declined, even when I suggested that we would be more than happy to have as many Canadians as possible come down and vote in our elections on November 2nd. It's too bad, obviously we could have used the help. There was just enough daylight left to get to my final destination for the day, the campground at Takakaw Falls. The falls are a ways from the main highway, but they are definitely worth a short detour. They rank right up there with some of the best falls in the west, and the campground was beautifully quiet, one of the very best park campgrounds that I've ever used.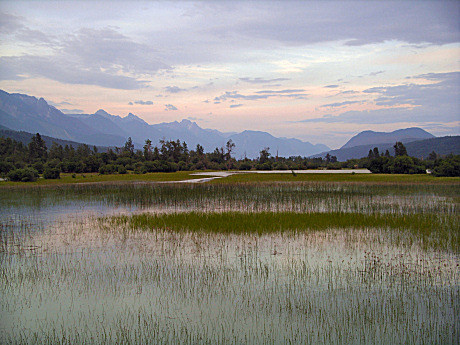 The Columbia Wetlands, Source of the Columbia River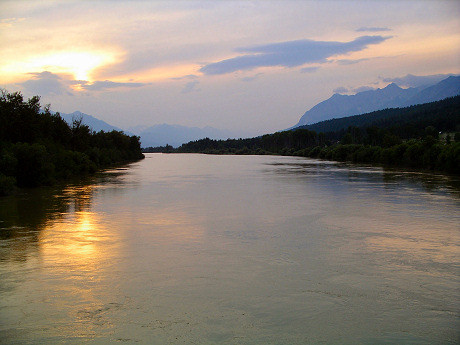 The Colubmia heads towards the Pacific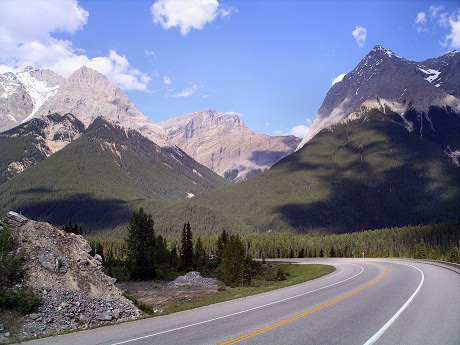 Climbing into the Rockies in Yoho National Park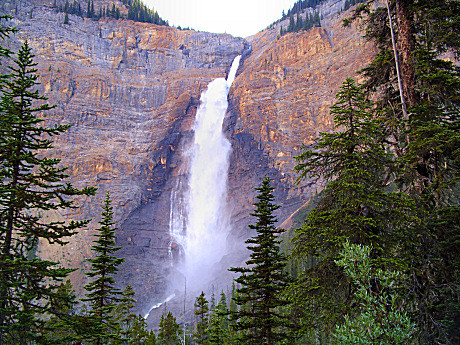 Takakaw Falls, Yoho, N.P.
Alberta
The next morning, it was just a very easy climb and then a quick descent into Lake Louise Village in Banff National Park. My strategy of keeping a quick pace through most of the tour had paid off, and I had several days to spend enjoying the famous parks of the Canadian Rockies. I won't go into all that much detail here, because the route is so popular and there is plenty of information available out there already. Arriving fairly early, I had most of three days available to stay in the Lake Louise area. I chose to stay in the campground, which was nice, but relatively expensive, opting to forgo nicer accommodations until later on in Jasper. There was plenty of time to rest a little, and still see all of the most interesting attractions. I went on a nice hike up to the alpine zone of the nearby mountains, staring from the top of the local Gondola, and took in all of the Canada Day festivities in Banff town. It was a nice coincidence that I was there for the holiday, as, since I was nearing the end of another tour, I was in a celebratory mood.
However, I definitely did not want to stay put for too long, because the amazing Icefields Parkway was just ahead. I had two and a half days available for the 230 kilometer distance between Lake Louise and Jasper Town, which would be a nice, relaxing pace (for me, at least,) and would give me plenty of time to visit all of the major attractions along the way. I could go on for many pages about all of the amazing sights along the way, but suffice it to say that the scenery surpasses any logical amount of preconceptions. The wildflowers were blooming, the falls were at their peak, and the skies decided to give me enough sunlight to see everything properly. It was a great ride, and I had no problems getting a site at the campgrounds along the way, nor finding food in the few lodges on the route The only possible drawback was a larger number of big tour buses and RVs than I would have liked, but I suppose that was to be expected. Most of them seemed to be heading for the Icefields Center at the Athabasca Glacier The chance to walk on a rapidly-melting glacier was well worth the stop, but the visitor center, where many tourists board shuttle buses to take them up to the ice, reminded me of being in the terminal of the Toronto airport.
After that great ride, I had a day and a half to spend in Jasper, but since I had seen so much over the previous few weeks, my main goal while there was to fill up with some tasty food. With that mission accomplished I had only a few days left before I was expected in Edmonton. I thought that it would be nice to avoid the dreary Highway 16 which travels a straight line between Jasper and Edmonton, and carries a lot of traffic. So, I decided to loop towards the south for a while, though the foothills of the Rockies, and then approach the city from the south. That seemed like a fun plan, and it started out well, but there is a long section of gravel road called the "Forestry Trunk Road" which was rather nice for a while, but when a rather heavy evening storm decided to pour down, the conditions deteriorated rapidly. Since I was so near the end, I gave up on that plan, turned around and took the highway to Edmonton after all. However, I managed to get off the main road near the end and still found a way to enter the city from the south.
After all of that distance, I arrived at my relative's house just when I had told them I would seven weeks earlier, and I felt great about completing such an interesting tour exactly as I had planned. This was one of the few times that there has been someone waiting for me at the end of a tour, and that added a rather nice touch, which I may never get to experience again. Hopefully they were not too put off by a strange family member showing up covered in several days of road dirt!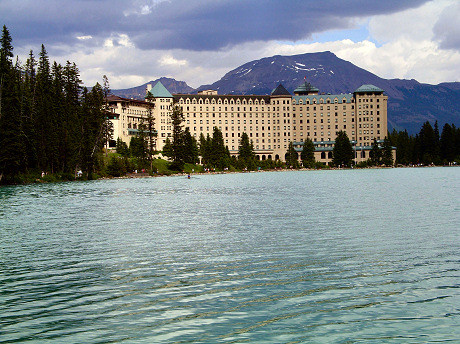 Lake Louise Chateau, Banff National Park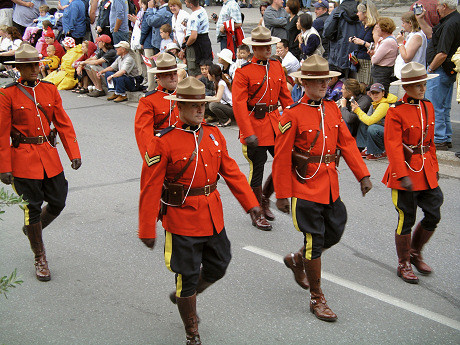 Canada Day Parade, Banff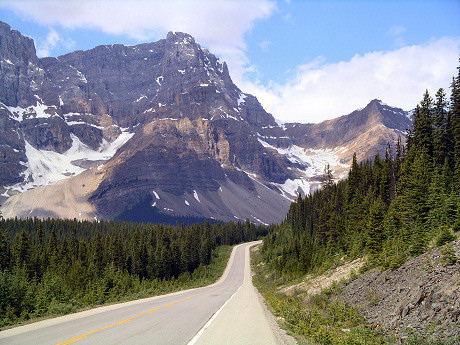 The magnificent Icefields Parkway, Banff/Jasper National Parks
Tourists climb the Athabasca Glacier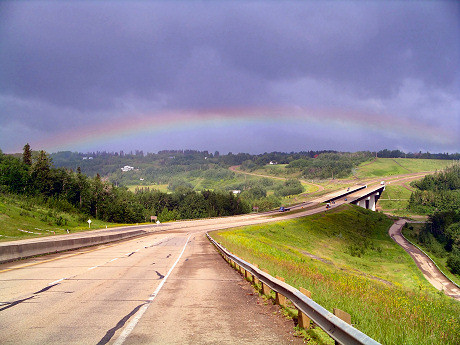 The final strech into Edmonton
Big Fun, Eh?!
Tour Log
---
May 24

Martinez to Bodega Bay
Distance: 145 km
Terrain: Hilly, Rolling
Max. Elevation: 484 m
Roads: Vallejo Ferry, GG Br., Rte. 1
Max Temp.: 24 C
Weather: Morning, evening fog
Comment: This was the first day.
May 25

Bodega Bay to Cleone
Distance: 185.5 km
Terrain: Hilly, Rolling
Max. Elevation: <300 m
Roads: Rte. 1
Max Temp.: 23 C
Weather: Morning, evening fog
Comment: Long day, but nice
May 26

Cleone to Weott
Distance: 144 km
Terrain: Rolling, Hilly, 2 big climbs
Max. Elevation: 536 m
Roads: Rte. 1, Ave of the Giants
Max Temp.: 27 C
Weather: Morning fog, Strong afternoon headwinds
Comment: Sore ankles
May 27

Weott to Eureka
Distance: 78.9 km
Terrain: Rolling
Max. Elevation: <300 m
Roads: Ave. of the Giants, misc. county roads, US 101
Max Temp.: 22 C
Weather: Light rain
Comment: Stopped in Eureka to rest ankles and wait out rain
May 28

Eureka to Flint Ridge
Distance: 118 km
Terrain: Rolling, hilly, flat
Max. Elevation: 266 m
Roads: Local roads, Eureka, Arcata, McKinleyville, US 101, Newton Drury Parkway, Coast Drive
Max Temp.: 16 C
Weather: Morning clouds, then clearing
Comment: Great hike in the Redwoods, ankles feeling slightly better, met the "scamin' Aussie" again
May 29

Flint Ridge to Brookings, OR
Distance: 90 km
Terrain: Rolling, 1 climb
Max. Elevation: 373 m
Roads: Coastal Drive, US 101
Max Temp.: 20 C
Weather: Sunny, strong afternoon headwinds
Comment: Spent morning on beach, began ride in afternoon
May 30

Brookings to Charleston
Distance: 174 km
Terrain: Heavy/Light Rolling
Max. Elevation: <300 m
Roads: US 101, Seven Devils Rd, Cape Arago Hyw
Max Temp.: 25 C
Weather: Morning fog/drizzle, Sunny, light wind
Comment: A great day, fairly easy afternoon
May 31

Charleston to Wakonda Beach
Distance: 149 km
Terrain: Lightly rolling/flat AM, Hilly PM
Max. Elevation: <300 m
Roads: Cape Arago Hwy, US 101
Max Temp.: 20 C
Weather: Cloudy AM, sunny PM, strong headwinds PM
Comment: Too much traffic in morning (Memorial Day yahoos), Great scenery in afternoon
June 1

Wakonda Beach to Cape Lookout
Distance: 140 km
Terrain: Light rolling with a few moderate climbs
Max. Elevation: 250 m
Roads: US 101, Sand Lake Rd, Cape Lookout Rd.
Max Temp.: 16 C
Weather: Sunny
Comment: A nice day, visited the aquarium, a lot of traffic btw Newport and Lincoln City
June 2

Cape Lookout to Astoria
Distance: 133 km
Terrain: Rolling, with a few moderate climbs
Max. Elevation: <300 m
Roads: Whiskey Creek Rd, Netarts Hwy, US 101, Lewis & Clark Rd.
Max Temp.: 23 C
Weather: Sunny, occasional strong headwinds
Comment: Felt a little tired, but pushed on for a rest day in Astoria
June 3

Max Temp.: 24 C
Weather: Sunny
Comment: Rest and Sightseeing in Astoria
June 4

Astoria to Grayland, WA
Distance: 144 km
Terrain: Light Rolling/Flat
Max. Elevation: <300 m
Roads: US 101, WA 410, WA 4, US 101, WA 105
Max Temp.: 22 C
Weather: Sunny, evening clouds, some strong afternoon headwinds
Comment: An easy day, would have gone farther, but Westport ferry only running on weekends
June 5

Grayland to 28 km NW of Lake Quinault
Distance: 136 km
Terrain: Light Rolling/Flat
Max. Elevation: <300 m
Roads: WA 115, WA 109, Moclips-Olymipic Hwy,
US 101
Max Temp.: 17 C
Weather: Overnight rain, some morning sun, then cloudy and afternoon rain
Comment: Another easy, but wet day
June 6

NW of L. Quinault to Hoh Rain Forest, Olympic NP
Distance: 93 km
Terrain: Lightly Rolling
Max. Elevation: <300 m
Roads: US 101, Hoh River Rd.
Max Temp.: 17 C
Weather: Cloudy with periods of rain
Comment: A lazy day getting to Olympic NP
June 7

Hoh Rain Forest to Twin Junction
Distance: 118 km
Terrain: Moderate to heavy rolling
Max. Elevation: <300 m
Roads: Hoh River Rd, US 101, WA 113, WA 112
Max Temp.: 17 C
Weather: Cloudy AM, clearing PM
Comment: Rode in the afternoon after nice hikes in the park
June 8

Twin Junction to Coupeville
Distance: 145 km
Terrain: Moderate Rolling with some larger hills
Max. Elevation: <300 m
Roads: WA 112, US 101, Old Olympic Hwy, US 101, WA 20, Whidbey Is. ferry
Max Temp.: 24 C
Weather: Sunny, light winds
Comment: Great morning ride, too much traffic between Port Angeles and Port Townsend, nice on Whidbey Is.
June 9

Coupeville to Chilliwack, BC
Distance: 195 km
Terrain: Moderate rolling
Max. Elevation: <300 m
Roads: WA 20, Bay View Rd, WA 20, WA 9, Vye Rd, Vedder Mtn Rd.
Max Temp.: 20 C
Weather: Early morning rain, cloudy
Comment: Arrived at Kay & Pete's place
June 10

Comment: Rest day in Chilliwack
June 11

Chilliwack to Rockport, WA
Distance: 173 km
Terrain: Flat, rolling
Max. Elevation: <300 m
Roads: Lickman Rd, Vye Rd, WA 9, South Skagit Hwy, WA 20
Max Temp.: 20 C
Weather: Cloudy, a few raindrops
Comment: Not much to see due to clouds
June 12

Rockport to Washington Pass - east side
Distance: 126 km
Terrain: Mountainous, 1500 m climb
Max. Elevation: 1669 m
Roads: WA 20
Max Temp.: 17 C
Weather: cloudy, wet fog at summit
Comment: N. Cascades NP, one long but mostly gradual climb, 4 C at summit, almost destroyed another camera
June 13

Washington Pass - east side to 17 km east of Bridgeport
Distance: 160 km
Terrain: Rolling, w/ descent
Max. Elevation: 1170 m
Roads: WA 20, Mazama Rd, WA 20, Winthrop-Twisp Rd, WA 153, WA 173, WA 17
Max Temp.: 25 C
Weather: Mostly sunny, strong winds-variable but mostly headwinds
Comment: A nice day, dropped 870 m, but strong winds slowed things down. Transition from forest to high desert
June 14

E of Bridgeport to Inchelium
Distance: 170 km
Terrain: Hilly, 500 & 750 m climbs
Max. Elevation: 1276 m
Roads: WA 17, WA 174, WA 155, Cache Creek Rd, WA 21, Bridge Creek Rd, Inchelium Hwy
Max Temp.: 24 C
Weather: Sunny, moderate tailwinds
Comment: A great ride, esp through Colville tribal land
June 15

Inchelium to 20 km S of Ione
Distance: 146 km
Terrain: Lightly rolling with one 500-m climb
Max. Elevation: 1016 m
Roads: Inchelium Hwy, WA 20, N Le Clerc Rd.
Max Temp.: 28 C
Weather: Clear, occasional tailwinds
Comment: A fairly easy day, nice rest in Coleville
June 16

Ione to MT border past Clark Fork
Distance: 177 km
Terrain: flat to lightly rolling w/ a few small hills
Max. Elevation: 780 m
Roads: Le Clerc Rd, US 2, ID/MT 200
Max Temp.: 24 C
Weather: Clear, only light winds
Comment: An easy, and mostly exceptionally scenic day
June 17

MT border to Perma
Distance: 153 km
Terrain: Light to moderate rolling
Max. Elevation: 920 m
Roads: MT 200, Blue Slide Rd. (part gravel), MT 200
Max Temp.: 25 C
Weather: Sunny, occasional strong headwinds
Comment: A fairly slow and uneventful day
June 18

Perma to Big Fork
Distance: 161 km
Terrain: Lightly rolling
Max. Elevation: 1039 m
Roads: MT 200, MT 212, US 93, MT 35
Max Temp.: 22 C
Weather: Morning sun, evening clouds, strong evening headwinds
Comment: Some nice riding, some average, too much traffic on US 93, a little sightseeing
June 19

Big Fork to West Glacier
Distance: 47 km
Terrain: light/moderate rolling
Max. Elevation: 950 m
Roads: MT 35, MT 206, US 2
Max Temp.: 22 C
Weather: light rain in morning then cloudy
Comment: Fast morning ride, then clean up/rest in West Glacier
June 20

West Glacier to Avalanche Creek
Distance: 48 km
Terrain: light rolling
Max. Elevation: 1030 m
Roads: Going to the Sun Rd.
Max Temp.: 18 C
Weather: cloudy, mid-day rain, clearing evening
Comment: Sightseeing in Glacier NP
June 21

Avalanche Creek to Rising Sun
Distance: 69 km
Terrain: Mountainous
Max. Elevation: 2033 m
Roads: Going to the Sun Rd.
Max Temp.: 22 C
Weather: Sunny
Comment: A great day, beautiful Logan Pass, Fun boat ride, nice wildflower hike
June 22

Rising Sun to Many Glacier via Browning
Distance: 146 km
Terrain: Hilly to rolling, 1 450-meter climb
Max. Elevation: 1790 m
Roads: Going-to-the Sun Rd, US 89, MT464, Many Glacier Rd.
Max Temp.: 23 C
Weather: Morning clouds, then sunny, light variable winds
Comment: A fairly easy day, a little extra sightseeing
June 23

Many Glacier to 9 km N of Glenwood, AB
Distance: 157 km
Terrain: Heavy to moderate rolling, one 300-m climb
Max. Elevation: 1665 m
Roads: Many Glacier Rd, US 89, MT 17, AB 6, AB 5, AB 800, AB 505, AB 810
Max Temp.: 26 C
Weather: Sunny AM, evening T-storm, light rain afterwards, variable light wind
Comment: Entered Canada, a fairly normal day nice break in Waterton Lakes Park
June 24

Glenwood to Sparwood, BC
Distance: 199 km
Terrain: light rolling, moderate rolling, hilly
Max. Elevation: 1330 m
Roads: AB 810, AB 3, AB 2, AB 785, AB 3
Max Temp.: 24 C
Weather: partly cloudy, evening shower and thunderstorm, light afternoon tailwinds
Comment: A long and fairly tiring day. No good place for a break. Interesting exhibit at HSIBJ
June 25

Sparwood to
Skookumchuck
Distance: 165 km
Terrain: moderate rolling, light rolling
Max. Elevation: 1040 m
Roads: BC 3, Warden-Ft Steele Rd, BC 93
Max Temp.: 23 C
Weather: light rain in morning, partly sunny afternoon, evening cloudburst w/ hail, moderate mid-day tailwinds
Comment: A long dreary morning, pleasant afternoon
June 26

Skookumchuck to Parson
Distance: 164 km
Terrain: lightly rolling
Max. Elevation: 940 m
Roads: BC 93, BC 95
Max Temp.: 20 C
Weather: Rain through morning, cloudy rest of day w/ 1 afternoon thunderstorm. moderate evening tailwinds
Comment: A mixed day, fairly unpleasant rain, nicer in the evening, a wonderful saok in the hot springs
June 27

Parson to Rogers Pass
Distance: 120 km
Terrain: light rolling, then mountainous. 1 300-m, 1 470-m climbs
Max. Elevation: 1315 m
Roads: BC 95, Can 1
Max Temp.: 22 C
Weather: cloudy, with afternoon shower
Comment: Way too much traffic on hwy 1, bad road conditions, decided to stay at the summit in lodge
June 28

Rogers Pass to Yoho NP (Takakkaw Falls)
Distance: 167 km
Terrain: Mountainous, 1 470-m descent, 3 300-m, 1 400-m climbs
Max. Elevation: 1582 m
Roads: Can 1, Yoho Valley Rd.
Max Temp.: 32 C
Weather: sunny
Comment: A better day, still too much traffic, but road was better. sightseeing at wolf center, and a great campsite in Yoho
June 29

Yoho to Lake Louise, AB
Distance: 48 km
Terrain: Mountainous, 1 300-m, 1 200-m descent 1 440-m climb
Max. Elevation: 1730 m
Roads: Yoho Valley Rd, Can 1, Great Divide Rd.
Max Temp.: 24 C
Weather: Sunny, cloudy evening w/ scattered showers
Comment: Minimal riding, just enough to get to long break at L Louise
June 30

Max Temp.: 22 C
Weather: sunny, evening clouds
Comment: Rest day in Lake Louise, Nice hike on the mountain, the lake was busy but pretty
July 1

Max Temp.: 20 C
Weather: Cloudy, light showers in afternoon
Comment: Sightseeing day in Banff. Happy Canada Day
July 2

Lake Louise to Rampart Creek
Distance: 105 km
Terrain: 1 gentle 550-m climb, 1 550-m descent, otherwise, lightly rolling
Max. Elevation: 2086 m
Roads: Icefields Parkway
Max Temp.: 21 C
Weather: Mix of sun and clouds, generally nice
Comment: A fairly short and easy day, with splendid scenery
July 3

Rampart Creek to Honeymoon Lake
Distance: 64 km
Terrain: 1 600-m climb and descent, then light rolling
Max. Elevation: 2031 m
Roads: Icefields Parkway
Max Temp.: 23 C
Weather: Mostly cloudy with some sun and light evening rain, strong afternoon headwinds
Comment: A slow, relaxing day with lots of sightseeing. Stopped a little early to avoid rain
July 4

Honeymoon Lake to Jasper
Distance: 97 km
Terrain: Moderate rolling
Max. Elevation: 1312 m
Roads: Icefields Parkway, AB 93A
Max Temp.: 23 C
Weather: Early morning rain, clear by afternoon, moderate headwinds
Comment: A short day, late start to let rain pass, a lot of sightseeing, relaxing pace to rest stop in Jasper
July 5

Max Temp.: 23 C
Weather: Mostly cloudy
Comment: Rest day in Jasper
July 6

Jasper to 50 km S of Cadomin
Distance: 186 km
Terrain: Light rolling, hilly, 1 650-m climb
Max. Elevation: 1646 m
Roads: Can 16, AB 40 (40-km paved, 65-Km gravel)
Max Temp.: 27 C
Weather: Light morning rain, then mostly cloudy, evening thundershower. Morning tailwind, mixed winds in afternoon
Comment: A long but fairly easy day. Gravel road mostly good, but a little wet at the end. Saw 1st bear
July 7

S of Cadomin to Nojack
Distance: 162 km
Terrain: Light rolling
Max. Elevation: 1150 m
Roads: AB 40 (gravel), AB 47, Can 16
Max Temp.: 9 C
Weather: Rain through morning, then cloudy w/ occasional drizzle. Morning headwinds, strong afternoon tailwinds
Comment: A bleak day, changed course due to wet, sloppy gravel road. Mostly dull riding
July 8

Nojack to Calmar
Distance: 176 km
Terrain: flat to moderate rolling
Max. Elevation: 905 m
Roads: Can 16, AB 22, AB 39
Max Temp.: 11 C
Weather: Cool, w/ occasional drizzle, heavy rain in afternoon. very strong tailwinds/crosswinds
Comment: The last full day. A push through farm country to the end. A soaking rain.
July 9

Calmar to Edmonton
Distance: 55 km
Terrain: 0
Max. Elevation: 800 m
Roads: AB 90, local roads
Max Temp.: 22 C
Weather: Mostly cloudy, one shower
Comment: Yeah!
July 14

Edmonton to Elk Island NP and return
Distance: 209 km
Terrain: light rolling
Max. Elevation: 800 m
Roads: Local roads
Max Temp.: 27 C
Weather: Sunny lightwinds
Comment: A sightseeing trip looking at wildlife

Total Distance:
5838 km
Daily Average:
136 km
Longest Day:
209 km
Highest Point:
2086 m
---