Transcontinental Tour, 01993
Little did I know just how far
this road would lead...
On the evening of July 13, 01993, I snapped a padlock shut on a storage facility in the hills of western Massachusetts, where all my worldly possessions would spend the next few months, and hopped on my bicycle. Seconds later, I was riding west, not planning on stopping until I reached California. San Francisco, to be exact. At that moment the most profound thoughts of "What have I gotten myself into?" crossed my mind, but the sense that I was finally doing something that would expand my view of the world was more powerful. At that time I had no idea that those would be the first kilometers of tens of thousands more, over many years, which would take me to many of the most fascinating places in the world.
Some of the fine details of that tour have faded into the mists of my memory, but this page gives a quick description of the route and my impressions of the trip. One thing that strikes me as I look back on that tour is that I obviously didn't think anything of setting such an insane pace. Ah, the exhilaration of youth. Certainly, these days I would insist on doing a little more exploring along the way. The map below shows the route, and statistics for the tour are in the sidebar.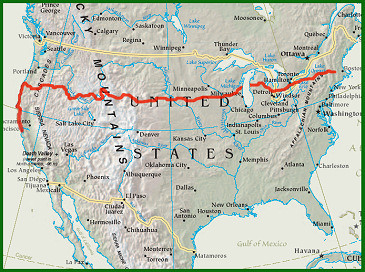 ---
The East
By midday of the first full day of the tour, I had already passed through the Berkshires of western Massachusetts and entered New York, the second of eleven states that the route would pass though. At that point I was still a little disorganized, and my lack of experience was showing. I passed much too close to the urban center of Albany, and made the poor choice of riding along the busy road, US 20, to cross most of the state. However, the Finger Lakes region was quite pretty, and I didn't seem to be slowed down too much by the incessant headwinds that marked the first few days. Before long, I arrived at Niagara Falls where I took a morning off to admire their impressive display.
In order to avoid the urban areas of northern Ohio and Indiana, I decided to cross into Canada for a brief period and traveled along the northern shore of Lake Erie. There the terrain flattened out, relative to New York, which was a nice change, and the countryside took on a more agricultural flavor. That section was fairly uneventful, the highlight being my discovery of one of my all-time favorite sites for free camping, at the top of some sandy cliffs overlooking the Lake near Port Burwell. It was there that I decided that I would continue to camp in that manner indefinitely.
Pleased that I appeared to be making steady progress, I soon crossed the St. Clair River into Michigan on a small ferry. Things took a turn for the worse, shortly thereafter, as the next morning I discovered the first of two failures of my rear rim. The eyelets had pulled out in several places, and even with my minimal bike repair knowledge at the time, I knew that meant trouble. Fortunately, I looked up from the discouraging sight to see that I was standing right across the street from Alpine Cycles in Port Huron. The nice folks there got me set right up with a replacement wheel sent out overnight from the factory. During that brief wait, I at least had the chance to do some laundry, discover that pizza was my most favorite touring food, and take a relaxing swim in Lake Huron. Once on the move again, I made rapid progress across the state, though often on rather bumpy roads. In a few days, I was swimming in the third Great Lake that I would see during the tour, namely Lake Michigan, at Ludington.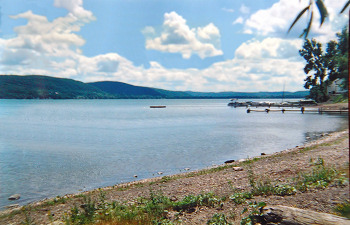 Lake Canadarago, New York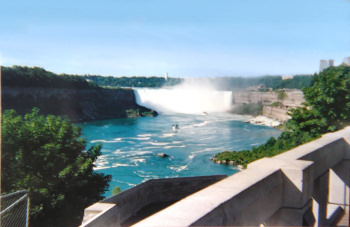 Niagra Falls from the Canadian side
The Midwest
My route had taken me to Ludington, specifically to allow me to board the S.S. Badger, the large ferry that crosses Lake Michigan. That seemed like a fun alternative to navigating around Chicago, and though the weather was not very good on that day, it was a refreshing change of pace. Up next was Wisconsin, and I had mixed experiences there. I found the state to be very scenic, and there were some very nice cycling conditions. I also took the time to take two short tours off the bike, one of the Trek Bicycle Factory in Waterloo, where my bike had been manufactured, and another at Frank Lloyd Wright's home and school, Taliesin in Spring Green. Both of those visits were very enlightening and added a lot to my trip. In particular, I was a little bemused as I entered the Trek factory that I did not see a big rack of employee's bikes parked outside the factory on such a beautiful day. Much to my delight, I soon noticed a spectacular indoor parking facility for just that purpose. A nice touch, indeed.
As I approached the western edge of the state, I began to see the aftermath of the Great Mississippi Flood of 01993. That particular cataclysm was of great concern to me just before the start of the tour. In fact, I was very worried that there would be no practical way to ride across the great river. Since I had never before been west of the Mississippi, and doing so by bike was one of my primary goals of the tour, I feared that Nature might put a big kink into my plans. Fortunately, the waters had receded to near normal only a couple of weeks before I arrived (only to rise up again a few weeks later.) That was the only bit of good luck I had experienced for a while. I was still having big problems with flats, and wheels in general. The situation seemed to be getting worse, and I was beginning to fear that I would eventually have to abandon the tour.
In Iowa, things changed for the better, and not a moment too soon. For the first time, I had several days in a row with no, or light, adverse winds, which made a huge difference in my mood. There was also the generally flat terrain of the state, and many classic midwestern small towns which were very pleasant places to take my rest breaks. But the best bit of good fortune came during my first morning in the state. As I approached the little town of Decorah, I started noticing an inordinate number of other cyclists out on the roads. While quite a welcome sight, I was a bit baffled, since I had grown accustomed to seeing very few others in recent days. The numbers of my two-wheeled compatriots continued to rise as I entered the center of town, and it was there that I realized what had just happened. I had run head-first into RAGBRAI. That slightly clunky acronym refers to one of the best-known cross-state organized group tours. In those days, however, I was very much out-of-the-loop in the bicycling world, and had never heard of such a thing. No mind, as meeting a few thousand other riders out having a good time really lifted my spirits when they needed it the most. Of course, I stopped right there and spent the rest of the day enjoying the fabulous festivities. After that great, if unexpected, encounter I literally flew across the rest of the state, recharged with a new level of confidence and enthusiasm.
Crossing into South Dakota was an event that I had been really looking forward to for many days. It was there that I entered the Great Plains, and felt for the first time during the tour that I was in unfamiliar surroundings. I had never been in a region such as that before, and from that point on, every place that I would see would be a very new experience. As expected, the winds restarted their howling ways, choosing to blow mostly into my face for several days. At that point, however, I was finally beginning to hit my stride, and I continued to make good progress towards the west. At the far end of the state I took a day off to visit Badlands National Park, the first park that I ever visited on a bicycle. The weathered rock formations there provided such a stark contrast to anything that I had seen before, that Badlands still remains among my favorite parks. Before leaving South Dakota, I passed through Custer State Park , in the famous Black Hills, where I saw my first examples of wild bison. That was quite a sight for an east-coast fellow like myself.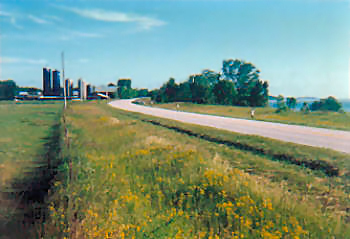 The Wisconsin shoreline of Lake Michigan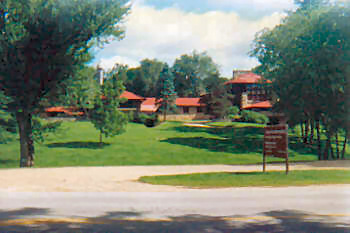 Frank Lloyd Wright's Taliesin, Spring Green Wisconsin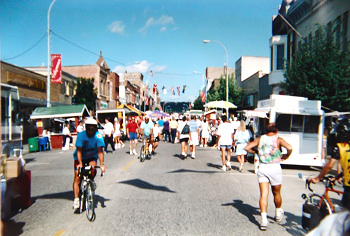 RAGBRAI comes to Decorah, Iowa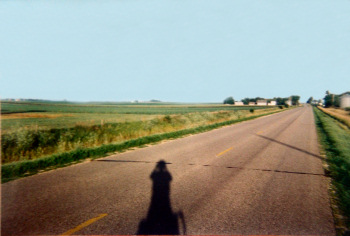 Morning near Ashton, Iowa
The Mountain West
As I entered Wyoming, the environment around me really began to change, as expected. I was quite surprised at just how desert-like the eastern part of the state was. I had never realized the extent of the great Western Desert until that point. There were many fascinating sights and encounters in that region, and one of the most memorable was my first encounter with the famous pronghorns of the plains. I was riding along a quiet stretch of highway, when out of nowhere a pronghorn buck passed me from behind, joined a few seconds later by his mate. Not knowing exactly what to do, I followed along, riding as fast as I could possibly go. For a short while they tolerated me, and I kept close enough that I could almost reach out to touch the tip of their tails. They were simply toying with me, however, and in a few seconds they both accelerated to what seemed like 90 km/h, and then in one graceful leap, jumped a nearby fence and disappeared onto the prairie. That is one memory from this tour that will remain with me forever.
All was not perfect, however, and just as I had left the town of Gillette, I pulled the eyelets out of my rear rim for the second time. Limping back into town, I found another shop to help me, though it took a little longer to get the repair done this time. Perhaps that was for the best because just ahead were most of the major mountain passes of the tour. This first of these, and my first high pass ever, was the Bighorn, or Medicine Wheel, Pass, just west of Sheridan. That was a significant climb of 1,400 meters, topping out at 2,930 meters, and I was quite pleased with myself for making it up in reasonable shape. Near the summit I stopped to visit the Bighorn Medicine Wheel historic site. The quiet solitude of the alpine country was very new, and inspiring, to me and thinking about the peoples who had held that place scared for centuries gave me a very new perspective.
Continuing on, my next goal was, obviously a wonderful visit to Yellowstone National Park. There is not much that I can say to add to the well-deserved reputation that the park holds. In spite of some rather poor cycling conditions, my visit there was by far the highlight of the entire tour. The weather, which had been rather poor the previous day, decided to cooperate and just as I crossed Sylvan Pass at the east gate, the skies turned blue. So I decided to spend the next three days there, camping at the hiker-biker sites at Bridge Bay. The first two days were spent mostly off the bike, and on the third I took a ride around the lower loop. On that ride, I had one of those special experiences that don't come around very often. I had stopped to take a quick look, and for a brief rest, at the Daisy geyser basin. Things were pretty calm there, and I was the only human to be seen in the entire basin. Just then, several geysers decided to erupt and spewed their liquid ejecta high into the air. It was as if they were performing solely for my benefit, and I greatly appreciated their effort. The rest of the park was equally fascinating, and I have yet to see a more impressive display of either wildlife or geology. Though the rangers did tend to look at cyclists with a bit of perplexed concern.
It was also in the park area that I met several other solo or small-group tourists, the first examples that I had seen so far. I was really nice to chat for a while and compare notes from the roads, and that reinforced my feeling that I was doing all right after all. Leaving Yellowstone, I swung south to visit Grand Teton National Park. There, I rode along the fantastic Jenny Lake road, took a great hike into the mountains, and camped at an excellent hiker-biker campground at the base of Mount Moran. My last section in Wyoming took me thought the tourist town of Jackson, where I stopped long enough to go on a chilling, but really fun, whitewater raft trip on the Snake River.
Idaho came next, and I chose a route across the southern part of the state. That took me back out into the desert once again, and proved to be a tough, but interesting section as well. There were some unusual sights along the way, such as the Craters of the Moon National Monument, which lies at the center of a 300-km wide lava field, and Bruneau Dunes, which really gave me the feeling of being in the middle of nowhere.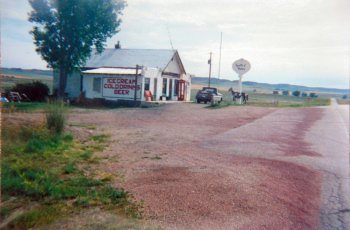 The entire town of Spotted Horse, Wyoming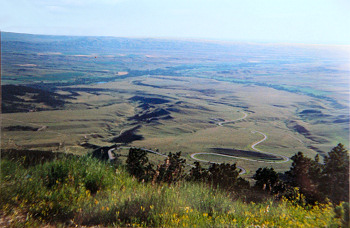 Climbing the Medicine Wheel Pass Wyoming, Elv. 2,930 meters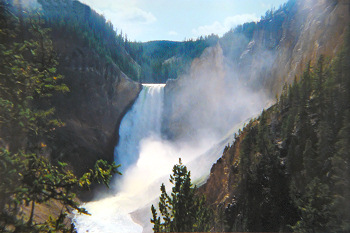 The amazing Yellowstone Falls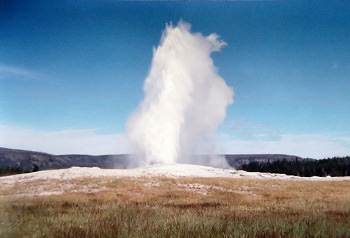 Old Faithful, Yellowstone, N.P.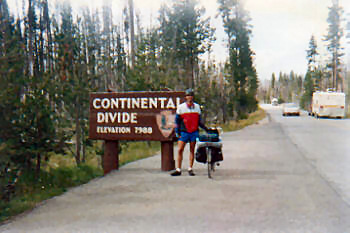 The Continental Divide, in Yellowstone .N.P.
The West Coast
Crossing into Oregon, I began to feel a strong desire to see the ocean after crossing a several hundred kilometers of desert. To achieve that, I began to increase my daily distances. Even today, I am rather amazed that I maintained that pace through some fairly rugged terrain. That doesn't mean that I didn't enjoy that section, far from it. In fact, it did not take me long to realize that Oregon is probably my favorite U.S. state for cycling. The eastern part of the state had some impressive scenery, but it was when I crested the Cascades that I really felt inspired. That crossing took place on the McKenzie Pass Highway, west of Sisters, which, even today, remains one of my very favorite cycling roads. In addition to the amazing scenery, and the subsequent transition to thick coastal forest, that pass gave me the feeling that I would, without a doubt, complete my tour as planned.
From there, I continued to make a bee line for the coast, eventually encountering the mighty Pacific, for the first time in my life, at Florence. I must admit to feeling rather emotional as I stood there watching the Sun set over the waves. At that point, I turned south still heading for my final destination of San Francisco. The coastal route is deservedly famous for its scenery and great cycling, and I concurred with that assessment as well. I had a fabulous time on that part of the route, and both the weather, and my physical and mental conditions were in good form, which made things even better. Some of the best sights along the way were in Honeyman State Park at the Oregon Dunes National Recreation Area, and Samuel Boardman State Park. I was still travelling fairly quickly, but I had the feeling that I would definitely be back to that area again in the future, so I was not too concerned about missing anything.
When I crossed into California, I almost could not believe it. The tour so far had seemed both very long, and very brief. There was still a lot to see, however, along the splendid California coast, and that would definitely make for a great finale to the trip. The first, and perhaps most awe-inspiring, place along the way was the region where mighty Redwoods still grow. I was directed by a ranger to camp at the Flint Ridge campground in Redwood National Park, which sits atop a bluff near the mouth of the Klamath River. My first sighting of the big trees there remains one of the most memorable moments of my life. Unfortunately, I could not spend too much time in sightseeing along that section, as I was expected in San Francisco before long. In fact, I made things much harder for myself when I mistakenly told my sister, who planned to meet me there, that I would arrive on Wednesday, when I really should have said Thursday. That error forced me to put in some really long days over very hilly terrain. I have repeated parts of that section of the route over the years, and I am still amazed that I was able to cover such long distances back then.
Nevertheless, before much longer I was rolling my wheels over the Golden Gate Bridge. The 49 days of the tour had seemed to go by much too quickly. Though it was only my first tour, I had become accustomed to the touring lifestyle, and I was already thinking about grander plans for the future. In fact, had I not been running short of cash I may have simply kept on going right then, and I don't think I would have regretted that decision.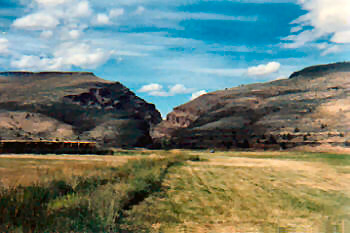 Picture Gorge, near Dayville, Oregon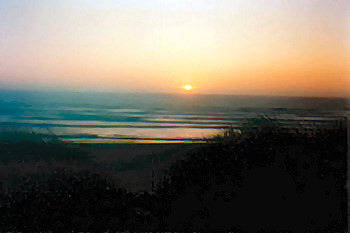 My very first view of the Pacific Ocean, near Florence, Oregon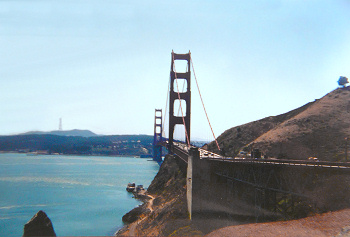 The Tour ends on the other side of the Golden Gate Bridge
---
Post-Tour Index | Articles Index