The North Coast
October 11, 2019
CYCLING & TRAVEL
Back during the Tour of Gondwana, when I became interested in seeing a Scarlet Ibis, I tentatively extended my route plan for the South American Stage of that Tour such that I would finish in Venezuela, where that beautiful bird can often be seen. However, as I neared the end of that Stage, both my time and money were running short, and I wasn't able to make that happen. Nevertheless, seeing that country continued to be a goal of mine, for a chance to see the Ibis and also to visit Canaima National Park, the location of the famous Angel Falls and a top-level World Heritage Site. In fact, in my earliest sketches of a route for the World2 Tour Venezuela was intended to be the starting point for the entire Tour. Everywhere that has already been visited during this Tour was added to the route later on, usually in a might-as-well manner.
Even as the political situation in Venezuela continued to deteriorate during recent years, I held on to hopes that I would be able to stick to my original plan. I have toured through places that were in the midst of political crises, or simply just general societal dysfunction, and, most of the time, the risks of visiting places like those are significantly overblown. However, there may come a point when the conditions fall to a level that would make visiting a place notably unpleasant, not to mention potentially unsafe. For me, the criteria that demarcate that transition are the onset of hyperinflation and food shortages. A year or two ago, both of those situations came to pass in Venezuela and I finally had to abandon my long-standing goal of making a visit there. With that somewhat unpleasant decision, I needed to formulate an alternative that would be both interesting and would allow me to continue moving south using minimal amounts of powered transport.
Trinidad had been an earlier addition to the route specifically because there used to be an official ferry service crossing the short span of the Gulf of Paria to the coast of eastern Venezuela. Several years ago, however, that ferry was discontinued and was replaced with a semi-legal, ad-hoc service involving small private boats. I had intended to make use of the latter method right up to the point when my route plans changed. At that point, I had become accustomed to the idea of seeing Trinidad, so I kept that country in my plans, but I was then frustrated by the fact that there were no connections to other countries by sea that I could utilize. With my requirement to keep air travel distances as short as possible, there was really only one logical choice, I would include visits to the nations of Suriname and Guyana in my route. That option had the welcome effects of giving me two countries instead of one, two World Heritage Sites instead of one, and an equal number of nice birds to seek out. Of course, two flights, instead of none, were also required, a fact that distinctly annoyed me.
While I always try to avoid flying, whenever it must be done I, at least, try to make good use of my time during the final approach to look down and evaluate what the circumstances of the particular country are, with regard to being touring-friendly. As landing in Trinidad neared, that behavior reinforced my preconceptions that the island would be deficient in several aspects. As a long-time producer of gas and oil, the nation is now, not surprisingly, significantly auto-dependent, and many major highways, jammed with traffic, appeared below. Additionally, the narrower road that I would soon use to leave the airport was visible, and carried a similar load of vehicles. A large fraction of the country's population lives in a narrow east-west-oriented belt that lies at the base of the mountain range that makes up the north edge of the island, and which I would need to find my way through a few times. From above, that area looked rather sprawly and unpleasant.
On the other had, once on the ground, some other factors were more appealing. Costs for food were not too high, and lodging was almost affordable, but not quite. The society on the island is mostly made up of the descendants of colonial-period African or Indian migrants, voluntary or otherwise, and today that mix is as vibrant as you might imagine. More importantly, once one has found their way out of the congested area, there are actually some relatively nice, quiet roads to use. The road up to the Asa Wright Center was one of those, and was one of the less-strenuous climbs I had done in a while. The road that skirts the coast around the northeast corner of the island was also enjoyable in places and the day I used it was one of the first generally easy days I had had in weeks. Additionally, a road that travels east-west to the south of the congested area, passing near the Arena Forest, was also surprisingly nice. Nevertheless, I spent a significant amount of time in heavy traffic and, as such, I took relatively few photographs of the island. Those shown below do not necessarily give an accurate representation of a cycling visit to Trinidad.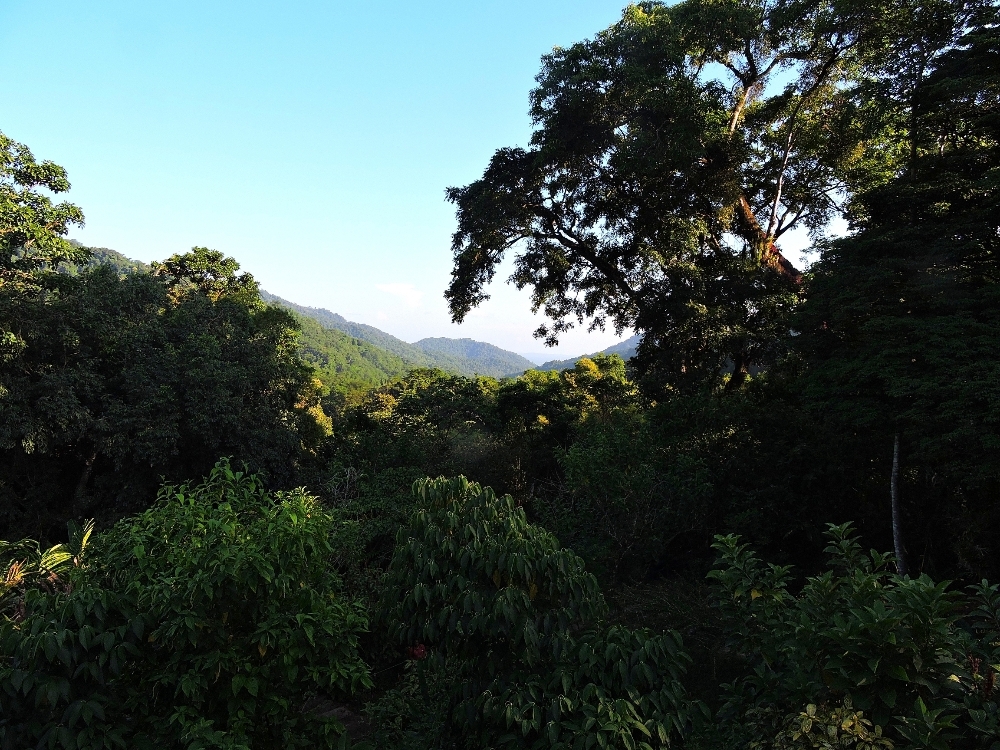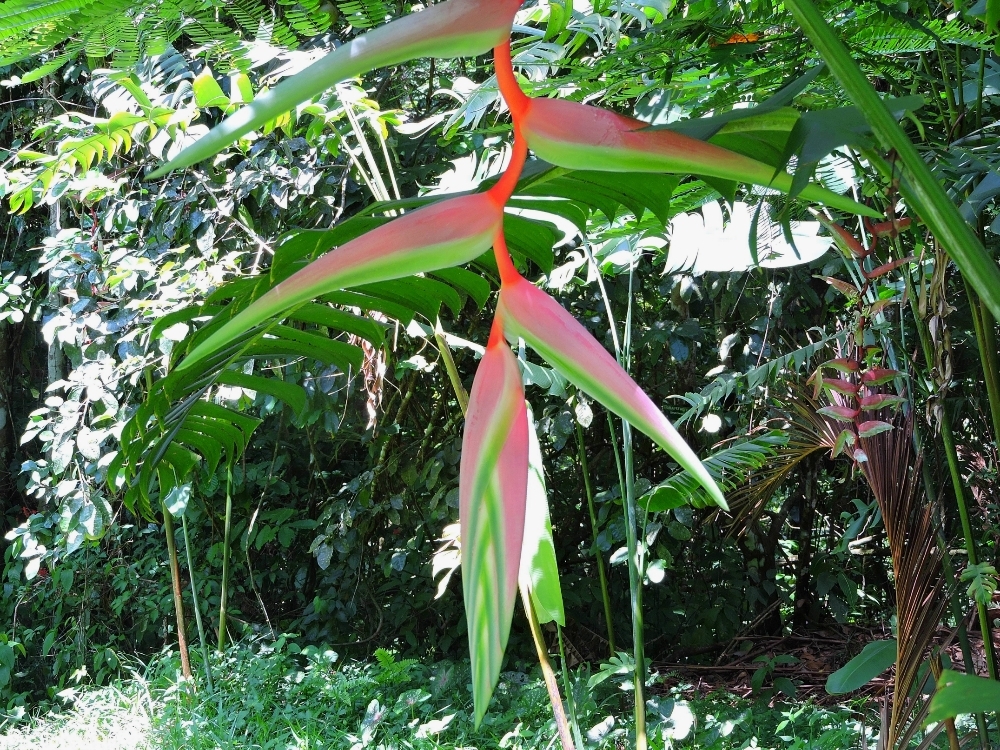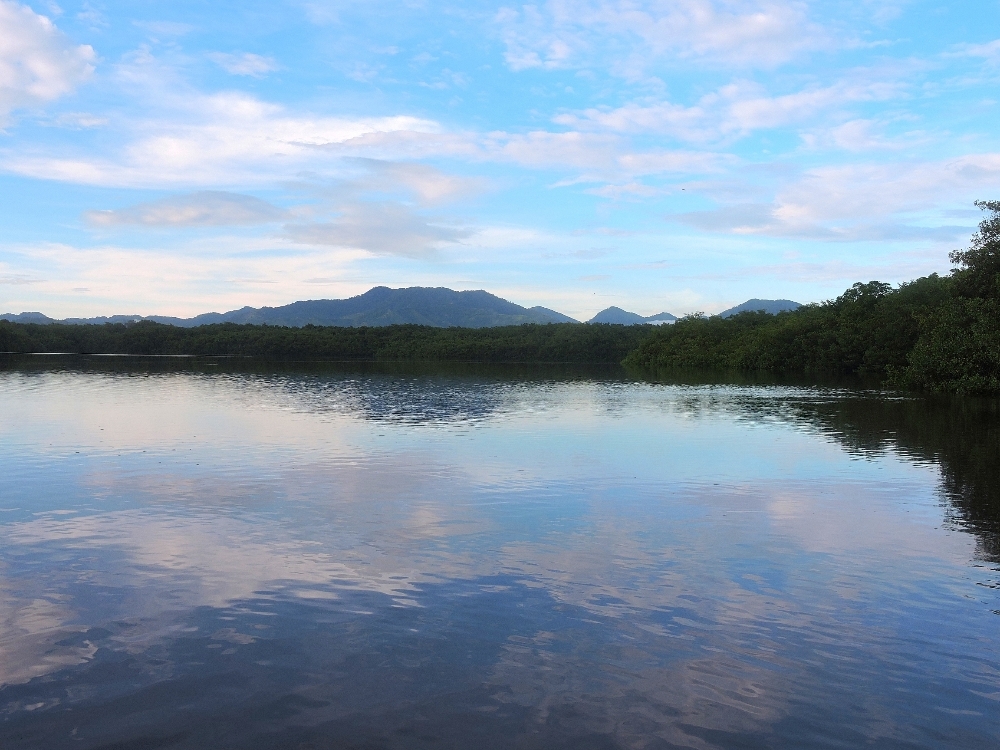 Since I had to fly again to reach Suriname, my next destination, I employed the same technique as the aircraft approached that little-known country, and the contrast could not have been more dramatic. The most obvious difference was the virtually unbroken forest canopy that reached out in all directions and remained unaltered even as it abutted up to the populated areas, most which are not far from the country's Atlantic coast. No highways wider than two lanes were visible and those that I could see seemed to have a pleasantly light level of traffic. Those two factors were enough for me to feel that I would really enjoy the country, but it also has a rather quirky society, a fact that would only increase my interest.
Suriname was a possession of the Netherlands for around three hundred years, until independence in 1975, and was that nation's only mainland colony in the Western Hemisphere that endured for a significant length of time. The lasting legacy that is most apparent today is that the official language of the country is Dutch, making it the only country outside of Europe where that language is spoken by a majority of residents. Today, however, only a small fraction of the population can trace their family backgrounds back to Europe. The majority of the society is made up of a diverse mix of people with African, Indian, Javan and Chinese heritage, as well as the Amerindian communities, which, of course, predated all the others. While those groups often speak their historic languages at home, seeing them converse in Dutch to each other is a rather unique experience. However, as is common around the World these days, enough people in the country also speak some amount of English, so communication was never much of an issue for me. Such a varied mix also extends to the urban design of the capital, Paramaribo, and the few smaller towns, none of which significantly resemble either their Latin American or European counterparts. Instead, the towns in Suriname exhibit a distinctly Asian feel, with a continuous stream of random commercial and residential structures laced out along the roadways, with little apparent effort having been made to create an organized city.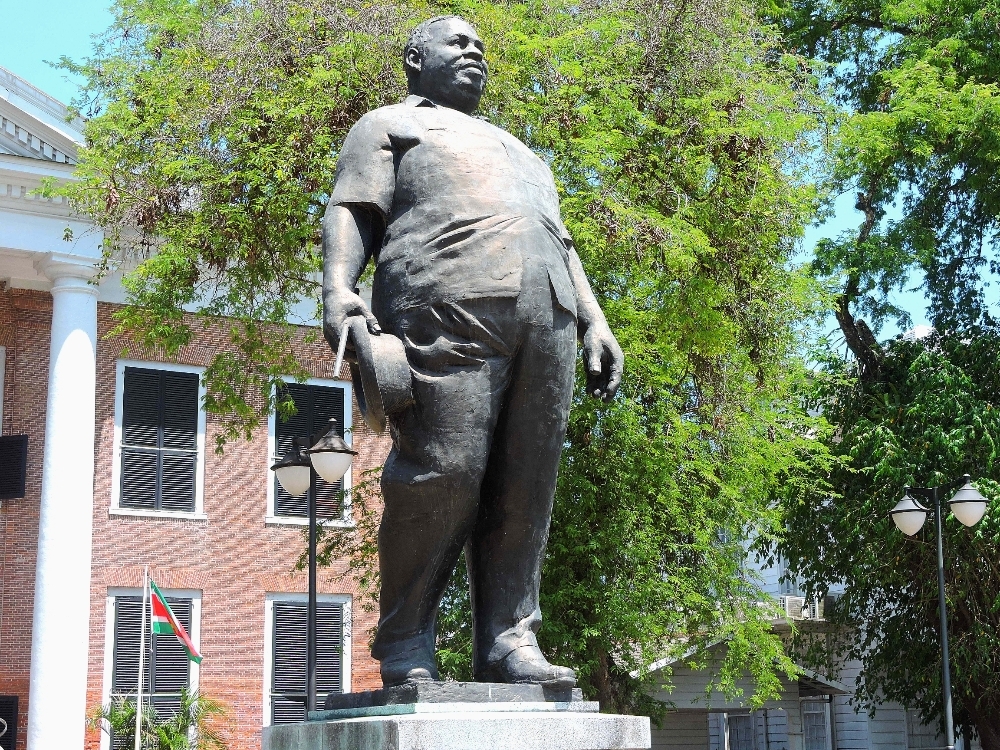 Geographically, the country is the smallest in South America, and, with the exception of a few relatively minor hills in its interior, consists entirely of the coastal plane of that continent. In that regard, plane is an appropriate term since essentially all of the land is flat as a board, with most of that reaching less than twenty meters above sea level. After the often strenuous terrain of the preceding weeks, I was rather looking forward to that, but it seems that I am becoming a person who is never satisfied, and it didn't take long before the topography began to feel fairly monotonous. My route, therefore, would not be especially challenging, nor particularly interesting. The international airport is located forty-five kilometers south of Paramaribo, and I would ride to that city, then make a left turn and continue westward along the coast towards Guyana. With the pace I often employed earlier tours I could have been out of the country in only two days, but I lingered a little longer to get a better feel for the place and to make the two World Heritage Site visits.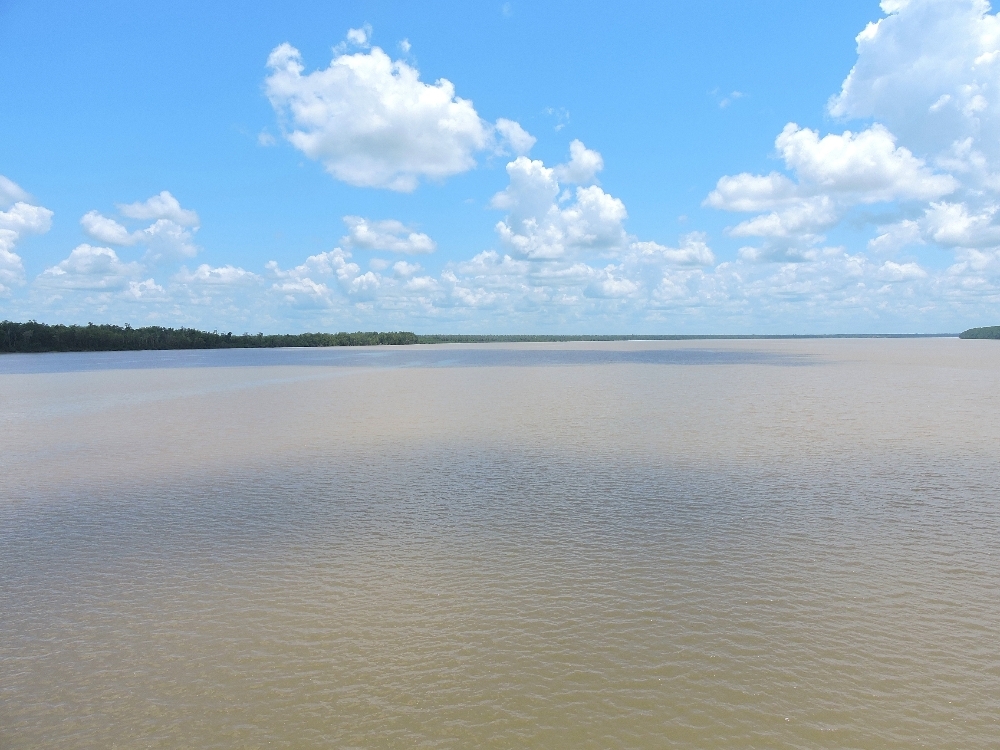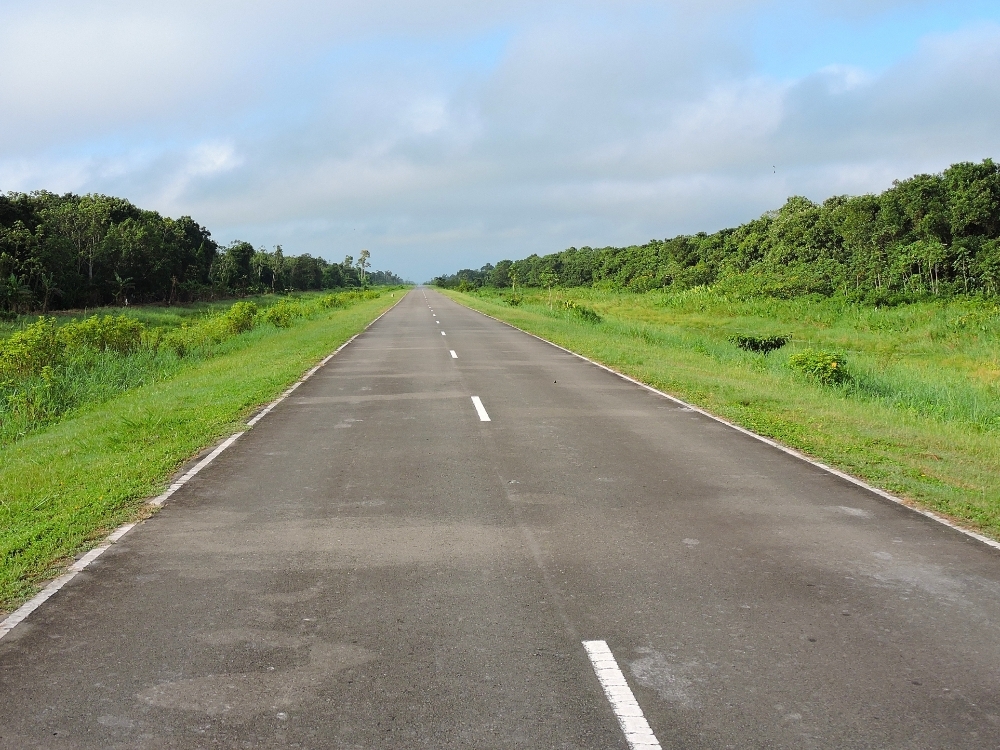 Cycling in Suriname proved to be rather typical for a less-developed country with a relatively small population. The roads were usually decent and, outside of Paramaribo, the traffic matched the light level I had seen from the air as I arrived. Even in the city, congestion never reached levels found in similar-sized cities around the World. Furthermore, once the road in from the airport reached the edge of the city, it included double-width, semi-separated bike lanes in both directions, perhaps an example of the Dutch influence. Of course, these were now primarily used by motorcycles, and often encroached upon by parked cars and bus stops, nevertheless my ride to the city center was much quicker than it would have been in a typical capital city, Santo Domingo, for example. The westward section felt longer than it actually was, thanks to the aforementioned monotonous flatness, so I didn't mind spending an extra day off in the fairly pleasant border town of Nieuw Nickerie, the fourth largest town in the country, with a population of only thirteen thousand.
To reach the next country on the route, Guyana, for once I was relieved to be able to avoid air travel, and the tedious chore of disassembling and packing the bike that always goes along with that. However, in that instance the crossing was still not entirely straightforward. The two countries are separated by the Courantyne River, and, without a bridge across its course, I expected a typical short ferry trip would be in order. Of course, everything seems more complex than necessary these days, and the Suriname-owned ferry that had long been sailing that route was taken out of service a few months earlier, due to maintenance issues with the vessel. As is typical, there had also been less-official, privately run services using small speedboats in the same area, known as the backtrack route. I had considered going that way, since those boats departed from a location that was more convenient to the town, but I was also apprehensive about that idea, since I had heard that at low tide passengers were sometimes dropped off some distance from shore, out in the mud flats.
As it turned out, Guyana had become impatient with the long-delayed ferry restoration, and had sent its own replacement vessel to the river to take over. Normal service had resumed just three days before I needed to cross, or, at least, it did because I was slightly behind schedule. Had I been more timely, I would have been forced to backtrack. Nevertheless, even though the ferry route was only two kilometers in length, with the annoyingly slow immigration procedures on both sides, it was one of the most time consuming ferries I can remember using, and it was well into the afternoon by the time I was rolling in Guyana. Consequently, I stopped after just a short distance, feeling a little worn out, and cooled off indoors for the rest of the day, a theme of slowness that would characterize my entire time in the country.
Guyana has many similarities with Suriname, especially geographically, but also a few notable differences. Like Suriname, it had been first colonized by the Dutch, but as a result of their conflicts with the British during the early Colonial period, the territory had been transferred to the latter's domain. As a result, today Guyana is the only English-speaking nation in South America, though with the creole dialect that is often in use, one could be excused for not immediately realizing that fact. The society is also quite diverse, but slightly less so than Suriname, with noticeably fewer members of the Indonesian and Chinese communities present. In another similarity with its neighbor, most of the population also lives near the Atlantic coast, though Guyana does have a few more small settlements in its interior, which are difficult to reach from the capital, a fact that I would need to deal with to complete this section of the Tour's route.
The road that travels along the Atlantic coast, from the border with Suriname to the capital, Georgetown, is also pancake-flat, but is in surprisingly good condition and usually carries a relatively light traffic load. However, it also possess a circumstance that is fairly unique among all the places I have toured. Like many other non-urban settlements, the homes and businesses of that area are strung out along the highway in a rather haphazard way, creating an essentially linear town. What seemed different about that area was that all the adjacent villages had merged into a virtually continuous construct. Again, that is not particularly unusual, except for the scale, in this case. At this point in time, the entirety of the two hundred-kilometer route from Suriname to Georgetown consist of one continuous settlement, with only s few small breaks, usually where rivers cross the highway, and rarely extending back more than fifty or one hundred meters from the roadway. I can not remember any other place where this has occurred for such a lengthy extent.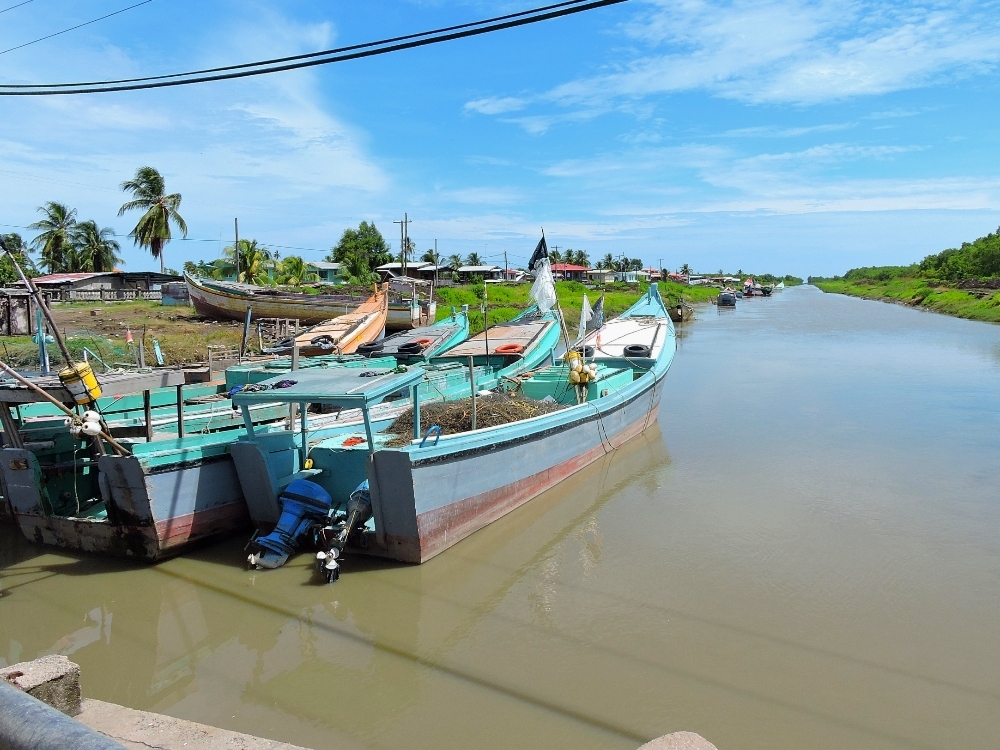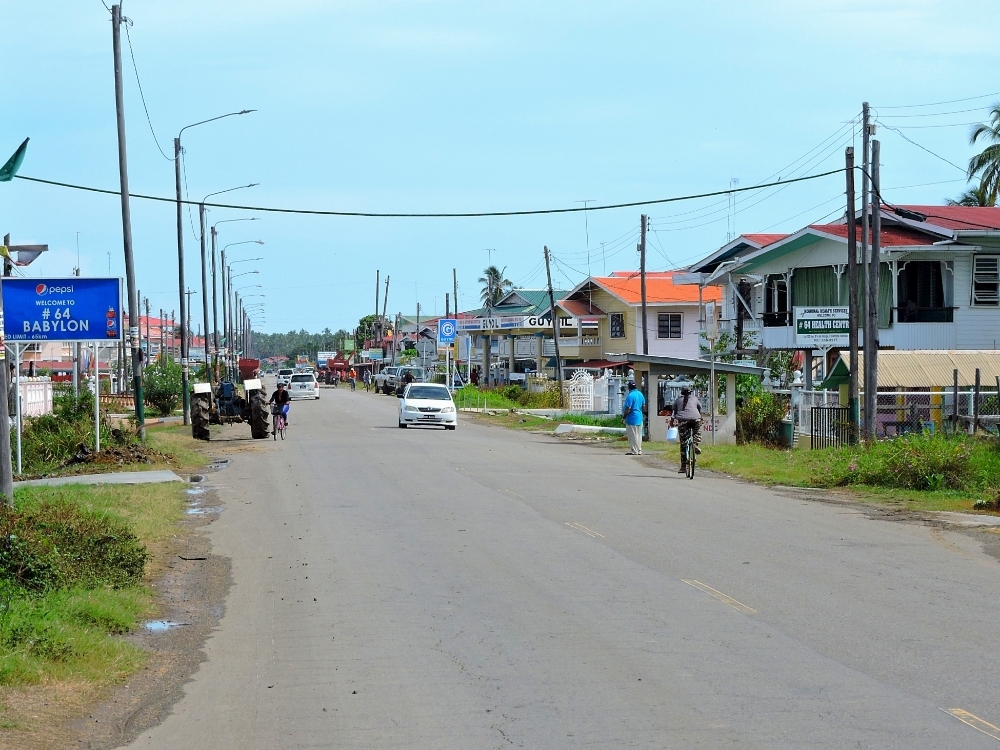 That could certainly make for tedious cycling, and I tried to counteract that effect by observing the names of the villages that were seemingly inexplicable subdivisions along the route, like the tick marks on the axis of a graph. These came along perhaps every five hundred to one thousand meters, and were announced with a bright blue Welcome to… signs. Some of the names were exceptionally mundane such as, #17, #25, and the always-enlightening #42. Those may have been references to distances from one end of the highway, I wasn't quite sure about that. A number of places had fairly traditional names, but many others were more whimsical, including, Now or Never, Babylon, Glazier's Lust, Experiment, La Bonne Intention, Bachelors Adventure, Lucky Lass, and Mary. This continued, even as the roadside villages gradually merged into the outer areas of Georgetown.
The capital of Guyana is a city that no less than five people, either in person or indirectly via the Web, warned me to avoid due to the level of both petty and violent crime, which was often described as off the charts. I have heard such breathless descriptions of other places in the past, and my experience, after seeing those places in person, made me realize that most of those characterizations could be considered hyperbole. Therefore, I was not particularly concerned about staying in Georgetown, and that was good since, for logistical reasons, I had to spend an extra day there. The city, fairly mid-sized as capitals go, reminded me of many other cities in the post-Colonial world. Not particularly attractive, or, some might say, filthy, it is the tropical climate that dominates its countenance, covering most objects with a layer of dust, and prematurely causing flakes to fall off every painted item. Despite its appearance, and its reputation, no one at all gave me any concern for my safety as I briefly explored the city, and everyone that I did interact with was typically friendly. I might even say that compared to similar cities elsewhere, Georgetown seemed to have fewer scammers and beggars. I appreciated that as I walked by the city's few examples of interesting wooden Colonial buildings. Some of those are attempting to become added to the World Heritage List, so it was worthwhile for me to see them. However, their current state of disrepair will probably prevent them from joining that list anytime soon.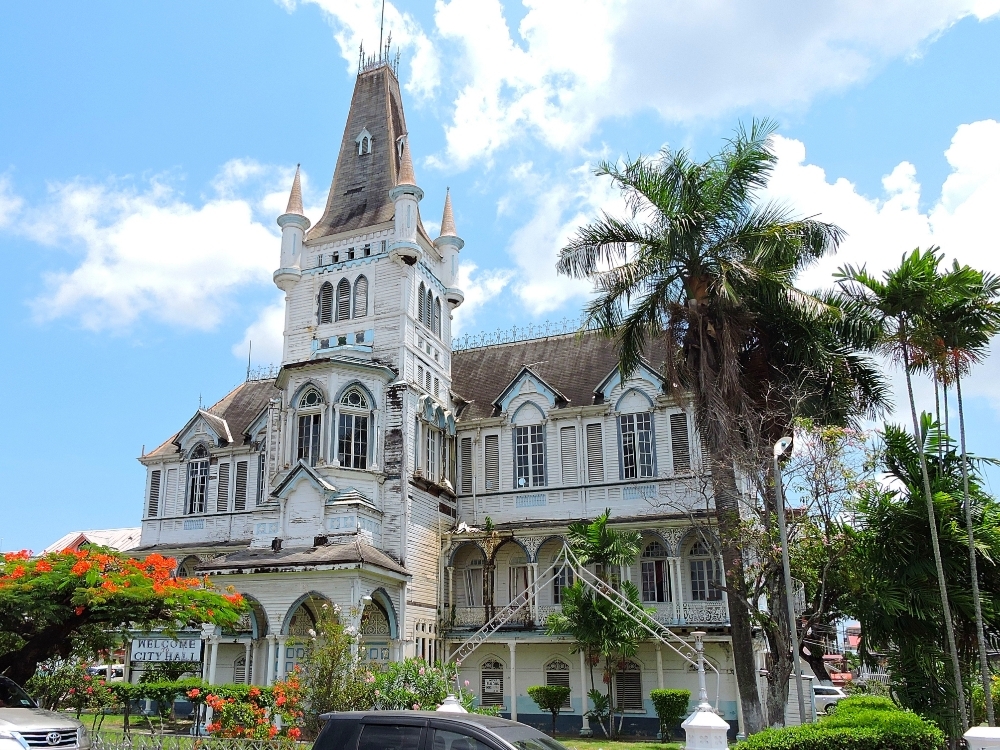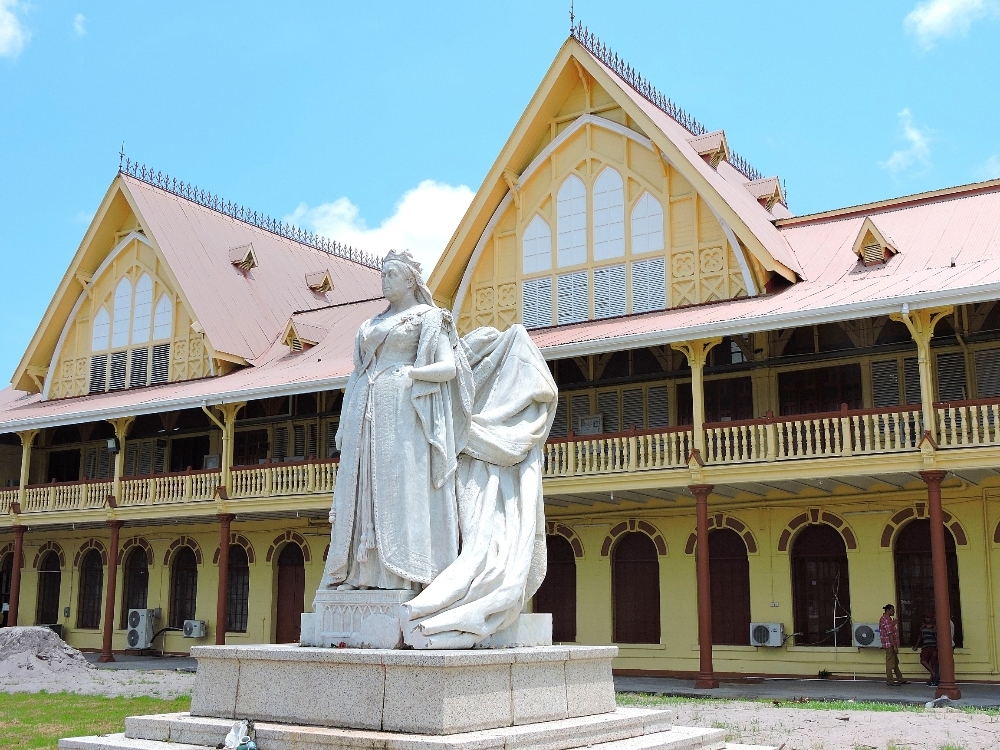 The logistical issues than caused me to stay in the capital longer than I would normally have done were related to my need to get to the interior of the country. Unlike Suriname, there is actually a road that leads from Georgetown to Lethem, at the border with Brazil, the only town of any size in that region. However, around three hundred kilometers of its length consist of a notoriously bad dirt surface, said to be almost impassable in the rainy season. Though it was now the dry season, the surface was still rutted and bumpy, and any less-frequent rain shower that might come along could quickly turn it back into a sloppy mess for a while. I have used roads like that on previous tours, and I could have ridden this one on this occasion, but doing so could have taken up to a week, and really wouldn't have been much fun. Since I had to shoe-horn this section into my previous plans in any case, I really couldn't justify the time it would have taken to ride to Lethem, so I relented again, and made my way there using a short domestic flight.
Lethem is a dusty border town filled with nondescript Chinese stores catering to those coming from, or going to, Brazil, and it decidedly feels more Brazilian than Guyanan for that reason. I needed to go there for the same purpose, as Brazil was my next destination. First, however, I planned on staying in the area for a few days, and, once again, that was a day longer than I should have needed for logistical reasons, in order to look for a particularly interesting bird. That, however will be mentioned in another post.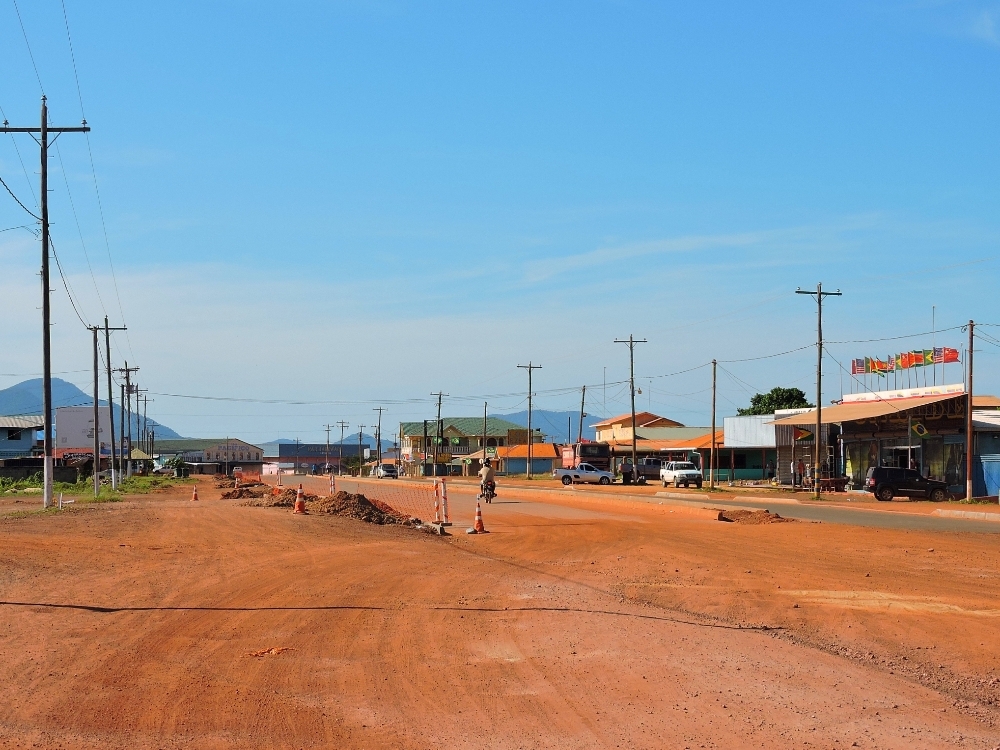 While it took me a number of days longer than than I thought it would, I found my visits to these countries to be interesting and enjoyable, even though the heat often drained my energy and slowed my pace. Overall, I had a nice time, probably much more so than if I had gone to Venezuela. I always consider it to be a good omen when a country I plan to visit has chosen my official colors, green, red, and gold, for their own national emblems. In this case, both Suriname and Guyana have done just that, so I probably should not have been surprised that things went well.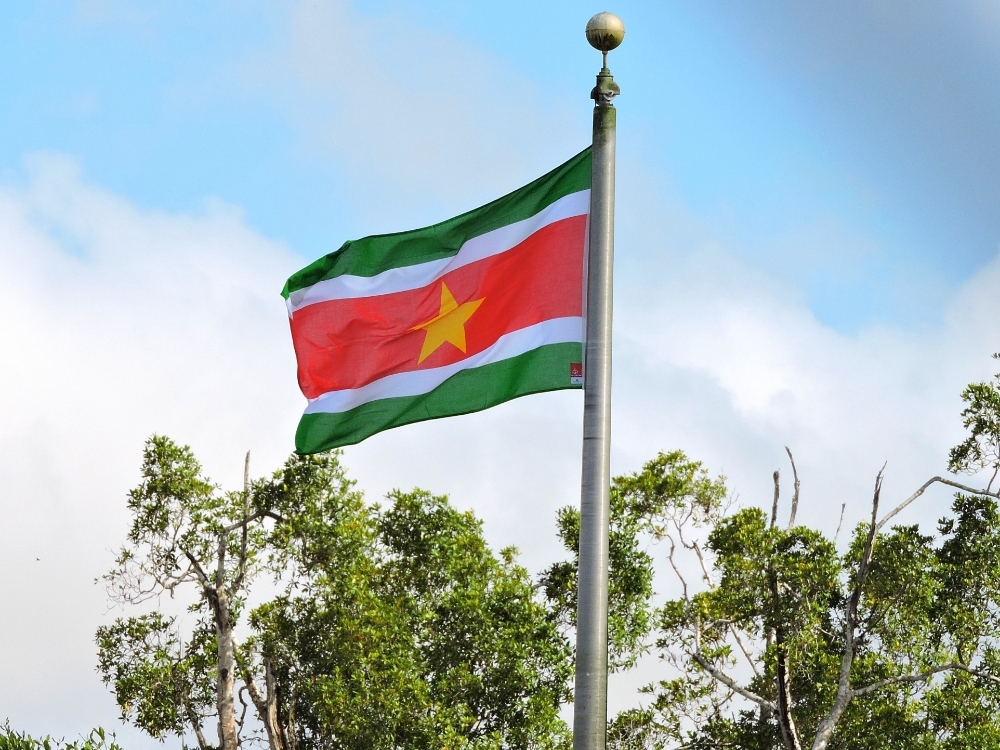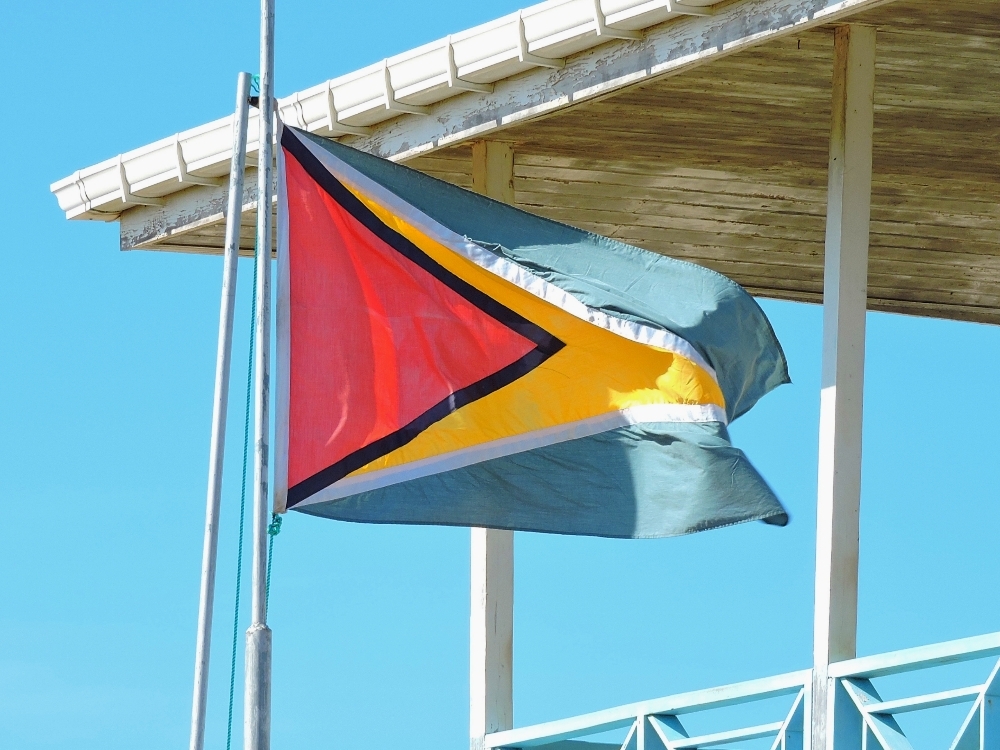 ~End~