Ilulissat Icefjord
July 29, 2019
WORLD HERITAGE
The third and final site I visited in Greenland was one of its most well known destinations, the Ilulissat Icefjord. Getting there required another air transfer from Kangerlussuaq, which I would rather have not needed. I have made my distaste for air travel clear on many occasions, and will discuss the contradictions inherent in the flights required for this visit in particular in another post on this site, however, in this case the view from the aircraft that brought me to Ilulissat provided an amazing additional perspective to the site in general. The flight from Kangerlussuaq travels north, paralleling the edge of the Greenland Ice Sheet, and along the way one can see several glacial tongues that stretch out towards the sea. These come in various sizes, determined in part by the amount of ice that flows down their courses, and send off numerous icebergs with sizes and quantities again scaled by their various physical properties. It was interesting to see how each of these glaciers had different characteristics in that regard, but then, at the end of the flight, the Ilulissat Icefjord appears, and provides a whole new level of impressiveness.
For some reason, that particular glacier calves off more, and larger, icebergs relative to all the others in the area. When I say that they are large, I really mean it, and that fact was clearly seen from the air. These are significant masses of ice. The type that would strike fear into a ship like the Titanic. The kind that puts the berg in Iceberg.
The other unique feature of that fjord is that the glacier's terminal moraine is currently located just beyond the end of the fjord, slightly out into Disko Bay, and does not break the surface of the sea. This forms an effective, but invisible, barrier that prevents the largest icebergs from moving out into open water, usually until they have decreased in size considerably. The result is a backlog of floating ice that usually fills the entire surface of the fjord, creating a jam that resembles automobiles backed up on an American expressway at rush hour. That amazing scene can be observed, in addition to by air, from trails that are along the shore of the fjord, and by boat excursions out into the Bay near the edge of the jam. I walked the trails and chose to partake in the second option by joining an amazing kayak tour that ended near the Midnight Sunset. The images below, I believe, should speak for themselves.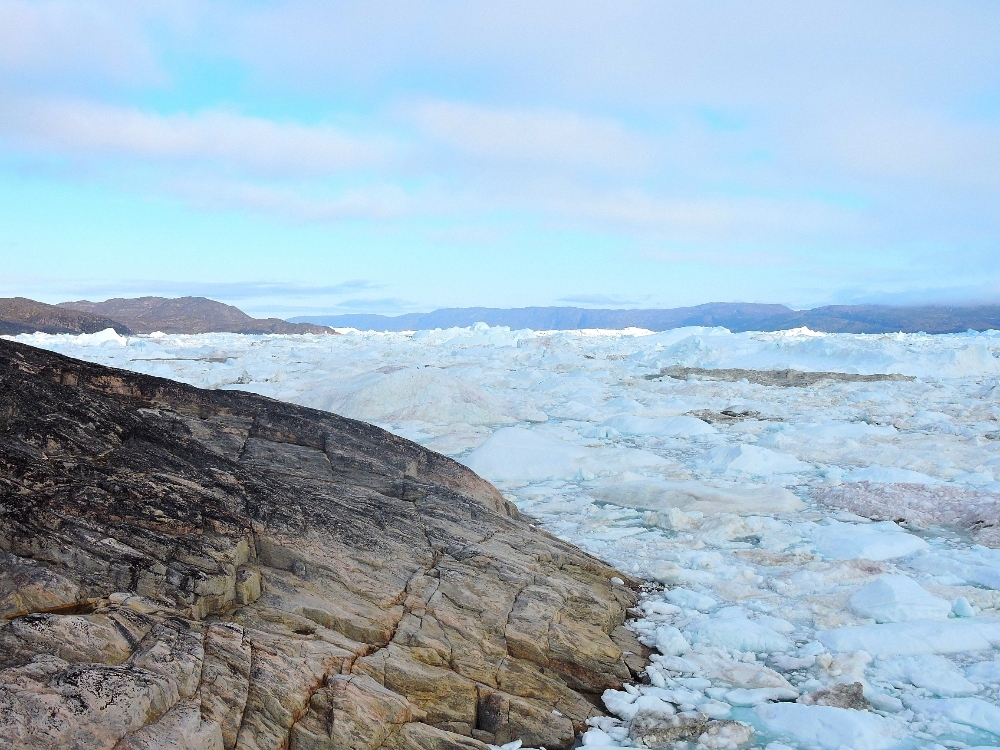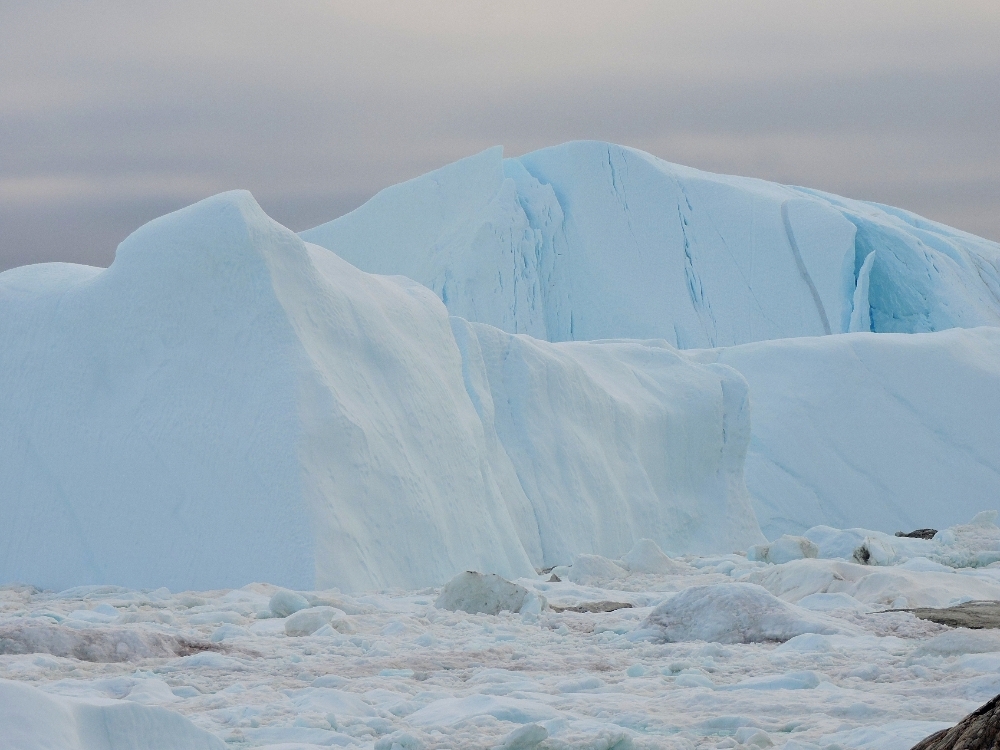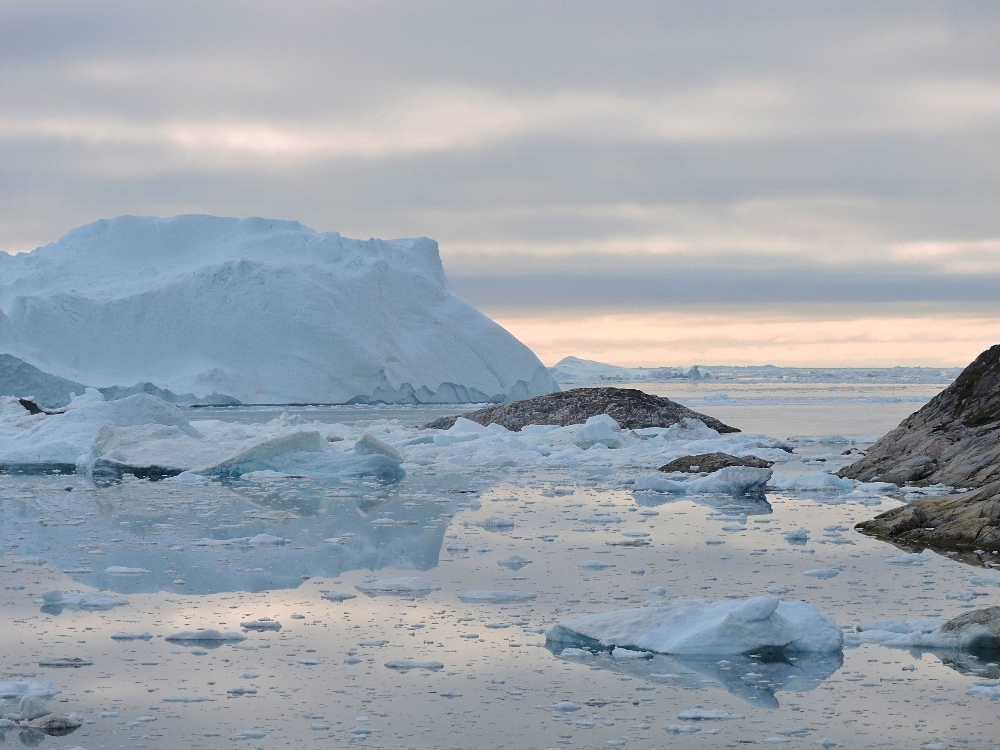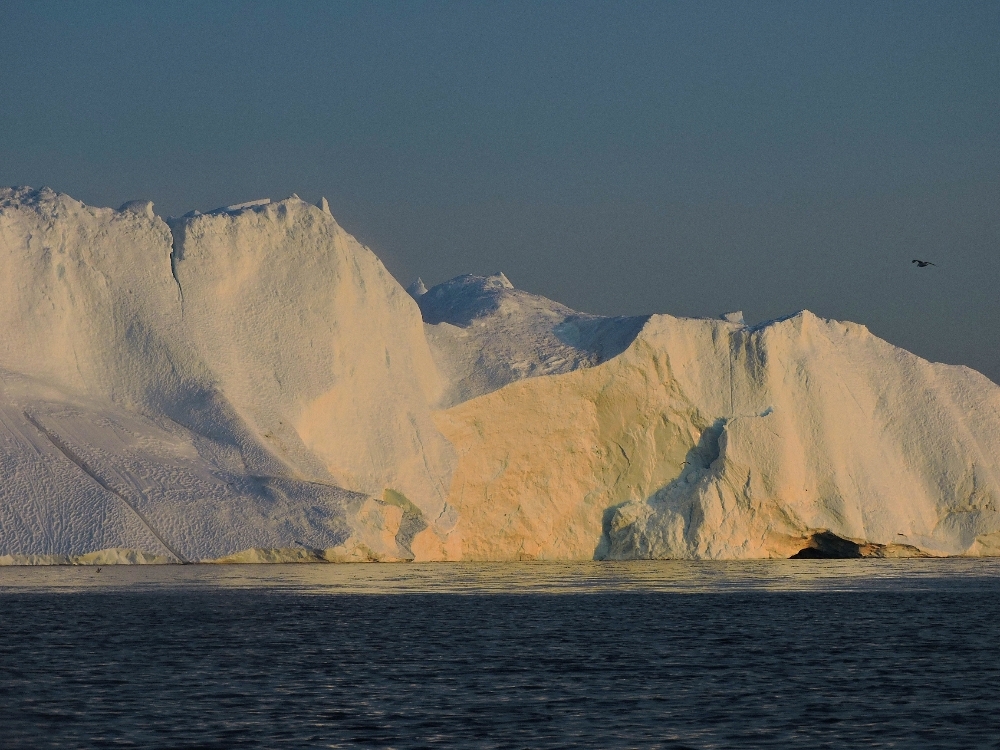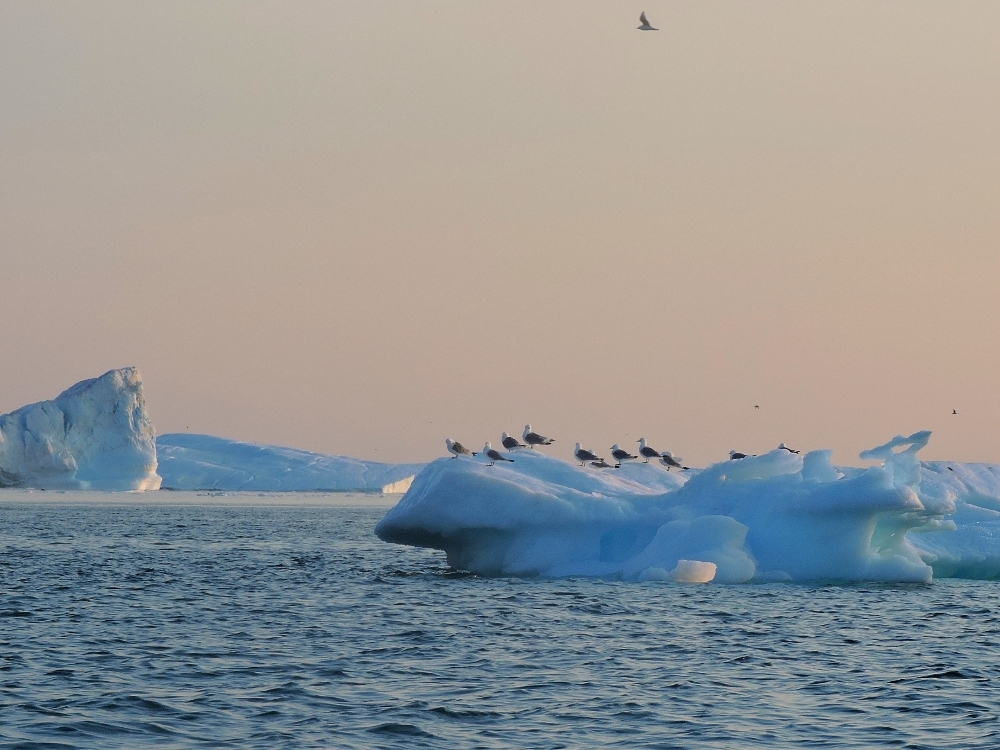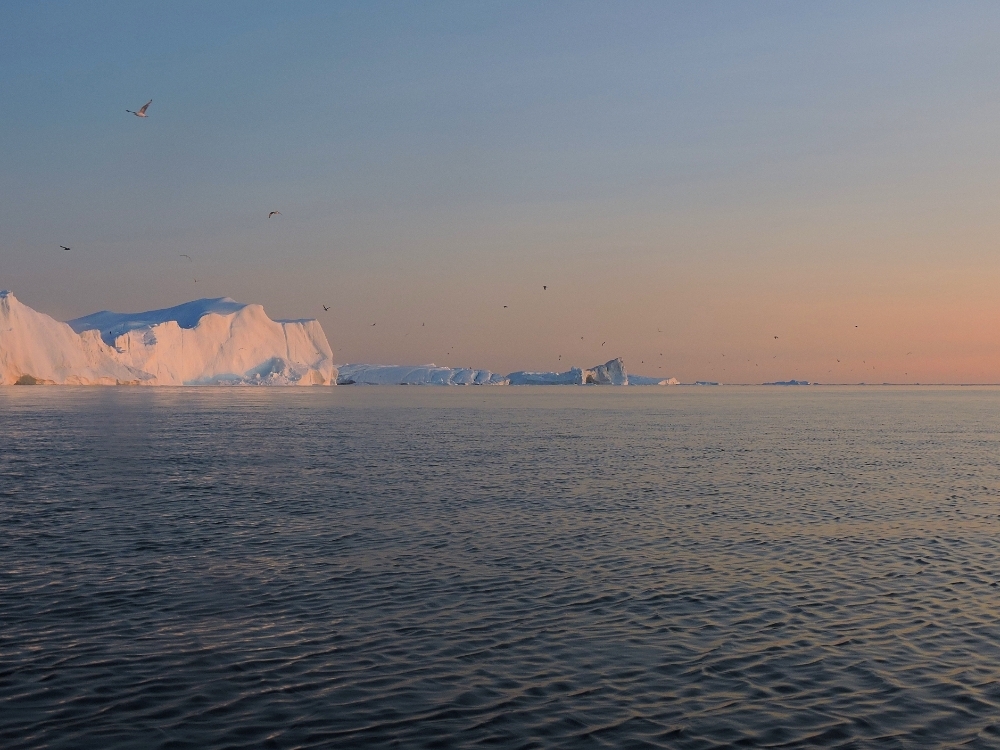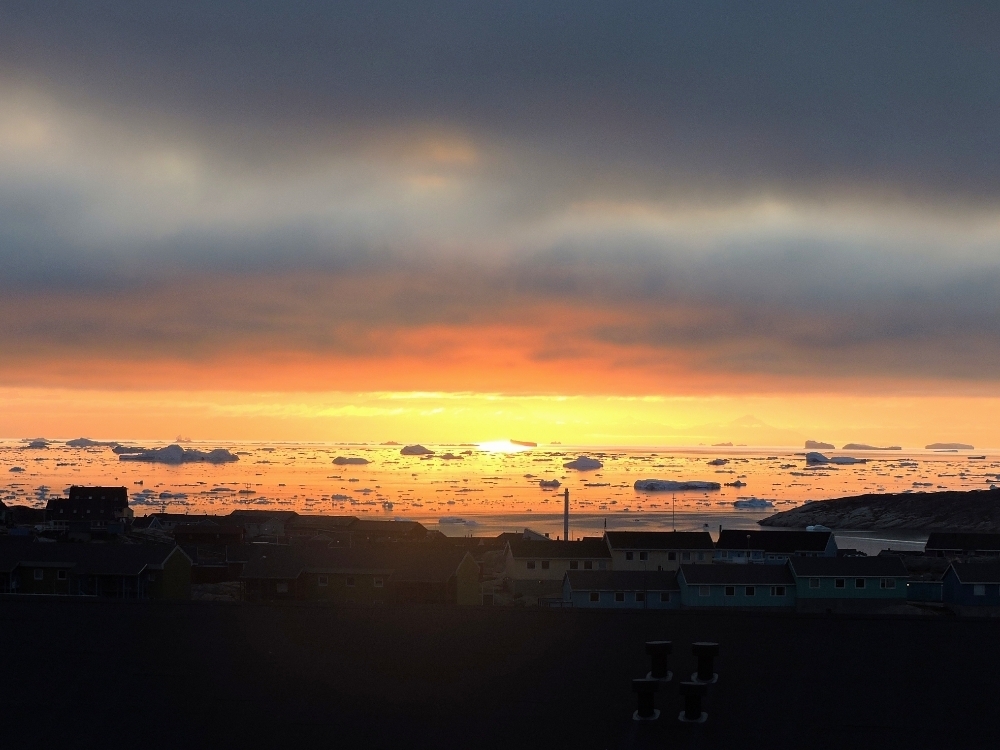 The beauty of nature did not end there, however, and as the kayaking group made its way back to town, we were amazed and entertained by the presence of several Humpback whales which performed their feeding maneuvers insanely close to our kayaks for at least half an hour, a situation that even impressed the guide who was leading our group. It was a memorable experience and a fantastic way to end my visit to Greenland.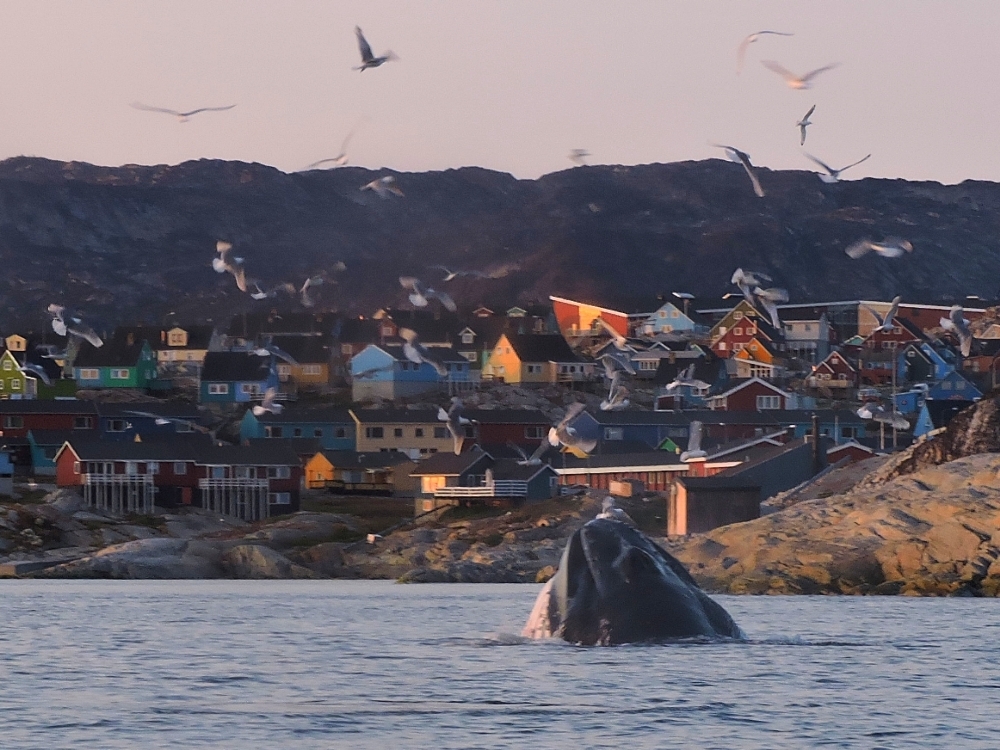 ~End~