By Women's Hands
Timeless talents thread the lands of Gondwana together
I am the type of person who tries to be self reliant and who appreciates the ability to create objects from scratch, or repair damaged ones from materials found at hand. In that regard, I probably have learned quite a few crafts and skills over the years, to a certain degree, but have, perhaps, never become entirely proficient at any of them. Therefore, when I do come across someone who has perfected their talents at a useful creative activity I never fail to be significantly impressed. The Tour of Gondwana provided many such opportunities for me, which was a nice bonus added to the ordinary sights of a long tour. The most remarkable to me were the many times which I was able to observe the practice of weaving beautiful fabrics in the traditional manner. I had not been certain if this craft had already been lost to the wave of mechanization which has swept the globe in the last 150 years, but was pleased to see it still practiced in several separate parts of the World.
There were a number of important similarities between those locations, and the societies found within, that seemed to me to have allowed this ancient art to have carried on to this day. One was that all of the areas still had many people following traditional, or at least rural, livelihoods. Another aspect that I noticed right away was that in almost every case, it was the women of the local community who were the creators of fine weavings. This is probably the way it has been for millennia, for weaving is a craft that has been practiced since prehistoric times, as evidenced by the weaving kits in the images below, which date from pre-conquest Peru. The procedures employed in the craft, and the designs for which they are used, have primarily been passed down orally from earlier practitioners since those early days. The ladies of modern Gondwana continue this tradition today, and I must admit to being a little awestruck by the knowledge and skill they possess. On this page are some of the encounters I had with the artisans I met along my route.


Pre-Colonial weaving suplies, in Museo Larco. Lima, Peru
The Initial Steps
One of the most appealing aspects of this craft is that it may involve, from start to finish, completely natural materials and traditional practices. The first step in the production of a fine textile is the creation of the threads or yarns that will be woven together. While some weavers make use of industrial threads these days, many others still create the fibers themselves, spinning long, continuous strands from cotton, silk, or the wool of sheep, goats, or alpacas, among other natural fibers. The most common method for doing this employs a drop spindle, which in experienced hands can quickly create an impressive length of thread. Experts at this technique give the appearance of doing so without even thinking about it, and this allows the ladies to sit and socialize, all the while producing something useful. As shown below, I observed spinners in widely scattered parts of the World, and the methods they used were essentially identical.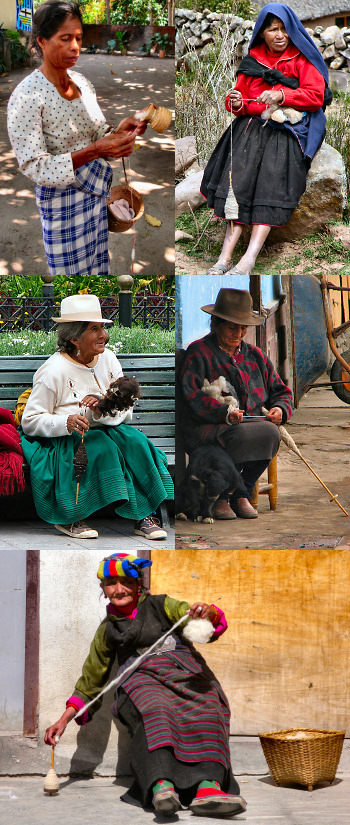 Drop spinning performed by ladies in:
Com, Timor Leste (Top-Left), Isla Taquile, Peru (Top-Right)
Cuenca, Ecuador (Middle-Left); Chavin, Peru (Middle-Right)
Nyalam, Tibet (Bottom)
In order to create more appealing final products, the spun threads are almost always dyed a variety of bright colors. Traditionally, most natural dyes have been created from mineral, animal, or, especially, plant precursors. The production of natural dyes, which has been ongoing for thousands of years, was probably the one of the first examples of the practice of chemistry, which I can appreciate, as that is a field in which I have spent a considerable amount of time. It is possible that the development of fabric dyes was an offshoot of the production of pigments for Rock Art, a topic I will discuss in the next article. Certainly, their use in colorful fabrics has enriched the cultures of the World to a significant degree. Below are examples of natural dyes used in a Mexican rug-weaving shop. Note the flower petals and lemons used to make the yellow dye.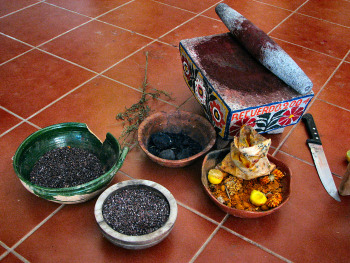 Natural dyes used for coloring threads and yarns in Oaxaca, Mexico
Once the dyed threads are dry, they usually need to be wound onto an appropriate spool before weaving can begin. This is also usually a manual process, though one that can end up in a tangled mess if the worker is not careful.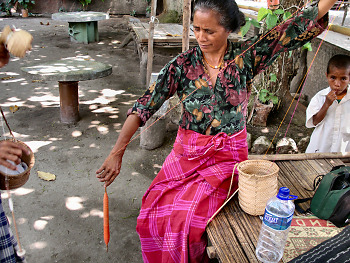 Winding two-colored thread in Com, Timor Leste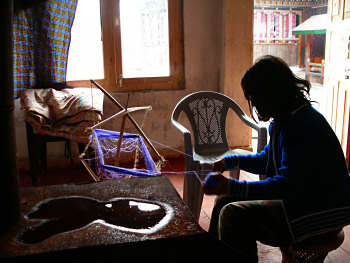 Winding Yarn in Chendjebi, Bhutan
The Magic Begins
This is the point at which I completely get left behind by the talent of those who are experts at this particular craft. Combining various colored threads into an artistic fabric is a process that I am sure I would have a hard time mastering. Weaving was developed by several ancient cultures, presumably independently, though the methods and equipment used in those regions today share the same basic principals. Using some type of a loom, two perpendicular sets of threads are intertwined into an integrated whole, in the process the desired design is included by mixing threads of various colors. Traditional looms, of various levels of complexity, may hold the finished fabric vertically or parallel to the floor. Even with the most experienced hands, the process is very time consuming. However, and this is what really amazes me, as far as I can tell, most of the ladies create their intricately designed fabrics without using the aid of any sort of pattern or template.
My first encounter with the work of weavers came after I left the thoroughly industrialized land of Australia, for the more traditional island nation of Timor Leste in Stage 1. In that young nation, the fabrics produced by the local women are known as Tais. These textiles have been a traditional part of the culture there for centuries, and most of the various local regions have developed specific designs, which, to the knowledgeable eye, can reveal their place of origin. To me, however, most seemed like variations on a familiar theme of stripes. My most enlightening encounter came in the idyllic little seaside village of Com, near the eastern tip of the island. Spending a quiet afternoon weaving at the edge of the beach seems like quite a nice way to pass the time to me, though, being a male, I suppose I would be laughed at if I tried to partake in that particular activity.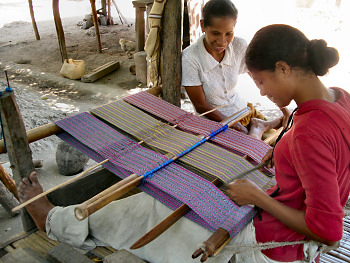 A girl weaves Tais fabric in Com, Timor Leste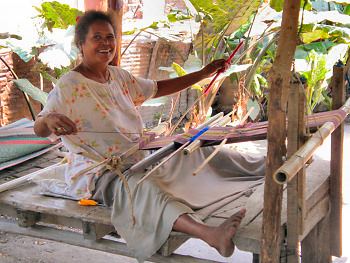 A lady weaves Tais in Com
In Asia, the weavers I observed were using the most complex looms of all those that I saw during the Tour. Whether that allows them to produce fabric more quickly, or with more intricate patterns, I cannot say. It is obvious, however, that the threads they use are unsurpassed for quality and beauty. The region is justifiably famous for its silks, but fabrics made from very fine cottons and other fibers are also produced. In addition to being sold to tourists, the fabrics made in the region are also often worn by local people, either as daily attire or for special occasions, a situation that is always very nice to see.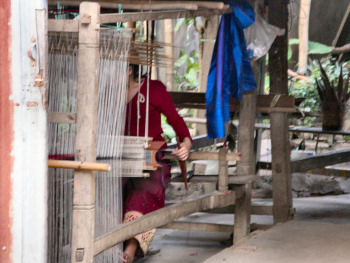 A silk weaver uses a complex loom in Luang Pra Bang, Laos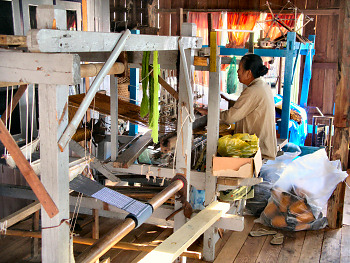 A weaving shop at Inle Lake in Myanmar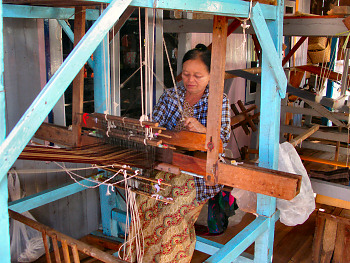 A weaving shop at Inle Lake in Myanmar
The beautiful and quiet Himalayan nation of Bhutan is well known for its excellent weaving tradition. In that country, especially in the central and eastern regions, girls learn weaving methods early on, and many households have a special room dedicated to their loom. Below are two ladies in the Bumthang region plying their craft outdoors, in front of a rural home.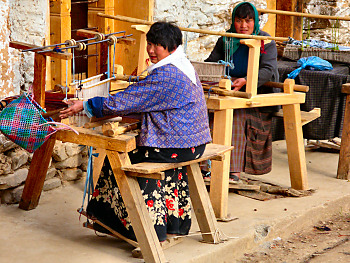 Two women enjoy a beautiful day by weaving outdoors in Jakar, Bhutan
I did not come across very many weavers in Africa, though there are certainly numerous examples there. In a small shop in Teyateyaneng, Lesotho, weavers use vertical looms, and stand while creating their fabrics. That was a fairly unique method among those that I saw.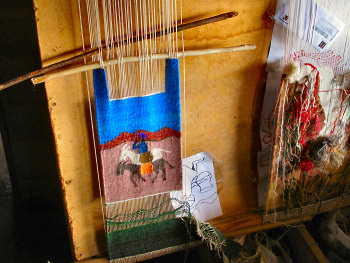 A stand-up style loom in Teyateyaneng, Lesotho
Of all of the areas where weaving is still practiced, I may have appreciated the products of the Andean region most of all. While the craft has all but disappeared from eastern and southern South America, in the Andes it is still going strong. I found the designs and patterns used there to be particularly attractive. Even more appealing was the frequent use of the colors of the Tour of Gondwana (essentially, the colors found on this site,) which always caught my eye. In the image below, a woman finishes her project on Bolivia's Isla del Sol in Lake Titicaca.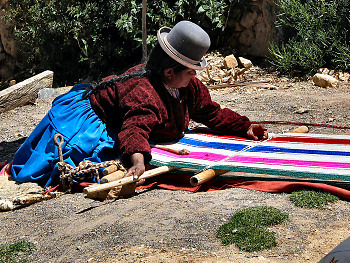 A lady weaves in the Sun on Isla del Sol, Bolivia
Like many other parts of the World, the women in that region often make use of a type of loom known as a backstrap loom. The name is obviously derived from the strap, placed around the operator's back, which provides the tension for the device. This simple, and elegant design can, therefore, be used in any location and is effectively portable. Below are examples of its use in Cusco, Peru, which demonstrate an added benefit of that technique. Several looms can be attached to a single pole, tree, or other support, and a group of ladies can then arrange themselves in a circle, which certainly leads to a more social and congenial working environment.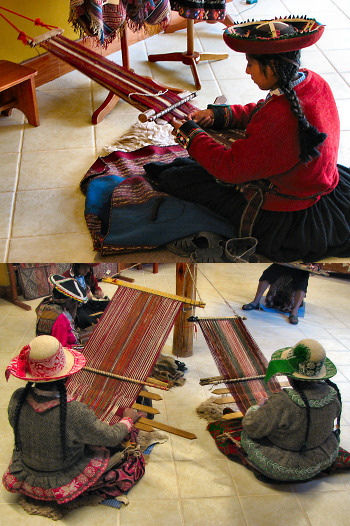 Girls use backstrap looms in Cusco, Peru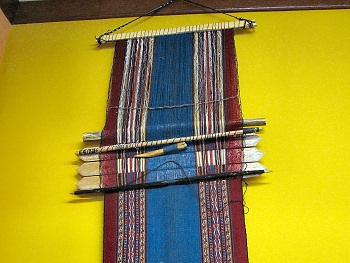 A partially finished fabric on display in Cusco
The finished products can then be used for clothing, household uses, or anything else one desires, and will add color and beauty to any community.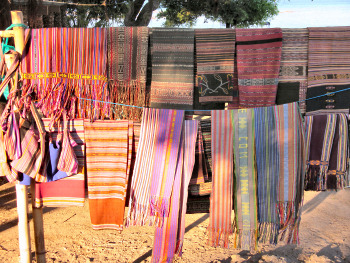 Tais fabrics for sale in Com, Timor Leste
Role Reversal
It is not uncommon to see a Made in Bangladesh label on a garment purchased in the Western World. However, such fabrics seem to be produced by more modern equipment, and in a semi-industrial setting. As such, in that country I noticed, for the only time, men involved in the production of textiles. As I rode through a small village along the otherwise treacherous Aricha Highway, I observed a few women hanging freshly dyed threads on to long poles in order to dry in the sun. Of course, that piqued my curiosity, and I hoped to be able to witness some weaving in progress by the local ladies. The clamor of working machinery drew me to some nearby buildings, and peering though the window I noticed that the procedures involved there were almost entirely mechanized and done in a setting that might have seemed familiar to Charles Dickens. The other observation I made was that all of the mechanical looms there were being controlled by men. Whether that was due to a belief that such work was unsuitable for women, or from some other cultural concern, I couldn't say. I also couldn't say that I found the methods used there to be superior to the traditional ones I witnessed elsewhere.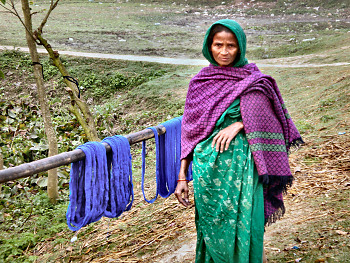 A woman hangs freshly died thread out to dry in Bangladesh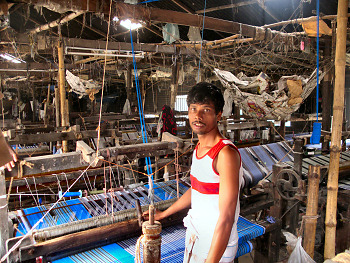 A ear-shattering textile mill in Bangladesh
Amazement
Certainly, one of the most impressive cultural sights of the Tour was one that was also weaving related. It occurred in Tibet, just as I reached the summit of Karo La, one of the 5,000-meter passes I crossed in that country. After a long, slow ascent, over a road that was a just slightly better than others in the area, but still wet and rocky, I was relieved to reach the top. I was also anxious to begin the subsequent descent, since the area, snowy and chilled by a bitter wind blowing from beneath a small glacier, was not well suited for a relaxing break. It was then that I noticed near the roadside the home of a small family. Made from stone that caused it to blend in with the rocky mountaintop, it was easy to miss at first. Clearly that family was accustomed to their life in the rarified air of the summit, and used to doing without even the very basic amenities available to their friends who lived further down the mountain. None of this was all that unusual for that part of the World, but what I noticed when I looked a little more closely seemed more surprising. Specifically, I saw the lady of the house hard at work operating her loom. Outside. In the freezing cold . Now, that is what I call a commitment to the craft.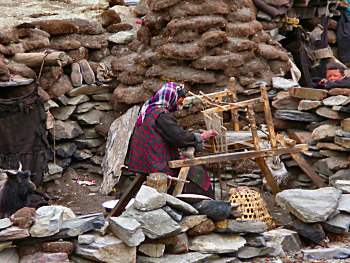 A lady weaves outdoors at Karo La, Tibet; a pass at 5,000 meters
One of the other similarities that I found between the various weaving regions is that they are all exceedingly proud of the efforts of their talented women. All truly believe that their local weaving is the finest in the World, and I can't honestly say that I disagree with any of them in that regard.



---
Post-Tour Index | Articles Index