Where is Gondwana?
To answer that question requires a brief refresher course in Plate Tectonics for those that are not familiar with that, literally, groundbreaking subject. I have always considered plate tectonics to be one of the most impressive achievements of 20th century scholarship, and it is partly for that reason that I chose the pieces of Gondwana as the destination for my global tour. To get a feel for the concept, allow your perception to expand well beyond that which is necessary in our daily lives, and imagine the Earth as it was 300 million years before today, in the Late Carboniferous period.
At that time, all of the major land masses of the Earth were joined together in a giant continent that has been given the name Pangea. There was only one continent, and one huge ocean. Now, skip forward another 150 million years to the Late Jurassic period, when strange and wonderful creatures filled every liveable space on the planet. Pangea had begun to gradually split in two. The northern part, which has been given the name Laurasia, would later break up further, creating modern North America and most of Eurasia. The large southern portion contained the lands that would eventually become modern South America, Africa, India, Antarctica, and Australia, as well as the Arabian peninsula, Madagascar, Sri Lanka, New Guinea, Tasmania, and New Zealand. That vast terrain was Gondwanaland.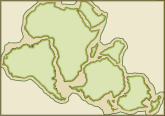 Gondwanaland;
~150 Million years ago.
The name derives from the Gondi people of central India. They live in a region known as Gondwana. It was there that geologists first identified the rocks that would reveal the conjoined past of the southern continents . A trained geologist, which I am not, can easily spot the kinships of the modern Gondwanan fragments. I enjoy looking for other links, however. Due to its long isolation, a unique ecosystem evolved on Gondwanaland which, even today, bonds the lands together. Marsupials and the flightless birds of the ratite family are faunal examples, while floral links can be seen in forests of southern beech, tree ferns, and baobabs. Looking for these types of relationships on widely scattered lands is one of my favorite adventures.
Additionally, as I have seen more of the world I have come to hold the opinion that the so-called "undeveloped" regions of the world are culturally more attractive than the greedy "West". I would even go as far as to say that instead of them trying to emulate our lifestyles, it should be the other way around. Therefore, for me there could be no other destination than the offspring of Gondwanaland.
---