Gear Reviews
The only thing you can depend on is Yourself; A rule to live by
A general rule of long tours should be that few pieces of equipment work as well, or a long, as you would like them to. I was rather confident in the items that I chose to use on the Tour, as I had already evaluated most of them on earlier tours. However, I had never done anything approaching the length of the Tour of Gondwana before, and, consequently, I really had no idea what to expect. In the end, some things did well, but there were also some surprises. Here are my thoughts on some of the major items that I used. Several items that I carried are no longer offered for sale, so, unfortunately, these comments may not be all that helpful.
First, a couple of general observations. As far as equipment was concerned, my nemeses for the Tour were the numerous zippers installed on just about everything. At one point I counted the number I had along, and between my clothes, camping gear and bike bags, there were thirty-six. That would not be such a big deal, except that just about all of the ones that received more that occasional use failed at one point or another along the way. Though I discovered that they could sometimes be rejuvenated by carefully compressing the zipper-pulls with a pair of pliers, that rarely extended their life for very long. The Nobel Prize should be given to anyone who can devise a better device to accomplish the same task.
One item that slightly shocked me with its usefulness was the USB Secure Digital card reader. I brought one along because I thought it might come in handy sometime, but I ended up using it almost constantly throughout the Tour. My only wish was that the Flash Memory cards that existed before I started were the same capacity and price as those that were available when I returned!

SmartWool Socks
Pros:
Comfortable in all conditions; very durable; non-stink fabric
Cons:
None
Rating:

(1 continent = Poor -> 5 continents = Great)
Comments: [Top Performer!]
It may seem strange that I chose a mundane item like socks to list as the Top Performer in the clothing category. That was indeed the case, however. I had never worn wool cycling clothes of any kind before the Tour, and I was amazed at how superior they were to other socks I had previously used. For a time, it seemed like I might have only needed one pair for the whole Tour. As it turned out, I used almost twelve pairs.
Sidi Dominator Mega Shoes
Pros:
Most comfortable cyling shoes I have ever used; durable; excellent stiff sole with knobs for walking
Cons:
I could probaby do without the mechanical buckle; expensive
Rating:

Comments:
These are simply excellent shoes. When replacing the cleat on the right shoe just before Stage 3, I messed up its bolt plate, and so I exchanged the whole shoe with one from an older pair I had in reserve. However, I wore the left shoe for all 86 thousand kilometers of the Tour. Admittedly, it was in rather poor shape at the end, as can be seen below. The knobs, and most of the sole itself, had worn down almost completely, which made walking a little treacherous, and much of it was held together by multiple applications of epoxy. All in all, a completely dependable item, to be sure.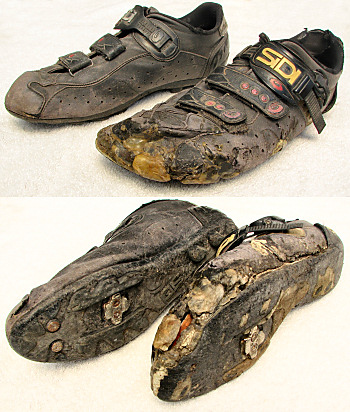 The left shoe survived the entire Tour; the right was exchanged halfway
Burley Rockpoint Rainjacket & Burley Rain Pants/Shoe Covers
Pros:
Excellent fit; good workmanship; comfortable enough to wear as a regular jacket; shoe covers are simple, but probably best option for keeping feet dry
Cons:
Jacket lost most of its water-repellencey after ~1 year
Rating:

Comments:
The rather basic pants and shoe covers in this set were probably its most effective parts. However, I frequently was either too lazy, or too optimistic about the potential return of sunshine, to put them on in time to avoid showers. The jacket, while very nice, did not do very much in the way of keeping me dry in the latter parts of the Tour.
Burley no longer makes raingear, so this set is not available now.
Custom Cotton/Lycra Cycling Shorts
Pros:
Supremely comfortable fabric; great in hot or cold weather; more casual apperance; durable; easy to repair
Cons:
Not commercially available; will get waterlogged and droop in heavy rain (but regain shape when dry); seen from behind the pad probably made me look like a duck
Rating:

Comments:
These shorts were
custom made
just before the Tour, and so I probably shouldn't list them here, since thery are not readily available. However, they were one of the best decisions I made in my gear selection, so I wanted to give them their due notice. I really love the 90% cotton/10% lycra fabric, usually used for equestrian sports, which I acquired from
Seattle Fabrics
. In fact, these are the only cycling shorts that I have ever used that were comfortable enough to sleep in, which I did from time to time when it was very cold. If I had a complaint, it would be that the pad I chose, which is still one of the the best available, in my opinion, was somewhat too small for me. I used six pairs and wore out five and one-half of them during the Tour. That corresponds to over 800 hours of cycling per pair, which I think is outstanding. Towards the end of their lifetimes, however, they did need to be stitched up from time to time, usually around the seams surrounding the pad. They also faded with Sun exposure, which gave me a somewhat uncommon look, though one that I rather liked.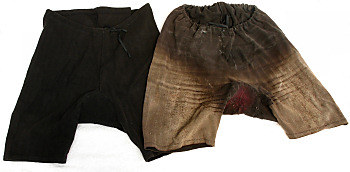 A new pair of shorts; and one used on the Tour
Bell X-Ray Pro Helmet
Pros:
Good fit and adjustability; helmet body and outer coating very durable
Cons:
Expensive; one fork of buckle broke early on; pads and straps in very poor shape after a couple of years; expensive
Rating:

Comments:
This is a generally very nice helmet. I found a simple way to work around the broken buckle and would have used the original helmet for the entire Tour, had I not lost it in Ecuador. Getting a new one with fresh pads and straps was not really a bad thing, however.
Sierra Designs Wild Bill Sleeping Bag
Pros:
Sufficient warmth on almost all nights used; good quality materials and workmanship; dries quickly; only zippers I had that did not fail.
Cons:
Stuff sack lost its water resistance fairly quickly, and completely disintegrated on the last day of Tour
Rating:

Comments: [Top Performer!]
Since I did not camp nearly as much as I though I would, I did not really push this bag to its limits. It did work out very well, despite that, and is still in great condition. Only a few times were the nighttime temperatures colder than the bag's comfort level. A few extra clothes took care of that.
Big Agnes Air Core Pad
Pros:
Very comfortable; small size and weight when packed; takes patches well
Cons:
Inflating/deflating is a rather tiresome chore; supplied patch kit not really large enough for long tours; more vulnerable to punctures in final months of tour, and material began to get a little stiff
Rating:

Comments:
My ability to sleep well when camping really increased when I started using this pad. However, since it is inflatable, thorns, and other sharp objects, were a constant concern. Because it is made with inelastic polyurethane, patches hold very well, so punctures were easy to fix. Patches could also be affected with various types of elastic glues or rubber cements, covered by a piece of thick tape. Those improvised repairs did not last as long as the patches that originally came with the pad, and so towards the end of the Tour, I had a tough time keeping the pad inflated.
MSR Zoid 1.5 Tent
Pros:
Perfect size interior for my needs; excellent materials and construction; light weight
Cons:
Poles break frequently; odd-shaped roof causes puddle to form on fly and leak in if tent is not staked out extremely tightly; vestibule "wings" take up too much space; aluminum stakes are light and beautiful, but prone to break; fly is either off or on, I would prefer a semi-attached design; one main zipper wore out after ~2 years
Rating:

Comments:
Were it not for some of its quirks, this could have been a great tent. I could ignore some of the issues of its set-up were it not for the two biggest drawbacks. To keep its total weight down, the included poles are a little bit thinner than I would like, and broke very easily. Likewise, I broke a number of stakes along the way. This is likely a result of gear manufactures desire to advertise the lightest weight products in each class. That may be fine for most users, but for long-term use it is more trouble than its worth. I believe that I set up and took down the tent more times in Stage 1 than most users do in ten years of "typical" use. Fortunately, I was able to purchase some replacement pole sets from
Tent Pole Technologies
, which were somewhat more durable. The puddling of rain on the flat top of the fly was even more of a concern, as I was rarely able to stake out the tent tightly enough when free camping to force water to run off the top.
I believe that MSR no longer sells this particular model.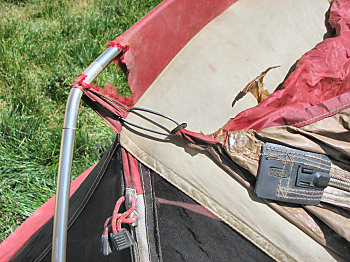 MSR Zoid 1.5 tent after the Tour; showing replacement pole
HP iPaq 4700 PDA
Pros:
Excellent capabilities for my needs; WiFi was surprisingly handy; light weight and small size considering the tasks which it can accomplish
Cons:
Even with extended battery, usage time was less than I would have liked; touch screen became very scratched with extended use
Rating:

Comments: [Top Performer!]
If I had to predict which item in my gear would not have survived the Tour, the iPaq would have been it. To my surprise, it came through very well, and did a great job for me along the way. The only hints of non-routine trouble along the way were two occurrences where dirt or condensation found its way around the edge of the touch screen, causing it to function improperly. Fortunately, after the unit dried out, or after I picked out the dirt, it worked normally again. The main reason I chose this pda was that it has both SD and CF card slots, and therefore could easily copy files between cards. I utilized that capability to archive and back up all of the photographs I took during each stage. That method worked flawlessly and I definitely believe that it is currently the best way to manage huge numbers of images while on tour, as I lost not even one of the nearly 36 thousand pictures I took during the Tour. The additional functions, especially 'Net access, spreadsheets, mp3 player, etc. were also very handy.
This model has, of course, been superceded by another, though the era of PDAs seems to be coming to an end.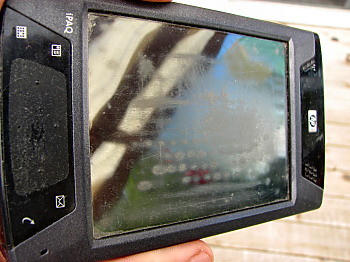 Scratches on the iPaq screen
Pentax Optio 750z Camera
Pros:
Light weight and small size; good zoom for compact camera; excellent firmware
Cons:
Images a little unsaturated, especially in hazy/cloudy conditions; more powerfull telephoto lens would be nice
Rating:

Comments:
I definitely had a soft spot in my heart for this camera. It was very much ahead of its time in 02005, when the Tour began. Its strong point was its nice set of features and excellent lens, all contained in a very portable body. I took over eighteen thousand pictures with it before it died in its sleep one night in western Argentina. I was never sure of the cause of that failure, but it had something to do with the power system. In terms of keeping it going before that happened, I never had any troubles, and the four batteries I brought with me were twice what I really needed. While I was sad to see it go, and not thrilled about having to spend more cash to replace it, by that time I had become more interested in imaging wildlife and so was intrigued about the recently developed superzoom category of cameras.
For some reason Pentax never developed a successor to this now-discontinued camera, which seems perplexing.
Canon S3 IS Camera
Pros:
Splendid zoom capabilities; fast operation
Cons:
Size and weight resemble a brick; poor autofocus; poor firmware, especially stitch-assist mode
Rating:

Comments:
There was not a very wide selection of suitable cameras available in Cordoba, Argentina, a major city, when I needed to obtain a replacement. Those that were for sale in retail shops were three times the price I would have paid via mail-order in the USA, so that was an additional disappointment. The Canon was probably the best choice at the time. I definitely appreciated the 432-mm equivalent telephoto capabilities, but many things about this camera drove me crazy. The weight was one of those factors, as was the size, which meant that the camera would not fit into the watertight case I had been using for the Pentax. The most annoying of the several user interface issues was the lousy stitch-assist mode, and, as I had become addicted to making large panoramas, I found that particularly frustrating. However, I did take another seventeen thousand images with this camera, including some that were exceptionally pleasing. The camera is still functioning, at least somewhat. With about six weeks left in the Tour, some type of sand or moisture must have found its way into the electronics, and most of the controls and buttons started to function in ways that they were not intended. Eventually, I figured out ways to operate the camera to most of its capabilities, but that included some fairly odd maneuvers, including having to squeeze the bottom of the camera body in order to power the camera on or off.
This camera is now at least two or three generations old, and so is no longer available.
Throughout the later stages, I continually thought that if the zoom lens of the Canon could be combined with the small size, light weight, and user interface of the Optio, that hypothetical camera would be my perfect solution. Some of the latest models seem intriguing. At the time of writing there are some nice looking cameras that have just been released, including a new Pentax super zoom, so perhaps, for once, my wishes have come true.
Over the years I have destroyed two cameras, came close to trashing another, and caused one more to loose its mind, by taking them with me on tours. A hard watertight case is a big help, but even that is not foolproof. Those on long tours should be prepared to be forced to replace a camera at any time.
Brooks Swift Saddle
Pros:
Amazingly tough, yet comfortable leather; attractive
Cons:
Titanium undercarriage broke in very cold weather
Rating:

Comments: [Top Performer!]
I have always liked this saddle, well, at least after its required break-in period, which I dealt with a few years before the Tour began. Now that the Tour is finished, I have an increased appreciation for what an excellent material this type of leather is for making bike saddles. The potential issue about keeping it dry, to avoid the saddle being used while it is waterlogged, is really not much of a concern. Riding in the rain is no real problem, and simply throwing an omnipresent plastic bag over it at night, or when it needs to be left out in the rain, takes care of any other situations. The only issue I had while on the Tour was when the titanium tensioning shackle and rear rivet plate cracked. I believe that was caused by some very cold, dry weather in Tibet which led to stresses caused by differential contraction of the various materials. When that problem occurred, there was no longer any tension on the saddle at all, and my weight caused it to sag significantly in the center. After a couple more months riding in that condition, the saddle looked rather sad indeed, resembling a big brown banana. However, while at sea on the
London Senator
I replaced the tensioning shackle and managed to repair the broken rivet plate with a big glob of epoxy and some pieces of bent spokes. I never really expected that repair to last, but, to my surprise, it is still going strong after a further fifty-six thousand kilometers of cycling. I was also pleased at how well the leather rejuvenated itself after tension was returned and with a few applications of proofhide. At this point the leather is starting to show its age a little, with a few small cracks here and there, and I may decide to retire it after a job well done. Or, perhaps not, since it has surprised me with its longevity many times before.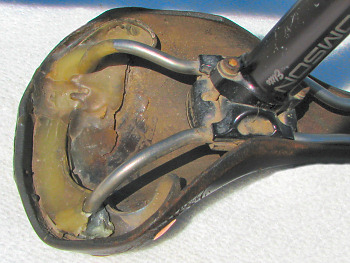 Repaired bolt plate of Brooks Swift Saddle
Arkel GT-54 Panniers
Pros:
Excellent materials and craftsmanship; good size for my needs; can be repaired when needed
Cons:
I would prefer the removable packs to be permanently attached; zippers eventually gave out (after a very long time)
Rating:

Comments:
Arkels really are some of the best-constructed panniers out there. I treated mine especially roughly, and they did last for the whole Tour, and also for a few previous shorter tours on which I used them as well. Towards the end, they certainly were starting to show all the distance they had traveled. Many of the zippers had started to wear out, though they probably were the best zippers found on any piece of gear I had. There were also several places where the fabric required patching, though that was not very difficult to do. While the attachment system is very good, it is not foolproof, especially once it has been worn down by long-term use. Once that has happened I found that the panniers could bounce off if an especially violent bump occurred. The attachment hardware is sold as a replacement kit, however, and it would be possible to minimize that issue by replacing it once the original has become worn. I did not exchange mine once the Tour was underway, however, and the right side attachments lasted for the entire Tour, while one of the aluminum hooks on the left side broke when I was in Nicaragua, fairly close to the end of the Tour. The only other change I would like to see would be to make the removable packs permanently attached. For me, the reality was that I never took them off on purpose, and found that they would occasionally come of unintentionally, such as when dragging the bike though the bush to a campsite, or when they were yanked off by children as I rode by. Overall, these panniers did a great job for me, however.
A new Arkel pannier, and the same one after the Tour
BikePro Sierra Handlebar Bag
Pros:
Perfect size for my needs; simple design; easy to attach/remove
Cons:
Materials not very durable; zippers fail almost immediately; had to modify to install clip for a shoulder strap
Rating:Rating:

Comments:
I have always liked these handlebar bags, and have used a few over the years. I carry all of my "valuables" in the handlebar bag and so keep it with me 100% of the time no matter where I am. This bag, however, is not really designed or built for lengthy tours, and so began to wear out rather quickly. Because of its importance, and the dearth of suitable replacements to be found out in the field, I attempted to keep it going with constant repairs. Those included too many zipper replacements to count, and many fabric/epoxy patches over worn spots in the original fabric. In the latter Stages the worn out appearance of the bag, which by then had essentially more patched areas than original material visible, constantly revealed my status as a long-term traveler, and as such was the initiator of many conversations.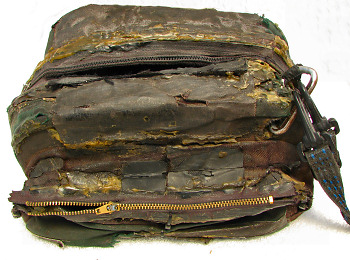 A very well-traveled handlebar bag
Sun RhynoLite Rims
Pros:
Sturdy; 48-hole model wonderfully good; trues well; if damage is avoided, rim wall will fail before rest of rim
Cons:
None
Rating:

Comments:
Excellent rims. My choice of using 48-hole was right on track for a few reasons, especially the ability of the rims to be easily retrued after spoke damage. I was not sure how long I could expect these rims to hold up under the rigors of a long tour, so I kept a pair in reserve back at home in case I needed them. In fact, I did need them, and two more beyond those. That was not completely due to normal wear, but also from accidental damage. Here is the record of their performances:
Rear Rim #1: Original rim of bike; Braking surface wore through on the tenth day of the Tour. Damage had been caused on two previous tours in very wet, gritty conditions. Total distance: ~12,000 km;


Rear Rim #2: Replaced at the end of Stage 2, due to spoke eyelet damage. Problems caused by a few episodes of panniers flying off, and a couple of chain jams. Total distance: ~31,000 km;


Rear Rim #3: Replaced midway through Stage 4. Same reason as previous rim. Total distance: ~33,000 km;


Rear Rim #4: Still on bike. Distance so far: ~20,000 km;.


Front Rim #1: Original rim of bike. Breaking surface wore through near the end of Stage 4. Total distance: ~84,000 km;


Front Rim #2: Still on bike. Distance so far: ~13,000 km.
I definitely like and recommend these rims, especially if you are a large rider, like me, or want to use wider tires. What impressed me the most is the way they held up under abuse. The damage to Rim #2, for example, occurred long before I was able to replace it and I completed the last few thousand kilometers of Stage 2 with two or three missing spokes/eyelets. I still don't really know, however, just how far I could get on a rear rim if I could avoid damging it.
Schwalbe Marathon XR Tires (Old/Newer)
Pros:
(OLD & NEWER) Excellent on all road surfaces; good tread life; good puncture resistance; (NEWER) Same, plus folding design
Cons:
(OLD) Sidewalls may fail early; wire bead failed on several tires after storage/shipping; (NEWER) New "anti-puncture strip" cuts through inner wall of tire before tread is worn; tread wore through prematurely on one tire
Rating:
(OLD)

Rating:
(NEWER)

Comments:
I definitely had mixed experiences with these tires. They are probably the most popular tires with tourists today, and many of the others I met who were using them did not seem to have the issues that I did, so perhaps I just had bad luck. Discussing them is complicated by the fact that the construction of the tires was changed twice recently, so the type I used when the Tour began are not the best available now. The original tires I used were wire-beaded, whereas the newer models are folding. There was also a change in the listed sizes with the newer models which caused me considerable trouble and confusion when I tried to order more.
I had hoped that I could use one front tire for each Stage, and that is how it worked out, in fact, as might be expected, I could have used each them for considerably longer as they still had plenty of life left in them at the end of the early Stages. However, I felt it would be nice to start each Stage with a fresh front tire. As for the rear end, I had hoped that two of these tires, plus a smaller folding spare, for each Stage would get me through. Though I suspected that for the longer Stages that might not work out. Accordingly, during 02003-4 I purchased 15 tires which I hoped would last me for the whole Tour. However, that did not work out too well.
Stage 1 was fine, more or less. The first rear tire was a little disappointing, as it started to show worn sections in the sidewall after only 3,500 kilometers. I did my best to accommodate those, and the tire lasted for a total of 6,300 km, which was not too bad, but not a long as I would have liked. The second rear tire began showing sidewall wear at around 4,700 km, but held together until 8,000 km, when the tread wore through; a result that I was satisfied with. After that I moved the front tire to the rear, and put the smaller folding spare on the front, for the remaining 2,600 km of the Stage.
Stage 2 was when the real problems started. Apparently, keeping my remaining tires packed in storage and then shipped adversely affected their sidewalls and wire beads. The two rears that I started Stage 2 with failed after 1,700 and 1,000 km, respectively, each with what appeared to be sharp cuts in the sidewall. I ordered replacements directly from the manufacturer, and moved the tire I had been using on the front to the rear, with the folding spare on the front once again. That new rear already had 2,600 km as a front and then was used for an additional 4,700 km on the rear, before I noticed sidewall wear starting. In that case, I kept it going for quite a while longer, a further 4,800 km, for a total of 12,100 km, 9,500 km of which were as a rear. So that tire, one of the originals I bought, turned out to be one of the best. The final rear tire of the Stage lasted for only about 5,000 km, until the wire bead broke, which contributed, along with the monsoons, to my ending the Stage a few days early.
In Stage 3, things were even more frustrating. The two original rear tires I had sent to me for the Stage both showed broken wire beads on the first day of the Stage, and so were useless. I ordered replacements, but UPS delivered them to the wrong address, and I never received them. I continued to ride using the 37mm Schwalbe folding spare, which took a real beating but kept going far beyond what I expected, as well as whatever tires I could find locally, for the entire Stage. The original front tire worked well for the entire distance.
I tried one last time, in Stage 4, to make use of my original tires, and for a while I thought my luck had changed. Unfortunately, no, as the first rear broke its bead again after only 1,200 km. The second lasted only 10 km before doing the same. At that point I used locally purchased tires (and wide 700c sizes were surprisingly hard to locate in South America,) until much later, when I received some fresh Schwalbe XRs (after another shipment fiasco.) At that point I got the newer models which were now Kevlar-beaded folding tires, and so I was hopeful that I would not have any sidewall problems with those. That indeed turned out to be the case, as the first rear of the new models lasted for 7,700 km, without showing any sidewall issues. However, I was a little surprised to see a new mode of failure develop. There was still plenty of tread left at that point, but the newly-introduced integrated tire liners had eventually cut two parallel slits through the inner wall of the tire, causing its failure. At that point, with not much distance left to cover, I felt that I was set, but, unfortunately the second rear folding tire failed, for the same reason, after only 4,800 km. On the bright side, I had left the front tire with which I began Stage 3 on the bike, so as not to tempt fate, for the rest of the Tour. Despite a few damaged spots, it survives to this day, for a total distance of almost 53,000 km.
I should mention one other, more positive, stituiation, as well. When my first rear rim wore out early in Stage 1, it took a while for me to receive its replacement, and so I was foreced to continue riding with an 8-cm chunk of rim wall missing. The rear tire I had on at the time survied for something like 1,900 km under those conditions, without failing or popping off the rim. That was certainly appreciated.
In spite if my troubles I think that these tires are probably still the best out there for long tours. There is now an even newer model available, and if that has corrected the issue with the inner tire liner, then they could really be spectacular tires.
Zefal hp-x Pump
Pros:
Dependable; fills tire quickly
Cons:
Gasket wears out eventually
Rating:

Comments:
There is not too much to say about this pump. It did a fine job of filling my many flat tires, and lasted throughout the Tour.
Cateye AT-100 Cyclocomputer
Pros:
Good set of functions; long battery life; altimerter works well
Cons:
Mounting bracket floods and shorts out computer in heavy rain
Rating:

Comments:
I have used these cyclocomputers for many years, and like them a lot. Their only problem, the rain flooding issue, was overcome by my talented mother, who had made some nifty transparent vinyl rain covers for the computer. That solved the problem, as long as I remembered to use them. Unfortunately, on one occasion in Madagascar when I did not, a quick shower cause the unit to go haywire for a while, and in the process it erased the total accumulated distance reading for the whole Tour. I had no real troubles with the altimeter, and after using one for so long, I would now never ride without one. However, the newer GPS units seem pretty nice, and if the current models had been available when I started the Tour, I might have used one of those as well.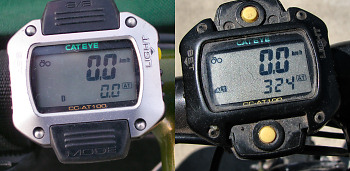 Cateye AT-100 cyclocomputer before, and after, the Tour
CrankBrothers Candy-S Pedals
Pros:
Excellent design; maintenence usually not difficult
Cons:
Requires frequent maintenence; bearing cartridge only thing holding pedal body on spindle
Rating:

Comments:
I have tried three or four other pedal types over the years, and I think these are my favorite by far. I had no idea what their durability would be before I started, but the first set lasted a fairly impressive 63,000 km, and its replacement for the remainder of the tour, a result that I was satisfied with. The first pair was worn down to the point of almost disappearing when I finally replaced them, however. The one issue I discovered was the bearing cartridge acting as the only thing holding the pedal body onto the spindle. That is fine when the pedal is new, but as soon as there is even the slightest amount of play in the body, the bearings will fail rather quickly. I overcame this by putting an extra washer on the outboard side of the bearing (the washer that comes with a set of Shimano Ultegra brake pads is the perfect size.) The extra thickness of that allowed dirt and water to enter the pedal body, but it didn't seem to matter as, with the added washer, the pedal could still be used even after the bearing cartridge had completely disintegrated.
JANDD Expedition Rear Rack
Pros:
Sturdy; good size
Cons:
Lower-rear strut prone to failure at weld when exposed to side loads
Rating:

Comments:
Generally an excellent rack. I like its size and construction. The only problem I found was a frequent failure point where the rear strut is welded to the lower support. Heavy loads, or laying the loaded bike on its side, cased the strut to crack at the point marked on the image below. The first two times this happened I went through a great deal of effort to find someone who could tig-weld aluminum in order to have them repair the rack. Then I discovered that the rack continued to function almost as well as when it was new, even when both struts were broken. So, with some added bracing, for good measure, I continued to use the rack that way. The original rack also broke out one of its lower fixing-bolt holes, due to me absent-mindedly riding for a very long time without tightening the bolt. So, midway through the Tour, I replaced the first rack with a new one. As far as I can tell from the images on the JANDD Web site, the Expedition rack has been slightly redesigned in the area where the rear strut connects, so perhaps that has corrected issue of cracks occuring there.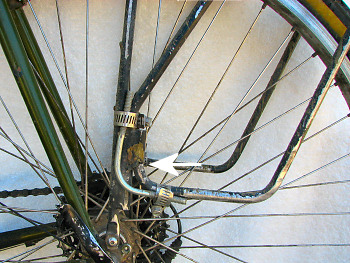 Bottom section of the JANDD rack, showing failure point
Phil Wood Hubs & Bottom Bracket
Pros:
Superior design; excellent craftsmanship; maintenence possible in the field
Cons:
Must carry replacement bearing cartridges and tools; cartridge in the freehub body causes damage when it fails, and is difficult to replace; expensive
Rating:

Comments:
The dishless design of rear wheels using Phil 145-mm spaced hubs makes the cost of these parts completely worthwhile. In addition to that, their quality typically means that until the bearing cartridges wear out the hubs and bottom bracket can almost completely be ignored. There are eight bearings between the two hubs and the bottom bracket, and I carried one replacement cartridge for each, which I replaced as they failed, at the following distances: bottom bracket bearings at 55,000 km; front hub bearings at 56,000 km; rear hub bearings at 62,000 km. Removing the old bearing cartridges is the only challenging part of these repairs, but if one whacks on them with sufficient force, they usually pop out. The remaining cartridges, in the freehub body, were the problematic ones. The original failed at 35,000 km, and its replacement after another 36,000 km. The troubling part is that they do considerable damage to the innards of the freehub when they fail, which invariably, occurs at the worst possible time. Additionally, while the manufacturers claim that they can be replaced, I certainly couldn't figure out how to do that, and so both of those incidents required parts to be sent from home. Given what I know now, I will have a better idea of when to overhaul the parts before they fail, should I ever do another long tour.
Drivetrain: Wippermann Chain/Salsa Rings/
Shimano Cassette
Pros:
Pefect combination of developments for my needs; long life when used in good conditions
Cons:
All wear quickly in gritty conditions; replacements not available worldwide
Rating:

Comments:
I subscribe to the school of thought that chooses to avoid frequent chain replacements by allowing the entire drivetrain to wear down together, and then replacing all of the components at the same time. That still would be my choice, since suitable chains are not available in many of the countries of the Tour, and carrying enough replacements along would have been a bit much. I had hoped that I could use one drivetrain set for each Stage, though I knew that might be cutting it close. Stage 1 worked out well, with chain elongation only becoming noticeable right before the end of the Stage at 16,200 km. The longer distance on gravel or dirt roads during Stage 2, made a huge difference, however, and all of my rings and the cassette were worn down to the point of non-usability when I stopped the Stage at the 17,400 km mark. This can be readily seen in the image below. In Africa, for Stage 3, though there was still some gravel, the shorter total of 14,200 km meant that I had no problems at when I reached the end. Stage 4, which always seemed to be too long for a single set, ended up being much longer than I originally anticipated, and had a fair amount of gravel as well. Consequently, I had to order a second set of components, which I installed in Rio de Janeiro, after only 13,000 km. The replacement set was starting to skip badly just as I completed the stage after another 15,000 km. Stage 5, at only 9,800 km gave me no problems. I like all of these components, as I can get the unusual set of combinations that I prefer, and I have no plans to change them for others, as long as they remain available.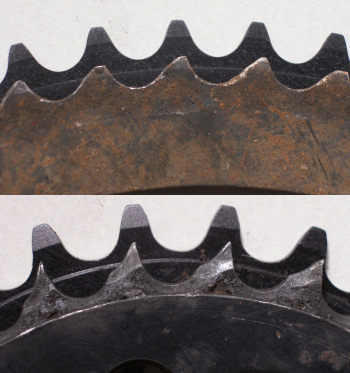 New/worn outter chainring (Top); new/worn inner chainring (Bottom)
Nelles Maps
Pros:
Pretty to look at; only maps available for some countries
Cons:
So many mistakes that using them is counterproductive
Rating:

Comments:
There are few things in the World that are more useless than a bad map. Some countries have few available to choose from however. The Nelles Map series, which covers a lot of Asian and African countries, may be good for conventional tourists, but are wholly inadequate for bicyclists. In more than a few occasions, I was troubled by the many mistakes in their cartography, especially with regard to distance measurements. On one occasion, in Laos, the map shorted the distance to a major destination by 160 kilometers. When I was in the area, I met another cyclist who had a newer edition of the same map and hers had been changed, but it was
still
incorrect, though then only by 60 kilometers. I realize that any maps are only as good as the information provided by the countries themselves, but those maps were just ridiculous. Unfortunately, the only other options usually available, International Travel Maps, are often just as bad.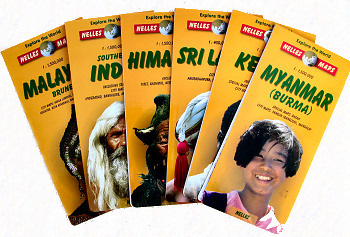 Trust little of what you see in these maps
---
Post-Tour Index | Articles Index