New Zealand, January 01999
The first days in the global South beckon a future return...
New Zealand has everything that a bicycle tourist could ever hope for.&nbsp The country, at least most of it, seems to have been designed specifically with this activity in mind.&nbsp That's why, in 01999, when I had an opportunity to choose a destination for a distant tour, it only took me a few minutes to decide on a visit to Aotearoa, The Land of the Long White Cloud.
The first thing to do when planning a bike tour of New Zealand.&nbsp is to pick up copies of Nigel Rushton's Pedaller's Paradise guidebooks.&nbsp I normally don't make much use of travel guidebooks, but these are the most useful I've ever seen, probably because they were written by a cyclist, for other cyclists.&nbsp Small and light, but full of just what you need to have a good trip, these are essential.
It's my opinion, one that seems to be shared with others that have done similar trips, that the South Island offers the most enjoyable cycling conditions.&nbsp But, I normally have a desire to see as much of an area as possible when I travel, so I planned out a visit that would cover both islands.&nbsp The route is shown on the map below, beginning in Invercargill at the southern tip of the country, and heading generally to the northeast and Auckland.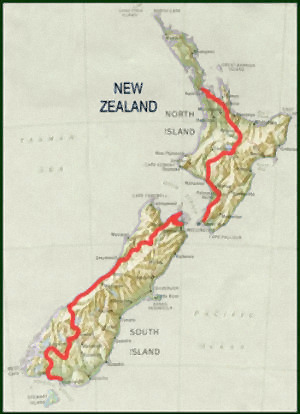 The first thing that you may notice about this route is that it leaves a fair bit of the country unexplored.&nbsp This reveals the one big problem with this trip; it was too short! The reason for this was related to the reason that I was able to take this trip at all.&nbsp To get across the vast Pacific, I used a free airline ticket from an airline bonus mile program (this was back in the days before I realized that these programs are a waste of time).&nbsp It had taken me 15 years to build up enough travel to earn a ticket award, and now, just as I had one, most of the miles were set to expire in mid-January 1999.&nbsp Due to a combination of airline blackout days, my work schedule, and the year-end holidays I could only arrange a visit of 17 days, from Dec 29 to January 16, which was obviously far too short.&nbsp To make matters worse, once there I frequently met European tourists who had saved up their six weeks of annual vacation time over a few years and were making three-month tours of the islands.&nbsp It was very frustrating, indeed.&nbsp But 17 days would have to do this time, and I planned on enjoying every bit of it to the greatest extent possible.&nbsp
Of course, one of the most tiring parts of this trip was the interminably long air trip.&nbsp In my case this involved legs from; San Francisco to Los Angles, L.A.&nbsp to Auckland, Auckland to Christchurch, and Christchurch to Invercargill, over a total of 21 hours.&nbsp Fortunately the bike seemed to be in better sprits than I did after that ordeal.&nbsp To pack up the bike I used my soft-sided travel case from BikePro and everything arrived in good shape.&nbsp To solve one of the common problems when one uses a bike case and arrives and departs from different airports, I made use of an air cargo service to transport the empty case from Invercargill to Auckland.&nbsp This worked out wonderfully.&nbsp The cargo service at Invercargill offered to hold the case there for a couple of weeks and then send it of to Auckland, and the charge only came to about $US 30.00.&nbsp Quite a good deal, I thought.&nbsp At the end of the trip, there it was, waiting for me at the Auckland airport.&nbsp After the long flight and taking care of this important detail, I was desperate to get on the bike and get moving.&nbsp So, I packed up and rolled out of town, heading along the southern coast for a while towards the village of Te Tua.
The Roarin' Forties
Take a look at a map of the world.&nbsp Notice, especially, the large patch of ocean that circles the globe in the Southern Hemisphere.&nbsp Note, as well, that there are only two pieces of land which protrude into this expanse, Cape Horn at the tip of South America, and the bottom of New Zealand's South Island.&nbsp This is the root cause of the Roarin' Forties, intense winds which have several thousand miles of open ocean to build strength before they slam into New Zealand.&nbsp I encountered this phenomenon right out of the bat, and it plagued me for the first few days until I had moved north to a part of the island that has the good fortune to be somewhat sheltered by Australia.&nbsp The photo below is me standing on the beach at Riverton on the shore of the Southern Ocean.&nbsp The silly pose that I am in was meant to show the effect of the wind on my jacket.&nbsp It doesn't really give the true effect.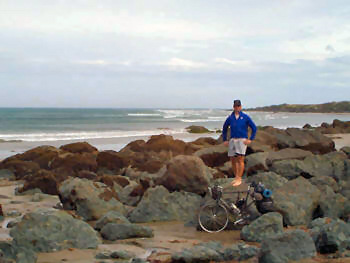 Over the right shoulder: Antarctica
Water, Beautiful Water
The next morning I began the first full day of the ride.&nbsp The morning was misty and cool, and I was having a blast riding through almost deserted countryside.&nbsp After a couple of hours, though, those mean winds started up again, and I was heading straight into them.&nbsp This time I had a hard time coping with them, probably because, as a northerner, it was right in the middle of my natural "winter" so, my riding strength wasn't as good as it might have been.&nbsp At one point, I stopped to rest and stretched out under a shady tree.&nbsp Well, I must have dozed off, being so tired, and at some point the sun had come out and my feet, which were by then sticking out from under the shade of the tree, received a nice dose of ozone-hole enhanced solar-UV.&nbsp Nothing left to do, but keep riding, sunburned feet and all.&nbsp In the evening I struggled, hours later than I had planned, into the tiny town of Manapouri, where a nice meal got me revived a bit.&nbsp Fortunately, at that time of year and at that latitude daylight lasts until almost 10:30 PM.&nbsp So, I was able to cover a little more territory before dark and not fall too far behind my planned schedule.&nbsp At that time, the wind had thankfully decided to shut down, and I began to fell a little better as I passed through the touristy town of Te Anau on the shore of the lake with the same name.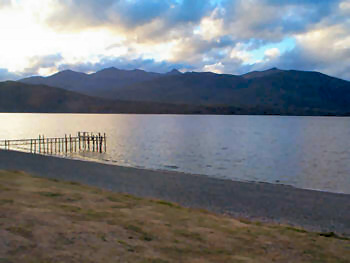 Lake Te Anau at Dusk
The geography of the southern part of South Island is dominated by numerous glacier-carved features.&nbsp On the coast that means fjords (which, sadly, I didn't have time to visit), and inland long, beautiful lakes.&nbsp In either case, water is everywhere and this combined with the rugged terrain makes for some truly spectacular cycling.&nbsp The following day, I decided to power on and try and make up some of the time I had lost the day before.&nbsp Turning inland for a while, I passed though the towns of Mossburn, Kingston and Frankton, near another touristy town, Queenstown.&nbsp Here, the drier climate, in the rain shadow of the coastal mountains, reminded me of riding back home in California, and the large tour busses, which passed more frequently in that region, completed the picture.&nbsp In that area, early one morning, I passed through the Kawarau Gorge, which is where the rather strange activity of Bungy Jumping originated.&nbsp It was my "misfortune" to pass by at 7:30 AM, two hours before the jumping place opened.&nbsp So, I had to settle for walking out onto the bridge they use, and looking over the side.&nbsp Darn.
Later, while riding along the shore of Lakes Hawea and Wanaka, the demon winds returned and I lost some serious time again.&nbsp This time they kept it up all night and kept me up most of it as well.&nbsp In the photo below, you can see by the choppy water on the lake that they were still blowing at 7 AM the next morning.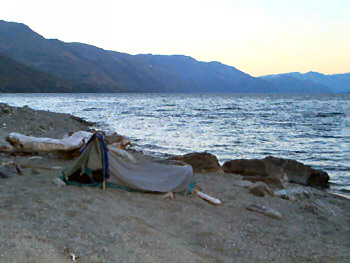 Early morning at Lake Wanaka campsite
The beautiful water features in this area are not limited to lakes and fjords.&nbsp Amazingly clean rivers and stunning waterfalls are everywhere.&nbsp There are so many of these that it was hard to keep moving at a reasonable pace.&nbsp This also brought up one of the other difficulties of the trip.&nbsp I realized that if I took a picture of every beautiful sight along the way, I would use up my camera's memory in the first few days.&nbsp [Oh, how I wish I had one of my 4GB Flash cards back then] Time to start rationing pictures.&nbsp Riding along the pretty Makarora river, I continued west towards Haast Pass.&nbsp I have done a lot of mountain tours at home and was not looking to go up high on this trip, so the gentle climb up to Haast at 563m would be the high point on the South Island, The folks riding in the west-to-east direction had a much steeper grade than I did, however.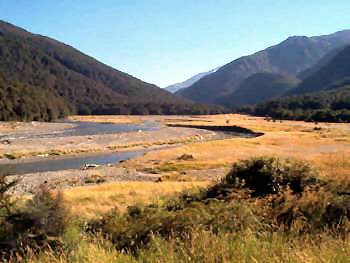 One of many: The beautiful Makarora River
The "Wet" Coast
The West Coast of South Island was one of the areas that I was most looking forward to seeing on this trip.&nbsp One of the things that I enjoy the most about touring is seeing changing botanical and climatic areas as I travel.&nbsp The West Coast of New Zealand is a temperate rain forest, largely composed of beech and tree ferns.&nbsp This would be a very different experience from the coniferous forests of the western U.S.&nbsp that I had been visiting recently.&nbsp But would all the rain spoil the trip? It turned out to be my good fortune, if not the locals, that the country was having a drought that year.&nbsp So, I rode the length of the coast with only a slight mist one morning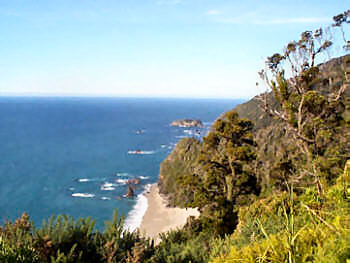 The beautiful coastline on the Tasman Sea
I had a fabulous time in this area.&nbsp The strong headwinds of the early days had turned into gentle tailwinds, and physically, I had entered "The Zone" and was riding well.&nbsp The scenery was wonderful, and the area is largely deserted except for the tourist areas at Fox and Franz Glaciers.&nbsp There were just enough services to keep me well fed as I passed though the small towns of Haast, Fox and Franz, HariHari, and Hokitika before turning inland again as I swung though Greymouth.&nbsp With my improved performance, I had also caught back up to my planned schedule. It was aslo nice to see tha numers other bike tourists in this area visiting from all parts of the world. The west coast of New Zealand certainly lives up to it's label as a cyclist's wonderland
The rest of the route on South Island was just about as nice.&nbsp Passing through the pleasant town of Reefton lead to a spectacular ride through the Buller River valley and to an amazing campsite right next to Ariki Falls.&nbsp A very rainy morning caused a delay in the town of Murchison, where several other tourists from Europe were also waiting out the weather.&nbsp In the afternoon the skies cleared and a really fun ride followed to St Arnaud and Nelson Lakes National Park.&nbsp Another of those glorious almost deserted backroads led to Nelson, the largest town I visited since leaving Invercargill.&nbsp I took the opportunity to do some laundry and have a nice meal while there.&nbsp A short bit of riding from Nelson lead to the Marlborough Sounds region where large estuaries bring the sea inland between thickly forested hills.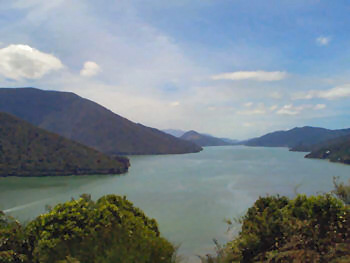 The Marlboro Sounds at the top of South Island
At the Sounds I had planned for a bit of a rest day.&nbsp So, it was only a short ride in the morning out to the Mistletoe Bay campground, which is along the famed Queen Charlotte Track.&nbsp In the afternoon I took the chance to do some "tramping" on the track through a forest filled with giant ferns.&nbsp The photo below gives a good example of one of these.&nbsp The tall skinny plants on the right that look like trees are also ferns, but their foliage is too high to make it into the picture.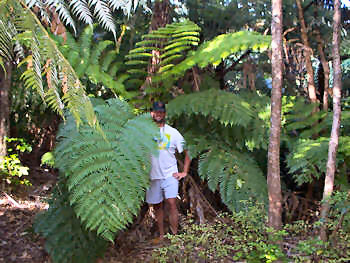 Dwarfed by a giant fern
Onward to the North Island
The ferry crossing to the north island departs from Picton, and there are two boats to choose from during the summer.&nbsp I wish that I had taken the more leisurely InterIslander which is a traditional ferry taking several hours to cross the Cook Straight to Wellington.&nbsp But, once again, because of my tight schedule I took The Lynx which is a fast hydrofoil-type ferry that takes only 2 hours 15 minutes to make the same trip.&nbsp It was nice, but felt a bit like being on an airplane.
Wellington, the capital, is a whole different world from the South Island.&nbsp Urban and busy, it is not a great place to ride.&nbsp After having a heaping lunch, I did what a good tourist should, and took the commuter train out of the city as far as the town of Paraparaumu
In many ways the North Island seems much more like America than its more undeveloped southern companion.&nbsp Even the local flora seemed more familiar. The area around Wellington looked eerily like the hills around San Francisco, with rolling brown hillsides covered with fennel and other familiar weeds.&nbsp That other hallmark of America, automobile traffic, was more abundant as well.&nbsp In fact, for those reasons, the section of the route from Paraparaumu north on Route 1 as far as the town of Bulls, was probably the only less-than-ideal segment of the entire tour.nbsp; In places, Rte. 1 was fairly narrow with a large amount of truck traffic. That made it seem too much I was like riding back home, a state of mind I usually try to avoid when out on tour.nbsp; I may have had a better time had I chosen Rte. 2 that also heads north from Wellington, but who knows? Time pressure, however, convinced me to take the shorter route to the west.
However, that may have turned out for the best, at least from a "Kiwi experience" point of view Just after dusk, as I settled down in my tent, I heard the most bizarre sound. It was a single, very loud, repetitive phrase that simply rose from a low to a higher pitch It seemed to be originating right outside my tent door, and went on for such a seemingly long time that I did not know if I would every get to sleep that night I couldn't see what was creating it, and could scarcely imagine what sort of creature could make such a piercing call (Here is a WAV recording of the sound, that I found on the Web.) I learned, after I returned home, that I was being entertained by a female Brown Kiwi, one member of the island's famous flightless bird family. Kiwis are increasingly rare, and so it is not surprising that most visitors never see one in the wild. I feel lucky now to have at least heard its cry, though a little amazed that such a loud sound could have been produced by such a small bird.
The next day the riding conditions calmed down again, and after I turned west onto Rte.3, I was back to having a fine time once more. That highway brought me to Wanganui, a pretty, small city, which had plenty of services, including a Big &amp Fresh supermarket, where customers are greeted by giant, singing, animatronic fruit as the enter the store. A surreal sight, to be sure, that made me feel that I was in Disneyland instead of Wanganui. Had I more time available, a rest day there may have been fun, but, instead, I resumed my route, traveling north on Rte. 4 towards the volcanic central highlands of the North Island.
This section of the route was quite pretty and surprisingly uncrowded. I was interested in seeing Mount Ruapehu and Tongariro National Park, and I rather assumed that these areas would be more popular with tourists. In typical New Zealand fashion, where parks are more geared to long treks and not filled with tourist facilities, the area around the town of National Park seemed virtually deserted, which was fine with me. There was a small café in the town, where I had a quick meal, and then, since I did not have the time for a full day of hiking to see the volcano up-close, I had to settle for an enjoyable ride around its base. Indeed, it was quite pleasant as the area possessed a somewhat different feel to what I had experienced so far. Ruapehu, and the other peaks in the area, have gently-sloping sides and are free of snow during summer, giving them a distinctive look compared to their counterparts in the American Northwest.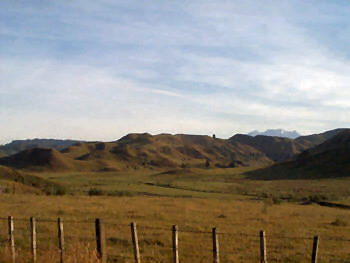 The countryside opens up on the North Island
Continuing on, I made my way north, passing thought the city of Rotorua.&nbasp; There, I visited the interesting geothermal area, and the Maori Cultural Center. These were both fun stops, and the concert of Maori music was wonderful. I had hoped to spend a little more time in the town, but the weather began to take a turn for the worse that afternoon, so I decided to move on, in case I was delayed a bit during the last couple of days. There was a moderate climb on Rte. 5 just after leaving town, and a few strong showers did make me wait for a while on the way up However, I managed to get close enough to be able to reach Auckland on time with only one full day remaining.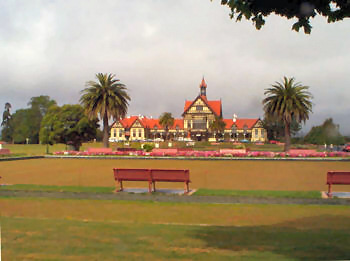 Governor's mansion museum in Rotorua
Home Too Soon
The final full day of the tour found me winding though the small towns and agricultural areas of the north-central part of North Island.&nbps; Shortly after morning, the weather cleared up, and I was able to dry out and really enjoy my last day. There was still a long way to go to get to Auckland and some strong headwinds made me feel a little more tired than I had wanted. So, when I reached the tiny settlement of Kaiaua, on the shore of the Firth of Thames, I took a room in a nice little Bed &amp Breakfast, which provided me with the only evening roof over my head that I had during the whole tour.
The water of the Firth was warm enough to comfortably swim there, and so I took a quick soak, something that I had been anxious to do for days, having been frequently turned away by the cold waters around South Island.
My last day in the country was simply an early ride to Auckland to catch my afternoon flight home. The little roads that wound along the shoreline made for a nice approach to the edge of the country's largest city. I had neither the time, nor desire, to try and navigate though the city itself, however. So, when I reached the outskirts, at Papakura, I hopped on a city train, which easily accommodated both me and my bike. This took me to within a few kilometers of the airport, and that remaining distance was surprisingly easy cycling. I arrived in plenty of time to pick up my travel case, which was waiting in good condition, pack up the bike, and even take a nice shower in the terminal's public facilities.
I felt a little sad for having to take the long flight home so soon, but happy to have been able to visit that beautiful country at all, and to have successfully completed my goals while there. This was my first real experience touring outside of the United States, and I knew in my heart that it would not be my last. It was also the first time I had stepped onto the soil of a piece of Gondwanaland, though I did not realize at the time just how linked my future would become with that ancient land
---
Post-Tour Index | Articles Index