"Short" Tours 01994-02001
Scale should never be confused with quality; The two rarely correlate
This page describes some of the tours that I have done over the last several years. During that time, my work schedule was such that I was not able to take the amount of time-off needed for multi-week tours very often. That's no reason not to get out on the bike, however, and by spreading my touring out over many 3-7 day tours I was able to see quite a bit of many very beautiful areas of the western United States.
These rides generally covered between 300 to 1,200 km, and calling rides such as these "short" tours may seem like a misnomer to the non-cyclist, but these things are all relative to one's own point of view. The disadvantage of this approach is that, by necessity, most of these trips were scheduled to overlap with holiday weekends or other work-related travel, and so they required a tight riding schedule that was often more aggressive than I might have liked. For the most part, though, I knocked down the kilometers that I had planned and had a great time doing it.
On almost all of these trips I traveled to and from the start/end points using Amtrak. This was especially convenient for me, as I live about 5 blocks from the station at Martinez, California. This station is well served by four major routes, including the long distance trains, The Coast Starlight, and The California Zephyr, which will take your bike for a $5 handling fee and will sell you a very large bike box for $7 (as of 2001 prices). The agents at my local station know me very well, and often give me the box for free (Shhh, don't tell anyone!). Additionally, two other routes, The Capitols, and The San Joaquins provide frequent trains to parts of California and offer roll-on bike access. This makes reaching such great starting points as Klamath Falls, Oregon, and Merced or San Luis Obispo, California very easy.
Oregon
|
Wash.
|
N.Ca.
|
S.Ca
|
Colo.
|
Az./N.M.
|
France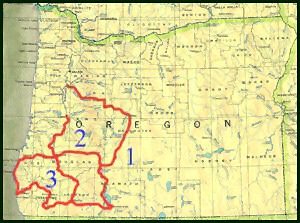 1. July, 01995. A four-day ride that started at Klamath Falls and headed north on Rte 140 along the west shore of Upper Klamath Lake. This is a fairly pleasant route, and I assume that it is much nicer than the eastern shore and busy US Rte 97. I continued north to Crater Lake National Park, the climb up to the park entrance being surprisingly gentle. The last section of climb up to the lake rim is tougher, but beautiful. At the beginning of July, the eastern half of the Rim Drive had not yet been opened due to snow coverage. Outside of the park, I cut back east for a bit and then headed north on US 97. The section from here to Bend was kind of plain, mostly flatish, with much more traffic. From Bend, I passed through the nice little town of Sisters, and then went up and over one of my favorite passes, namely McKenzie Pass. This pass provides some relief to those who are touring east-to-west as the climb is only 600 meters but the descent is about 1,200 meters. After the descent, there was no rest as I turned north again on Rte 126 and climbed almost all the way back up the next pass, before turning west and zipping down the slope and across the Willamette valley, finishing in Albany.
2. July, 02000. Another four-day trip that followed the same route as the first Oregon tour to Crater Lake, but then turned west and descended through the very pretty Umpqua River Valley on Rte 138. There are three beautiful waterfalls each a short walk from the road that made nice places to stop and cool off in the mist for a few minutes. West of Roseburg, I turned north and traveled along some exceedingly nice backroads through the foothills of the coast range to Eugene.
3. August, 02001. This was splendid loop tour in the Siskiyou region of southwestern Oregon, and included sections of plateau, mountain and coastal riding. I began in Klamath Falls and took the passable, if uninteresting, Rte. 66 westward to Ashland, and then continued on to Jacksonville. There I stopped for an evening to enjoy a concert at the famous Britt Music Festival. this was the only tour that I have ever combined with some other type of entertainment, and it was a nice change of pace. From there, I took a partially gravel Forest Service road to Cave Junction, and then turned north on US 199. Fortunately, I didn't stay on that busy road for very long and, instead, turned west just before Grants Pass, and eventually followed the stunningly wonderful Merlin-Galice Road, passing Galice and Agness on the way to the coast at Gold Geach. Unfortunatlry much of the beautifukl forest in that area burned the next year in the massive Biscuit Fire, so I don't know if the conditions are still as nice as they were back then.
Next came a section of the coastal route on US 101 north, as far as Bandon, where I turned east again for the second half of the loop. The backroads through Oregon's Coast Range are some of the most idyllic cycling routes I have ever seen. It was tempting to turn around again and keep on riding there, but, sadly, that was not possible. Instead, I emerged from the hills in Roseburg, and had the interesting experience of visiting the shop where the frame for my new bike (the one, I'll be using through Gondwana) was being made. After a fairly hectic time winding though the little towns that line I-5 heading south, I was able to take the much more enjoyable Rte. 227 passing through Shady Cove on the way to Medford. Then it was another stop at Jacksonville for a second concert at the Britt, before retracing my route back to Klamath Falls. This was one of my favorite short tours, primarily for all the variety it contained, and the simple fact of being able to ride in Oregon, my favorite state for touring. The distance was about 1025 km, spread over 7 days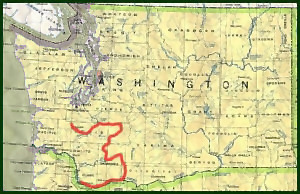 August 01995. This was one of my all-time favorite tours. I began in Centralia, Washington, and went east along Rts. 508, 7 and 706 to Mt Rainier National Park. Riding through this park is great. The lower elevations are thick, largely broadleaf, forests which is probably my favorite botanical zone to ride through. Heading east the route climbs above the tree line at only ~1,500 meters, where one can do a short hike and see lots of alpine wildflowers.
From there I went Southwest through Randle, to Mt. St. Hellens. In 01995, it had been 15 years since the big eruption, and the area around the volcano was simply amazing. The roads through the monument are also great for cycling. Though, as they are mostly old logging roads the grades can be quite steep. Here I found one of the best campsites I have ever seen. The monument allows distributed camping and after walking a trail for a while, I set up my tent in a "V" made by two 2-meter wide fallen trees. The sky was clear, so I left the rain fly off the tent and used only the netting. This was a great decision, as at my feet was a great view of 3,600 meter Mt. Adams, which shortly would be bathed in Alpineglow. As I lay there taking in this beautiful sight, the local population of hummingbirds came out to feed on the many Fireweed plants that were in full bloom all around. Every few seconds I was treated to a pleasing "Hmmm..." as one flew right over my head. The next day I did a couple of great hikes to Spirit Lake and most of the way up to the crater.
Continuing on, I rode through some great national forest land toward Mt Adams, along the way seeing only 5 cars in one 80 km stretch. I finished the trip my turning south and hitting the Columbia River at White Salmon, and travelling through the Columbia River Gorge to Vancouver, Wa. The section along the gorge was very beautiful, but compared to the quiet conditions I had the previous few days, the traffic seemed too heavy. The total length of this trip was about 5 days.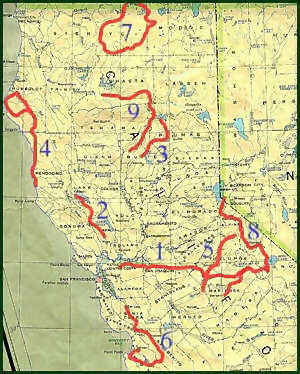 1. September 01994. Concord-Yosemite-Concord. An out-and-back trip to Yosemite, N.P. starting from a point near my home. This was a very fast trip over Labor Day weekend. The riding across the Central Valley of California was the typical hot and flat affair, and the climb to the park was your run-of-the-mill 1,800 meter ascent. The park is, of course, beautiful, but there is not much there in the way of camping facilities geared towards cyclists. There is a "walk-in" campground in the valley, but their idea of walk-in is to have everyone park their cars in a big parking lot and then walk 15 meters to a tent site. Not surprisingly this campground is usually full of folks who enjoy making a lot of noise well into the night.
2. April 01996. A very short trip from Yountville, in the Napa valley, over Mt. St. Helena to Clear Lake and back.
3. May 01996. Another very short trip starting near Oroville and riding through the Feather River canyon to Lake Almanor, and back. I'm only including this here to mention that Rte 70 through the canyon is very pretty, but as it leads to the lowest pass over the Sierras, it has a very large amount of truck traffic. Also, this route has three of the scariest tunnels that I have ever ridden through. Not for the fainthearted.
4. June 01996. A out-and-back tour staring in Fort Bragg which included a stretch of the Pacific Coast route, with a detour west through Humbolt Redwoods St. Park and the Mattole valley, to Ferndale and back. Rode it in 3 days.
5. July 01996. Modesto to Sonora Pass and back. This is the only trip where I've ever had to modify my route along the way because I couldn't hack it. I was planning to cross the pass (one of the hardest of the Sierras), ride south a while, and come back over Tioga Pass. But the beginning of the route was baking at 40 °C all the way to the 1,000 meter mark. The next day, I intensely bonked climbing the pass. I finally made it to the top, but decided to turn around, as I was about a half day behind schedule. Still had a great time, though.
6. April 01997. San Jose to Salinas. This was a pleasant spring tour that I scheduled to find a nice, dark place to view the Hale-Bopp Comet (which I did). Along the way I took in some great sights, including the mission at San Juan Bautista and Pinnacles National Monument. Finished by riding on Carmel Valley Road, one of my very favorites, to Monterey where I visited the aquarium.
7. July 01998. Mt Shasta Loop. This 3-day trip started in Klamath Falls, Or. And went south along Rte 97, which is high-traffic but with wide shoulders on this section, to Weed, Ca. From there I swung around the south side of Mt Shasta, through the nice little town of McCloud, and then climbed the Medicine Lake Volcano. The road up the climb is a forest service road that reaches an elevation of 1,920 meters (a fact that was inconveniently not mentioned on my map). All the way I was marveling at the low traffic volume, and then as I neared the top I found out why. Even on July 4th, there was snow cover at the top. I ended up walking over about 2.5 km of cold, white stuff, before I broke out. Brrr.. From there I rode through the interesting Lava Beds N.M., where you can walk far into pitch black lava tubes. Finished up back in K-Falls.
8. June 01999. This was a splendid tour from Lake Tahoe through Yosemite to Mariposa. The route along the east side of the Sierras is relatively quiet, and extremely beautiful. No shortage of hills, though. The route I used is part of the annual Markleeville Death Ride, though I didn't quite keep up that pace. The passes were Luther 2,358 meters, Monitor 2,535 meters, Devil's Gate 2,292 meters and Tioga at 3,031 meters. Along the way I visited Mono Lake and, of course, made another stop at Yosemite Valley. Finished after about 4 days.
9. June 02001. I began this three day trip in Redding, and then climbed to the east along mostly nice back roads, though one of them (Tamarack Rd.) turned into gravel for about 32 km, including a 460 meter climb. Continued on to Burney, and the pretty McArthur-Burney Falls St. Park, then swung south and rode through Lassen Volcanic N.P. The park road opened early this year due to lower than normal snow pack, and I think that most people hadn't yet made plans to visit, so the roads and park were mostly empty. Wonderful. From there I dropped down along Rte 32 to Chico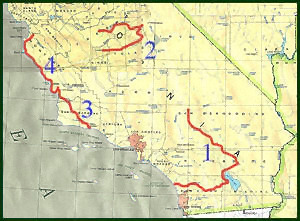 1. April 01995. This 3-day ride was my very first visit to the desert areas of the southwest. It was everything you'd expect from the desert, open, hot, dusty, and with a mean wind blowing all day. The ride started in Barstow, and went south through the Lucerne Valley, to Joshua Tree N.P. From there, I rode south to the Salton Sea, where at 72 meters below sea level and about 40 °C in April, I dove into the very polluted lake to cool off. Turning east I climbed the Montezuma grade through Anza-Borrego St. Park and then made a bee line to the coast at Oceanside.
2. June 01997. I began this 4-day ride in Fresno, climbed up to the pretty King's Canyon and Sequoia National Parks, and then dropped down on a more southerly route to Hanford. These parks are not crowded, and are filled with great mountain scenery and really gigantic trees. The one drawback on this trip was a washed out section of the road into the canyon, where the construction crew would let cars drive through, but not cyclists. Urrgghh.
3. November 01998. Santa Barbara to San Luis Obispo. A short trip that I did just to complete this section of the California Coast.
4. April 02000. Salinas to San Luis Obispo. A spring trip through Big Sur with a visit to Hearst Castle. However, nature played a cruel trick this time, and reversed the prevailing winds so that they blew hard from the south, and then dumped about 8 cm of rain in one day. Builds character.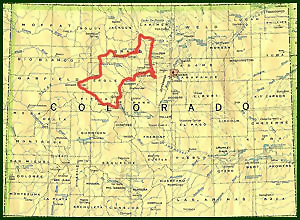 August 01999. I planned this tour specifically to see if I still had the legs to attempt a tour in a really mountainous area like one might encounter in the Himalayas or Andes. While runnning that experiment, I had the chance to experience a really great tour including perfect scenery and some excellent cycling roads.
This was a loop tour that began and ended in Glenwood Springs, Colorado. From Glenwood, (1,760 meters) I went east for a while along the bike path or frontage road that parallels an interstate highway, not my favorite situation due to all the traffic noise. At Wolcott, I turned north and hopped over Gore Pass, 2,904 meters, to Kremmling. Continued on through Granby and began climbing the Trail Ridge Rd. in Rocky Mountain N.P. which tops out at 3,690 meters. This was a new altitude record for me that would only last a couple of days.
After a great descent through the park, I turned south at Estes Park. The next section of relatively low-elevation terrain to Idaho Springs turned out to be the hardest riding for me, due to the hard rolling nature of the route.
At Idaho Springs I rode one of the most rewarding routes of my life, namely the 2,000 meter climb to the summit of Mt Evans. Due to the particular time of day that I arrived, I broke the climb up and spent the night at the Echo Lake camprgound at 2,332 meters and did the rest of the summit first thing in the morning. This turned out to be a great decision, as the weather the in the morning was perfect and there was no one else on the mountain. After a few hours of steady climbing, I hit the summit at 4,349 meters, setting the new record in the company of a few hardy mountain goats.
Contiuing on, I rode through Georgetown, Dillon, and Frisco on the way to Leadville, a route that included two more high passes (Loveland, 3,655 meters and Fremont, 3,451 meters). From there it was a turn to the west, over Independence Pass at 3,688 meters, a brief stop in Aspen to marvel at how expensive everything was, and then back down to Glenwood where a dip in the famous Glenwood Hot Springs Pool felt wondeful. The total ride was about 800 km and took about 6 days.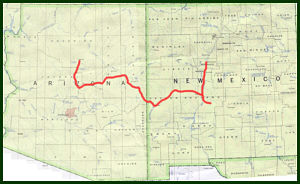 October 02000. This tour happened because I had to attend a conference in Albuquerque and at nearly the same time, my parents would be vacationing in Sedona, Az., so, never one to miss an opportunity for some touring, I took my bike down to visit my family, and then rode to New Mexico for the meeting. This is the latest in the year that I have ever toured, and I also wanted to see how I would handle the early darkness, such as one would normally see in the tropics. Aside from being a little bored in the evenings it was ok.
I began in Flagstaff, rode though Oak Creek Canyon to Sedona, and from there headed south-southeast towards New Mexico stopping to visit Montezuma's Castle N.M., Tonto Natural Bridge St Park, and passing through the beautiful country at the northern edge of the Fort Apache Indian Reservation. Entering New Mexico near Reserve, I rode east, towards Socorro, stopping to see the Very Large Array Telescope.
Then came the one disappointment of this trip. While planning, I noticed that I would be very close to the Trinity Site, where the first a-bomb was tested, on the very day that they held their annual "open house" for the general public. Well, the scientist in me couldn't resist a chance to see a unique site like that. So, I rode right up to the edge of the gate the night before and camped about 1/4 miles away. The next morning I was right up at the front of the line of cars waiting to get in. As the gates opened two ladies who were volunteering handed be the brochures that everyone was getting, and as I was just starting to roll in, a plump security guard decided that I shouldn't be allowed in. I argued, but to no avail, the only explination given being "It's not safe, there will be a lot of cars in there". Of course, the fact that I had just traveled sucessfully for 500 miles with many more cars didn't seem to matter to them. Bureaucrats, Grrrr...
The total ride ended up being about 1,120, km over 8 days.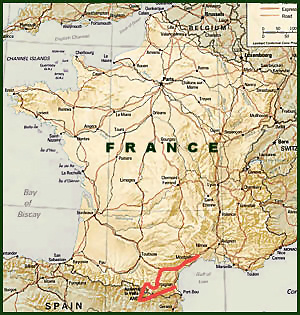 Septmber 01997. Once again, I was able to do this tour because I had to go to a conference in Montpellier, France (I know, it's a rough life) and, of course, I stayed over to do some riding. This is the only tour that I have done where I did not camp, but instead relied on local hotels. While it was nice to clean up and have a good meal every night, I found this type of touring very constraining. I got a bit lost trying to get out of Montpellier and used up about 3 hours in the process. I never seemed to be able to make up this time the rest of the way, and was always struggling to make it to a place that might have a hotel before dark. If I had brought my tent along, it wouldn't have been a problem, I would have just relaxed and found a nice place to sleep out each night.
The route and ride were nice, though, going through Beziers, Carcassonne, the Pyreneean villages of Quillan, Belcaire and Ax le Thermes. Then came a climb through the Pyrenees to the principality of Andorra, where I had to hold up for the night when a big cloudburst hit, and a drop down into Spain for about 50 km. The route through the Pyrenees was very pretty, but there was a bit more traffic than I would have liked. This was probably due to all the French folks driving up to Andorra, where there is no sales tax and the streets are lined with vendors selling everything from liquor, to cigarettes, to frying pans. The route ended up back in France passing through Mont-Louie and ending in Perpignan. Total of about 560 km in 5 days.
---
Post-Tour Index | Articles Index