Stage 2: Asia
Be mindful of both body and spirit, for ahead the challenges of majestic mountains await...
Now things really get challenging! Stage Two takes me to southern Asia for an eventual visit to the small Gondwanan fragments of India and Sri Lanka. No matter how you look at it, this stage will likely be the most daunting for many reasons. Every possible impediment that a touring cyclist might face is there. Heat and cold, torrential downpours and blazing Sun, mosquitoes, mysterious food, numerous unfamiliar languages, strange currencies, unfriendly border crossings, shady governments, outrageously crowded cities, and places where land transport is simply not possible are just some of what's in store. And let's not forget the world's tallest mountains. It's enough to make a cyclist…well, have a really great time!
A great time will definitely be had during this Stage. Any of the aforementioned obstacles will be handled with as much rational consideration as I can muster and will most certainly be overshadowed by all of the incredible sights and interesting people that I will encounter along the way. In fact, several of my most anticipated places to visit during the entire tour are to be found in Stage Two. So, it will be a terrific experince no matter what happens.
Due to geographic concerns, I must temporarily leave Gondwana and begin this stage on the Laurasian soil of southeast Asia. Ah well, I'm sure that section will be almost as much fun. As a consolation, many of southeast Asia's topographical features are believed to have arisen from the collision of Australia with the Asian plate. So, there is a connection after all. Similar circumstances will be seen again later in the stage.
Singapore is the Stage's starting place, and while I don't expect to do any cycling there, it will be a good base to take care of any logistical matters that may have arisen up to that point. There is only one direction to go from there, namely north, up the Malay Peninsula, while hopefully finding a way to stay dry during the December rains. The route continues north into Thailand, where I plan to swing around to the north of Bangkok to avoid that city's choking congestion. Heading east, I will cross into Cambodia and visit the fabulous Angkor Complex and probably go as far as Phnom Phen. This will probably depend on the conditions of the roads in that area, which are generally poor. After crossing back into Thailand, I will travel thoroughout the northern part of that country as far as Chiang Mai.
At Chaing Mai there is no perfect way to continue on. There is absolutley no overland route from Thailand, through Myanmar to India. The only other possibility would be to go north into China via Laos. While I would like to see China, that option presents some difficult problems of its own. So, unless there are some rather drastic changes in the near future, I will be forced to pack up the bike and, unfortunately, take another short flight to Yangon in Myanmar. Despite the bad political situation there at the present time, I am very interested in seeing that country, and will do a loop to the north as far as Mandalay and back before being forced to fly out again, heading for Dhaka, Bangladesh.
From Dhaka I will ride north, briefly entering India before reaching my top destination of the tour, Bhutan. I can't describe how much I am looking forward to riding across Bhutan. It is a virtually car-free mountain paradise with a unique and fascinating culture. Paradoxically, there are tight controls on tourism there, and all visitors must hire an official guide who will, I assume, follow along behind in a modern truck. Quite expensive, relative to the surounding areas, and having a motorized vehicle along would not be my first choice, but if it lets me see Bhutan it will all be worth it. The planning for this visit was made much easier with the amazingly helpful assistance of Jachung Travel, who arranged a permit for me to enter and exit the country by land (normally you are required to fly at least one way) and who will provide the guide. They have a lot of experince organizing bike tours and, to make things even easier, they have a U.S. office not far from my home.
Next I will return to India and, since it will still be a little early in the season to head for the high mountains, I will spend a few weeks touring around the northern part of the country. Of course, taking in the standard tourist highlights like the Taj Mahal will be obligatory. After a while, I will head north into Nepal, which is also a country that I find fascinating. Hopefully, the political situation there will have calmed down before I arrive. It certainly will bear a close look before going in. Another good reason for heading towards Kathmandu is that will be the jumping of point for another of my major goals, an excursion into Tibet.
What more needs to be said about cycling in the Himalayas? It is truly one of the world's great places. To make the visit even more inspiring, I will be sure to remember that the lofty heights of the peaks themselves, were directly created by the Gondwanan fragment of India colliding with Asia. It certainly will be a geologically entrancing experience.
Tibet is another country that I, like many others, have always dreamt of cycling across. Of Course, once again politics has made that dream much more difficult for cyclists. Probably the most appealing way to see the true country is to use the "stealth" approach and sneak in from the east. I have read several accounts on the Web of others who have done just that, including carefully riding around checkpoints after dark. That would probably be the way I would choose to go as well, except it is generally considered impossible when entering from the south where the border is more closely watched. In that case one is supposed to go with a licensed tour company, which for me could take away from the enjoyment of the experience. The political discourse that would certainly come with "official" Chinese guides would seem very unappealing to me. Fortunately, Himalaya Mountain Bikes, based in Nepal, looks like a good company which can provide Tibetan guides. I am hopefull that I will be able to work out plan with them that will enable me do the whole ride from Kathmandu to Lhasa and back. After all, who can resist cycling over a few passes of greater than 5,000 meters, twice!
After either success or failure in Tibet, the next move will be to head towards southern India. Now, the stage permanently returns to pure Gondwanan territory. The route even passes through the home of the Gondi people, the first land to be called Gondwana, which gave the ancient continent its name. Hopefully, the region's oppressive heat will not be in full force at that time, though I will try to find a route through the hills to cool things down a bit in any case.
The final portion of Stage Two will be a short circuit around the island of Sri Lanka, home to another fascinating and ancient culture. Once again, hopefully the political situation there will remain stable, and allow me to visit. If I am truly fortunate the long-rumored return of the ferry from India will actually come to pass and I will be able to avoid another short plane flight. The capital, Colombo, is the terminus for Stage Two, and a major port where I hope to arrange my transpot to the next Stage.
It should be a fantastic ride, I'm excited, and tired, just from writing about it!
Stage statistics are below the map, and highlights are in the sidebar.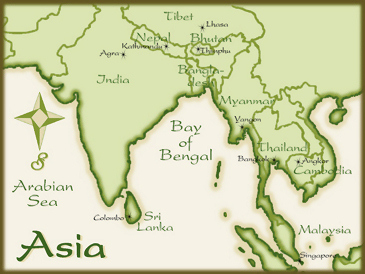 Dates and Distances
Approximate Start:
November 11, 02005
Finish: around
May 23, 02006
Estimated Distance:
16,300 km
Ride days:
138
Rest days:
55
Highest Point
5,250 meters:
Lagpa La
, Tibet
Countries to be visited
Singapore
Malaysia
: Johor, Patang, Kelantan
Thailand
; southern, eastern, western
Cambodia
; Angkor, Phnom Phen
Myanmar
; Yangon, Mandalay
Bangladesh
India
; West Bengal, Bihar, Uttar Pradesh
Bhutan
Nepal
Tibet
; Lhasa
India
; Madhya Pradesh, Andra Pradesh,Tamil Nadu, Kerala
Sri Lanka
---
Post-Tour Index | Articles Index