Stage 1: Australia
Between the blazing Sun and the dry, red Earth, an ancient land reveals its secrets to those who persevere...
Australia is the perfect place to start my Tour of Gondwana. It is a land that I have wanted to see for a long time and in many ways it represents a way to gently ease into the rigors of an extended tour. There will be few problems with language, generally good roads, readily available supplies, abundant ways to communicate with home, and, of course, many friendly people. That's not to say that everything will be easy. Australia is known for long, flat, and blazingly hot stretches of highway that will challenge any cyclist to stay both sane and hydrated. Hopefully, the fact that I have lived in California for the past ten years, and am somewhat used to temperatures surpassing 40 C, will help. All that considered, during this stage I am only expecting many exceptional days of cycling and intensely fun times with many new friends, sure to be met while traveling Down Under.
Theoretically, to make my Tour of Gondwana complete, I should include a section in New Zealand, which was also a part of the ancient landmass. However, in 01999 I did a very enjoyable tour there and so have already rolled my tires across that particular fragment. I would love to go back again, but it didn't seem to fit in the schedule for the big tour, so I will have to be content with rechristening my New Zealand tour as The Tour of Gondwana - Stage Zero. [Update: As it turns out I may have a chance to take a short ride on North Island New Zealand after all! See the Ocean Crossings page for details.]
Therefore, the official start of Stage One will be in Melbourne. That city seemed to be a better port of call, from my perspective, than Sydney and starting there will let me make a better approach to the Blue Mountains, the next big sight along the way north. First, however, I will hop on the ferry to cross the Bass Straight for a short loop though Tasmania. It may be a little chilly and dark in those parts in June, but that is one aspect that can not be helped. After returning to Melbourne, I will continue northward along the east coast staying slightly inland most of the way to avoid the coast-loving crowds that are a frequent sight in Oz. Of course, I love the coast too, so I certainly intend to spend some time at some of the more interesting spots, such as Fraser Island.
Eventually I will reach Cairns in northeastern Queensland, hopefully before the rainy season arrives. There, I plan to spend some time exploring the Great Barrier Reef. Cairns is also the disembarkation point for a side trip to another Gondwanan fragment, Papua New Guinea. Unfortunately, there does not seem to be any available sea transport between Australia and the island of New Guinea, so I will be forced to do something I don't like, and use air transport for myself and the bike. If I can work that out, I expect to have one of the best times of the whole tour. The road network in Papua New Guinea is sparse to say the least, however, so there is no way to make a real loop tour on the island. I will probably try to ride from the city of Lae on the north coast, to Tari a small town in the Central Highlands. From there it will have to be another flight back to Cairns to resume the Stage on the mainland.
After departing Cairns the route takes a turn to the west and heads straight into the heart of the Outback. This is where the real challenges of the Stage begin. At least I shouldn't have to worry about getting lost, as there are really only two or three roads to choose from for the next 3,000 kilometers, or so. Along the way, I hope to visit some of the classic Outback destinations, like Uluru and Alice Springs in the Red Center, and Kakadu near the coast. Eventually, I'll reach Darwin where, I assume, I will enjoy the chance to briefly rest and recuperate in the only city on the north coast.
There won't be too much time available to lounge around Darwin, however. Since I will be traveling under an Australian Electronic Travel Authority (ETA) visa which limits one to a maximum of three months in the country for any single visit, I will need to depart the country once or twice and then reenter. You can do that as many times as you like during any 12-month period and still be legal under the Australian immigration laws. So, I will probably need to do a second side trip to avoid offending any bureaucrats, and I will try to accommodate them by spending a short stay in Timor Leste, known to the west as East Timor. That recently independent country with a sad history is a place that I am very interested in visiting, but I would probably not have included it in this Stage unless required to do so by the visa requirements, because it will mean another short air flight. Nevertheless, it will be nice to spend a little time in a lush green setting after several weeks in the dusty Outback. The country only occupies half of a fairly small island, so I should be able to ride around most of it in only a few days.
Once back on the mainland, from Darwin it is then a long, gentle arc toward the southwest along the western side of the continent. There will be more lonely, extended distances to cover during that part of the route, but also many fascinating sites, like Purnululu and Shark Bay, along the way. Eventually, Stage One terminates at Perth, the jewel of the west. All in all, I expect an exhilarating tour in this unique part of the world.
Stage statistics are below the map, and highlights are in the sidebar. You may notice that I have decided not to include the traditional bright red line over the map to indicate my anticipated route. Yes, I do have specific routes planned out, but I have learned that putting such an image up on the Web before a tour is a good way to tempt fate into disrupting your plans midway through. For now, all of the maps just have markers for some of the important sights the route will visit. When the Stages are over, I'll connect the dots.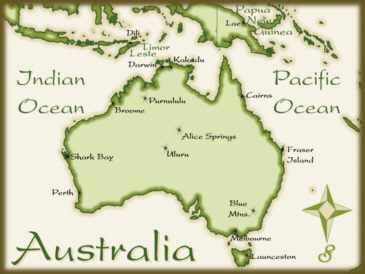 Dates and Distances
Approximate Start:
May 21, 02005
Finish: around
October 26, 02005
Estimated Distance:
16,200 km
Ride days:
114
Rest days:
45
Highest Point
2478 meters:
Daulo Pass, Papua New Guinea
Countries to be visited
Australia
: Victoria, Tasmania, New South Wales, Queensland, Northern Territory, Western Australia
Papua New Guinea
: Morobe, Eastern Highlands, Chimbu, Western Highlands, Southern Highlands
Timor Leste
: Dili, Lospalos
---
Post-Tour Index | Articles Index