Introduction & Basics
When planning this trip, I was severely limited by the amount of reliable information available, especially that which specifically pertained to cycling in Madagascar. This lead me to plan a trip that was a little more ambitious than it probably should have been. Perhaps this was not entirely bad, as it forced me to explore outside the boundaries of what I might normally have done, and increased the value of the adventure. Therefore, on this page, and on the specific trip pages that follow, I'll try to provide as detailed an account as possible to aid those who may also wish to cycle in this beautiful country.
The National Colors of Magagascar are as Follows:

White: Symbolizing Purity, as in Silver, the Traditional Metal of Malagasy Adornments.
The wonderful Malagasy people, their history, language, and society;
My preconceptions about Madagascar lead me to believe that the most interesting aspects of this trip would involve natural history and geography, two subjects which always captivate my interest. However, as has happened to me before, it was my encounters with the people of the country that will remain my most enduring memories of this trip. The 15 million, or so, citizens of the country, which occupies an area similar in size to Texas, are known collectively as the Malagasy, while a white outsider, such as myself, is amiably called a Vhazaha (va-ZAH). In fact, I heard that appellation applied to me so frequently during my stay that I seriously considered changing my name to vhazah upon my return home. It did not take me long to realize that the Malagasy must be among the most friendly, engaging, and interesting people on the planet. In fact, in the two months that I was on the island I can scarcely remember seeing anyone who appeared cross or upset no matter the circumstance. Well, that's not correct. There was one person who got a bit angry, and that was me. But, it only happened once, and I blame my lapse of will on that particular occasion on a fair bit of exhaustion (more on that later). From what I was able to observe, the good nature of the Malagasy extends to virtually 100% of the population regardless of ones status or wealth. And though the world's so-called financial experts will say that Madagascar is one of the poorest nations in the world, I found that even those Malagasy living in humble circumstances exhibited a dignity of purpose that was quite appealing. As such, there is much that those of us living in the over-developed world can learn from people like these, and I'm glad I had the opportunity to do so.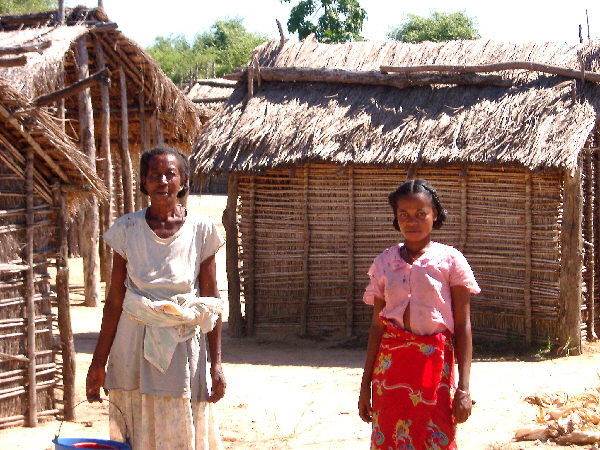 Two Malagasy ladies in the west coast village of Ambalabe
A Little History
Madagascar shares with New Zealand the distinction of being one of the last large landmasses to be permanently settled by humans. The exact date of the arrival of the first Malagasy remains a bit of a mystery, but the most frequent estimates give an occupation length of about 2,000 years. Perhaps a bit curiously, when one looks at the island's location on the globe, there is another link with New Zealand. Seafaring peoples originating from the Malay/Indonesian/Polynesian societies first settled both of these island nations. The modern Malagasy people have not forgotten this link to their ancestral culture thousands of kilometers away. This is still seen when a Malagasy house is designed in the traditional way. The dwelling should be oriented along a north-south axis, and the northeastern corner of the room is where prayers and offerings are given. The use of this spot derives from the focus of the Malagasy belief system, a reverence for one's ancestors. As the ancestors of the whole Malagasy society traveled to the island from lands far to the northeast, prayer facing that direction is a sign of respect.
The early history of the island is, understandably, a little vague. As latter migrants arrived from Polynesia, others also filtered in from east Africa and Arabia. Eventually, the population settled into 18 distinct clans or tribes. Though, to me at least, when looking at old pictures in the National Museum, the tribes did not appeared to have derived from 18 separate heritages. Instead they appear more like a smaller group of populations that gradually diversified, due to living in various geographic conditions, and were distinctive mainly in their customs, dress, hairstyles, building design and so forth. Today, if one still bothers to observe these sorts of things, a smooth range of appearances is seen in the population from those with southeast Asian features to those with a more African countenance.
Madagascar is fairly distinct among African societies in that a significant indigenous nation with many "modern" elements existed prior to the major period of European colonization on the continent. Contact with Europe had been sporadic since the Portugese mariner Diego Dias first sighted the island in the early 01500's. For the subsequent three hundred years the island was used by Europeans as a minor trading post, though there was also a considerable amount of piracy and, eventually, a Dutch-sponsored slave trade that stole Malagasy people for a life of servitude in other parts of the colonial world. During this time, there existed several early kingdoms that culminated with the fairly powerful Merina kingdom, based in the central highlands, which controlled the majority of the island at the beginning of the 19th century. Though filled with political intrigue, the following 80, or so, years saw an independent Madagascar, which, more or less, maintained relations and entered into treaties with the major powers of the day.
However, like most societies unable to match the technological might and unquenchable desire for expansion of the European and American nations, independent Madagascar eventually succumbed to colonialism and became a colony of France at the end of the 19th century. Today, unlike some other colonized nations, it does not appear that the French made any particular efforts to build a new nation in their image on the island. There are few examples of buildings with grand European-style architecture, monuments to the glory of France or other remnants of life as part of the Empire. Still, the country is not entirely without its French influence. Of course, the French language, the western language spoken by many Malagasy as their second tongue is the most obvious colonial legacy, but there are others apparent as well. Good bread, which can be found most anywhere, or the disappointingly high percentage of the population that smokes tobacco, are examples. And most importantly for cyclists, most tubes in Madagascar are equipped with Presta valves!
This monument in the port city of Diego Suarez is one of the few reminders of the colonial past
Independence returned to the Malgasy in 01960, and since that time the nation has, in name at least, been a republic. Though, as with many other former colonies, there have been periods of political turmoil and times when democratic principles were secondary to personal ambitions. One of these periods came to a conclusion shortly before my visit. In the early 01970's Didier Ratsiraka came to power and managed through various means to remain so installed until 01992 and then returned to lead the government once again from 01995 to 02002. In Ratsiraka's first run as president/dictator, he installed policies that he referred to as "Christian Marxism", whatever that was supposed to mean. The Christian part of that had already been fairly well established with about half of the population subscribing to that belief system for many decades. The diametrically opposed Marxist part of his philosophy appears to have never really taken hold, to my eyes at least. About the only evidence one can see of that today are various country towns which are called "Rural Communes" but otherwise seemed to me to be just like any other Malagasy town. On the other hand, in less complex, rural societies like Madagascar there has probably always been, and will continue to be, a significant level of community-based economic and political affairs. So, perhaps Ratsiraka was simply trying to exploit two established facets of the society.
The situation changed at the end of 02001 with a scheduled Presidential election. The main opposition candidate to Ratsiraka was Marc Ravalomanana the popular mayor of the capital city, Antananarivo. Though the election was long over by the time of my visit, a brilliant campaign strategy of Ravalamonana's was still readily apparent. Someone had hatched the idea to pass out free t-shirts to the public bearing the cheerful likeness of the candidate on one side and a graphic exposing one of his main platform planks, repairing the country's roads, on the other. This scored on two main points, first it touched an issue important to most voters, road repair (you'll see what I mean later--and note that the image below shows only people walking on the repaired road.) More importantly, it took advantage of a sad aspect of life outside of the over-developed world. In countries such as this clothing is hard to come by for many people, and discarded clothes from the U.S. and elsewhere are often imported and worn by the local population (Chicago Bulls items seemed to be the most in fashion during my visit). So, naturally the free shirts were snapped up and worn by those who may, or may not, have supported the candidate. The constant advertising from this scheme must have been overwhelming as, judging from the number of these that were still being worn nearly every day over a year later, I'd estimate that perhaps one million, or more, shirts were handed out. Where the funds came from to produce and distribute that many shirts, one can only guess.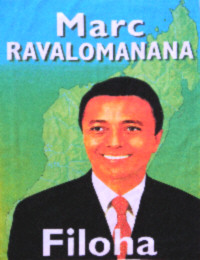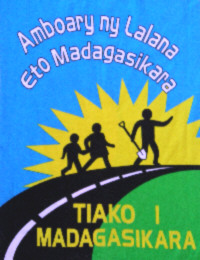 The slogans on the campaign shirt say "Fix the Roads for Madagascar" & "I Like Madagascar&quot
When the election results were announced, they showed Ravalamanana with 52% of the vote. However, the count was close enough that both candidates declared victory (sound familiar?), setting off several months of tension and turmoil. Ratsiraka took the extraordinary step of setting up a parallel government in the coastal city of Tamatave, complete with a second set of ministers and a faction of the national army. The ensuing standoff lasted several months and was largely ignored by the rest of the world (perhaps because Madagascar lacks large deposits of a certain black, slippery liquid?) To make matters worse Ratsiraka tried to isolate Ravalomanana and his government in the capital by blockading the roads leading to the city and destroying several important bridges. This had the effect of increasing suffering in the capital as the weeks passed, further diminishing what little support remained for Ratsiraka. Gradually, more and more support from the courts, the army, and international governments lined up behind Ravalomanana, eventually causing Ratsiraka to give up and accept exile in France. I can't even imagine how the average Malagasy person must have felt during all of this. For such an easy-going society to go through this considerable chaos must have seemed completely foreign to them.
As I visited in early 02003 some roads were actually being repaired, and Ravalomanana seemed to be very popular with the people. Time will tell, I suppose, whether his support will last. And we'll all have to wait and see what happens the next time an election is due.
Language
The language of the Malagasy people is called, appropriately, Malagasy. It is a language of the Malayo/Polynesian family a fact which, I suspect, helped modern anthropologists to believe the Malagasy when they told them that their ancestors had sailed from almost 10,000 km away 2,000 years ago. The grammar doesn't seem too complicated to me, but the vocabulary would probably cause anyone except an accomplished linguist fits. Multi-syllable words with many vowels are common (for example, Mitsangatsangana = To take a walk), and to make things more confusing, several vowels are given different sounds than those of their English or French counterparts (notably, "o" sounds like "oo" in "boot".) This situation extends to place names as well, and towns may have names like Ambohimanarintsoa or Manjakavarandrano, which can make asking for directions a real challenge.
Another item of note is the dual naming or spelling of cities and towns. During colonial times, many Malagasy cities were renamed to make life easier for the French-speaking rulers. Sometimes there was merely a spelling change to better reflect the French alphabet (thus Toliara became Tulear-- both are pronounced TOO-lee-are.) In other cases, the name was changed completely to provide a more European-sounding version (thus Antsiranana became Diego Suarez.) After independence, the government changed these back to their original Malagasy names and spellings, to better create a national identity. However, in many cases the colonial names were so well established that they are still in wide use today. I never developed a consistent ability to choose between one or the other, and just used whichever I had an easier time pronouncing and remembering. Don't expect much in the way of consistency on the following pages either.
Fortunately, a vhazaha traveler really only needs to know four or five simple Malagasy words. Using Salama (Hello), Veloma (Goodbye), Misaotra (Thanks), and Azafady (Pardon me/Please), will score big points with the locals, even if your pronunciation brings a chuckle as well. Beyond that it's probably easier to try and communicate with those who speak only Malagasy using smiles and hand gestures.
English is neither spoken nor understood by very many Malagasy. Fortunately, those who do are found where you typically most need them to be, in tourist facilities, transport offices and similar locations. When visiting a national park in Madagascar, you are required to take a licensed guide with you to show you the sights, and a guide with whom I could converse easily in English was always available at the tour companies, Nevertheless, on a few occasions, I encountered other English speaking tourists and it was a nice treat to exchange a few words in my native tongue.
Of course the most common European language in Madagascar is French. It is spoken by most everyone in the larger cities and by fewer and fewer residents as you head out into the countryside. In the smallest villages, most will only know a few words. Since I can only bumble along with great difficulty when speaking French, this didn't matter too much to me. One important group of words that are worthwhile to comprehend in French is numbers. French numerals are used almost exclusively over their Malagasy counterparts, and when making purchases it is good to know the difference between 3,500 and 350,000. Overall, I didn't have any serious trouble getting along not being fluent in either Malagasy or French, and as my two-month stay progressed I became better and better at communicating. Though I probably would have learned a lot more about Madagascar and the Malagasy had I been able to speak Malagasy.
Society
There is a great deal that I could say about the wonderful people of Madagascar and their society, but I will leave most of that to the following pages. There are a few general topics that deserve special mention here, however. Madagascar is essentially an agrarian society with most of its people relying strictly on primarily local economies. For whatever reason, the island has not yet been absorbed into the GlobalMart cult of the consumer. Consequently, most of the people can not afford, or do not have access to, most of the luxurious and wasteful products that people in the over-developed world consider to be necessities. This leads, of course, to the nefarious overlords at the IMF and World Bank to regularly list Madagascar as one of the world's "poorest"" countries. And, depending on your point of view, they could be right. However, I increasingly feel that living outside of the "runaway train" that is the endless-growth-based global economy is the surest ticket to happiness. My time with the Malagasy only reinforced these beliefs. This appeared to me to be one of the main reasons that everyone seemed to get along with everyone else, including me. Additionally, their reliance on local products and services leads to many admirable behaviors, such as fixing things when they break, instead of simply throwing them in a dump and buying replacements, as many would do here at home.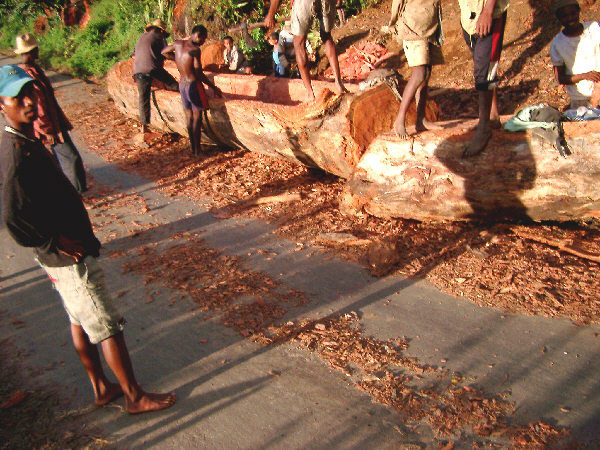 A group of men carve a pirogue (canoe) from a fallen tree
Another apparent benefit of the self-reliant, low (fossil) energy lifestyle of the Malagasy is seen in their generally excellent level of fitness and good health. This was a pleasingly stark contrast to the sedentary Americans at home, and was apparent at all levels of society, including men, women and children. In fact, though I was fairly well trained at the start of the trip, and became fitter along the way, I could not compare to the average Malagasy, whose bodies were cut and lean, which, for me, was a pleasant contrast to home. Only in the largest cities will one see a few residents who are slightly plump.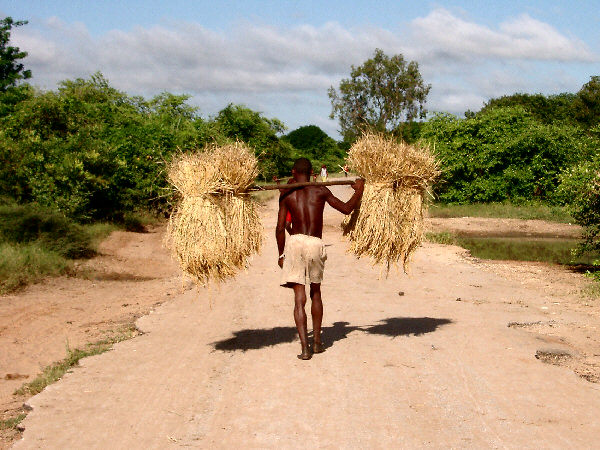 A man transports straw the slow, but sure way
I would assume that their high level of fitness helps the Malagasy maintain their generally good health. In spite of the lack of availability of modern medical facilities, I saw very few people who were visibly ill, and I'd imagine that if there were many sick people among the locals, I would have noticed them. Nevertheless, some of the more serious health challenges we face today will be hard for a nation like Madagacsar to deal with. They are trying, however, and there was a very visible effort underway to promote HIV awareness in the population. This is a nice piece of forethought on the part of the Malagasy, as the country currently has an HIV infection rate lower than the U.S. and most European countries, and drastically lower than any other sub-Saharan African nation. Surprisingly, to me at least, there are still cases of Polio on the island, and I saw several people who were living with effects of this disease. With these issues to deal with, and others such as malaria, the overall life expectancy on Madagascar is on the order of 15-25 years lower than in the West, but is still much higher than in its African neighbors.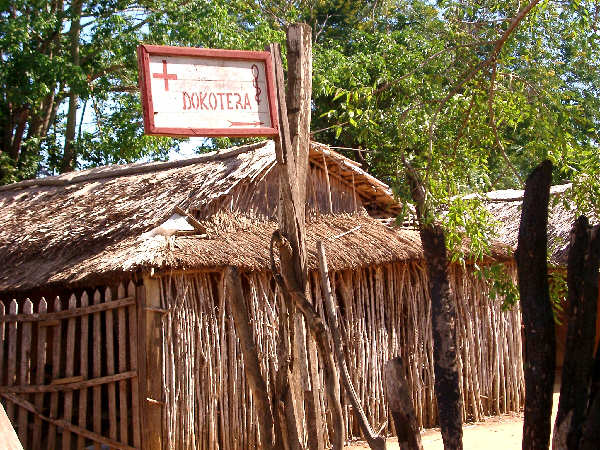 "Is there a doctor in the house?"-- A Doctor's Office in the countryside
Finally a special mention must be given to the Malagasy children. There are many adorable little ones scurrying around the country, an effect of the islands 3% population growth rate (which, if unchecked, will double the countries population by 02025, placing a serious strain on the island's environment). Most are fortunately unaffected by contact with tourists and retain their natural innocence. Only in the places most frequented by typical tourists will you find a few kids who have fallen in the trap of requesting money or gifts from outsiders. Typical Malagasy kids must be unsurpassed in their inquisitiveness, energy, and fun-loving nature. This in spite of (or perhaps because of) the fact that most do not receive much in the way of an education beyond primary school. Indeed, the highlight of their day may be shouting a greeting to that strange vhazaha that just rode into the village, carrying a load of dust-covered gear, and wearing a silly-looking blue plastic hat. No matter where I was in the countryside, I became the center of attention for the younger set. It took me a while to get used to the crowds of girls and boys gathered around me, silently staring at the stranger in their midst, as such things never happen to me at home. After a while I learned to make them laugh hysterically by picking one kid out of the crowd and focusing a steely look right into his or her eyes. On other occasions I would recite a useless soliloquy in English, rambling on about the compatibility of various bike parts, or some such thing. It was at times like this that I wished I knew how to juggle or do some simple magic tricks. In any case, the chance to visit with the kids of Madagascar was one of the great joys of this trip.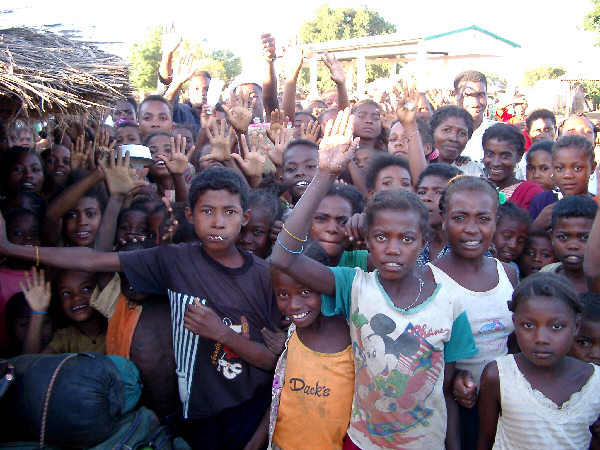 A crowd gathers around the Vhazaha at a southwestern marketplace

Red: Representing the Red Earth of the Island, and the Blood of the Zebu.
The topography, roadways, and transport of Madagascar;
My ideal of the perfect day during a bicycle tour is one that encompasses the maximum possible variety of terrain, climate, and biodiversity. It is observing the changes that occur as you slowly roll between different habitats and geologic zones that fascinates me the most. In this respect, Madagascar was the perfect choice for a tour, as the island contains six distinct regions, each with is own unique combination of geologic features and biological communities. While the island is quite a bit too large to pass through these zones on a single day's ride, I was able to get a taste of each of them over the length of the tour. Accessing some of these locations turned out to be more of a challenge, however, as you will see on later pages.
Topography
The island of Madagascar was once part of Gondwanaland, the massive grouping of today's southern continents that existed hundreds of millions of years ago. As such, it exhibits many geologic similarities with southern Africa, southern India and Sri Lhanka. Plate tectonics has ripped the island of of Africa, moved it to its present location, about 400 km from the coast of Mozambique, and brought about its isolation for the past 100 million years, or so. Things have calmed down considerably during the modern epoch, and there is only minimal volcanic activity in the region these days. Nevertheless, being squeezed between colliding continents and then ripped apart again has left its mark on the island.
The major topographic feature on the island is the mountainous central plateau. This area occupies the major portion of the island and lies at an elevation of between about 1000 and 2000 meters. The entire highland plateau is hilly, though, for the most part, these hills are gentle and rise only a few hundred meters above their base on the plateau floor. Broad, comfortable valleys separate these hills, which makes for rather enjoyable cycling in this area. In several locations, higher, more rugged mountains cap the plateau, the highest being Maromokotro, at 2876 meters, in the northern part of the island.
The highlands on the eastern side of the island are lush and green
Surrounding the central highlands, the island slopes down to coastal plains leading to the waters of the Indian Ocean and the Mozambique Channel. These areas give the island its most diverse regions as their relative latitudes, and their placement in relation to either warm or cooler marine waters, results in either very dry or very wet climates. When the roads are in good condition in these locations, the cycling is easy and exceptionally pleasant. However, as is often the case in Madagascar, the absence of a good road is the more common occurrence.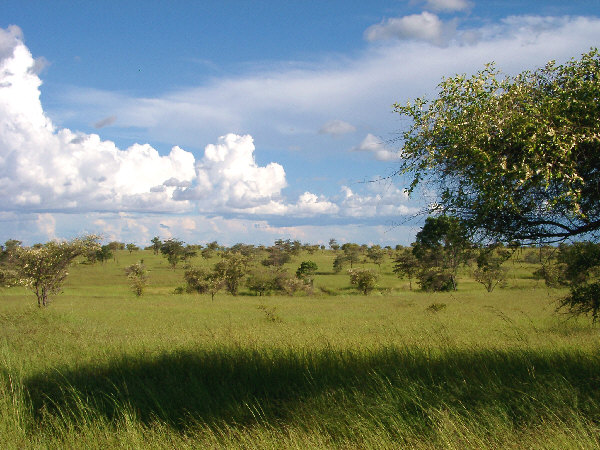 Savannah on the western coastal plain
Roadways
Well, this is the big issue for a cyclist on the island. Unfortunately, there is no easy way to adequately describe, or to prepare oneself for, the ultimate dichotomy of Madagascar's roads. They are either the most exquisite cycling roads one can imagine, or a tortuous, seemingly endless, "non-road". There are very few cases of roads of intermediate quality, at least in the areas in which I traveled. To add to the challenge, it is close to impossible to plan a route that involves only the good quality roads without backtracking a considerable distance or using alternate transportation. Not that this should discourage anyone from using these two options, as one could easily plan a wonderful tour that way. It is just not my preferred method, as I usually try to travel through as many places by bike as possible without repeating any parts of the route.
First the good news. When the roads are good they are spectacular. Most of these are the routes that radiate out to various parts of the island from the capital, Antanatarivo. When on one of these roads, even in the highlands, the gradients are generally modest and there are relatively few major climbs. The roads themselves almost always consist of one fairly wide, unmarked lane with minimal signage. However, on the major routes there is usually a stone marker every kilometer that gives the distance to the next town, which is a big help. The lack of other road markings is not a problem in any way, as the amount of motor traffic is normally insignificant. In fact, on most routes one will more often encounter other muscle-powered travelers as opposed to those sucking down fossil hydrocarbons (and spewing out a disgusting black cloud). This provides for both increased opportunities to observe the beautiful surroundings, and to interact with the local population along the way.
A nice road in the highlands west of Antananarivo
Now the bad news. You don't have to go very far before it becomes necessary to leave the smooth pavement of the main roads and venture off along the more adventurous secondary "roads". This is especially true if you want to reach most of the more interesting scenic destinations. The only constant on these routes is that they are consistently bad. The nature of the difficulty runs the entire gamut of possibilities, from washboard hardpack, to deep sand, giant mud holes, bolder-strewn dirt, and singletrack though thorny thickets. The lack of steep grades disappears here as well, and the combination of mud, rocks and steepness in not uncommon. The situation is not helped by the fact that the local Malagasy have no choice but to travel on these roads, even in the rainy season. The result of this is that with every truck that passes, each mud hole gets just a little deeper. In places you can see where the road has been worn down into the surface rock through decades of use and is, naturally, now filled with nearly impassable sand. I knew before I left home that there would be many kilometers to travel on less-than-desirable roads, but I did not anticipate the length of these that would require me to walk, and to walk with great difficulty at that. Nevertheless, it was these roads that brought me top some of my favorite places on the island, and if one is prepared, patient, and determined enough, they can be conquered, with a rich reward for the effort.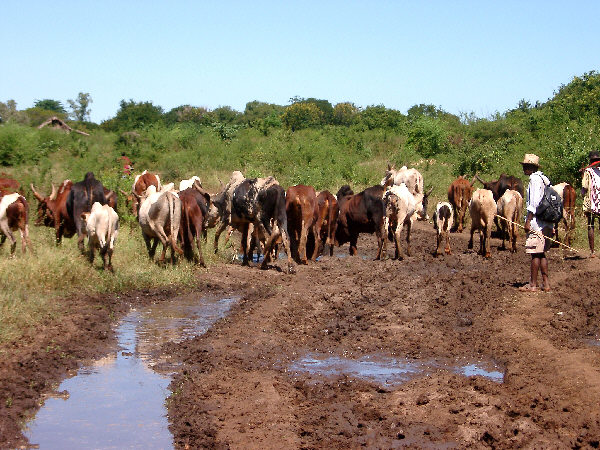 Believe it, or not, many roads were worse than this one, north of Toliara
None of this would pose such a challenge if it were possible to obtain better information when planning a route. The best map that I could find at home, after searching for weeks, was almost useless. It was scaled to high, and had may factual errors. Unfortunately there is only one series of maps that are helpful, the official maps of the Madagascar Cartographic Bureau (the impracticably long Malagasy name is abbreviated FTM). I scoured the Web before I left home for a source for these maps, but came up empty. So I was not able to see them until the day I arrived. They split the island into 11 maps each with a scale of 1:500,000, and provide a nice amount of data including distances along all roads and some widely spaced contours. However, they are not perfect, specifically in their classification of road quality. There are four classifications marked on the map, given below (with my more appropriate description):


Red Lines: Paved Roads (should read- There was a paved road here at some point in the past, perhaps it still exists.)


Yellow Lines: Permanent Road (should read- We have a different definition of the words "permanent" and "road" The picture just above here is of a "permanent road".)


White Lines: Seasonal Road, with usable dates marked above the line, usually June-November (should read- Are you sure you want to go this way?)


Black Lines: Practical Track (this is the only description that always fits, it is a cart path or singletrack.)



Of course I tried to get better information from the people I met along the way. But, as you can probably imagine, this was less than successful. Not only was there the difficulty of speaking in French or Malagasy, but there was the usual confusion about whether someone who says that the road is "OK" means that it is ok for bicycling. This was doubly difficult on this trip because there were city folk who could not imagine riding a bike for any large distance (as there are everywhere,) as well as country folk who carry a heavy load across many giant mud holes every day, and think nothing of it. So, it was tough to know from which point of view one was speaking when they said that a certain road was good or bad.

In the end I did the best that I could and tried not to get hopelessly lost. It didn't take me to long to realize that If I saw other Malagasy people riding bikes the same direction that I was going, that I would probably be alright. Fortunately, there were bicyclists everywhere.

Indigenous Transportation

Another of the great joys of this trip was the chance to, once again, ride in a country where unsustainable motor transportation has not taken over. In fact, in Madagascar it has a long way to go to even draw even with the more appropriate muscle-powered methods. This is most apparent in the countryside where most people cover distances by foot, bicycle or Zebu.

Walking long distances is not a strange concept for the Malagasy, and many will be seen walking along a dusty road ostensibly several kilometers from their supposed destination. Even more impressive is that many of these folks will be carrying quite a load along the way. Most of the time, especially for the more graceful women and girls, that load will be carried by balancing it on the head, I never failed to be impressed by this ability, especially when one of the ladies would spin around to say "Salama" to me as I rode by, without spilling a bit of her load.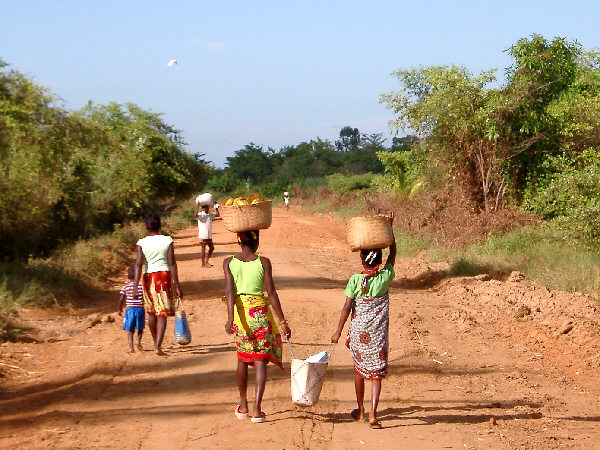 Carrying a load along a dirt road near Morondava
Happily, bicycling is also a well-established way to get around for many people, especially in the countryside. The bikes used by most folks are nothing fancy by American standards, but they get the job done. Old 27-inch bikes from the 01970's are occasionally seen, but much more common are basic 26-inch mountain bikes. Some of these are obviously cast-offs from the West being given a new life after spending years gathering dust in someone's closet. Most, however, are pretty basic low-cost types, probably manufactured in Taiwan or other Asian countries. Fully functioning components are more rare and, given the expense and difficulty of obtaining replacement parts, many bikes are ridden in less than perfect condition, often until they literally cease to operate. This can be a considerable length of time, though. Among the more common sights throughout the island, including in villages with on a few dozen inhabitants, are small shops with signs reading "Reparations du Velos". Here one might be able to get a basic repair done, though this could involve using a bent spoke as a brake yoke cable, or another "unauthorized" procedure. In spite of all that, the Malagasy who ride bikes possess quite impressive cycling skills. There were many times when I followed a local (who was barefoot and riding a bike without brakes and with wheels that obviously hadn't been trued in years) along a hilly, boulder-strewn dirt road—and could barely keep up, in spite of my "modern" equipment.
Nevertheless, my bike was often a topic of great interest to the local folks, who would take any opportunity to check it out. My Ergo shifters, wide-range gearing (development), and cyclocomputer often attracted the attention of onlookers. However, it was my clipless pedals that stole the show. Many were perplexed by the apparently painful devices (my EggBeaters-style pedals looked especially tortuous for bare feet), and when I showed the cleats on my shoes that made them useful, I typically received either a look of bewilderment or outright laughter at such an apparently unnecessary contraption. Perhaps they were right.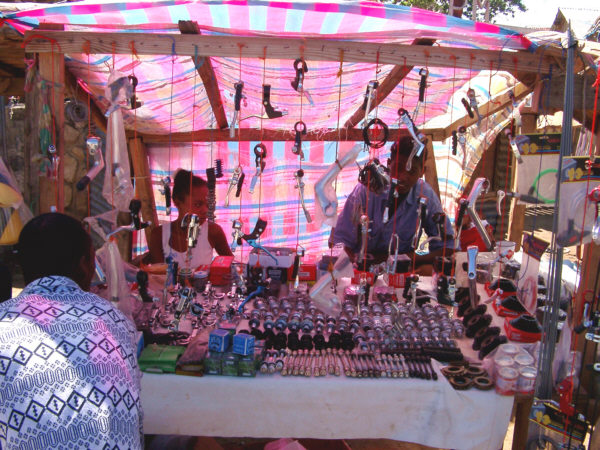 A bicycle parts stand in the Toliara Market
For those that wish to carry a load, or don't feel like walking, the mode of choice is the venerable Zebu cart. Zebu are the distinctive cattle of Madagascar and are the main, or rather, the only beast of burden of the island. Similar in appearance to the Brahman cows of India they have been an integral part of Malagasy life for centuries. Their importance to the society can not be overstated. Families achieve status in the community based, in part, on how many Zebu they own, and though killing a Zebu solely for its meat is frowned upon, a families herd may be slaughtered as part of a funeral feast, or other special ceremony. Zebu can be seen throughout the country, in all rural areas and right up to the edge of the major city centers. In all respects, they share the road with other modes of transport. While riding on the main highways it is common to have to pass though a large herd, and the generally docile creatures will amble aside, though this sometimes requires a prompt from the whip of the young men tending the herd. When used for transport, Zebu are hitched to any manner of carts or wagons and provide slow, but sure, locomotion. Few obstacles are too great for the intrepid Zebu and, in fact, their transit probably does more to keep rural thoroughfares open and somewhat passable than any human-performed repair.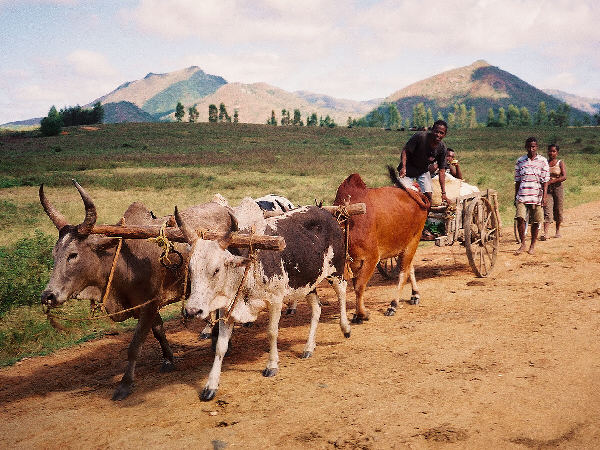 A Zebu cart travels along a dusty northern road
In the cities and towns, thankfully, private automobiles are still relatively rare (with the probable exception of the capital.) Private taxis are common, however, and rumble about town in small 01960's-vintage French-made cabs in various states of disrepair. Like taxi drivers everywhere, their owners tend to be rather impatient and make use of their horn too frequently. Fortunately, the general chaos of the street scenes in the towns keeps them under control. In a few of the larger cities another alternative exists, human-powered rickshaws known as Pousee-Pousses will take passengers around town for a few pennies fare. In typical Madagascar fashion, however, the essential dynamics of allocation of labor appear to be completely out of whack, and wherever pousse-pousse exist they exist in far more numbers than are generally needed. Therefore, none of them can earn much of a living and, in keeping with their name, are the most "pushy" of Malagasy businessmen. It is not uncommon to walk past an idle group of twenty pousee-pouseses and be asked if you need a ride by every singledriver, though your answer to the first should make it clear to the rest. Nevertheless, for a tired traveler they can be a pleasant way to get about town.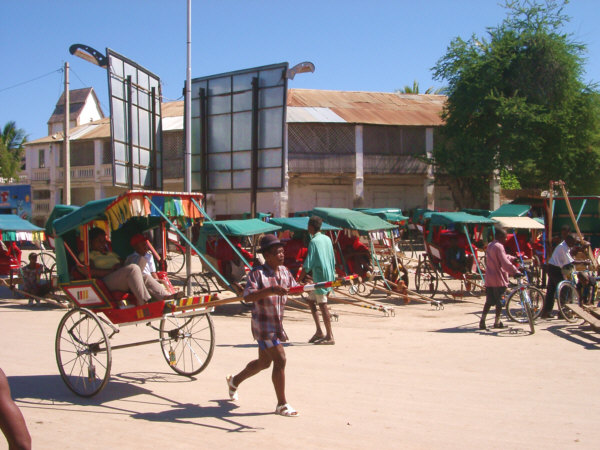 A Pousse-Pousse hauls a fare in Toliara.
When long distances need to be traveled there are really only two options (other than a fully-loaded bicycle, of course,) the slow way or the fast way. The slow way involves the indigenous mass-transport system, known as the Taxi-Brousse. The taxi-brousse are essentially any sort or small bus, van or truck, carrying as many passengers as can be physically contained within along the major routes of the island. This is how most Malagasy, and a few tourists, travel from place to place. The fast way around the country, used by most tourists, and a few Malagasy, is Air Madagascar. The airline operates a surprisingly extensive route network, using planes ranging from 15-passenger Twin Otters, to Boeing 737s. Air Mad domestic service is affordable, relative to American standards, and I found the flights to always arrive on time, an unusual situation for Madagascar. Bicycles may be included as baggage, but may be charged a small over weight-limit fee. I will save my description of both of these transport options for later pages

Green: As Seen in Nature, and Especially Rice, the Lifeblood of the Malagasy.
Flora and fauna, climate, food and drink;
Flora and Fauna
One of my main reasons for visiting the island was to experience the distinctive biology that millions of years of isolation from the continents, and especially from the hands of humans, has created on Madagascar. The short visit I made to the island barely provided time to peer at the first few pages of the island's biological treatise. Indeed, the country is home to more endemic species than perhaps any other large landmass. Many of these are most easily seen by a leisurely stroll through one of the islands parks or reserves. Here it is the verdant native plants that present themselves most openly for inspection. The entire island is carpeted in greenery not quite like anyplace else. Classic rainforests hug the east coast, containing, as one might expect, every sort of water-loving plant, from tiny orchids to great strangler figs. The west holds a type of drier, deciduous forest, the stars of which are the several types of giant baobabs that tower above the plains. An area known as the Spiny Desert, which is surprisingly lush for a desert, occupies the southwestern portion of the island. Here giant cactus-like plants, which really aren't cacti at all (with the notable exception of the ubiquitous, and introduced, prickly pear), create a nearly impenetrable thicket of thorns. Sadly, though, hundreds of years of deforestation and importation of non-native species have taken a severe toll on the islands original blanket of plant life. Today only vestigial remnants of this unique set of habitats remain, and all of these are under increasing pressure. The deforested areas still exhibit a certain green beauty of their own, however, this is but a mere shadow of what has already been lost.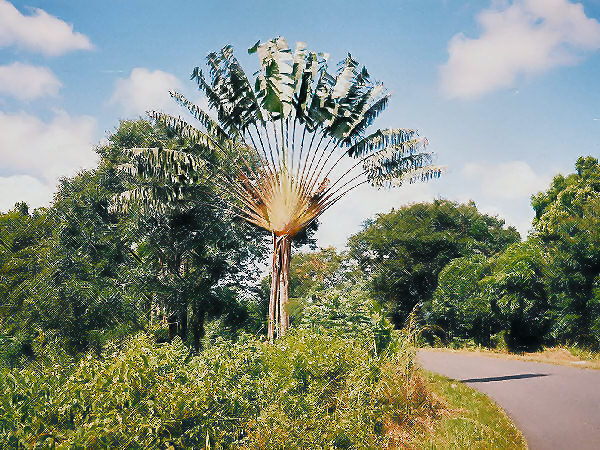 A Fan Palm, the national symbol of Madagascar.
Though not as charismatic, fearsome, or gargantuan as the wildlife of the African mainland, Madagascar's animals nonetheless score high marks for their distinctiveness. The unquestioned stars of the show are the lemurs, early primates that look a bit like skinny Teddy bears with long arms, legs, and tails. Lemurs can be hard to observe outside of certain private reserves, where they are essentially tame, and may require the assistance of a trained guide to spot. Next in popularity are the chameleons, which exist on Madagascar in greater variety than anywhere else. Contrary to popular belief, chameleons rarely change their color to match their surroundings, but rather, usually do so to express their emotions to other chameleons. Visitors will miss a great deal if they only observe these famous species, for it is the little creatures that make Madagascar special. Lizards of all sorts, leafy geckos, snakes the size of spaghetti, and frogs painted with iridescent hues hop and slither about. Giant spiders and giant snails turn up at every corner. In the air, bright-colored songbirds, acrobatic parakeets and all-black parrots fly among the treetops, while literally thousands of species of colorful moths, butterflies and beetles flutter and buzz along near the ground. There was something new to discover almost every day.
Ring-Tailed Lemurs in the Tana Zoo, similar to ones I saw in the wild.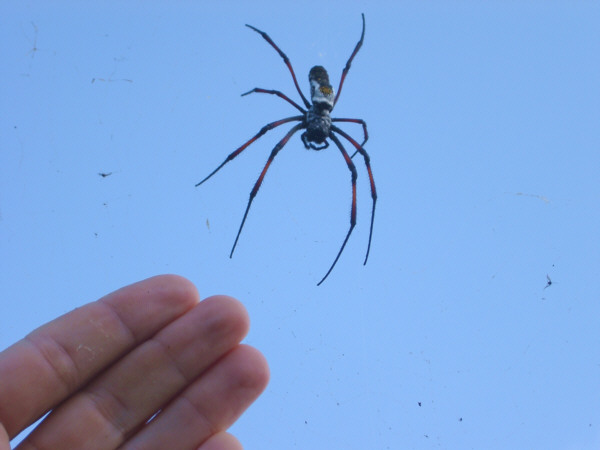 The Golden Orb-Web Spider lives in a web 1 meter wide.
It should be noted again that many of Madagascar's most unique species are threatened with imminent extinction, and that several truly amazing creatures are already gone. As with most places on Earth, it was the arrival of humans that spelled the end for the giant lemurs, the pygmy hippopotamus, and the giant elephant bird. The latter was a giant ostrich-like bird weighing upwards of 300 kg, and standing three meters tall. It was killed off only a few hundred years ago and supposedly it is still easy to find shell fragments of its giant eggs at the southern tip of the island. The Malagasy government is beginning to take steps to prevent other species from following these to extinction, but with a currently increasing human population, it is unclear just how long many will last.
Climate
Madagascar lies between latitudes 12 S and 25 S, placing it firmly in the tropics. If the island were placed at similar latitudes in the Northern Hemisphere, it would stretch from the southern tip of Florida to the coast of Venezuela, or roughly equivalent to the position of Vietnam. Consequently, the climate is hot and often moist. Though the rainfall amount varies quite a bit seasonally and geographically. The wet season is the austral summer, and the driest time is in the winter. The southwest of the island, however, is an arid region and has a much shorter wet season, with most of the rain falling in the springtime months of November and December. Temperatures are naturally affected greatly by the varied elevation of the island. The highlands remain comfortable throughout the year, and even somewhat chilly in the winter. While the coastal lowlands, especially in the west, experience warm to hot temperatures and high humidity year round.
In planning my trip there were two windows of opportunity for a two-month visit that both fit within my schedule of events at home, and maximized the chances of having nice weather most of the time while on the island. These were the austral autumn months of April to May, and the spring months of October to November. There were advantages to visiting the country during either of these periods, but, in the end, I chose to visit in the autumn because I was too excited to wait an additional five months!
Another factor related to the tropical climate, which turned out to be the greatest hardship for me on this trip, was the generally short amount of useable daylight. Furthermore, as this was the austral autumn, the days became slightly shorter throughout my stay, with the sun shining for less than 11.5 hours each day at the journey's end. Combining this fact with the typically slow travel necessitated by the poor roads, meant that I was usually riding the entire day, and spent many long, restless nights trying to entertain myself.
Food and Drink
This is a rather complex subject, and I'll put off much of the detail until later pages. In general, I found the Malagasy to be excellent cooks, though many times they don't have much to work with. In the larger cities, or in tourist hotels, there are many traditional (in a western-style sense) restaurants, where one can get an excellent meal at an affordable price. However, on a trip like this one, where much more time is spent out in the countryside, such a meal is more likely to be an occasional treat. Outside the cities standard Malagasy fare is served in small rustic restaurants called Hotely, which are found in most every small town or larger village. These are not to be confused with modern hotels, though often they do have basic rooms for rent for a very small fee.
There are three staples in Malagasy cuisine, rice, rice, and rice. There is also a certain amount of maize and beans grown on the island, but these are dwarfed by the amount of rice grown and consumed throughout the country. Rice paddies are found wherever there is enough water, which is on a considerable fraction of the island's land area. However, I did see sacks of rice that had been imported from Pakistan or China in various places, so it may be that the country's production is already insufficient to feed its growing population. A classic Malagasy meal, eaten for either breakfast, lunch, or dinner, consists of a large bowl of white rice and a smaller bowl containing a few chunks of meat in a tasty reddish sauce. One first eats the meat, and then spoons the sauce over the rice before eating that (at least that's how I did it.) Meat is not very prominent in the Malagasy diet, and these pieces were often a little hard to identify, most of the time for me it was chicken, less frequently zebu, and on only one occasion, pork. Frequently, these were not the choicest of cuts. Near the seacoast, or a major river, boiled fish might be used as the meat course. Seafood of all type was much more available near the coast as well, and generally quite well prepared. In most places there was not much variety, however, and the standard rice (vary) and meat (Henan-Akoho for chicken) fare, was my experience day after day. In some places the hotelys also offered delicious soups which were a big favorite of mine.
There was also quite a lot of food available at town produce markets and at the ubiquitous street stalls. Every large town had one or more markets where produce, and all manner of other things, was for sale at open-air stands. Unfortunately for me, I missed the prime season for some of my favorite tropical fruits so the selection was a little limited. Bananas and pineapple were the most common fruit and consistently of the best quality, but there were also small apples, citrus fruits, various types of melons, and more, though not everything was at its peak of ripeness. Vegetables and grains could also be found here, though I did not need to sample many of these. The exception to that rule was carrots. For some strange reason, I had a craving for carrots throughout this trip, and I used them as tasty snacks on many occasions.
Prepared food could also be found in street stalls, as well as in the markets. These perched on the roadside in even the smallest country villages and typically offered fried rice cakes, corn fritters, or other types of fried doughs. Bananas, coffee, and if you are fortunate, delicious bread, were sometimes available at these stands as well. In the evening, especially in the larger towns they may offer more substantial items, especially little kebabs of grilled zebu meat or chicken pieces, and other dishes such as shredded cucumber salad. This is probably the best combination of good food and low cost on the island. Unfortunately, I was rarely in the right place at the right time to take advantage of this.
When liquid refreshment was required (which was essentially all of the time) there was usually plenty of volume available, if not much variety. Many towns and villages in the wet areas of the country have a public well, which I probably would have cautiously used now and then, if not for the ready availability of bottled water, which can be found in most stores and stands in the now omnipresent 1.5-liter PETE plastic bottle. I must also give a begrudging thanks to the Coca-Cola Corporation for so thoroughly dominating the world with their products that they are even available in remotest Madagascar. These were sold as Coke or Fanta (orange) and, very occasionally, Sprite, though whenever possible I purchased the indigenous counterparts called "Classico". I would not normally drink a large amount of soda on tour, but on several occasions, out of necessity, they provided the majority of my daily caloric intake (and a admittedly welcome dose of caffeine as well.) For those that are interested, the national brew is called THB, or Three Horses Beer. I didn't try any but it seemed quite popular. One other beverage of note is usually served with your hotely meal, and is called ranovola, which is a kind of tea made by deglazing the rice pot with boiling water, and has the taste , not surprisingly, of burnt rice. It is an acquired taste which, I'm afraid, I didn't quite acquire.
Supermarkets are only found in the largest cites, Tana and Tamatave in the case of my route. However, basic groceries are available in most towns at small roadside shops, the most common of which are called Tiko. These sell water and drinks, a small selection of sundries and toiletries, household items, and snacks such as little packets of crisp cookies. In my continuing inability to discover sa good way to get breakfast while on tour, I availed myself of these packs of cookies on many occasions. The quantify and selection of products available at these shops is directly proportional to the its proximity to the major cargo routes. In many of the more remote locations in which I traveled the shelves were only sparsely covered.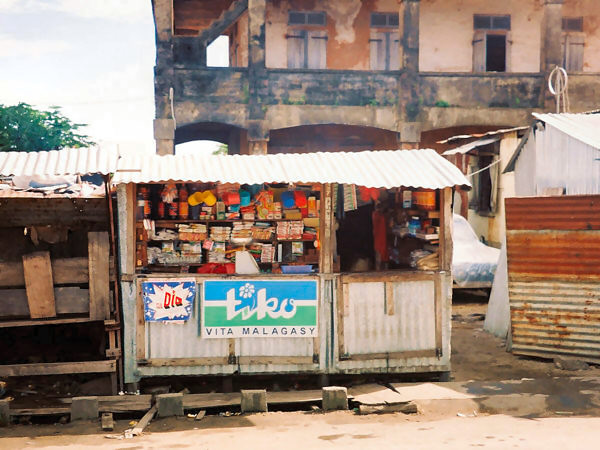 A very small Tiko shop in the town of Vohemar.
Odds and Ends:
Transport to the Island
There is no scheduled maritime transport to Madagascar, though if you have plenty of time and money, it is possible to book passage on a freighter stopping in Tamatave. For most everyone else, a visit to Madagascar will involve a long air flight. Air Madagascar, Air France and Corsair were the main carriers at the time of my visit, operating flights between Paris and Antananarivo. The Air Mad flights were overnight, while the Air France flights were in the daytime. At one point in time there was also a flight to the island from Singapore, which might have been more convenient for me, but it was discontinued during the political crisis. Other international flights arrive from Johannesburg, Nairobi, Reunion, and Mauritius.
Visa
The Red Tape involved in visiting Madagascar is fairly standard, and did not cause any difficulties for me either prior to, or during my stay. Visas are required for U.S. tourists valid for stays up to 90 days. The cost for me was $33.00. The visa can be obtained in advance from the Madagascar Consulate in the U.S. which is co-located with Cortez Travel, Inc who can also book your flights and hotels.
Money and Costs
The currency of Madagascar during my visit was the Malagasy Franc, or Franc Malagache, which had an approximate conversion of 6,400 Francs to 1 U.S. Dollar at that time. In addition to the arithmetically challenging conversion, additional inconvenience resulted from the fact that the largest denomination bill in circulation was the 25,000-Franc note, the equivalent of about 4 dollars. So, when I exchanged enough dollars to cover me for the first couple of weeks of travel, the ensuing stack of bills was so thick it broke the zipper on my money pouch. To make matters worse, the 25,000-Franc bill was often too large to make small purchases in the countryside, where change was not always available, so it was necessary to carry as many smaller denomination bills as possible. This situation may have been improved recently, though not necessarily simplified. A couple of months after I returned home, I learned that the government was going to discontinue the Franc in favor of the pre-colonial currency, the Ariary, which trades at a rate of 1 to 5 to the Franc (1$US = approximately 1,200 Ariary). This will surely help with the bulging wallet situation (there will now be a 10,000-Ariary note, twice as large as the old 25,000-Franc bill), but though the value in Ariary was always printed on the old Franc notes, probably won't do much to make things any less confusing for tourists, should they run across any Franc notes. Therefore, in the following pages, I will give the prices that I paid only as their equivalents in U.S. dollars at the time of my visit.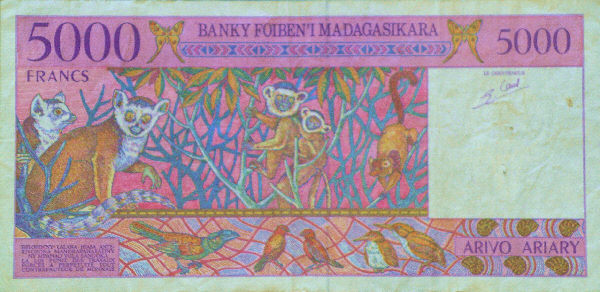 Lemurs and flying creatures decorate a 5,000 Malagasy Franc bill, now obsolete.
As you might expect, the cost of travel in Madagascar for a bicycle tourist can be really quite low. The more "local" and item or service is the more affordable it is, to westerners, at least. Locally produced food, basic accommodation and transport, services such as haircuts, were literally available for pennies. Prices for more luxurious items such as imported food, bottled drinks, tools, camera film, tour guides, and tourist hotels were similar to what one might spend at home. On the most rustic of days, my total expenses were as low as $6-8.00, most of which was for water and drinks, and the rest for food. Days spent in the cities or sightseeing were more costly, as you might expect, but even then expenses were usually below $30.00. A meal in a Malagasy hotely ran anywhere from $1-3.00, while a more standard restaurant charged $5-20.00 (usually less than $12.00) for a very good meal. Bottled water or sodas were usually $1-2.00 for 1.5 liters. Accommodations ranged from a low of $3.00 for the most basic rooms, to $8-40.00 for a nice bungalow or standard hotel, to $120.00 per night for the luxury hotel I stayed in for my first and last nights on the island. Entrance to a National Park cost $8.00, while the required tour guide ran anywhere from $8 to $120.00, depending on the length of the tour and whether transportation to the park was involved. Due to certain delays, I needed to take three domestic flights on Air Mad which averaged about $100.00 each. All in all, were it not for a one or two more unexpected major expenses that I'll describe later, I would have arrived back home well under my planned budget.
Health and Safety
As I mentioned above, the health of the Malagasy people appeared to be generally quite good to my eyes, but, nevertheless, there are always issues with tropical travel that one should be ready for. Not that there are any sure-fire solutions on a trip like this one, but one can at least make a good effort at avoiding such eventualities. Most likely, though these efforts will fail at least once, or, in my case, more than once. Though I tried to watch what I ate and drank, travelling through the countryside meant that being 100% successful at this was close to impossible. Given the choice between passing out from dehydration of taking in a meal that I wasn't sure about, I usually took my chances against the bugs. They, of course, asserted their right to multiply in my intestines, and I dealt with the resulting digestive problems for the latter 2/3 of the trip. Except for a few days, however, the effects of this were fairly mild and did not cause me too many problems. Another risk on the island is the ease at which broken skin will become infected, I fell victim to this condition as well. For reasons that I'll explain momentarily, I frequently broke open the skin on my calves and ankles. There was literally no chance of keeping these small wounds disinfected, and the subsequent sores did not heal completely until after I had returned home.
On a more successful note, I was able to avoid another potential tropical problem, malaria. There are occurrences of malaria in Madagascar, and precautions are recommended. The simplest and best way is to avoid contact with the malaria vector, various types of anopheles mosquitoes. I was pleasantly surprised to find the number and viciousness of the island's mosquito fleet to be somewhat tame, and much less annoying that certain places that I've been in the U.S (flies were a whole other story, however.) I can't say whether this situation lasts throughout the year or only during the autumn months of my stay, however. Nevertheless, Malaria prophylaxis is strongly recommended by the CDC and other groups. There are three choices that are currently available. However, the two most often used medicines, Lariam, and doxycycline, each have a certain risk of side effects that I felt could spoil the trip were they to occur for me. So, I chose the third option, Malarone, which is effective against normal and chloroquine-resistant strains of malaria and has no significant side effects, but is very expensive. This was an unwelcome burden on my budget, but it worked, as I did not get malaria, nor did I experience any problems due to the medication.
The issue of safety is one that I feel causes far too much grief for international travelers. With the exceptions of the world's current hot spots, travelers who approach their visits with an attitude of discovery and a feeling of fraternity with the local population should have little to worry about. I must confess that on this trip I began with a slight level of trepidation, as the Bush-Iraq war was just beginning. I wasn't really sure how an American would be greeted under those circumstances. As it turned out, there was essentially no reason to be concerned for my personal safety on this trip, and though people in even the remotest area were aware of the start of an aggressive war by my government, no one seemed to hold me personally accountable. In fact, at the end of the trip I wished that I had left my heavy-cable bike lock at home. I never used it once during my stay (in the cities I was always able to bring the bike inside with me.) In the capital, Antananarivo, at least according to all the guidebooks and clerks at the hotels, there is a high risk of being pickpocketed. While I don't want to encourage any future travelers to be less than cautious, by my experience this is also a bit overstated. I walked around the town quite a bit, even after dark, through all sorts of less-than-glamorous areas, and no one ever "accidentally" bumped into me, or made me feel in any way that I was a target for theft. Of course, my being about one foot taller than the typical Malagasy person may have had something to do with that.
Beyond simply not having to worry about crime, I was heartened by the feeling that if I ever really needed help it would be gladly offered by the local Malagasy folks. In fact, on this trip I did have a couple of major mechanical problems to deal with. If these had happened while I was in a really isolated place, I felt sure that someone form the nearest village would come along and offer to carry all my gear, and me, to a place where I could continue on. The scary thing was that just about anyone could probably have easily managed this. Of course, if it were one of the local ladies, she would have done so by gracefully balancing me on top of her head!
Equipment and Gear
My philosophy for packing for a tour is to get the best-quality equipment that satisfies my basic needs, and to travel as light as possible. Of course, I adopted this strategy when packing for Madagascar. However, the very harsh conditions that this trip entailed were surprisingly tough on virtually all of my equipment. Almost everything I brought either wore out, ceased to function properly, or broke completely during this trip. The list of things that survived unscathed is much shorter than that of those that did not, so I'll only mention a few of those tough items here. My Arkel GT-54 panniers held up well on their second trip, as did my MSR Zoid 1.5 tent (though it should have lasted, as it was brand-new for this trip.) The item that took the worst treatment yet held up best of all were my Kucharik bike shorts. I use their "tradtional-style" version, which are made from a cotton-synthetic blend called Helenca. These are by far the most comfortable fitted cycling shorts that I have ever used, and not even the most vicious thorn-covered bush could destroy them. I'll describe some of the other equipment failures later on in the trip log sections.
This was the second long tour I've take using the custom bike that I put together over the last couple of years, and the first tour I've ever done that involved a significant deal of off-road travel. There is a complete description of the bike on this page. Since I built the bike and first posted that page, I have made a few enhancements that I'll briefly mention here. One of these was the use of the 700x47 size of Continental's Top Touring 2000 tire. This was a great choice, as I really needed the wider tire for the rough conditions that I faced on this trip. However, I have heard that this size will no longer be imported in the States, so I may switch to Schwalbe tires in the future. Another change involved a switch from Shimano Levers to Campy Ergo. I prefer the Ergo levers for their cable routing, which is, in my opinion, superior for a touring bike. However, I continued to use Shimano 9-speed drivetrain components, with which I can achieve a terrific range of development, by making use of the hack for mixing these components developed by Brian from HubBub Bicycles. The mix worked very well on this trip, and I consider this to be a nice improvement. Finally, I switched to a new style of pedal several months before the trip. This was their first use by me on a long tour, and they have pros and cons that became quickly apparent on this trip. The pedals I used were the Look version (4x4s) of EggBeaters-style 4-sided pedals. There are some nice advantages to these pedals when used for touring. Most importantly to me, they have the best clip-in/out behavior of any pedal I've tried. Also relevant on this tour was their excellent mud-shedding ability, which I needed most every day, and the improved bearings in the Look version, which performed well throughout the trip. There were two negative aspects to this type of pedal that I discovered on this tour. One was the progressively more severe wear that they caused to my shoes, which eventually made them almost unusable. I'm hoping that a switch to Sidi Dominator shoes will help correct this problem. A more important drawback, especially for this trip, was that when walking with the bike, these pedals can be extraordinarily lethal to the skin on one's legs. Since I walked (make that dragged) the bike for considerable distances on this tour, I ripped the daylights out of both my lower legs, often gouging into the same spot over, and over again. This situation, which I'll describe further as the story continues, plagued the entire trip,
In terms of handling and performance, the bike performed splendidly on this tour, even though it did suffer several breakdowns. I have not taken an off-road tour before, though I had a small taste during last years trip that made me feel that the bike would handle well, and I was quite impressed with it's capability to cover rough conditions. And as you'll see there was just about every possible type of rough condition to deal with on this tour. So much so that when I returned home, I needed to replace several components, as well as repainting the frame.
The Map of the Trip:
The key to any good tour is the places you are fortunate enough to visit, and good route planning can make or break one's enjoyment of their trip. As I mentioned above, I there was very scant information available that would be useful in planning a cycling route before I arrived on the island. So, I did the best I could, searched out the parks and attractions that I most wanted to visit, and tried to link them together with a route that would take me through all of the climatic zones, and that I felt I could accomplish in the 61 days I had available. I have, in the past, been fairly aggressive in the distance I try to cover, with 160 km/day not being out of the question. But, for this trip, I felt that 120 km/day would be more manageable. If I had kept on the paved roads, and not had mechanical misfortunes, this would have been quite reasonable. As I mentioned before, however, given the road network on the island, it is essentially impossible to plot a circular route that visits the main attractions. So, I opted to take my chances, and planned on a route that followed a roughly "figure 8"-shaped course around the island starting at the center in Antananarivo. This would cover over 5,000 km, which I hoped to travel in 44 days of riding, leaving 17 days for rest and sightseeing. The main question was whether to do the southern or northern loops first. Since the weather in the north is still a little wet in April, I opted to begin with the supposedly drier southern loop. However, I knew that the road conditions would be bad, and I fully expected to have to modify the route as the tour progressed. I just didn't realize quite how much modification would be required.
The actual route that I travelled is shown on the map below. As you can see, the cycling portion of the trip covered only about half of my original plan, making the shape of a backwards "S", instead of an "8". This was a little disappointing, because the sections that I missed held some of the most interesting National Parks and were high on my list of places to visit. However, the delays and detours actually allowed me to discover many more fascinating aspects of the country than I might have if I had been able to ride the entire time. The rest of the island I will simply have to observe on a future trip!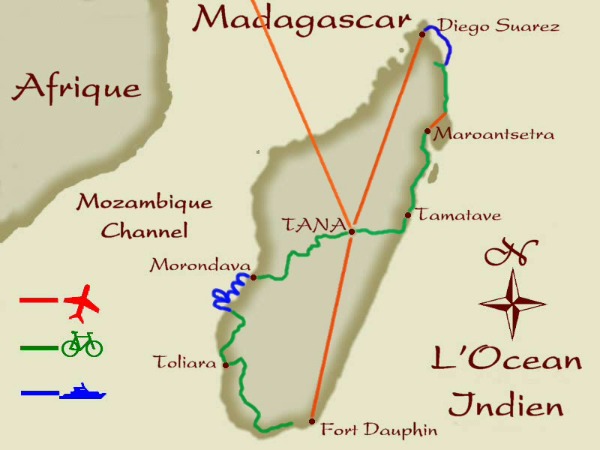 The Route Map for Madagascar
Next: The Journey Begins...
~Go There~