Part One:
Antananarivo to the West Coast and Morondava
March 31, 02003
Arrival & Antananarivo
- or -
Another World
There is only one word to describe the air flight from San Francisco to Madagascar: long. Long, long, long, long, long. In fact, Madagascar is very close to the antipode of San Francisco, so it is essentially as long a flight as it is possible to take. In my case, that meant an 11-hour trip to Paris (Charles de Gaulle), followed by another 11 hours to Madagascar. Due to the six-hour layover I had in Paris, which, at least, gave me the opportunity to catch a quick shower and stretch out for a while, both flights were overnight, my least favorite type. The first leg was on Air France, and they accepted my bike case without any additional charge. Another plus was that the international terminal at San Francisco has installed special x-ray equipment to handle oversized baggage, so the case did not need to be opened and inspected visually. So far, so good. At Paris, I would be transferring to Air Madagascar, and their baggage polices were a little more worrisome. Specifically, they have a flat weight limit, with a charge for each kilogram over the limit, regardless of the type of baggage. Actually, I find this to be a much more equitable policy that the arbitrary bike fees charged by most other airlines. However, I could not find out exactly how much the charge might be until a few days before the trip, when I received an e-mail from the airline, stating that the charge was 31 euros for each kilogram over the 30-kg limit. My bike in its soft case weighed about 26 kg, and the rest of the gear, in a duffel bag was an additional 18 kg. So, I was potentially looking at an additional charge of nearly $500, which would have put quite a strain on my already-tight budget. My travel agent suggested checking the second bag all the way through in San Francisco so I would be under the limit at the gate in Paris. It seemed a little like cheating, but I gave this a try. It took the Air France gate agent quite some time to figure out how to do this, since Air Mad is not part of the global computer system that most airlines use. Eventually, she worked it out and the duffel bag was tagged for Madagascar and sent on it's way. I wondered if I would ever see it again, but hoped for the best. (Actually, I was perhaps worried about the fee for naught. When the time came to fly home I went to the airport with enough cash to cover the extra charge, but the friendly Air Mad agent didn't even ask me for it.) The actual flight to Paris was cramped and tiring, and I was ecstatic to be on the ground again, if only briefly.
In Paris, I picked up the bike, which arrived safely, at the oversized baggage counter, and made my way through customs. I had several hours to kill before the next flight, and I had considered taking a quick look around at the sights of downtown Paris, but decided against that, as I was quite tired and the available time seemed to be a little too limited for that. Plan B was to check into the Sheraton Hotel in the airport terminal to clean up and rest. I was told that they had an affordable day rate for just this purpose. So, when I asked at the desk in my half-asleep state, I simply nodded and said "uh, oui" when the clerk told me the details. As it turns out, I was charged almost $180.00 for a four-hour stay. Ouch. Note to self: Learn to understand numbers spoken in French. The hot shower did feel quite nice, though.
When the time came for the next flight, I was first in line at the gate, as Air Mad assigns seats on a first-come-first-served basis. This was a great move, as I was able to get a nice seat in the exit row, which was actually fairly comfortable. A little surprisingly, I found Air Mad to be an excellent airline. The plane from Paris seemed fairly new, with nice seats and decent food. Although I was a bit surprised to see that the pilots and the rest of the flight crew were apparently contract employees who all hailed from Iceland. Perhaps citizens of small island nations try to help each other out when needed. The flight traveled over Tunisia, Libya, the Sudan, and Kenya on the way to Madagascar, though this was all at night, so there was nothing except blackness to see out the window. Amazingly, (for me, at least) I managed to catch a little sleep on the way. When dawn broke, the plane was nearing the west coast of the island. Now, when it mattered most, I could get a view out the window of my home for the next two months. I knew instantly that I was going to have a great time on this trip. The countryside was lush and green, and there were tiny dirt roads criss-crossing the landscape, with nary a car to be seen. On approach to Ivato Airport, near Antananarivo,I could clearly see the classic towns and villages of the highlands, some of which are surrounded by old city walls. Minutes later, I was on the ground, finally, after the longest flight of my life, exhausted but ready to explore the country.
Ivato airport is not your typical sprawling complex found in many places these days, but is a quite serviceable port of arrival. Passengers need to walk from the tarmac into the wooden terminal building and then pass directly through immigration, which was an efficient and fairly quick process. Literally a few steps away is the baggage carousel where, a few moments later, I was pleased to see both of my bags arrive, in good condition. Just beyond is a customs counter where you declare whatever is necessary. From there things get a little more hectic. Immediately past customs there is a long glass wall, which separates the arrival area from a huge mob of porters, taxi drivers, and newspaper vendors. These fellows know a good opportunity when they see one, and are quite persistent at offering their services. The wall is meant to give the passengers a few minutes to catch their bearings, I think, but a few of the porters manage to break through and start the negotiations directly. At home, I always handle my bags myself, but here I knew that I was going to need a taxi to take me into town, so I nodded at one fellow, who had muttered a few words in English, and I had myself a porter. Actually, though I only needed help from one person, three fellows joined the party. I could see what was happening, that I was going to have to pay three guys to do the work of one. I knew that I should probably haggle about the price, but as tired as I was, I just didn't have the energy to do so. To make matters worse, everyone saw me go to the currency exchange booth that was, unfortunately, in plain view of the porter mob. The airport currency exchange gave the best rate I saw on the island, and as I needed to make some purchases in the capital, as well as fill my wallet to last for the next couple of weeks, I exchanged a rather large stack of bills. Since most everyone could observe the transaction this, of course, labeled me as a rich foreign tourist, which, I suppose, was true from the Malagasy point of view. Though I never feel like, or try to act like, a rich person. This would have made me feel a little uneasy about being tough with the porters about price (of course they probably all knew this and happily took advantage of folks who feel this way.) Nevertheless, since I probably had the equivalent of a year's income for many Malagasy people in my pocket, I didn't complain too much about the extra help. So, my little group was set, one taxi driver, and two more guys to help with the bags and point out the sights on the way to town.
The airport is located in the town of Ivato, 21 kilometers from the capital of Madagascar, Antananarivo. Everyone refers to the capital city as "Tana", and, from here on, I will as well. The road into the city is lined with small towns and villages, and gave me my first glimpse of Malagasy life. In the process one of my main questions, namely where to get food while on the road, was answered as we passed by numerous street stalls and markets. It is hard to tell exactly when you enter Tana, as the surrounding towns seem to blend in to the sprawling capital. Before long, however, we were in the city center, and I was dropped off at my quarters for the night, the upscale Hotel Colbert where I paid off my group of porters, with a bit of cash for each of them, whether they actually helped, or not. It has become sort of a policy of mine to get a very nice place to stay on the first and last night of a tour, and the Colbert is one of the finest, and most expensive, hotels in Madagascar. It is located next to the presidential palace, right in the center of Tana. The rooms were nice, and the service top notch. I was especially pleased that they happily stored my empty bike case, free of charge, for two months while I toured the country.
At this point, it was only 10:00 AM, and I had not planned on leaving town until the next day, so I had plenty of time to accomplish a few errands. After reassembling the bike, which went together without any problems, there were only two tasks left, but these took me out into the wilds of Tana. Since, I had no way to find the places I needed, I grabbed another taxi. Our first stop was FTM, the official cartography bureau. Here I purchased a nice map of Tana and the best available maps of the country. These divided the island into 11 sections and gave an excellent level of detail. The total cost of all the maps was about $75, around 30% of what I would have spent to purchase them back home, if any retailers had actually had them in stock. It might have been worthwhile to buy them at home if they had been available, however, as I could see straight away that some of the route that I had planned using the crude map I had at home would not be practical.
The next stop was ANGAP, the National Park offices, where I planned to buy enough entry passes to get me into all the parks I hoped to visit. This turned out to be a bit of a mistake. For one thing, the ANGAP offices were located far away, on the other side of town, and I later learned that I could have also bought the passes at the Office of the Natural Environment which was only one block from the Colbert. And while I thought it would save me the trouble of buying the passes at the park gates, that probably would have been easier in the long run. To make matters worse, the agent who sold me the tickets ripped of part of the tag off by mistake, causing me a bit of grief later on, when one park ranger wouldn't accept the ticket. They were $8.00 each, and I bought five, though I only used three of them. Oh well, the perils of international travel. Nevertheless, I accomplished all of my tasks for the day and had enough time to take a nap, get some food (at one of the few supermarkets in the country, which was a only few steps away from the Colbert), and walk around the city a bit. As I returned to my room later on, I could hear prayers being broadcast from a nearby mosque, which added an exotic feeling to the night. The Islamic community in Madagascar is relatively small, so the broadcast was at a relatively low volume, and not intrusive at all. After packing up all the gear on the bike, I turned in early, desperate for some sleep but ready to begin the adventure the next morning.
April 1
The First Day's Ride
- or -
Escape From Tana
Tana is one of the world's truly crazy places. I didn't think any city could surpass Havana, from last year's trip, in this regard, but I believe that Tana did. Several words come to mind when describing the city, madhouse, zoo, chaotic, or my favorite choice, beehive. It felt like I was travelling through a such an enclosure as, just after dawn, I awoke, checked out of the hotel, and began the tour, heading first towards the west coast. It didn't help matters that I had only been in the country for one day and was still disoriented from the trip. However, it has always seemed to me that the best way to overcome the confusion of travelling to a new country is to get on the bike as soon as possible. Doing something that feels normal does wonders for one's frame of mind. Frame of mind was quite important in this case, because in addition to the generally disordered commotion of city life in Tana, with people walking, bicycling, driving taxis and trucks all about without much sense of coordinated motion, trying to get out of the city is confounded by the virtual lack of aides to navigation of any kind.
Trying to navigate the way one would at home, by making use of the names or numbers of streets and roads, proved to be quite impossible. This was not because the streets weren't named (they had names like Lalana Rainandriamampandy,) but rather due to the almost total lack of visible signage of any sort indicating the name or destination of a particular street. To make matters more confusing, the city is built on a rather hilly site, so it can be rather tough to see enough of the landscape to get a sense of direction. Fortunately, the city map that I purchased the previous day helped a great deal, once I realized how to use it properly. The map was almost a pictographic representation of the city, with spatially accurate descriptions of the widths of roads, the position and sizes of major buildings and various types of landmarks. So, with a little care I managed to make my way towards the edge of the city by following a mental set of instructions like; Follow the narrow, twisting road over the big hill, then turn right at the large buildings that look like warehouses, and take the next left when you get to the statue of Karl Marx.
Just when I thought I was about to break free of the city, the road that appeared to head straight out of town turned out to be occupied by one of the many open-air markets scattered throughout Tana. This would be the first of many experiences in the Malagasy markets on this tour. If the normal streets of Tana were crazy, the market streets were crazy multiplied by ten. The whole area was wall-to-wall people, vendors, and animals, prohibiting travel much faster than walking speed. Nobody paid much attention to me, except for a few car-for-hire men who tried to sell me a ride to wherever. The usual difficulty of convincing folks that I actually preferred to go by bike was even more pronounced here. Though the road was sandy and rolled up and down, I slowly made my way through the crowd, though it seemed to take forever. If it had not been early on the first day of the ride, I would probably have spent a little time here and gotten something to eat. Eventually, I reached the edge of town and broke out onto Lalana Bandoeng, which eventually became R.N. (Route National) 1 heading west. Since I will be back in Tana later on, I will save further descriptions of the city until following pages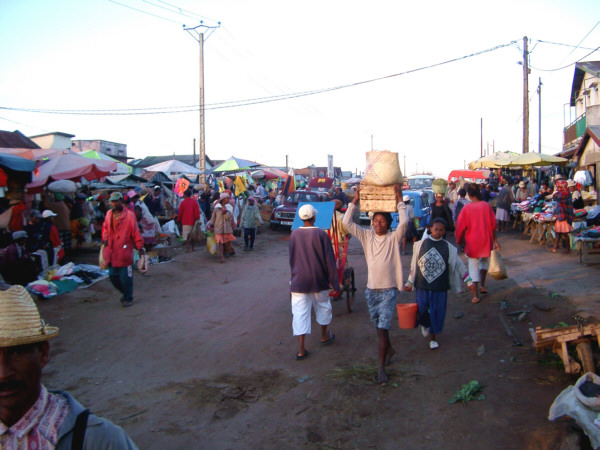 One of the less-crowded sections of the Tana street market.
The first few days of the tour would be affected by a routing decision that I made before leaving home. My first destination was the west coast town of Morondava, and the normal way to get there would be to first head south from Tana and then turn west. This would cover almost the entire distance to Morondava on good-quality paved roads, but since I had planned on visiting the area south of Tana later on, it would mean covering a significant stretch of roadway twice. I generally try to avoid backtracking whenever possible while on tour, and so I chose to travel along the only other possible route to Morondava. This would involve heading due west for one day, followed by a turn to the south over an off-road section that would meet up again with the highway with two day's travel remaining to the coast. This would let me avoid a duplicate route, as well as give me an early indication of the conditions to be expected when venturing of the paved roads. But that was to come on the following day, on this day the travelling was easy, along a smooth, gently rolling road.
As R.N.1 leaves Tana it crossed a wide plain covered with rice paddies. The openness here provided a vivid contrast to the crowded streets of Tana. The amount of motorized traffic dropped off fairly quickly, being replaced more frequently by the omnipresent herds of zebu. This was my first experience with the gentle bovine citizens, and their herders graciously prodded them to move to one side as I passed by. I continued on feeling, as I always do on the first day of a tour, a mixture of anticipation and uncertainty for what was to come during the weeks ahead. The greetings that I exchanged with locals walking along the road soon made me feel right at home, though, and I was soon back in full touring mode. After a while R.N. 1 entered the hilly section of the central plateau, though the riding remained easy and there were no significant climbs. Along the way the highway passed by and through several small highland towns and villages, like the one pictured below. The buildings here were all constructed, in the traditional method of the highlands, of earthen walls with a thatched roof. I instantly fell in love with this architecture, as I have always admired earthen construction, and here the reddish color of the soil provided a beautiful contrast to the surrounding green grasslands. I took the opportunity to stop for drinks and a snack in one of these towns, and I had my first experiences with buying food at a roadside Tiko store, as well as standing out as an obvious outsider. Both of these left me with the feeling that I still had a little work to do to feel comfortable among the local people.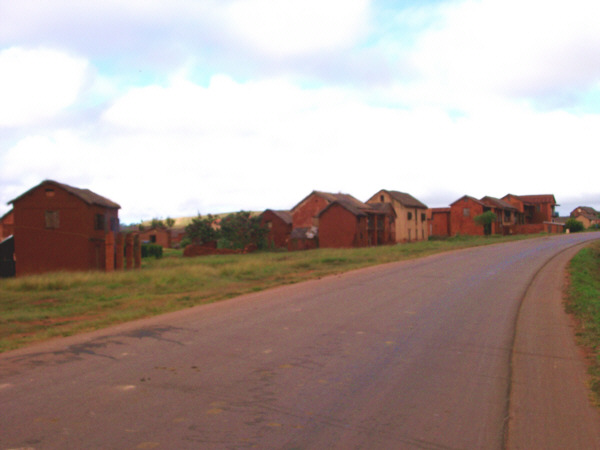 Earthen buildings in a small highland town.
The road continued to roll along though rolling, open countryside that was filled with farms and large sections of pastureland. By midday, I reached the town of Miarinarivo, about 95 km west of Tana, just about where I expected to be by this time. The town was fairly peaceful by Malagasy standards, and I set myself down in the first hotely I came across for my midday meal. The proprietor was a nice man who spoke a little broken English and seemed quite interested in my trip. He brought me a big bowl of vary with fish and then chased away the kids that had gathered at the door to check out the strange visitor. The fish was not my favorite, but the rice hit the spot. Later I walked around the town a bit, bought drinks at a street shop, and sat down for a rest in the open plaza at the center of town. The quiet, open plaza was a rarity for a town of this size, which usually contained only bustling markets. This time, however, I was able to sit down in the shade on a crumbling cement porch and cool off for a while, my only company being a few small kids who were playing marbles.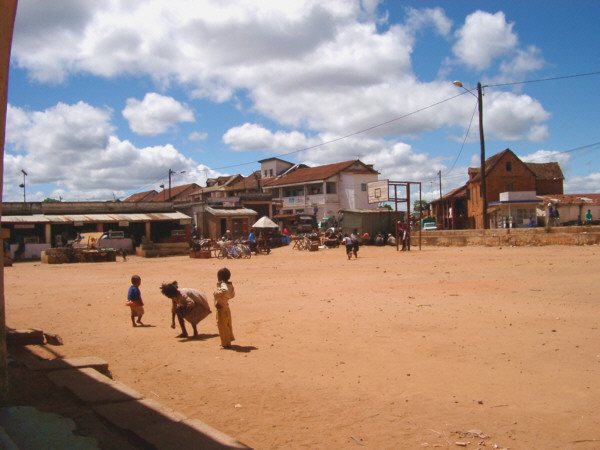 The empty plaza at Miarinarivo makes a great place to play Marbles.
After resting for a couple of hours, I continued on with the afternoon section of the day's ride. The route continued west on R.N. 1 for another 30 km before turning south at Analavory onto Route 43. The countryside in this area was still open, with rolling green hills, and easy riding. The entire area west of Tana, however, gave me my first experience observing the effects of deforestation on the island. Essentially all of Madagascar was one covered with thick forest, but today only scattered remnants remain, most having been cleared to make way for subsistence agriculture. As is often the case, the cleared land does not sustain agriculture for very long, and is disastrously lost to erosion, which is one of Madagascar's biggest problems today. It was a little difficult for me to look at the open green countryside, which still possessed great beauty, and remember that this was but a shadow of its former glory.
The Highlands are eroding severely due to deforestation.
Route 43 continued south from Analavory past the pretty Lake Itasy. The road remained in good condition to this point and the whole area was filled with wildflowers. South of the lake, the pavement ended, but the conditions were relatively good, and I continued on, for a time riding alongside a couple of local bicyclists. Though were couldn't converse we still shared the experience of travelling through this pretty area. Before long, the sun was close to setting, much earlier than I would have liked, and I was getting a little too close to the town of Soavinandriana to go much farther before finding a spot for the night. After looking around for only a few minutes, I came across a nice patch of woods where I could get a reasonable distance from the road and set up my tent under cover. The success of the first day's ride filled me with optimism for the rest of the trip, and as I tried to go to sleep, every shadow in the canopy above looked like a lemur to me, which, of course, was only wishful thinking.

Antananarivo to near Soavinandriana
Distance: 145 km
Weather: Sunny, Maximum Temp: 32 C, light tailwind
Terrain: Rolling
Roads Traveled: Various Tana streets, R.N.1, Route 43



April 2
Onward Into the Great Unknown
- or -
The Vhazaha From Mars
I generally don't consider a tour to be a success if I don't, at some point along the way, feel that I might not be able to make it to the end. However, this was the first time that I had such concerns on the second day of the ride! I knew that the off-road sections could be tough, but I had also held out hope that they would all be nicely graded hard dirt, and that I could cover a considerable daily distance. The route between the end of the paved road near Soavinandriana and where I would rejoin to the highway to the southwest, appeared to be about 120 km according to my map. If the conditions were reasonable, I should be able to cover that distance in a single day. As it turned out, the conditions were far less than ideal. Things were ok, at first. I was still a few kilometers from Soavinandriana when I started at dawn, and so when I entered this mid-sized tow, there was not much of a reason to stop for long. I did want to get my bearings and tried to confirm with the local folks which way to go to get to the next town, Mananasy Tsitakondazaa. No one could understand my pronunciation of the town's name, however, so I thought it would help to point to it on the map. That's when I learned that the simplest way to attract a large crowd in this part of Madagascar was to open up a map. In a few seconds I was surrounded by a curious group of 20-30 onlookers who appeared to be more interested in the map than in me. I never really figured out why this was such a treat for them, but I assume that many in these parts had rarely, if ever, seen a map. Perhaps they were curious to see if their town or village was important enough to warrant a dot on the paper. After a few minutes, I had convinced myself that I was heading in the right direction, and rode out toward the west.
The condition of the road deteriorated quickly beyond this point, and before long it was more of a cart path than a road. There were thick bushy sections to deal with, and some soft spots, but compared to what I would encounter in the future this area was not too bad. Nevertheless, the going was slow, and along the way I took the opportunity to get a snack at a tiny roadside hut, where I bought some fried rice cakes. As I sat on the cut-log chair outside eating my food, I could feel the smiles and stares from the weatherworn woman who had sold me the cakes, and a few of her friends who stopped by to chat. I was probably the only vhazaha to come by this way in a long time, and it was then that it truly hit me just how far removed I was from home. On the move again, I eventually rolled into Mananasy Tsitakondazaa, at about 11:00, taking all morning to travel a mere 20 km.
Mananasy Tsitakondazaa is a rural commune which has a few modern-style buildings, and serves, perhaps, several hundred people. Beyond that, it was a typical Malagasy country town, with crowds of people packing the main street, trading goods like dried corn and beans, which were spread out on large straw mats on the dirt roadway. I was ready for a meal break and though there wasn't much appealing food to be found on the street, I did stumble across a nice hotely, where I had two large bowls of vary with accompanying meat, and a very tasty bowl of soup. Normally, after a meal break I would spend a few hours resting in town, but I decided to move ahead, since there was not much chance of me being able to relax among the curious crowd here in M.T. At the edge of town I gazed at the scene shown below, and stopped to consider whether I'd be able to continue.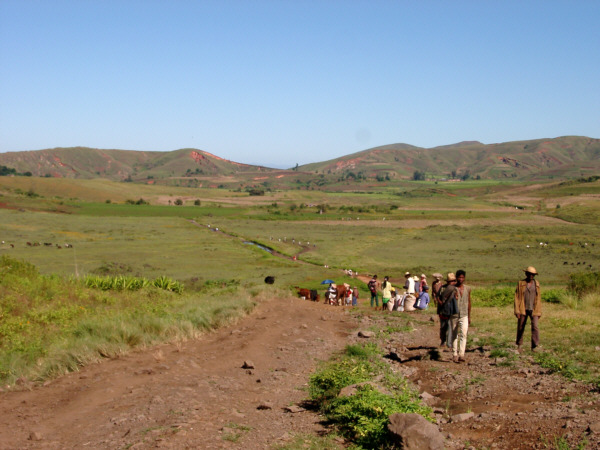 Moving on means travelling along this "road".
Heading west from M.T., toward the next town, Mahavelona, my map showed a "seasonal road" covering a distance of another 20 kilometers. Looking ahead at the view before me I had to consider whether I should continue on, or turn back towards Tana. The condition of the road did not look good far as far as I could see (if you look closely you can see where it detours around a section submerged under a foot of water,) and I knew going forward would mean painstakingly slow progress. However, I find turning back to be generally distasteful, and I was not yet ready to completely abandon my original plan to see all the parts of the country. What eventually convinced me to go ahead was the crowd of Malagasy people who were travelling along this road without much thought. These included many bicyclists, and it was here that I formulated my policy that if I saw evidence that local bicyclists were using a certain road, I assumed that it was reasonable for me to do so as well.
So, with a bit of trepidation, I pressed on toward Mahavelona, being sure to exchange a friendly "Salama!" with all of my fellow travelers as I passed by. Hearing a vhazaha say hello in their native tongue always brought the warmest response from the Malagasy, and I made a point to do so to everyone I met along the way, literally thousands of "salamas" during my stay in the country. The road continued to be in poor condition for the rest of the day, including many steep sections where the rutted dirt surface was covered with large, jagged-edged shards of crystalline minerals that required me to walk with the bike. This was where I began to damage my legs by occasionally gouging my pedals into their soft flesh. Not that these hardships would dissuade me from pushing on, however. Of course, I gladly shared the road with my indigenous compatriots, the occasional herd of Zebu.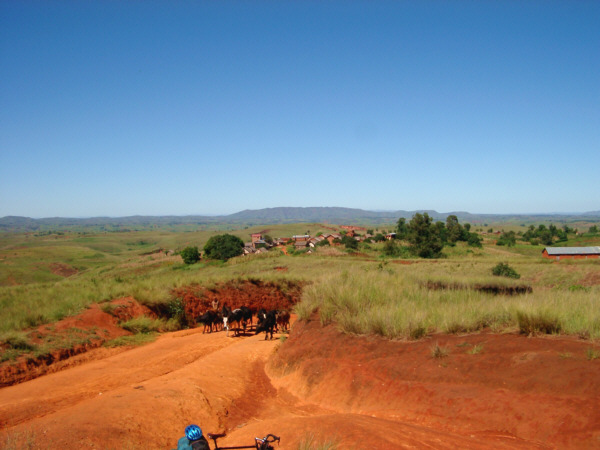 The road doesn't get much better when it dries out.
There were also many small rivers to cross in this area. Most were knee-deep, or less, at the midpoint and the cool water was fairly refreshing, as the heat was beginning to increase as the day wore on. However, they did tend to slow me down quite a bit, as, at this point in the tour, I had not yet realized the futility of trying to keep my feet dry. So, at each crossing, it was off with my shoes and socks and then onto my shoulder with the bike and gear for the walk across. Much later in the trip, I wised up and would just leave my shoes on in such situations. These frequent delays did give me an opportunity to look around and appreciate the natural beauty around me. I distinctly remember a flock of bright green birds zooming back and forth overhead as I crossed one pretty stream. In the crossing shown in the picture below, you can see the tracks left by other bicycles along the riverbank, a sight that certainly helped my confidence.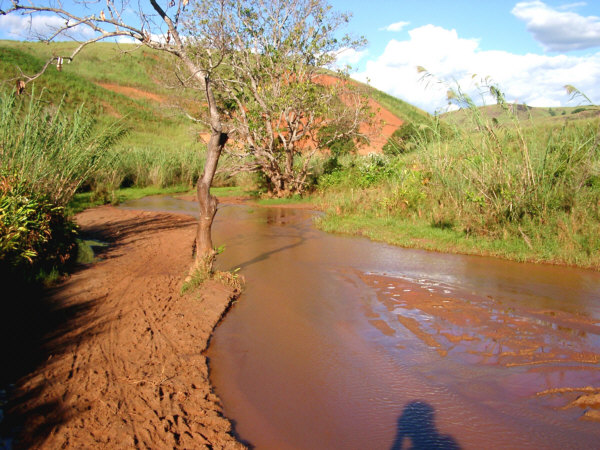 Small rivers can be crossed on foot. Bike tracks lead the way.
In the late afternoon, I rolled into Mahavelona, a smallish settlement that is essentially cut off from the rest of the country due to the lack of a good road to the east. There were no hotelys here, so I had to pass on the meal I was hoping for, but there was a small Tiko store. There I purchased a bottle of water, a couple of large sodas, and a packet of cookies for the next day's breakfast. I took a seat on the wooden bench inside the store to escape the sun and drink my sodas. But it was not long before a crowd of a few dozen children had gathered around the doorway to steal a stare at the crazy vhazaha. In isolated places, like this one, I felt that I was probably the first vhazaha that many of the local kids had ever seen. Certainly this was the case with the younger kids. To help out the shopkeeper, I got up and moved down the street and found another place to sit under a big tree all the while being followed by my ever growing entourage. My new friends seemed to be fascinated by just staring at me, though I wasn't doing anything particularly interesting. I tried to entertain them a little, though after a while I ran out of suitable things to say or do. So, without warning, I jumped straight up into the air and shouted "Wooo Hooo!" which sent the crowd scattering in all directions shrieking with laughter. The adults that were hanging around smiled too, but I think the kids still think that I must have been from Mars. To end my performance on a high note, I decided to leave at that point, and took my second soda with me to a more isolated tree a few hundred meters from town, where I rested for a while longer.
After a little while I continued on, trying to cover as much distance as possible before dark, but clearly I would not make it back to the highway, as there was still a long way to go. That didn't bother me, though, as it was so peaceful and enjoyable just to be out in this isolated place, so far from anything with a motor or a horn. Periodically, I would stop at the crest of a hill and just breath in the air and take in the expansive view. This seemed to be about as far away from civilization as I had yet been in my life, though I was never perfectly alone. For there was almost always someone else that could be seen walking along the adjacent hill tending to their daily affairs. And I still met more children along the way, and they almost always shouted with cheerful excitement to see me come along. On one or two cases, however, a little fellow would see me, drop whatever he was carrying, and run as fast as he could in the other direction, bellowing a terrified cry for help. One of the guidebooks I read before the trip said that some Malagasy parents used to tell their kids that a vhazaha would eat them if they ever had the chance. I suspect that that was merely a westernized myth, however. After all, I can be quite a terrifying sight after two days cycling thought the bush.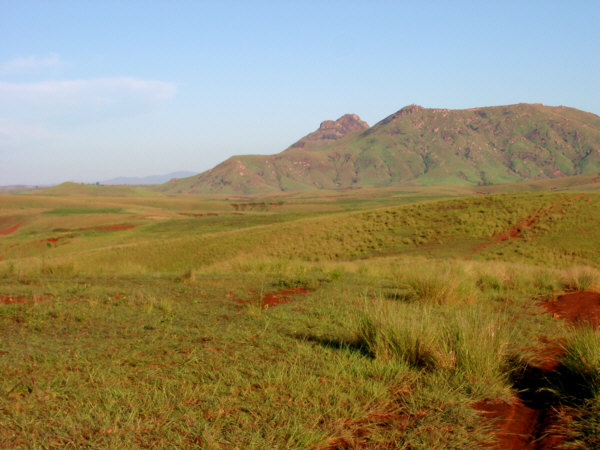 The peace and quiet of the highland countryside makes one feel alone with nature.
As sunset approached, I was nowhere near as far along as I had planned at the start of the day. Not worrying much about that, save for the fact that I might be getting quite hungry before I much longer, I put up for the night at the crest of a little hill adjacent to the tiny village of Ampemfezy. Just as I had stowed everything in the tent, a little shower passed over, lasting only a ten or twenty minutes, though lightning could be seen in the distant hills for quite some time. Later on, the skies cleared and, as there was a new moon that night, I was treated to one of those spectacular night skies that we have sadly forgotten about back at home. There is no light pollution whatsoever in Madagascar, and the stars shine as brightly as they always have. Relaxing for a while, I thought back over the day's events that made up one of the most unique days of my touring history. The day also marked my personal record for the shortest distance covered on a full day of riding, 60 kilometers. This was a record that I would break again before the trip was over.

Soavinandriana to Ampemfezy
Distance: 60 km
Weather: Sunny, Maximum Temp: 39 C
Terrain: Hilly
Roads Traveled: Route 43, Unmarked secondary road, unmarked trails and cart paths



April 3
The Cross-Coutry Trek Continues
- or -
I'll Take a Road Again, Please
When morning arrived, I was up early, as usual, and since the village of Ampemfezy did not seem to have much to offer, I started right out on the day's ride. There was only one town between my location and the main road that, according to the map, may have been large enough to have some services, Betsohana. The paths in the area were not at all clearly marked on the map, but I thought I could find my way there. In any case, I took every opportunity to ask the people I met on the way if I was heading in the right direction. Nearly all of the people in the area spoke only Malagasy, so my question was phrased by simple pointing where I thought I should be going, and asking "Betsohana?". Usually this worked and I was told to keep going in the direction I had been headed. However, sometimes I was met with looks of confusion. There were two possibilities that I could think of for this. Most likely was that I was so mangling the pronunciation of Betsohana, that some people had no idea what I was saying. The other possibility was that, even though I was less than 25 kilometers from the town, the people that I was asking had never been there. To those of us that are from the over-developed world, and are used to cheap motorized transport, this must seem shocking, and many observers might say that this lack of "mobility" was an extreme hardship. But, when you consider the effort that must be put forth to travel long distances in places like this, and the fact that there was probably not very much in Betsohana worth traveling to for the people of the countryside, it is not too hard to imagine. One might even consider this situation to be a type of freedom; namely the freedom from being required to travel long distances simply because you can. Nevertheless, thanks to the help of many folks, including one friendly cyclist, who turned around and rode with me until he was sure I knew which way to go, I never felt very lost.
After a little while. I came to the tiny village shown below. I really needed some breakfast, but there didn't appear to be much here. But then a young man chased me down and indicated that I should go to one of the small buildings that contained a shop, for lack of a better word. This was a village that did not have much, but they were happy for me to patronize their offerings. I got a banana, a few rice cakes, and two tiny cups of very strong coffee (and I'm not a coffee drinker.) It was more than I had expected to find here and I was grateful. As I got ready to leave, the entire village compliment of children swarmed around me, laughing and cheering. When I rode away they chased along for several meters, and I felt a little like the Pied Piper of Hamelin stealing all the children. They couldn't keep up for too long, and with a wave and shouts of &quotVeloma!", I left them behind.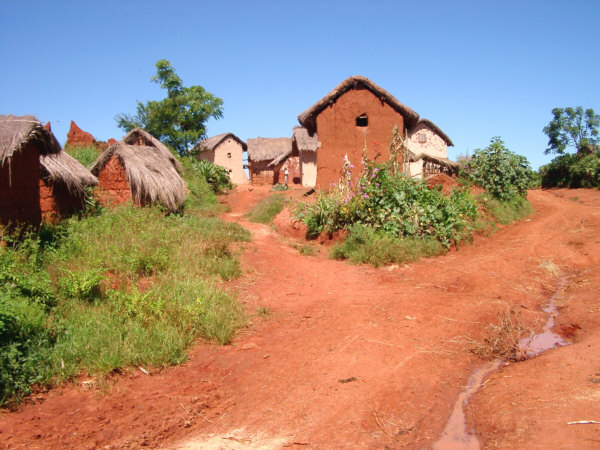 This tiny village probably sees very few American bicycle tourists.
Gradually, the pathway became less and less clear, with rougher, narrower surfaces, and thicker bush closing in from the sides. I began to get a little nervous that I had made a wrong turn somewhere, but a couple of fellows that passed by sort of made me feel that I was still going in the right direction. After a little while I realized why the road was disappearing. When I crested a small hill I saw the view of the Kitsamby River that appears below. From up high, the path appeared to head straight down through a bunch of thick bushes to the riverbank. On the other side, I could see it climbing steeply up the opposite ridge, but I really had no idea what I was supposed to do here. I knew one thing, I had no intention of turning around and retracing the previous days routes, so I went down to check things out. The path down to the river was steep, damp, and cut through some very thick foliage. It was a real chore to drag the loaded bike down to the riverside. When I finally got there, the situation looked grim. The Kitsamby was a deep, fast-moving river that could not be simply walked across like all the others. I stood around for a while, feeling perplexed, and then unloaded the bike, as the thought had begun to creep into my mind that I would have to swim across. That would have been a very bad idea, and I hope that I would have eventually talked myself out of it in the end.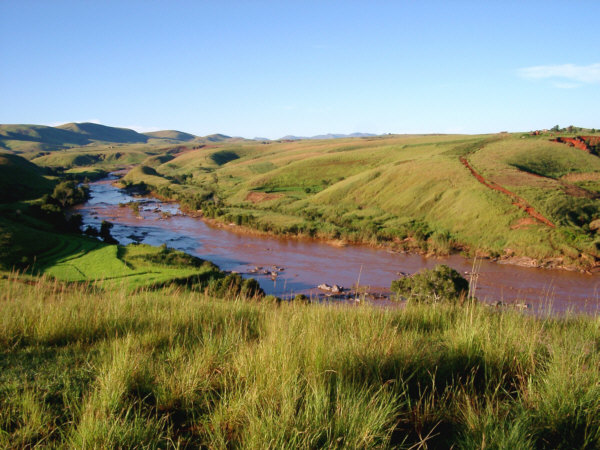 The larger Kitsamby River posed more of a problem.
The situation improved suddenly, when, much to my surprise, a friendly Malagasy man appeared from the same trail that I had come down earlier. At least I wasn't stranded alone, I thought. Of course, he knew what he was doing, and though we couldn't speak to each other, he indicated that we'd get across soon. He must have given some sort of signal at the top of the ridge, for after a few minutes a pair of young boys came walking down the trail to the opposite bank. They pulled a pirogue out from the bushes and paddled across to pick us up. I was worried that the bike would be a problem, but my new companion waved it off, as if it was no big deal. He went across first, and took along all of my gear. I was still worried about the bike, but that did not last. For as the boys were heading across, two more men, each with a bike of their own, came down to the opposite bank. The ferry boys brought them both across when they came back to get me, and then I knew that if they could take two bikes at once, that I'd be ok. When I got across, the boys asked for the equivalent of a dollar, and I gave them two for the extra trouble of the bike, which seemed to make them quite happy. I then loaded up the bike, and my new pals helped me push it up the steep bank to the ridge top. Waving greetings to the people that lived in the little cluster of homes at the top of the hill, I continued on my way, now feeling more confident that I was through the toughest part of this section of the trip.
The local ferry boys take my gear across.
There was still a good bit of territory to cover, however, and the tough parts were not over just yet. The road was beginning to improve somewhat, however, and I started to move along a little more quickly, winding through the hilly countryside, and passing numerous tiny settlements. Eventually, I saw what could only have been Betsohana. The town did not live up to my expectations, which were based solely on the size of the font used to label it on the map. It was the largest town that I had seen since early the previous day, but there did not appear to be much here except for a few dozen homes that were scattered around the shore of a small lake. I was hungry and thirsty, and I rode around the town several times looking for a hotely or a Tiko store, but neither made themselves visible to me. Finally, some of the residents figured out what I was doing, and pointed me to a small room that served as the town store. There was not much on the shelves, and I bought the last two small bottles of orange soda. As I was drinking them down, a nice older man began to talk to me. He spoke French and a few words of English, and I learned that he was a teacher. He seemed interested in my trip, and began to give me directions to the highway. He could tell that I did not comprehend his words exactly, and so he insisted that I follow him along on his bike and he'd show me in person. He had a clankity old bike, but he cruised along the bumpy path, that was now heading downhill more often than not, at a respectable pace and I had difficulty keeping up. After a while we had gone far enough that I felt bad about the long, uphill ride he would have to make to get back home. So I caught up, thanked him for his help, and let him return home. He described the last bit of road, which included one more river crossing, and then said goodbye.
The last river to cross appeared before too long, and it was smaller than the Kitsamby, and could be easily walked across. However, I needed to cross it once, then slog through a marshy patch of rice paddies and maize fields, where the trail seemed to vanish, and then cross the river a second time. This whole process slowed me down considerably, and I was getting anxious to get to a place where I could get some food. Finally, after this last obstacle, the roadway improved, as I was now on the section that was accessible to trucks turning off of the main road. The surface was not perfect, but it was smooth enough compared to what I had just crossed, and the grade was slightly descending. So, I could maintain a steady riding speed for the last 12 kilometers. Before long, I heard the sounds of another river nearby, and my fears of yet another wet trip across with the bike on my back were cast aside when I saw a bridge over the waterway, the first I had seen for quite some time. Just a few hundred meters beyond, I reached the smooth pavement of the highway, R.N. 34 once again.
I was pleased to learn that I was only a few kilometers from Mandoto, the only large town nearby, where I had planned to stop for a meal break. It was 1:00 PM when I arrived, after covering only 40 km during the entire morning. Mandoto was a lively service town spread along R.N. 34 with several hotelys and some nice fruit stands. I happily set myself down at the first hotely I came across, and devoured two large bowls of vary with meat as well as a couple of large sodas. I hadn't realized just how hungry I was, until then. But, I had made it across the first tough section of the tour, and though it took longer than I had expected, I felt pretty good about that.
Back on R.N.34, the bridge makes things much easier.
After resting for a couple of hours, I took off again heading west on the now-smooth roadway. The difference in effort required, compared to the morning, was astounding, and I knocked down another 40 kilometers without any difficulty whatsoever. The countryside was just as pretty as before and the roadside was lined with wildflowers. The lack of significant traffic only added to the evening's pleasure. As sunset approached, I set up for the night on top of a bluff adjacent to the highway. At home this may have been too close for comfort, but here it was quiet enough that I could sleep soundly.

Ampemfezy to near Anjoma-Ramartina
Distance: 80 km
Weather: Sunny, Maximum Temp: 37 C
Terrain: Hilly
Roads Traveled: Unmarked trails and cart paths, Route National 34



April 4
Dropping Out of the Highlands
- or -
What a Difference a Road Makes
Relative to the previous two, this day's ride would be fairly uneventful. The improved roadway conditions would also allow my somewhat beat-up body a chance to recover as well. The entire day would be spent on R.N. 34, which was in excellent condition, at least throughout the morning. As an added bonus, I would be descending off of the central highland plateau towards the valley of the Mahajilo and Sakeny Rivers. Tana lies at an elevation of about 1,300 meters, and though the surrounding area had rolled up and down since then, it lost very little altitude until now. The descent, which brought me down to near sea level, was spread out over tens of kilometers, and so did not seem particularly fast. Nevertheless, I enjoyed the quick, but relaxing, pace that I was able to maintain.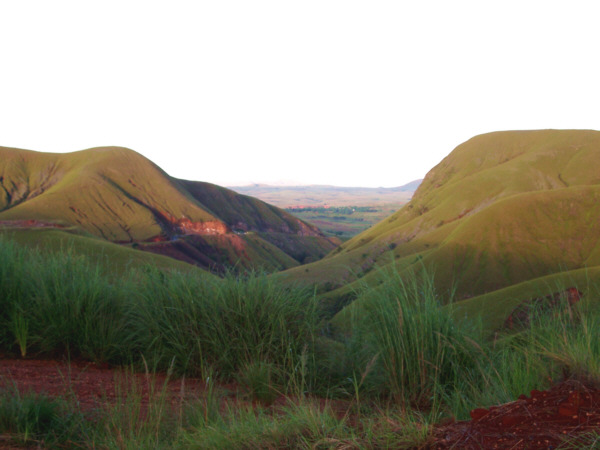 Route National 1 descends out of the highlands, towards the west coast.
The sun was bright, and the wind nearly calm, and I immensely enjoyed the open countryside, which was painted with various types of blooming flowers. With only one short break for drinks and a snack on the way, I rolled into Miandrivazo at about 10:30 A.M., covering 80 km, more than I had managed to travel in either of the two previous days. Miandrivazo was a lively town, and was spread out for quite a distance along a smaller road that turned north off of R.N.34. I had planned to take my midday break here, and arriving a little early meant that I could enjoy a longer rest, which was much appreciated.
Wildflowers brighten the scene along the way to Miandrivazo.
Miandrivazo is the home-base for several guides who run river trips down the Tsiribihana River, which reaches the coast north of Morondava. It is also a popular rest stop for those traveling by taxi-brousse from Tana, and so it has a bit more in the way of services than any of the towns I had passed though up to this point. In fact, I ran into a river guide who spoke a little English, the first I had heard in a while, and he directed me to a small resort hotel which had a nice restaurant attached. I had a tasty meal of grilled chicken with French fries. This really hit the spot after having only a few bowls of rice for the past two days, and I enjoyed my meal while sitting under the large, shaded porch feeling very relaxed.
Since I had a little more time before I had planned to start riding again, I strolled around the town for a while. There wasn't too much to see, so I decided that it would not be a bad idea to make up for some of the food I had missed recently, by getting a second meal. This time it was standard hotely fare, but filling nonetheless. Afterwards, I stocked up on water and drinks at one of the many Tiko stores. The midday sun was really beginning to beat down and the temperature was rising fast, so taking in fluids would be of great importance for the rest of the day. The west coast has the reputation of being the hottest part of the country, and I could see why. To make things worse, since it was April, and therefore still cool and damp back at home, I had not yet had a chance to acclimate to summer heat before this trip began. So, I probably felt the heat more intensely than I otherwise would have.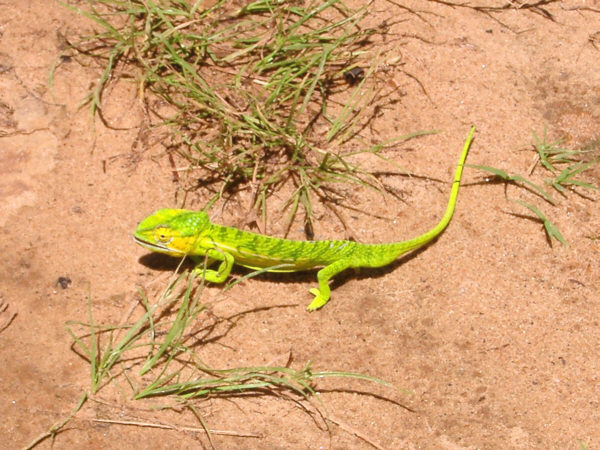 A Chameleon stands out against the dusty sidewalk in Miandrivazo.
As I was about one-half day behind where I had hoped to be by this time, I planned on making an effort to make up some of that ground over the next two days. So, with that in mind, I left town at about 2:00, now heading south on R.N.34 through the broad, flat Sakeny River valley. However, the research that I had done before leaving home had given me some advance warning about the deteriorating conditions of the main road through the valley. So, I was not sure just how much farther I would be able to manage on this day. The road did indeed start to fall apart south of town, not as severely as the dirt sections of the previous days, but enough to slow me down considerably. The poor conditions this time were the result of a once-paved road that had slowly disintegrated into large sections that were covered only with loose rocks. At least this time I didn't have to swim across any rivers, and though I may have been moving slowly, I continued south. I was a little disappointed when I passed through the town of Ambatolahy, which looked to be a decent-sized town of the map, but did not have a place to get any significant food, as I had hoped. Instead, I gulped down another large drink and took a quick break. The look and feel of the area had now changed completely from that of the highlands. Not only with respect to the topography, which was generally flat with little undulating hills here and there, but also in the style of the local homes. Gone were the larger earthen homes of the highlands, and, in their place, stood various smaller homes built from local materials. These were commonly one-story buildings made from wood and straw, reed, or sometimes mud-lathe construction. This general style of dwelling would be a common sight for the next several weeks.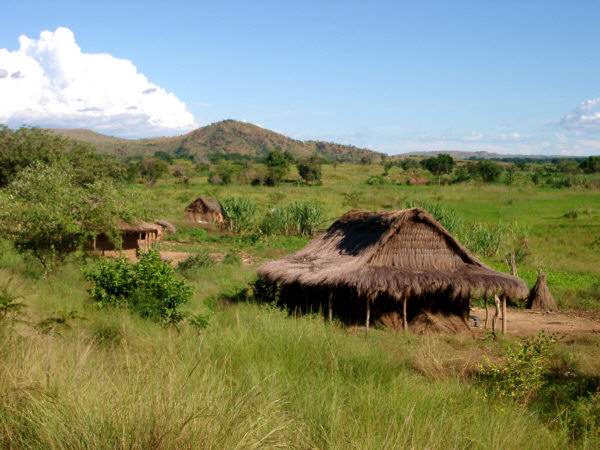 Homes in the western coastal lowlands are made from wood and straw.
Continuing south, I really began to feel the effects of the afternoon heat. The bumpy road wasn't helping either, and I was starting to wear down. It then dawned on me that I had been missing a golden opportunity with each of the many cool-looking streams that I passed by. I have always taken any reasonable opportunity to go for a swim while on tour, and while that may not always be a great idea in the tropics, I felt that I'd rather take my chances with any watery bugs rather than risk a bout of heat stroke. So, I now cooled of whenever I got the chance. Either splashing my head in the little rivulets that squirted out of the hillsides, or jumping in completely into the larger streams, where I floated for a while with the water beetles. This helped me keep going right up to dusk, when I found a nice spot to spend the night in the grassy bush. I normally have to put forth considerable efforts at home to find a suitable place to sleep when on tour. In Madagascar, this was as easy as I could have possibly imagined. Here there were almost no fences or No Trespassing signs, and one need only keep a reasonable distance from a village (for peace and quiet's sake) and avoid the places where zebu herds roam (for obvious reasons.) So with a short walk away from the roadside, I found a nice flat spot with good cover, and set myself down for the night. The heat did not subside for several hours, though, and I tossed and turned for a considerable time before finally dozing off.

Anjoma-Ramartina to near Ambatolahy
Distance: 130 km
Weather: Sunny, Maximum Temp: 39 C
Terrain: Rolling descent, then flat/lightly rolling
Roads Traveled: Route National 34



April 5
Heading Towards the Coast
- or -
Steamy Skies, Cool Rivers
This was another fairly straightforward day. Beginning, as usual, at first light, I continued south heading towards Malaimbandy, the only large town in the area, and my planed midday rest stop. This section of R.N. 34 was still rough and slow, as it was the previous afternoon, but in the cooler morning air, the ride was a little more comfortable. I still stopped occasionally to splash water on my face at the little streams that I crossed. After several kilometers the road left the marshy Sakeny valley and rose slightly onto a drier, rolling plain. Here I began to feel the sun warm the day as it climbed ever higher in the sky.
It was somewhere in this vicinity that I suffered the first of many mechanical problems I would experience on this tour. Though compared to what would happen in the future, this one was merely an inconvenience. I was shifting onto a larger chainring while crossing a particularly rocky and dusty piece of road. That combination lead to some rather severe chainsuck, which managed to twist my front derailer around and stripped the threads from its binder bolt. I made some quick attempts to repair this on the spot, but didn't have the patience to do it properly on the roadside. So, I simply removed the derailer, taped it to my water bottle cage, and rode on. For the immediate future I would need to use my foot to shift between chainrings. I actually became rather adept at this maneuver, but if I was unable to permanently fix the derailer in Morondava in a couple of days, I would have fashioned a long stick with a hook at the end to better do the job. As it turned out, once I removed the half-round washer, and switched to a slightly longer bolt I had in my little bag of spares, the threads held, and this fix lasted for the rest of the tour.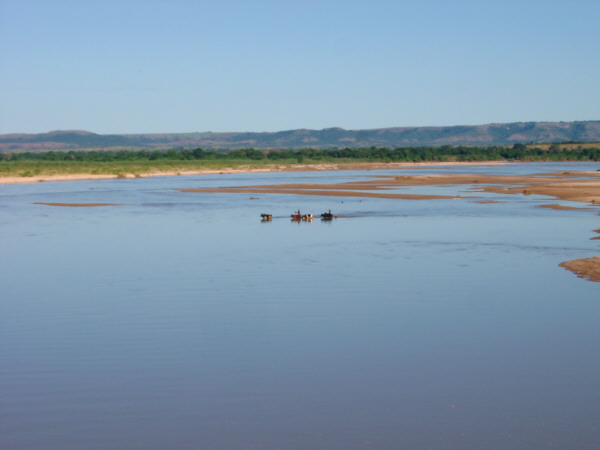 I used the nice bridge, but these zebu herders are crossing the Sakeny River the hard way.
With only this relatively minor delay, I rolled into Malaimbandy just before noon, after traveling about 60 kilometers. This was a hot, dry, and dusty town but its citizens were still out in force going about their daily business along the long main street. Here the street stalls sold perhaps the brightest selection of printed fabric that I saw on the whole trip. In this part of the country the fashion, for both men and women, was to wear a wrapped cloth garment, similar to a sarong, made from light cotton printed with bright colors depicting flowers, animals, or scenes from country life. Vendors displayed bolts of this fabric in streetside stalls around the country, adding to the charm of many small towns.
Of course my main goal here, as was always the case, was to obtain food and drink. There was unfortunately not much to choose from this time. My first stop was at a bar for drinks. Here a "bar" is mainly a place to get water and sodas that displays dozens of large and small bottles on shelves covering the walls behind a counter. Beer and rum could often be obtained in this type of establishment as well, but I rarely saw people buying them, at least in the daytime when I was usually there. After partially drowning my thirst with a large bottle of cola, I went off looking for food. There seemed to be an unusual lack of places to eat here, and after walking back and forth through the town, I went into the only hotely that I could find. I was served a nice bowl of vary and some meat of questionable origin. The hot rice made me thirsy and when I asked for some water, the proprietor brought me a pitcher filled with water that tasted rather….."wild." I probably should not have had any, but I gave in to my thirst and downed a few glasses.
I did not stay here too long, as I didn't think that I could find a place to rest that was either cool or peaceful. So, after buying some fruit for an evening snack, I rode on. Now the road, now called R.N.35, turned due west, heading straight for Morondava and the coast. I was still attempting to make up for some of the time that I had lost in going cross country a few days earlier, and so my plan was to get as close to Morondava as possible. I had originally planned on taking two rest days in the Morondava area, one to visit the Kirindy Forest Reserve, where I could see an example of the area's unique dry deciduous forests, and another day to explore Morondava and see the famous Avenue of the Baobabs. Both of these attractions were high on my list of places to visit on the island and I could certainly use two rest days. But, then again, I was still hoping to not fall too far behind on my original schedule this early in the trip. So, I was also considering the possibility of skipping one of these visits. In any case I would try to make a good effort at getting back on track with a strong evening's ride.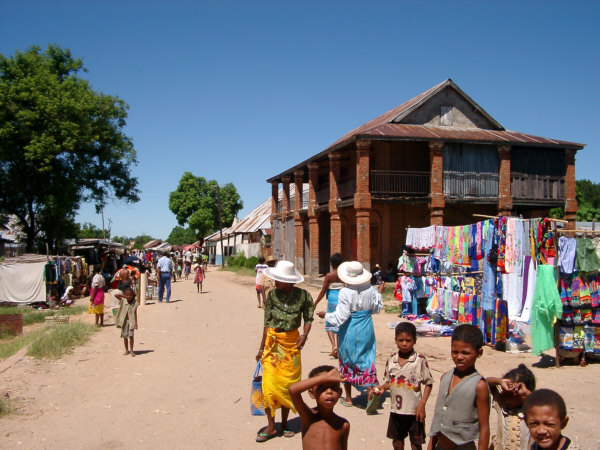 The main street of Malaimbandy was dry and dusty, but filled with color and friendly kids.
It did not take me very long to realize that I would not be as close to Morondava as I had hoped by nightfall. For one thing the temperature had reached 41 C, and to make things more challenging there was a range of low hills to cross between Malaimandy and the coast. I can handle heat, and I can handle hills, but the combination always does me in. So, not wanting to over exert myself, I took it rather easy. This meant stopping to float for a while in every body of water that I had access to. There were not a great number of these, as the area was beginning to dry out, but just enough of them to keep me going. It was at times, however, a little tough to pull myself out of the cool water, and get back on to the hot roadway. The surrounding area was slowly opening up into a green savanna landscape with wide vistas stretching out in all directions. The verdant scenery made it easier to forget how hot I was feeling.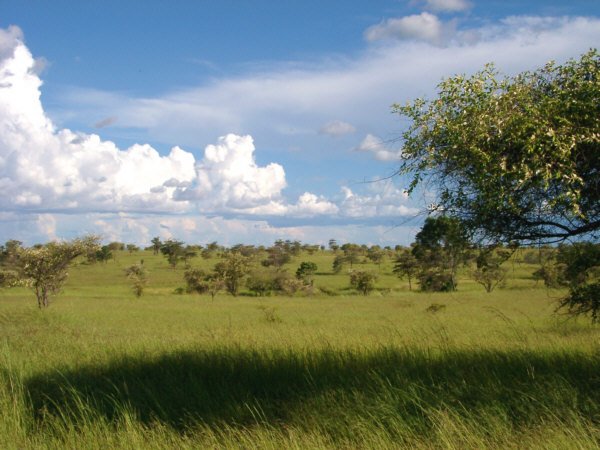 Open Savanna stretches out towards the coast.
Nightfall was now approaching, and I was giving serious consideration to continuing to ride on towards Morondava after dark. I have never once ridden at night while on tour. I was thinking about it this time if for no other reason than it would probably be too hot to fall asleep for several hours. Safety would not have been a big concern, even though I had no form of lights with me. Malagasy people frequently walk and cycle along the roads well after dark, and there were few motorized vehicles that one could not hear approaching while they were still kilometers away. But, as darkness fell, I decided that I simply didn't want to ride any further. I had gone far enough for today, and I didn't really want to ride in the dark and miss seeing the sights of the area. Instead I walked out into the savanna and set up the tent in the tall grass. It was, however, quite some time before it cooled down enough for me to fall asleep. This was my first example of relaxing my schedule to better enjoy myself. There would be much more of that in the near future.

Ambatolahy to near Ankilzato
Distance: 120 km
Weather: Sunny, Maximum Temp: 41 C, variable light winds
Terrain: flat/lightly rolling, then hilly
Roads Traveled: Route National 34 & 35



April 6
The Final Stretch to Morondava
- or -
Get Me to the Ocean!
There were 101 kilometers left for me to travel to Morondava, the ocean, and my first rest break. I had planned two full days for sightseeing here, but, try as I may, I was still a half day behind schedule, and I had to choose between shortening my stay here or potentially missing something else later on. I decided to leave as planned in two days, so my plans in this area would need to be modified. I assumed that I could reach Morondava by midday, and so now my choice was between stopping along the way at the Kirindi forest reserve, and arriving in Morondava in the evening, or trying to visit both the reserve and the Avenue of the Baobabs the next day. I decided to head straight for Morondava because Kirindi's ezact location was not marked well on my map, and I wasn't really sure where the entrance was, not to mention that after six days on the bike I really needed a shower.
So I set out riding at first light to make best time to Morondava. The terrain in this area was still rolling, and the road surface was in good condition, with the exception of a few rough spots as it passed through some of the smaller towns. On the way, I noticed a curious situation. I rolled by a small roadside village consisting of twenty, or so, dwellings. As far as I could tell, the entire population of this little village was busy, smashing rocks together, by the side of a nearby stream, in an apparent effort to make smaller rocks. The resulting plum-sized rocks, which looked white and, perhaps, crystalline, were then tossed into one of several large heaps. I could only think of two possible reasons for this activity, neither of which seemed particularly appealing. Either they were being employed as a cheap labor force to make gravel for construction sites, or they were looking for semi-precious stones. Madagascar is known to contain a wide variety of interesting minerals and this may have been a way for the rural people in the area to trade for other goods.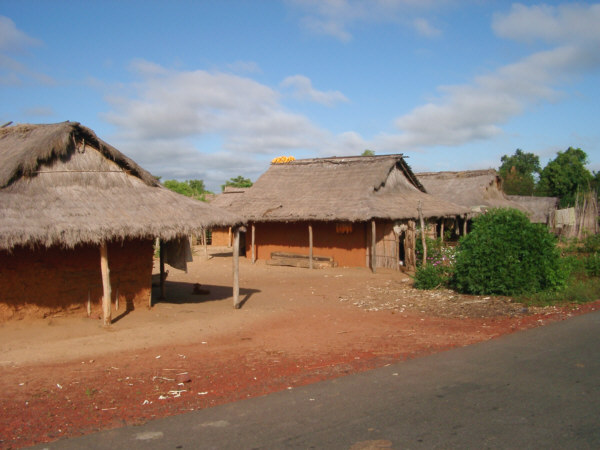 Small villages lined the road to the coast.
About 10 kilometers west of Ankilizato, there were two moderate climbs of about 100-200 meters, They were nothing really significant, except that I had already convinced myself that the entire route would be flat today. So these two bumps surprised me a little and certainly seemed to be in the way. After reaching the crest of this last hill, there was only a gentle slope to the coast, 80 km away. Along the way, the vegetation became increasingly coastal in nature, with more rice paddies and other marshy plants, as well as my first sighting of the region's famous baobab trees. Somewhere along the way, I encountered a group of four Malagasy cyclists riding in the other direction, who appeared to be out for purely recreational purposes. These were the only such riders I saw on the trip, and we stopped to exchange the usual pleasantries. I could tell that they thought it was great to meet a bicyclist from another country in their own backyard. They rode reasonably modern bikes and were dressed in well worn, but serviceable, cycling clothes. One even had a helmet on, the only one besides mine that I saw in the whole country. Later, I stopped for a quick break in Mahabo, which was the only town of any size on the route. I really only wanted a drink and perhaps some fruit or another snack, but the only thing available was a hotely meal of vary. This time there was a jar on the table that contained a red sauce, and I assumed this was the same tasty sauce that came with the meat that always accompanied the rice. So, I spooned some over my blob of rice and took a bite. I immediately discovered that the term "fire alarm" now applied to my bowl. This was perhaps the hottest hot sauce I have ever tasted, and I had spooned on quite a lot of it. Never one to waste food, especially in a place like this, I ate it all down, though my eyes were watering for a long time afterward.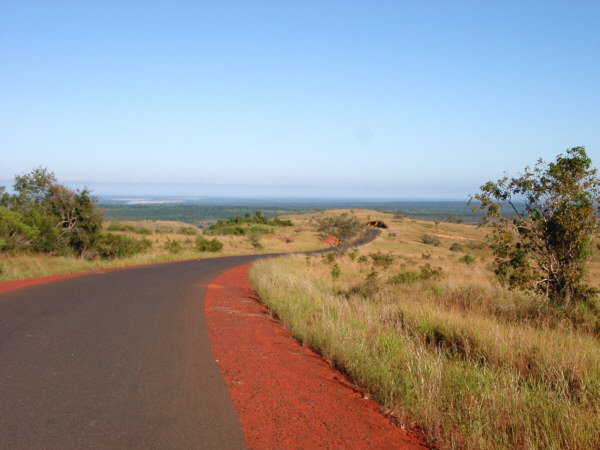 After cresting the final hill, it was a easy, flat stretch to Morondava.
At around noon, I arrived in Morondava. As with most cities in Madagascar, an "unofficial" city exists on the outskirts of town, with markets, shops, somewhat ramshackle homes, and other services, scattered around in a sort of crazy, jumbled-together fashion. The largest crowds of people, bikes, zebu carts and trucks are always found jammed together in these areas. Continuing though to the west, I rode into the central district, where I saw the first "modern" buildings that I had seen since leaving Tana. Modern, in this case, meant possessing amenities like glass windows.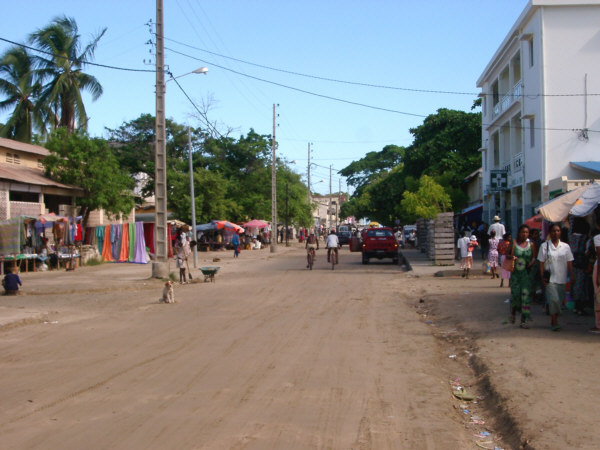 Downtown Morondava was busier than it looks.
The town's hotels are mostly right on the beach, scattered to the south of the terminus of R.N.35. It was a rather sandy walk for a few hundred meters to my quarters for the next two nights Chez Maggie. Here, I checked in to a very nice bungalow right on the beach that was one of the nicest places I stayed during he entire trip. The nightly rate was about $33.00, and there was a nice restaurant, where dinners cost about $8.00. It felt wonderful to clean up, especially since there was a little hot water. In the afternoon, I strolled around the town for a while, soaking in all the "big city" atmosphere.

Ankilzato to Morondava
Distance: 101 km
Weather: Sunny, Maximum Temp: 34 C
Terrain: A few hills, then flat
Roads Traveled: Route National 35



April 7
A Day in Morondava
- or -
Rolling Down the Avenue
After a very restful night's sleep in a comfortable bed, I awoke early and hopped on the bike, which felt nimble and light without its normal load of gear. It was still my intention to visit both the Avenue of the Baobabs and the Kirindi Forest Reserve, and I was told that the baobabs were best seen in the early morning or late evening hours, when long shadows increased their dramatic appearance. The Avenue was easily reached by riding back to the east along R.N.35 for about 12 kilometers, followed by a turn to the north along a dirt road that ran north, eventually reaching the mouth of the Tsiribihina River, 100 kilometers away. The surface was fairly flat and smooth, but soft and wet in several places. However, it was not too difficult to traverse, and the morning air was pleasantly cool, though a little damp. The Avenue of the Baobabs is not an official place, but simply an amazing grove of these unique and stately trees growing for quite a distance alongside this simple country road. The grove began about eight kilometers from the highway and was at its most impressive for another three or four kilometers.
This was one of the world's truly unique places and I consider myself immensely lucky to have seen it in person. The baobabs growing here can't be described adequately with words, and pictures don't do their scale justice. Many were at least three meters wide at the base, and their trunks maintained this girth straight up to their seemingly insufficient canopy of leaves. The pleasure of riding here was only increased by the presence of local Malagasy people walking along the Avenue who lived and farmed in this picturesque setting. These people probably encountered many more vhazaha tourists than most other Malagasy folks, given this attractions prominence on the popular tourist circuit. However, I got the impression that they were pleased to see one traveling here by bike, as they might do themselves.
The famous Avenue of the Baobabs north of Morondava.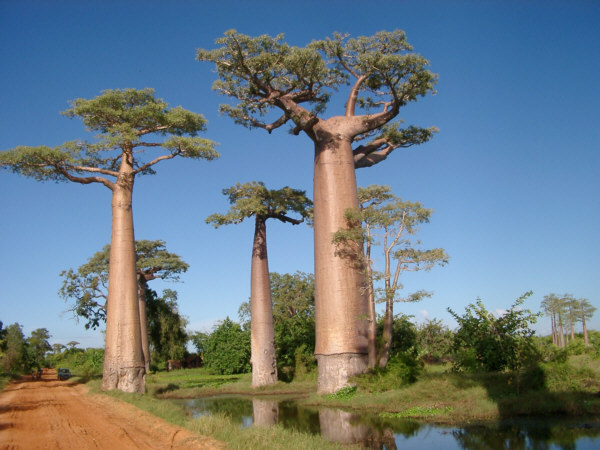 More baobabs along the Avenue.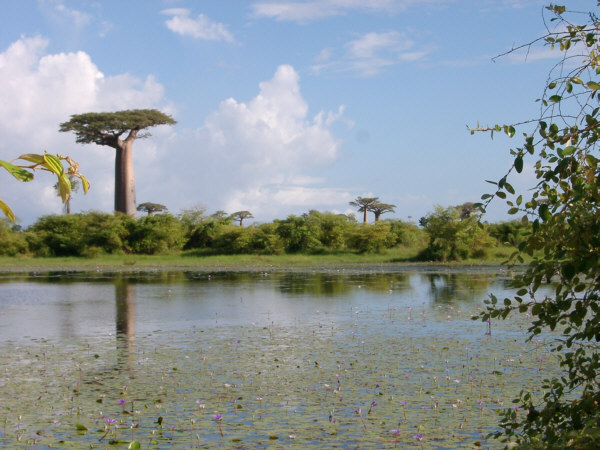 A large baobab stands across a lillypond.
At one point I met a young Norwegion student who was living in Madagascar, and had come to this area for a holiday. She spoke fluent English and it was nice to have a brief conversation with her. I also learned from her Malagasy guides that the Kirindi Reserve was still 30 kilometers away to the north. This was quite a bit farther than I had expected from looking at my map. At that moment, a small rain shower passed over, though it looked much heavier to the north. Given the likelihood of muddy conditions ahead, and the fact that I would not have much time left to enjoy the reserve and still get back to town before dark, I decided that I'd have to skip this visit. Another possibility was the Andranomena National Park, which was only another 10 kilometers north, but I was told that this park was not yet fully developed and there was not much to see there. A little disappointed in missing one of the items on my must-see list, I rode back to Chez Maggie for a relaxing afternoon.
Back in town, I strolled around the crowded market and then found a place to escape from the heat for a while, where I had a shrimp pizza and the first dish of ice cream, one of my usual touring staples, that was available since leaving Tana. In the afternoon I gave the bike a thorough once-over, including the front derailer repair, and then hung out on the beach for a few hours. Later that evening I went out to find dinner, and enjoyed one of the local specialties, chicken with coconut sauce. I felt quite satisfied with my tour so far, and was happy with how I had managed though some very difficult conditions. I suspected that there were more challenges for me in the near future, but I was confident and excited to continue. If I had known then what the next several days would bring I may have been more apprehensive (but just as excited.)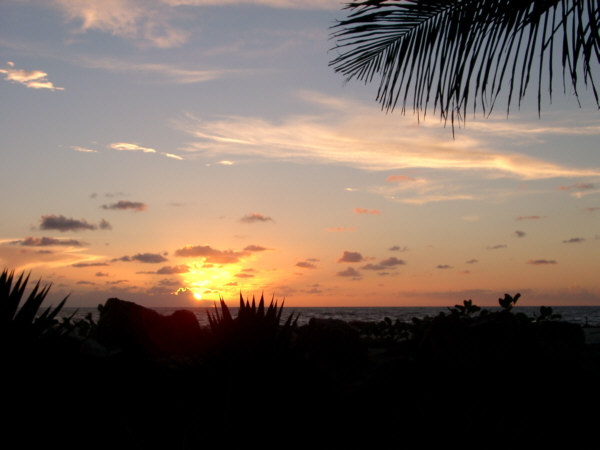 The Sun sets over the Mozambique Channel off Morondava.
Morondava to Avenue of the Baobabs & return
Distance: 44 km
Weather: Sunny with a few scattered morning showers
Terrain: flat
Roads Traveled: Route National 35, Unmarked dirt road
Next: A Change of Plans...
~Go There~