Part Seven:
The Wet Northeast and Maroantsetra
May 15
A Day to Enjoy
- or -
The Gods and Goddesses of Cycling

Smile Down on the Hapless Vhazaha
After my much-needed stay in Tamatave, I felt reasonably rejuvenated and ready to ride again when it came time to leave on Thursday morning. However, following my now well-established pattern, I was unable to get an early start after a rest break. On that occasion it was the weather that slowed things up. I rose early, settled by bill with the Hotel Noor, and just as I was about to depart, a drenching cloudburst opened up. Working under the assumption that it would not last very long, I decided to wait it out before departing. In the interim, I visited the Score supermarket and purchased an extra-filling breakfast, including a liter of tasty ice cream, and some apples to snack on later in the day. At about 9:00 A.M. I had finished my food, the rain had stopped and the roads had dried out enough that I was able to take off.
The way out of town to the north was typically confusing, crowded, and sandy, though not nearly as much as the entrance from the south had been four days earlier. It was not too difficult to find my way along the city streets to the edge of town, and, for once, there was even an occasional sign that pointed the way. This was probably because the route I was using was also the way to the city's airport. As I made my way further into the green countryside, the skies turned to blue once again, and my spirits rose as I began one of my most anticipated sections of the tour.
The road from Tamatave to Maroantsetra, where I planned to make my next long stop, covered 410 kilometers, the first 160 of which would be over an excellent paved road. Had I adhered to the plan I came up with in Fort-Dauphin, and not taken a break in Tamatave, I would have needed to cover that distance in three days. Under good circumstances, that would be well within my capabilities, however, I knew from what meager information I had gather at home, that the condition of unpaved section of that route could not be reasonably described as good. Instead, now that my flight schedule had been changed, I had a, presumably, leisurely six or seven days to make the ride. I hoped to get there in six, or less, if possible so that I could have at least two full days to visit the area around Maroantsetra, one of my top destinations. Therefore, I had the luxury of being able to amble along at a relaxing pace, a situation that I had not been in since the very earliest days of the tour.
As I made my way to the north it did not take me long to realize that the route would give me exactly what I needed at that time, namely, a day and a half of very easy and enjoyable riding conditions. The three days off I took in Tamatave had done me a great deal of good, physically, and that also helped me make excellent progress throughout the day. The road was essentially always flat, the surface smooth, the scenery interesting, and to top it off, most of the time there was a helpful tailwind. Winds had not been a big factor at all on this trip, but at that point I was willing to take any help that I could get. For the first 25 kilometers north of town the road ran inland, a few kilometers from the ocean. At the village of Ambodiatafana, however, it swung over to the shore and followed the beach for quite a ways. It was very enjoyable to ride along and look over at the ocean, not really needing to pay much attention to where I was going.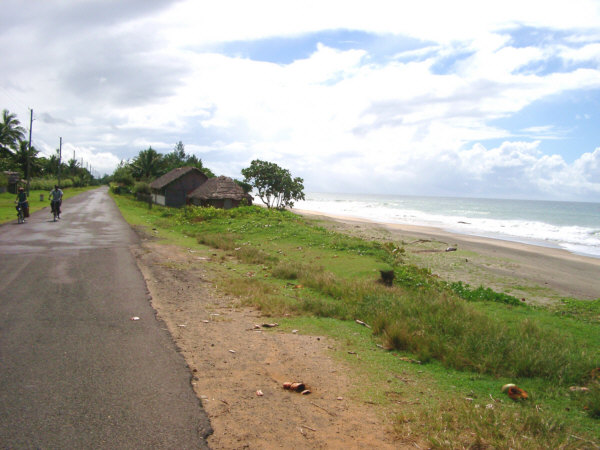 Now and then, the road hugs the Indian Ocean coastline north of Tamatave.
This part of the island seemed more like my standard idea of the tropics than many other places that I had already visited. The foliage was lush, thick, and green, the air was humid, and the sea crashed and foamed nearby. The people that lived in the little villages along the way seemed to fit right into the tropical setting as well, with their casual attire and warm, friendly attitude. Another sign of my geographic position, at about 18 degrees South latitude, was the distinctive aroma that often filed the air. This region was one of the areas on the island where cloves were grown commercially. There are several spices grown in Madagascar, but during my trip cloves were the only one that scented the air with their exotic fragrance. Often I could detect their presence for many kilometers without ever seeing where they were being grown or pocessed. That added a certain exotic feel to my travels for the next few days.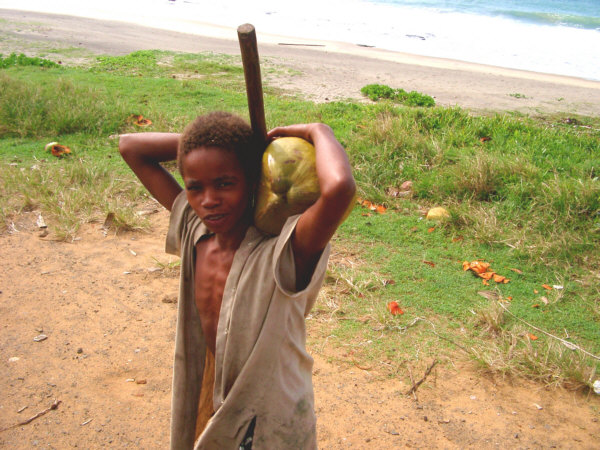 A young boy brings a coconut home.
I had made rapid progress, relative to the rest of the tour at least, and arrived in the town of Mahavelona, 61 kilometers from Tamatave, shortly past noon. This gave me the luxury of taking a somewhat longer rest break than I had been able to do for a while. Even better, the breeze that had been blowing all morning helped to keep the flies at bay, which made it possible for me to sit still for a more than a few minutes. I took a seat at the table outside a nice looking hotely and prepared to fill up with the standard fare. However, I was pleasantly surprised to discover a regional cuisine that would add some much needed variety to my meals for a while.
In keeping with the Asian influence on the east coast of the island, the hotelys in that area frequently serve a dish called Soupe Chinois. I was a little apprehensive about this at first, because the soups served at Chinese restaurants back home are down near the bottom of my list of favorite foods. But I was hungry, and so I ordered a large bowl. I was pleasantly surprised when I was served a big, delicious dish filled with noodles, vegetables, meat, and shrimp, all swimming in a very tasty broth. The flavor was not at all what I expected, but rather tasted like a slightly salty chicken broth. I was getting fairly tired of the standard bowl of vary and meat, and this filling dish made a wonderful change of pace. From now on, I would look for a place that served a variation of this soup during my frequent meal breaks.
After a nice respite, I picked up some water and snacks for later on, and then proceeded north. The ride continued to be just as easy and enjoyable it had been during the morning, and I made rapid progress. Occasionally, I passed a rustic seaside resort, but most of these appeared to be closed down. I couldn't really tell if that was a permanent situation or simply a seasonal closure. Now and then, the road cut inland away from the shore, but when it remained close to the sea there were some amazing views of the nearby. Since I had the luxury of being able to take my time, I tried to plan ahead so that I would be able to spend the night at one of these nice spots. As the afternoon became evening I was rapidly approaching that rather large town of Fenerive-Est, which made it a little challenging to work that out.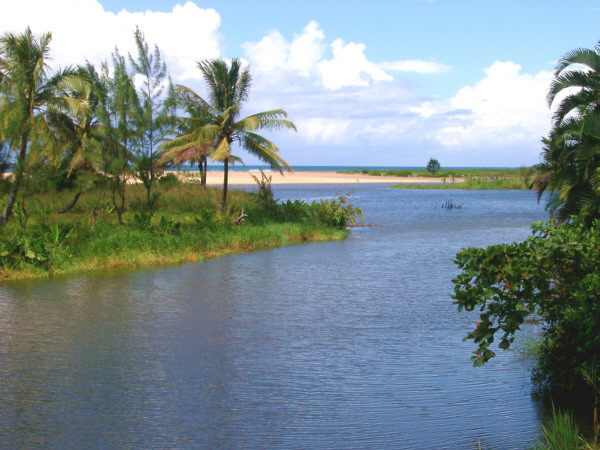 A beautiful lagoon close to the beach.
I could easily have ridden further, past the Fenerive, but since there was no real reason for me to do so, I decided to pull up short and stay to the south of town that night. That would also give me the opportunity to ride there early in the morning and have a more relaxing breakfast. Additionally, I could hear the Indian Ocean calling to me, saying " Come, swim in me!" So, I began scouting for a place to sleep a little earlier than I would normally have done. The problem was that by looking at the map, I could tell that the road would not get close to the coast until it was very close to town. That could have meant that there would be no place with enough privacy for me to both set up my tent, and go for a quick swim.
However, using my best campsite locating skills, I managed to find an excellent spot. When I was still four or five kilometers from town, I saw a small dirt road veering of towards the sea. It was marked by a sign that announced bungalows that had access to the beach. I guessed that they would be closed, as all the others I had seen that say had been. So I turned of, and headed down the sandy lane. Sure enough, after a couple of hundred meters the road passed by the obviously unoccupied cabins. I continued on, and eventually caught sight of the ocean. However, there was a cluster of five traditional homes just there on a low bluff overlooking the beach. What a prime piece of real estate those folks had for their homes!
Not wanting to intrude, I walked on by trying to keep a low profile. The road turned into a narrow path that wound down the hill to the sandy beach. Once I was down there I felt comfortable enough to leave the bike for a few minutes to look for an appropriate place to sleep. After wading across a clear, cool stream I came upon an open, grassy spot just off the beach. I could see that if I continued down the beach, I would soon come upon another settlement. Several pirogues rested on the sand at the edge of the beach, but they appeared so weathered and worn that I assumed that they had been left there untouched for a long time. Thought there were probably a number of local people nearby, there were enough trees to provide good cover on the grassy patch that I decided to set up there. Still, it was probably not as private as I would have liked.
After dragging the bike to my chosen site I quickly set up the tent and stashed all my gear to make myself as invisible as possible. My next item of business was to dash into the ocean for a nice swim. I wanted to be sure and take my first official swim in the Indian Ocean in case I missed the chance later on (the time I spent in the water on the west coast was in the Mozambique Channel, after all.) The water here was quite a bit cooler than my earlier swims and the rough surf tossed me about close to some jagged-looking rocks. Additionally, all the information I had heard up to that point indicated that those waters were infested with sharks (I stayed close to shore, so I wasn't really worried about that.) None of those factors were what caused me to head back to shore after only a few minutes, however. What did that was the special treat that I had for myself back in the tent. Before I left Tamatave, I had made sure to buy another bunch of lychee so I could have them for an evening snack.
Just the thought of that delicious reward sent me scurrying back up to my campsite just as the sun was starting to set. Once I got inside, I pulled out my feast and slowly, but happily, devoured the fruits one by one. As I lay there beneath a tall graceful tree, a flock of bright-green parakeets arrived and landed on its branches. They fluttered about above, busy doing whatever it is that parakeets do with one another, and occasionally their chips and squawks could be heard over the roar of the pounding surf. That was a perfect ending to one of the more relaxing and enjoyable days of the entire tour. At that moment I realized that it is because of times like those that I go touring. There I was, on a beautiful little beach, listening to the crashing waves, eating lychee, and being entertained by my favorite feathered friends, and not a single person in the world knew exactly where I was.

Tamatave to south of Fenerive-Est
Distance: 102 km
Weather: Morning shower, otherwise sunny, occasional tailwind, Maximum Temp: 29 C
Terrain: Flat
Roads Traveled: Route National 5 (excellent pavement)



May 16
Yet Another Discouraging Mishap
- or -
I Zigged When I Should Have Zagged
The sound of waves crashing on the nearby rocks interrupted my slumber well before dawn. As I waited for the Sun to come up, I decided to pack up and depart as early as possible. There was no reason for me to spend any time eating breakfast there, since I was so close to Fenerive-Est. Additionally, I wanted to break camp before the local folks had a chance to stumble upon their uninvited guest. It was still slightly dark when I started getting my things together. As I was doing so, I glanced down toward the beach, and to my surprise, noticed that all of the pirogues that had been lined up ten or twenty meters from where I had been sleeping had disappeared. Apparently, the vessels that I thought were abandoned were not so, and their owners had taken them out during the night. Somehow, several people had carried a number of heavy canoes down to the sea and launched them, and I had not even realized it. As I continued to pack up, I saw a lone woman knee-deep in the ocean gathering something from the tidepools. A lesson learned-- you have to get up pretty early in the morning to rise before the Malagasy.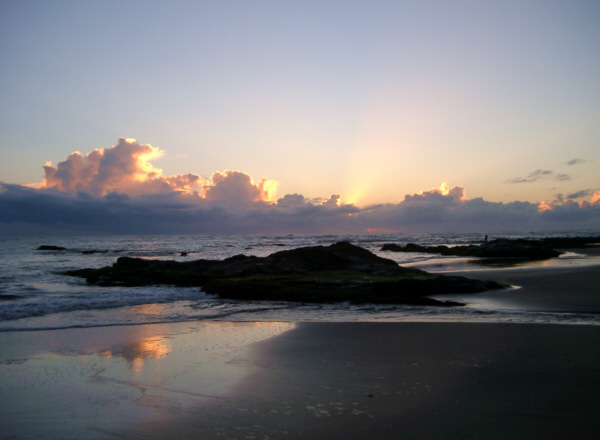 Sunrise at the beach South of Fenerive-Est
After making my way back to the road, it was not long before I arrived in Fenerive-Est. The town was spread out for a fairly long way along the road, but its people were all up and about, and it was not hard to find an open store where I could sit and have my breakfast. I was a little surprised to be able to buy some ice cream there since most towns of that size rarely had such sought-after breakfast foods available. However, due to the good road connection to Tamatave, there were a few such items available for sale. I enjoyed a half-liter container of the frozen dish, some fruit juice, also an uncommon find, and a few other snacks. I took my time, but didn't delay too long as I was really looking forward to another enjoyable ride that morning.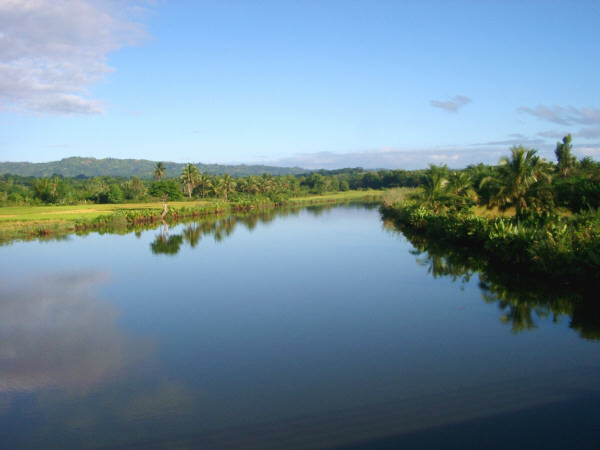 A still river on the east coast reflects the morning sky.
Continuing north on R.N. 5, I would spend most of the morning riding within earshot of the ocean, except for a short section where the roadway swung inland for several kilometers. There were no large towns for the next 60 kilometers or so, but a number of smaller towns and villages dotted the route. However, since I had a large breakfast and was carrying plenty of water for the cool morning, I did not stop in any of those places. There were plenty of great photo opportunities, though, like the small schoolyard where I stopped to take a picture of the kids playing. As usual, as soon as one of them spotted me, the entire class ran over to the roadside to get a closer look. I felt a little guilty for causing such a disruption, but the adults in the yard seemed to think it was funny. If the truth be told so did I, and the thought of that event caused me to laugh almost constantly for the rest of the day.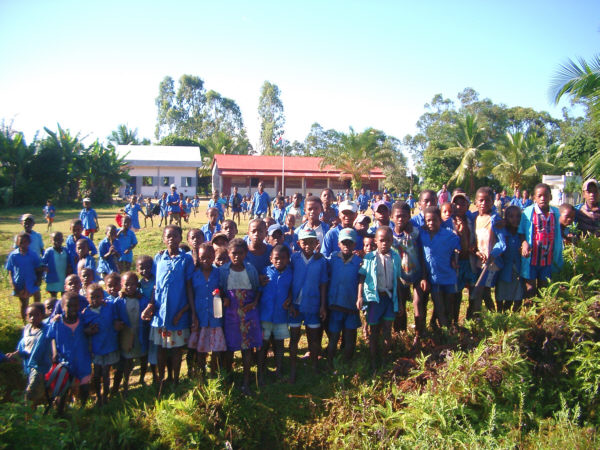 A group of schoolkids flock to see the strange vhazaha pass by.
The riding conditions during the morning were just as spectacular as they had been during the previous day. The skies were clear, the temperature was perfect, and most importantly, the road was still in excellent condition. The terrain was still easy, though the road occasionally rolled up and down some gently hills. I also enjoyed the pretty green foliage of the area, which seemed to lack the level of clearing that areas to the south had shown. And, best of all, there were numerous spectacular views of the coastline to be had along the way.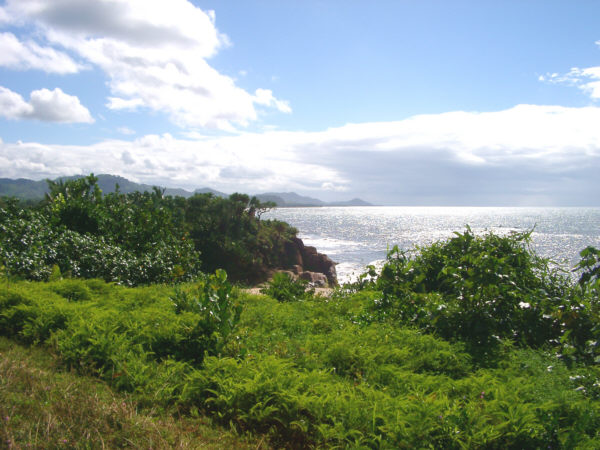 A beautiful coastal scene south of Soanierana Ivongo.
Consequently, it didn't take very long for me to reach my planned rest stop at the town of Soanierana Ivongo. The town was located right on the coast at the mouth of the Marimbona River and was fairly large, but contained fewer shops than Fenerive-Est had. Nevertheless, it was a nice place to have a relaxing break. My first stop was at a local hotely where I devoured another tasty bowl of soup chinois. There was a Tiko store in the same building and there I powered down some drinks and stocked up with supplies for the evening. It was still fairly early and it felt a little odd to have so much free time in the middle of the day. My normal touring routine usually includes taking a long, three- to five-hour rest at midday, but due to the rough, slow conditions and short days I had experienced so far on the tour, I had rarely been able to do so. Instead I usually had to ride almost constantly though the daylight hours to make any significant progress. This change of pace was quite welcome, though I almost felt at a loss for what to do.
That was not really too much of a problem, as a short nap was always a good choice. Even more so that day as a quick rain shower suddenly poured from the sky. To stay dry, I scrambled up onto the covered cement porch of the large civic building at the center of town. Stretching out on the cool cement and listening to the falling rain felt very relaxing and I was content to simply lay there for an hour or so. Later, after the rain had stopped and it had dried out a little, I thought I would switch locations and check out the local beach. To get there I had to walk through a cluster of traditional homes, dodging chickens and small dogs. The beach at Soanierana Ivongo was small and not particularly attractive, but I plopped myself down on the sand to continue my nap for a while. With the Sun out again, it was not very long, however, before the flies came out to pester me once more. As usual, they prohibited me from relaxing for very long.
Since I couldn't sit still, but had some time left before I really needed to get going again, I wandered around the town for a little while. The market, located on the west side on the road was a little sparse-looking at that time, and I was disappointed that I couldn't find any more lychee there. Next I stopped in the local ANGAP (National Parks Bureau) office to see if they had any information on a nearby park. On the slight chance that I would be able to make rapid progress along the dirt road to the north, I thought that I might be able to make a quick detour and visit Mananara National Park, which was on the eastern slopes of the mountains and 130 kilometers to the north. From what I learned in the office, that didn't seem too likely as I would have to ride inland for 30 kilometers and then hire river guide to take me to the park. Still, I kept the option open, just in case, as the park was supposed to be very isolated, authentic, and interesting. Finally, I wandered into a dry goods store, where I picked up another snack and spent some time looking at the eclectic selection of merchandise that they had available.
Eventually, it was time to depart for the evening's ride. I was fully rested and anxious to discover exactly what the conditions would be like on the next off-road section of the tour. It was only a moment before I learned what the defining obstacle of this part of the tour would be. Each of the rough sections of the trip had its particular impediment that stood out above all the others. For the section west of Tana it was isolation; on the way to Toliara, mud; and from Toliara to Fort-Dauphin the killer was sand. Here, between Soanierana Ivongo and Maroantsetra, river crossings and plank bridges would slow travel more than anything else. There were at least eleven ferries, using pirogues, and an almost uncountable number of rickety plank bridges to cross over the next few days. I'll return to the bridges later on, as the immediate encumbrance upon leaving Soanierana Ivongo was the first of many ferries. I knew in advance, from my readings back home, that I would encounter these obstacles in this area, but I really had no idea weather they would be similar to the few that I used in the west, or something more elaborate.
The ferries along R.N. 5 typically operated in the same manner along the east coast as others on the island. One or two large pirogues, without outriggers, traversed the local watercourses back and forth throughout the day whenever someone needed to cross. Usually, they were surprisingly busy, and occasionally I needed to wait my turn to go across. They would take a single person if needed, but that rarely was the case, as, since the local people had no other way to get from place to place, the boats were often filled to, or above, capacity. Once the passengers were safely delivered to the other side, the ferrymen would ask for the equivalent of a dollar or two, which seemed quite reasonable to me. Fortunately, I didn't need to feel uncomfortable about taking my bike across with me, as there were often one or two others on board as well. Loading that much cargo off and on at the slippery riverbanks did get to be a bit of a chore sometimes, especially on one occasion where a few of us passengers helped a fellow put his motorcycle on board. There were sometimes also larger ferries available, which were capable of taking large vehicles across. Those were essentially two big pontoons holding a wooden platform. They often looked a little too sinkable to me, and I wondered why anyone would try such a thing. Bicycles were clearly the best choice to travel along the road ahead. Occasionally, a car, or the taxi brousse, would come along, and have to wait for a very long time to cross while those of us traveling on foot or bikes would already be on our way. In this particular case, the first crossing began only a few meters from the edge of town across the wide Marimbona River.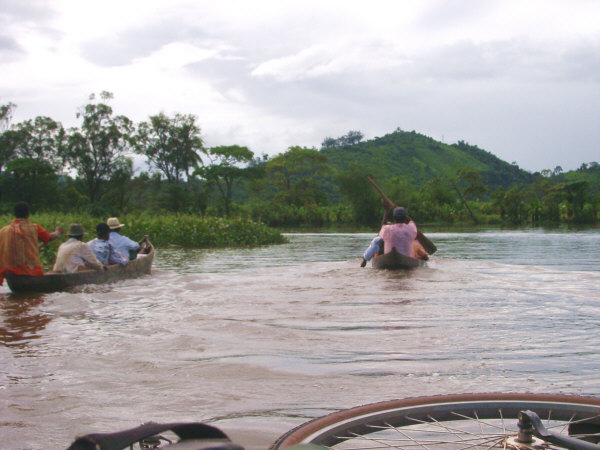 The first river crossing at Soanierana Ivongo.
Though the numerous ferries on this section of the trip undoubtedly slowed me down considerably, I rather enjoyed the experience most of the time. It was very peaceful and quiet on the rivers, and there was always something interesting to see. Usually, the road crossed not far from the ocean and I could look out at the breaking surf over spits of white sand. To the west, I was often treated to a nice view of the green hills that crowded up fairly close to the coast in that area. This certainly was not the sort of thing that I ever needed to do much, if at all, on any of my previous tours and it created a feeling of distinctiveness to this trip. The main drawback was that my feet never ceased being wet and sandy from constantly jumping in and out of boats.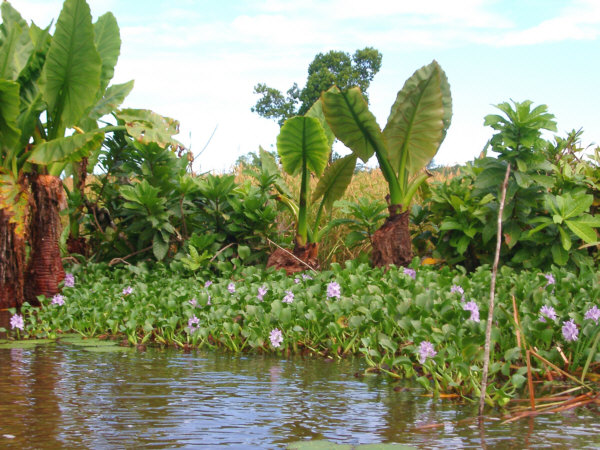 Pretty tropical foliage along the riverbank.
Not far after the first ferry, there was a second that needed to be used. Apparently the first had set me down on an island, and now I would have to cross again to get back to the mainland. After completing the that trip I hoped that the road would be dry and hard for a while, however, Madagascar, not wanting me to get too accustomed to smooth paved roads, chose to throw up another stretch of sticky mud. I could see people walking slowly through it for quite a ways ahead and it was equally slow for me to walk, or try and ride, frequently stopping to pick the accumulated mud off the bike. Someone had dug a ditch alongside the road in order to dry it out, but it didn't seem to be doing much good.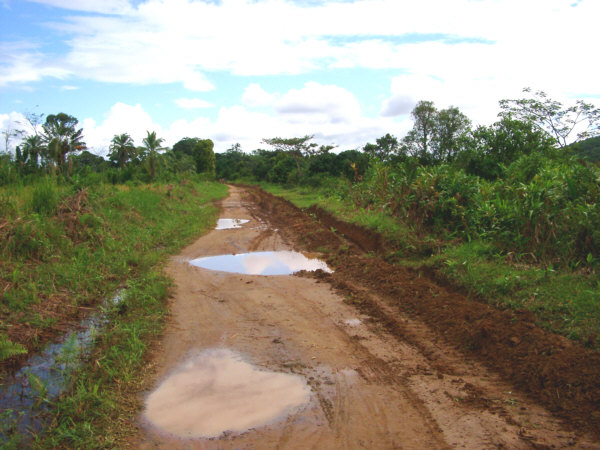 As soon as the pavement ends, the mud returns.
Eventually, I cleared that hindrance and came to a place where the road ran right along the beach, only a few tens of meters from the ocean. Not surprisingly, the surface there was sand. Fortunately, though there were occasional patches that required me to walk, the sand in this area was reasonably easy to ride over. The sand grains in this region, and onward toward the north, were coarse and this allowed the sand to both drain moisture through quickly, and pack down fairly hard. So even when it was deep, I was usually still able to ride. If the sand in that area had been as soft as what I had encountered in the southwest I probably would have had to abandon my attempt to ride to Maroantsetra. As it was, though the dirt road so far had already been generally of poor quality, I was making slow progress. So that, at least, made me feel cautiously optimistic.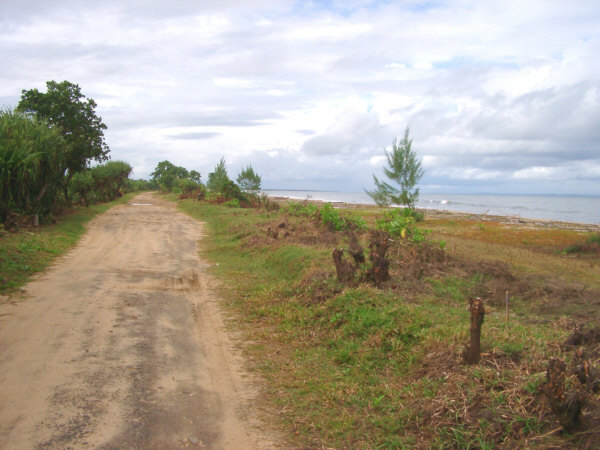 The sandy roads in the northeast were much easier to ride over.
Before much longer the surface hardened up a little more and I was able to pick up speed. I was not sure just how long that would last, however, as according to the map I was about to cross a triangular-shaped peninsula that reached out as if to touch the Isle Sainte Marie. That island was one of the main tourist centers of the country, but I did not have mush desire to go there, preferring instead to continue visiting the more out of the way, authentic places on the east coast. My concerns at that point were that the map indicated that the peninsula I was about to cross would be marshy, and that could mean trouble. As it turned out, it was trouble, but not because I had to ride too slowly, but rather because I could go too fast.
The terrain on the peninsula was as flat as a board, and the surrounding plant life was not similar to that found in the surrounding area, but looked a little like a scrubby desert. That didn't stop large, deep puddles of water from forming across the road or the local people from creating an occasional rice paddy.
However, when it was dry the surface of the road was hard, and I could move along at a relatively brisk pace. As usual, in those types of conditions it was a bit of a tough decision to decide whether to go around each puddle on the right or the left side, as there was often not much room on either edge. As before, I used the tracks left by previous cyclists to help me choose. It was crossing this region that I thought to myself how amazing it was that after passing by literally hundreds of these muddy pools over the last several weeks, I had somehow managed to avoid falling in to any of them. You can probably imagine where this story is going.
Not more than twenty minutes later I approached a particularly large puddle and chose to go around it on the left, riding up onto a 60-cm high wall of dirt at the edge of the road. Such features were common in the muddy areas as the roadways were gradually worn down into the land surface. Previous travelers often had created a path around the water up at the edge of the bush. I occasionally needed to walk along these paths, especially if they contained rocks of bushes, but I tried to ride along them as much as possible so as not to slow myself down too much. That is what I did on that occasion, which turned out to be a fateful decision. As I rode up onto the narrow, dirt bulwark I had only a second or two to notice the substantial crown on its top surface that caused my momentum to carry me of towards the left. That would not normally have been a big problem, however, on that occasion, the area to the left of the road was under water as well. It was apparently an abandoned rice paddy. There was only an instant to think, "Yikes, this is not going to be fun!" before I made the big splash. The water was 30-40 centimeters deep, enough to submerge the entire left side of myself, the bike and my gear.
My actions in response to that mishap were wrong in every respect possible. The first thing I did, of course, was jump up an look around in all directions to make sure that no one else had witnessed that ridiculous occurrence. Satisfied that my secret was safe, I jumped back on the bike, and in the best "get back up on the horse" spirit, rode off as fast as I could. What I shouldhave done was take a few minutes to examine all my gear and check for any water damage. Instead, I continued on, not stopping for another fifteen or twenty minutes. At that time, I came upon a tiny roadside stand in a little village that had some drinks available. I stopped to have one, and put on a dry shirt. Then suddenly I remembered that all my valuables were in my handlebar bag that had just received a thorough dunking not long ago. To my dismay, my beloved digital camera was sitting in a pool of water that had found a way into its case. When I took it out, it did not look happy. The lens way partially extended, various LED's were flashing off and on at random, and there was a peculiar and ominous buzzing noise. I did my best to dry it off, but my worst fear were realized when I put the battery back in and the camera remained lifeless. This was a major blow to my state of mind. I was supremely interested in documenting the tour with a lot of nice photographs. To make matters worse, I was approaching one of the most photogenic parts of the island.
That incident troubled me a great deal as I rode on into the evening. I had felt that things had finally gotten back on track after the great rides I had during the previous day and a half. For that reason, when I passed the tattered remains of an abandoned hut on the roadside, I sopped there to stretch out for a while, and try once more to resuscitate my dead gadget. Of course that was fruitless, and because of that, I did not feel much like riding for the rest of the evening. I only proceeded as far as was necessary to locate a good spot to set up for the night. There was an increased amount of water in the local area at that point, and it was a few kilometers, not far from the tiny village of Ambodimango, before I found a place that was dry enough and accessible from the road. The bushes in the area were still scrubby and widely spaced, so it was not too difficult to find a flat spot with reasonable cover. I did not get to sleep very easily, however, as I tossed about trying to figure out a way to overcome my latest mishap.

Fenerive-Est to Ambodimango
Distance: 88 km
Weather: Sunny, Maximum Temp: 27 C
Terrain: Flat
Roads Traveled: Route National 5 (excellent pavement, then wet dirt)



May 17
Slowly Continuing North
- or -
There is a Reason That They Call It a Rainforest
In the morning I made another futile attempt to see if the camera would wake up once more. As I expected, there was no response when I put the battery back in and turned it on. So, I packed it carefully in my bags and did my best to forget about it for the time being. The next large town on the route was Mananara, 114 kilometers to the north, and I hoped that I would be able to solve the problem, one way or another, when I arrived there. However, I was not really able to forget about that issue and I continued to fuss about it to myself all during the day. The weather was mostly cloudy and rainy, and the fact that I would not have taken many pictures in any case was only slightly helpful. Of course, I was on the island to ride, see new things, and meet new people, not just to take pictures, so after packing my gear up at sunrise, I set out again.
The road was still wet for several kilometers, but this time I kept control of myself and did not go for any more unplanned swims. After a while the surface hardened up enough that I could move a little bit faster. Naturally, not long after that I reached the first of four ferries that I would need to use during the day, which slowed me down for a moment. The generally slow progress that I made throughout the morning led me to choose an early break when I arrived in Manompana, only 20 kilometers, or so, from my starting point. There were not many towns along the day's route, and I thought it would be a good idea to get some food there just in case the conditions degraded later on. It was probably fortunate that I made that decision, for after I had been resting for about an hour, a drenching cloudburst opened up. Happy to not be out on some muddy trail at that time, I continued to relax under the canopy of the local Tiko store to wait out the rain.
Once things had dried out I continued on, pleased to verify that the rainwater had drained though the porous sand of the area quite well, making the riding conditions at least tolerable. The road in this section showed a wide variety of conditions, from a wide and fairly smooth lane, to a sandy open space whenever it passed through a village, to a narrow and bumpy cart path, or, in certain places, a 15-cm wide singletrack. The latter often appeared when the road passed though a grassy field, sunken down several centimeters into the soil with a sharp face made from tightly bunched grass on either side. This, as well as the various other types of surfaces, required a great deal of skill to navigate my heavy bike without crashing. It seemed rather humorous to me that this almost non-existent road was given the designation of Route National 5.
For the next 37 kilometers, the road closely followed the shoreline, but as the day was still gray and damp, the views of the ocean were largely obscured. The terrain was fairly level, with only an occasional slight hill, which was also fortunate, given the wet conditions. I didn't really mind the dampness on that day, as it rarely rained very hard, and after all, I was supposed to be in the rainforest. In reality, there were only a few places where I passed through any dense forest, but the vegetation of the area was appealing nonetheless.
There were two more rivers that needed to be crossed by ferry during the morning, and I decided at that point to give up on any attempts to keep my feet and shoes dry when boarding and exiting the boats. It certainly saved me a lot of trouble, and after a while I became used to my feet being wet all of the time. The effect that this had on my shoes was probably more critical, as it hastened their progressive deterioration. Travel over this section was slow, but not prohibitively so, and by mid-afternoon, I was approaching the tiny town of Antanambe. Had I not decided to sit out the morning rain shower, I would have been there much earlier, though as it turned out that wouldn't have made much difference for my overall schedule.
As I neared Antanambe a drizzly rain started to fall again. It was just heavy enough that I chose to throw my rain jacket on, but not so much that I would have needed to stop riding. Nevertheless, when I entered the town, I was quite ready to have something to eat, and sit under some dry cover for a while. There was not much in Antanambe beyond a cluster of dwellings and a couple of hotelys. That was enough for me, however, and I sat inside one of them and listened to the dripping rain while I enjoyed another big bowl of hot soup. I was not in a big rush to get going again, as I didn't expect to get much farther before dark. After a while the rain stopped again, and I made another ridiculous attempt to fix my camera. Across the street, there was a big iron kettle over an open fire where the soup was being cooked. I tried in vain to dry out the inside of the camera by setting it where it could be gently warmed by the heat of the fire. I could see condensation forming on the lens due to its temperature rise, but, once again, there was no positive effect on the sick device.
By about 3:30 P.M., I felt that I had waited long enough, and since the rain was still holding off I set out to get a little bit farther along and find a campsite for the night. A few kilometers from the town, I reached the last river ferry for the day. With the cloudy skies and setting Sun, the area down by the river seemed a little gloomy, but the ferry operators were still taking folks across. On the opposite bank was the village of Vahibe, and I planned on continuing north just far enough to clear its influence. As it turned out, that would be easier said than done. Immediately past the village, R.N. 5 began a steep climb, and the road surface filled up with large rocks. I could ride over some sections, but needed to walk over others. However, since it was almost dark, and I was only looking for a place to sleep, I spent most of the time on foot. The bigger problem was that, as usual in hilly areas, it was close to impossible to find a piece of flat ground on which to set up the tent.
It seemed like a few kilometers had passed before I finally discovered a potential site. I had reached what I thought was the crest of the hill, and noticed what looked like a trail that had been pushed through the bushes in the direction of the sea. I walked down the path for a few meters, struggling through the web of plant life, and came upon a little clearing that was flat and protected enough to make a reasonable place to sleep. Later, I noticed that there was a tiny plot of rice right next to the clearing on the other side of some thick bushes. Apparently, I was using a cleared patch that the rice farmers occasionally used to rest while they tended their field. There didn't seem to be anyone around, and since it was essentially dark, I assumed that I'd be alright there for the night. I was at least 50 meters above the sea, and a few meters to the east, the hill fell off sharply down to a beach below. That was just close enough for the ocean surf to provide a relaxing background to help me get to sleep. However, at least twice during the evening, I was stirred by the lights and sounds of a truck, or some other vehicle tortuously inching along the road several meters from my spot. Why anyone would want to drive an automobile over that horrible road, and at night, no less, was completely beyond me.
Ambodimango to North of Vahibe
Distance: 67 km
Weather: Cloudy, with showers: 21 C
Terrain: Flat
Roads Traveled: Route National 5 (tolerable dirt)
May 18
Exceedingly Slowly Continuing North
- or -
I Thought That the Worst Was Over
The extreme beauty of that night's campsite was not apparent to me until I stepped out into the morning light. I was atop one of several steep-sided green hills that abutted the shoreline. The ocean below was a particularly vibrant shade of blue, highlighted by the bright white foam of some rather intense surf. If I had walked ten meters toward the beach, I would have dropped of the edge of a cliff, though the thick foliage would have prevented me from falling very far. Fortunately, I had know enough not to wander around in the dark the night before. This was one of the most picturesque spots that I have ever camped while on tour and the fact that I was not able to capture an image of the scene was very frustrating. My goal for the day was to travel the 37 kilometers remaining to Mananara by midday, where I would try to repair the camera one last time, or, if unsuccessful, locate a replacement. There seemed to be plenty of time left to reach Maraontsetra, so I was willing to spend as much time as needed in Mananara to accomplish that task.
I didn't realize at the time just how difficult that day's travels would be. I assumed that I was at the top of a single pass of a headland, and that I would soon drop down to the shore again and continue along flat or slightly rolling terrain, as had been the case for the last few days. I couldn't have been more wrong, as there were at least another 23 kilometers, filled with some of the most treacherous hills that I have ever seen, before things settled down again. The grades were intense, and the surface was a mixture of slippery clay studded with giant boulders and jagged crystalline rocks. The road was two or three meters wide most of the time, but the rainy climate had eroded deep gullies along its length. Riding was only possible over some very short sections, so most of the time I struggled to push the heavy bike up and down the seemingly endless slopes. Going downhill was usually more difficult than climbing. Needless to say, I was not progressing rapidly at all.
There were no towns along the way, only a few tiny villages with no supplies. Fortunately, the weather was relatively cool and pleasant, and there was enough shade from the large trees growing along the road, that I did not have to worry about running out of water. I certainly would have appreciated a store so I could get some drinks and snacks had there been one in the area, however. My only refreshment along the way came from a completely surprising source. As I was walking along a slightly flat part of the road, thinking about trying to ride again, I encountered a young boy on a bike traveling in the opposite direction. He had a large box strapped to his bike behind the saddle, and I noted that which we had in common as we passed each other. Then he shouted something to me, and after a moment I realized that he was carrying a bunch of cups of yogurt in his box. I bought a couple and gulped them down. This tasty, and unexpected, treat was quite refreshing.
To be sure, the conditions that day were exhausting, but I did manage to notice that I was in one of the most beautiful areas of the trip, in spite of the hardships. The hillsides were covered with odd tropical plants and the air was quiet except for the rustles of the breezes and the sounds of the creatures in the trees. Now and then, a nice vista would present itself and I could see down to the ocean, enticing me to continue on. In one particularly spectacular place, a mighty waterfall crashed down an angled slope towards the beach below. Once again, I was forced to try and commit the scene to memory, thanks to my blunder with the camera. I wondered how many other impressive sights I would loose in the days to come.
It would have been nice to see some lemurs in this rather remote area, but there did not appear to be any around. However, numerous little creatures, such as brightly colored butterflies, small, but personable, lizards, and one especially amazing tiger beetle, provided some nice distractions during the arduous journey. I encountered the latter as I was actually riding for a short while over a relatively smooth section. Words can not quite do the little fellow justice. All of a sudden, a buzzing, translucent, blue spheroid appeared from behind my right shoulder. It looked like something that might have just arrived from some far-distant planet. When it momentarily set itself down on my handlebar, I could see that it was a beetle about 3 centimeters long. Its long antennae, wing cases, and wing tips were colored a shiny iridescent blue. When it took off again, a couple of seconds later, the rapid motion of its blue-tipped wings, which nearly touched the tips of the antennae as they beat, blurred into the 8-centimeter wide translucent ball to form once again. I wanted to look at this cool creature some more, but it buzzed off into the trees, leaving me to struggle along alone. The astonishment I felt at seeing that beautiful coleopter made it seem easier to continue, at least for a while.
That was a small comfort, though. It was already past noon, and it seemed like I had not traveled very far at all. Realistically, looking at the map, I knew that eventually the road would emerge from those rugged hills, and return to the tolerable conditions along the coast. Looking around at the surrounding countryside made me feel a little unsure about that, however. The rocks were not getting any smaller, nor the slopes any less steep, and I slid and tumbled my way up and down numerous treacherous grades. During my rest in Tamatave, and through the easy days that followed, the infections on my legs had began to dry out and heal. After wading into many rivers again at the river crossings, that situation had unfortunately reversed itself, and the resurgence of those wounds was only made worse by the frequent beatings that my body was being given by the rocky roadway. On the bright side, I could tell that the strength I had lost during the no-food crisis prior to Tamatave had fully returened to my legs as I pulled myself and my load up each rocky climb.
Eventually, at long last, I returned to level ground near the small town of Imorona. The section of R.N.5 between Vahibe and Imorona contained, by far, the most difficult conditions that I had to traverse during the entire tour. The road between Toliara and Fort-Dauphin probably earned the top spot for difficulty, but only due to its length. But for sheer physical hardship per kilometer, that portion of R.N. 5 won hands down. In spite of the fact that I was dirty, hungry, and beat-up, I tried to take advantage of the improved conditions to push on to Mananara. For the next 15 kilometers, or so, the road would usually be flat, with a reasonably hard and smooth surface. There were a few small hills that caused me to dismount and walk, but they were tiny blips compared to those in the morning. The increased numbers of local people walking and bicycling along made me feel sure that I would not have too much more trouble getting to town.
That proved to be correct, and, finally, I entered Mananara at about 2:30 P.M., after traveling only 37 kilometers since dawn. Mananara is a medium-sized town, which seems to benefit significantly from being a port on the local sea trade route along the northeast coast. There are several commercial buildings along the two main streets, and that made me feel somewhat optimistic that I might be able to solve my camera situation. First, though, I needed food, and sat down at a table on the porch of a hotely/store and powered down some drinks and snacks while I waited for another big bowl of soup to arrive. After finishing the meal, I took advantage of a solid table to try one final bit of surgery to revive the dead camera. Using a homemade miniature screwdriver formed by holding a snipped piece of spring steel in my locking pliers, I was eventually able to remove all of the tiny screws that held the camera together. I naively hoped that a considerable amount of water would dribble out and, after I let the open case dry out for a while, everything would work again. Of course, that was just foolish dreaming, as the water had completely fried the circuits of the camera, and it was now officially dead in my mind.
Moving on to Plan B, I asked the girls at the hotely if there was a place in town that sold cameras. I was pleasantly surprised when they answered, "Oui, Kodak et Fuji". That made me feel a lot better, and I took off to find the two stores. Of course, it was Sunday, so I didn't really expect that they would be open. Sure enough, both stores were closed up tight, which meant that there would be no more riding for me that day. I didn't really mind that situation, since I was already completely exhausted and, since I still had two days left to reach Maroantsetra, another hour or two of riding that day would not have made much of a difference.
I only needed to figure out where to spend the night at that point. There was nothing that looked too exciting in town, so I decided to ride back in the direction that I came to locate a, hopefully, isolated campsite. First, since there was still some daylight left, I returned to the hotely where I had eaten lunch. They had just fired up their grill for the evening, and in short order I topped off my appetite with a large number of zebu brochettes. At that moment, they really hit the spot.
As darkness approached, I set out to the south to find a place to sleep. It seemed to take me quite a long way to reach a reasonably isolated area, much longer than I remembered it seeming when I entered the town initially. Of course, I hadn't been paying very close attention earlier. After a while, I set up behind some trees that lined a rice field. It was not as private a place as I would have liked, but it was almost dark, so I had to settle for that. Later, as I tried to fall asleep, I heard the sound of a generator start up in the distance, right at 7:00 P.M., There were homes scattered all along the road and someone in one of them was using the power to play recorded music to entertain the people living in the area. I could hear the sounds until exactly ten o'clock, when the generator was turned off. The local folks had obviously been enjoying their three hours of daily electricity.

Vahibe to Mananara
Distance: 37 km
Weather: Mostly Sunny, Maximum Temp: 24 C
Terrain: Extremely Rugged Hills
Roads Traveled: Route National 5 (Almost impassable dirt with many rocks)



May 19
A Modest Improvement
- or -
At Least I'm Able to Shoot Again
Morning found me rising early, as usual, so as not no be discovered in my somewhat inappropriate location. I had quite a bit of time to kill, since neither of the camera shops would be open until nine o'clock. Therefore, I took my time rolling back into town, and once there, leisurely gathered up some food for breakfast. There were already a couple of stores open, where I obtained drinks and some other items. A little more appealing were the vendors who had just started selling fresh bread. The Malagasy make tasty bread, usually in the form of baguettes, which, I suppose, is a legacy of the colonial period, and they filled me up quite nicely on that occasion. I spent most of the next couple of hours just watching the town's people walk by.
As soon as the shops began to open, I went off to attend to my business. I tried the Kodak store first, but they only had film and developing service, no new cameras. Fortunately, the other shop had several to choose from, though none were especially exciting. They were all basic 35mm film cameras, and the prices were rather shocking. I settled on an Olympus that cost somewhere around $160.00, much, much more than I 'm sure it would have back home. I wasn't really surprised, since I was essentially out in the hinterlands of the GloMart Economy, and the shop probably sold only a few cameras each year. I also picked up five rolls of film, and the shopkeeper, asked me if I wanted Fuji film from Japan, or Fuji film from Saudi Arabia, which was half the cost. I chose the Arabian film, since the camera had already left my wallet a little empty. That may have been a mistake, since when I developed the images back at home, I was quite disappointed in their quality. I must say, that after having made the switch to digital in 01997, using a film camera again felt a bit like writing using stencils on clay tablets. In subsequent days, I decided against taking many picture that I otherwise would have, because I was afraid that they "wouldn't turn out". Nevertheless, it was better than nothing, and I was relived that I would be able to get at least a few images from the scenic areas that lay ahead.
Before I left town, I needed to exchange some dollars for francs to make up for the dent in my budget due to this latest purchase. I didn't feel too bad about the extra expense, for not counting the new camera or the domestic Air Mad flights, I was managing to stay well under my expected budget. With those two, rather large, items, I was coming in just about even with my predictions. There was only one bank in town, and it was a Bank of Africa. In contrast to my experience in Toliara, this branch of BoA didn't seem to mind exchanging $100 bills, much to my surprise. Finally, after accomplishing all of that, I was ready to continue north once again. Though, another late start at 10:30 A.M. meant that the rest of the day would need to be a little less relaxing.
The first of the day's river crossings was right at the edge of town across the Mananara River. It took me a little while to figure out the details of that particular crossing which began right in the middle of the port. There was a rather large boat there that was taking on passengers, and I almost mistakenly got on board. It turned out to be one of the coastal cargo ships, and had I gone aboard, I surely would have missed much of the area I was looking forward to riding through. Instead the river ferry was further down, the road, but to get there I had to wade across the entrance to the port first. If there was another way to get there, it was not apparent to me. Once on the other side, I soon found the pirogues that were taking folks across the wide river. The ride for the day then started, after I sloshed up onto the opposite shore.
Happy to be moving again, I moved along fairly quickly though the area just north of town. The terrain was mostly flat once again, and the surface of R.N. 5 had returned, for the time being, to its typical state of varying widths of sandy dirt. That made the riding a little challenging in places, but compared to the previous day, I was simply thrilled to be able to ride at all. After about 15 kilometers, I reached the second river crossing of the day, and had the luxury of being taken across in a motorized boast called the Bonne Chance. Actually, I preferred the quiet of the human-powered pirogues, but one can't be choosy in such places. After I lifted the heavy bike out and on to the sandy shore, I noticed a rather unusual situation when I paid the boatman. There were normally several people aboard the boats at each crossing, but often I was the only person to pay for the trip. Perhaps the others were part of the boatman's family, or simply good friends. More likely, I decided, was that there was an understanding that if you could afford to pay, you did. If you could not, then you were taken across anyway. That felt right to me somehow, and I never minded paying my way, since I could certainly afford it, and since the boatmen always helped me lug the bike around without me asking. It was sometimes difficult to have the necessary small denomination bills available for the fare, however, and one or two fellows received a big tip when I didn't feel like dealing with finding change.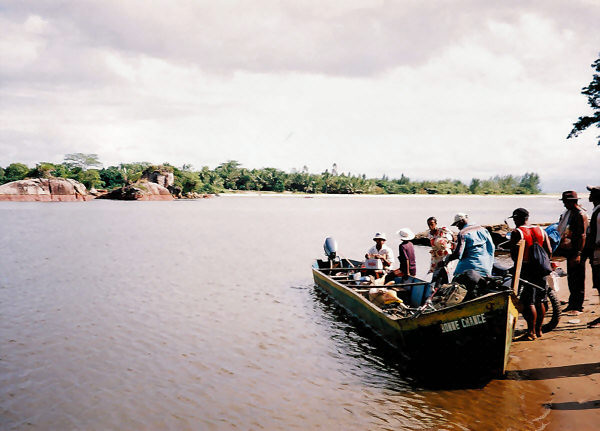 Waiting to cross aboard the Bonne Chance
The day was quite pleasant with a little breeze, bright sun, and, compared to the previous two, was a little warmer. The countryside was also quite attractive in that area, with occasional patches of forest where the cool shade provided a welcome break from the sun. There were also some nice views out towards the sea. I was approaching the mouth of the Baie d'Antongil, where legend has it that the original Malagasy settlers arrived after the long journey from Polynesia. Off in the distance, I could see the cape at the tip of the rugged Masoala Peninsula. This made me feel wonderful, as I knew that it meant I was getting close to one of my prime destinations on for this trip, and I would likely make it there with enough time to rest and do some sightseeing.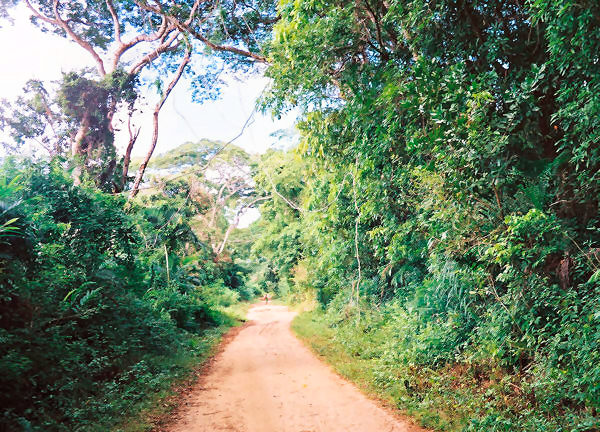 Route National 5 enters a section of forest.
Nothing was guaranteed, however, as there were still around 100 kilometers to go before I reached Maroantsetra and, as I had learned the hard way, anything could happen along the way. Of the things that could delay my arrival, possibly the most time consuming, and risky, was crossing the innumerable plank bridges. There had literally been dozens of these to cross each day since I left Soanierana Ivongo, and all of them required me to walk slowly, and ever-so-carefully across. These were usually up to five meters above a still river, or other water body, and were constructed of wooden planks, laid over beams made of logs, or sometimes steel. Their appearance was similar to a railroad track, with long planks laid out in the direction of travel like rails, across wooden "ties" that were arranged perpendicular to the rails and about 30 centimeters apart. In the best cases, like the one shown below, it was simply a matter of taking my time, stepping carefully on the ties, and making sure that the wheels of the bike tracked carefully along the rails.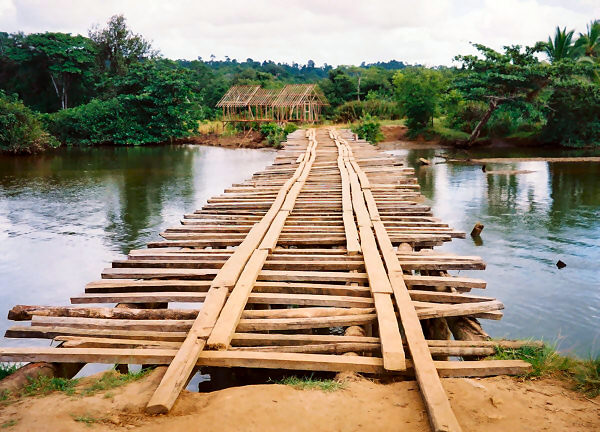 An example of a good quality plank bridge.
Of course, the best case was rarely the actual case. Most of the time there were many missing ties, or loose planks that lifted one end up in the air when I stepped on them, or simply a generally rickety feeling to the entire structure. Frequently, the back end of the bike would slip down off of the rails, and it would take all of my strength to keep it from toppling off the side. Crossing those bridges would certainly not have been fun for someone who was afraid of heights. I seemed to be reasonably steady on those occasions, in spite of my generally worn-out countenance, and, so far, had avoided going for any more unplanned swims. In some cases, like the one shown below, there was no choice but to wade across the river. Fortunately, in those situations, the river was rarely very deep, and it was easy to walk across where it entered the sea. Other times, the planks were actually helpful, like in the second picture below, and allowed me to avoid trudging though more deep sand.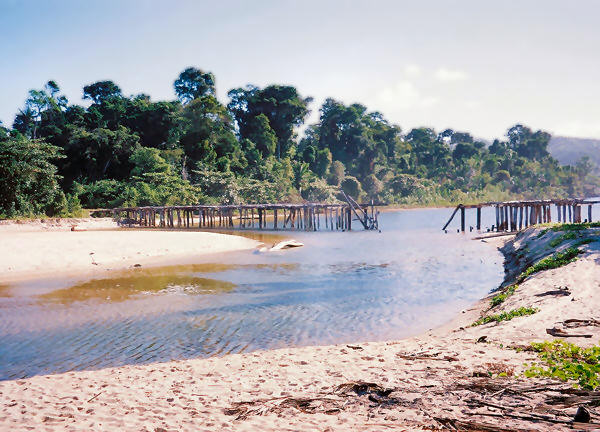 An example of a poor quality plank bridge.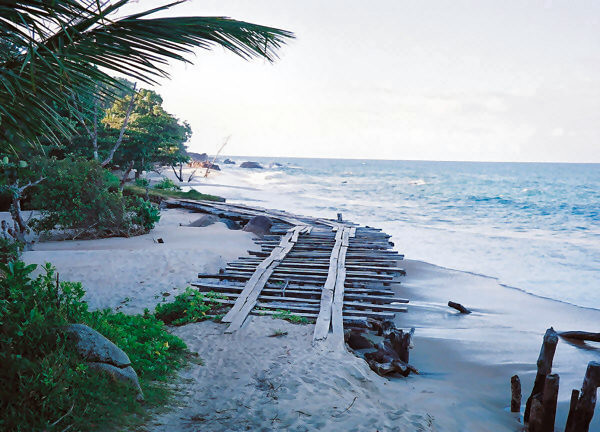 The Road occasionally uses the beach.
Despite the potential hazards and the late start, I made reasonably good progress and just before noon, reached the small town of Manambolosy, where I stopped for a food and rest break. A sign labeled the town a Rural Commune but to me it appeared just like any other town of its size. There were a few hotelys and one or two Tiko stores. I had another nice bowl of soup at one of the former, and then bought drinks and snacks at one of the latter, just before it closed for siesta. Not wanting to waste too much more of the available daylight, I only stayed there for an hour or so. The road then wound around, up, and down a little hill and right past some of the homes of the townsfolk, before crossing a long, but relatively sturdy wooden bridge on its way north.
During the rest of the afternoon, I made steady progress except in the area around the little town of Tanjona. There, two separate features slowed me down for a while. The first was related to terrain. Tanjona is situated on a little cape that juts out into the bay. Instead of following the shoreline, the road turned slightly inland and crossed over a small headland. That would not be too problematic were it not for the fact that, at some point, the road across the hills was improved. In that case, "improved" meant that it was cobbled with fairly sharp stones, spaced just far enough apart that it made cycling over them a bumpy ride indeed. I bounced slowly along wondering just how far that condition would last. It was in that general area that a group of young girls came running by in their school uniforms. I was cycling along, but going so slowly over the rocky surface that they ran right past me, despite the fact that none of them were wearing shoes!
Fortuantely, the hills didn't last too long, but when I reached the bottom I was slowed by another situation. There was a ferry at the base of the hill, which by now was no big deal to me. However, when I was dropped off at the other side of the river, it was not clear to me exactly which way to go. I followed along a meter-wide path, which by all appearances, could very well have been R.N. 5. I began to get suspicious when it turned inland and started entering and area of marshy crop fields. I had lifted the bike across a couple of soupy mud holes before I convinced myself that I was indeed going the wrong way. In actuality the real road went out onto the beach after the ferry, but I did not realize that at the time. After that little diversion I was wet, dirty, and tired again, and a little frustrated as I turned back toward the river. Along the way, I ran into a man and his small heard of zebu walking along the trail. I pointed in the direction that I thought was north, and asked "Maroantsetra?" He pointed to another small path and indicated with his hands that I should go left then right, then left to get back on the main road. I smiled my thanks to him as I went on my way.
Not long after that, I found the main road again, such as it was. My hopes for a return to rideable conditions were delayed a little bit longer when, after only a few tens of meters, I encountered yet another bridge, one of the worst I had seen along the entire length of R.N. 5. There was no way around that one, as the bushes were thick and grew right up to the edge of the deep, still river. At least half of the planks on the bridge were missing, cracked, warped, or otherwise nonfunctional. The gaps were wide enough that I had to roll the bike along one of the narrow steel support beams, lifting it over what planks were still there and taking care to carefully place my feet surely on the rickety cross-planks. The situation made me feel like a gymnast on the balance beam, only I had 30 kilograms of bike and gear to deal with. When I reached the center, I stepped on a plank, and its opposite end flipped up into the air, preventing me from moving forward. I couldn't roll the bike backwards either, since I was in the wrong position to lift it over the plank behind the back wheel. So I found myself in one of those classic, "Uh oh. What am I going to do now?" situations. All I knew was that I hoped whatever solution I came up didn't involve falling down into the river. Then, in an exquisite piece of timing, the man I met a few moments before, his zebu, and a young boy appeared to my rear. They immediately recognized my predicament and walked out to take hold of the bike. That allowed me to move forward onto the steel rail, and we all then walked everything carefully to the other side. I was exceptionally relived to have avoided another mishap, and when the man asked me for a dollar's worth of francs, I gave it to him with a smile on my face. After all, he deserved it as he had saved the day.
With nightfall not far away, I rode only a short distance further north before stopping. I had covered over half of the distance from Mananara to Maroantsetra and since I had the entire next day to ride the rest of the way, there was no need to push ahead. There were increased numbers of homes and settlements along this part of the road, however, and it took me a little while to find a suitable place to stop, especially since I was hoping to sleep on the beach that night. Eventually, I found a place near the village of Andondrivola, where I could reach the shore after dragging the bike though 30 meters of heavy underbrush. The beach was fairly narrow there, and the number of footprints in the sand suggested that I might have visitors at some point. So, I did my best to set up in as inconspicuous a spot as I could find, under the low, spreading branches of a large tree. My main concern, however, was that I was not 100% sure that I was above the high tide line. In an admittedly futile attempt to achieve some piece of mind on that account, I tried to create a wall of sand around the tent. With that accomplished, I went for a quick swim in the cool, rough surf and then settled in to get some sleep.

Mananara to Anandrivola
Distance: 49 km
Weather: Mostly Sunny, Maximum Temp: 25 C
Terrain: Flat to rolling, with a couple of rugged hills
Roads Traveled: Route National 5 (Mostly reasonable dirt)



May 20
The Home Stretch
- or -
Feeling Good After a Job Well Done
During the night, sometime around 3:00 to 4:00 A.M., a tremendous rain shower began. It rained steadily and reminded me that, yes indeed, I was currently sleeping in a rainforest. My fears of waves washing into the tent thankfully never materialized, but the rain more than made up for that. My tent had performed well during a few other nighttime showers, but the loose sand that I had set up in allowed the water to puddle up on the fly and slowly dribble inside. As daylight approached it was a tough choice as to whether to sit there and get a little wet, or pack up to ride and get even more soaked. The thought of traveling over the sandy road in such a downpour convinced me to wait a little while longer. Fortunately, the rain started to taper of at about 6:30 A.M. and shortly after I hurriedly gathered my things together, made my way through the woods back to the road, and continued on my way, passing by several tiny villages in the early morning hours.
Like all of the small villages in Madagascar, those along the east coast were a lot of fun to ride through, primarily because of the children. All around the island Malagasy youngsters demonstrated their friendly nature by rushing out to the roadside to shout out a greeting as I passed by. Usually this was a simple "Salama, Vhazaha!!", but if they wanted to show off their knowledge of French, they would use "Bonjour, Vhazaha!!," instead. In the northeast, however, the most frequent greeting was "Sali, Vhazaha!!" (I'm assuming here that "Sali" is to "Salama" as "Hi" is to "Hello".) Everyone would get their turn as I rode by, and if I responded in kind, which I always tried to do, well, that just made their days. That exchange was a little tiring from time to time, but always worth the effort. Of course, there was almost always one little fellow who was not in the right place at the right time to participate in the unusual occurrence. Invariably, he would come racing out into the road as I disappeared beyond edge of the village, making a big effort by shouting out as loud as he could, "Sa-LEEEEEE Vha-ZAAAAAHHHH!!!!". That always made me smile whenever I thought about it, and it still does.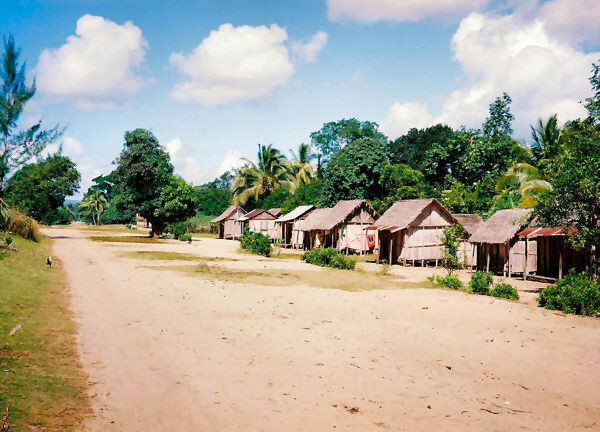 A tiny east coast village.
The first 20 kilometers, or so, involved terrain and road conditions similar to most of the previous days. There were a few rolling hills and areas where the road reduced to singletrack. The Sun peaked out now and then, which helped dry things out. As I rolled along, I often noticed piles of what appeared to be broken glass. I had been seeing these for the last few days, and my initial reaction was, "Oh, great, here I am out in the middle of nowhere, and in addition to the sand, mud, non-existent bridges and everything else, now I have to worry about broken glass.". Upon closer inspection, I realized that these were not shards from some discarded bottle of coke, but rather naturally occurring deposits of a quartz mineral known as crystal de Roche. These deposits poked up from the soil now and then, and were subsequently reduced to piles of small, perfectly transparent, fragments that glittered in the sun, but, fortunately, did not have much ability to inflict damage on bicycle tires.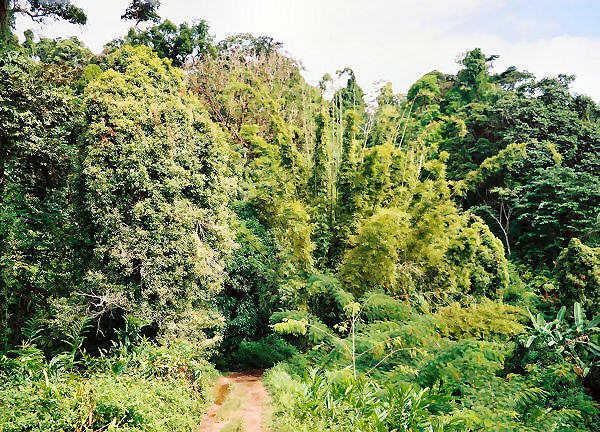 Route National 5 dissappears into the rainforest.
After a couple of hours, the road flattened out, widened up, and smoothed down. Though still dirt, it would remain in good shape, more or less, for the rest of the way to Maroantsetra. That added a sense of accomplishment and excitement to the rest of the day, as I realized that I was going to make it to town with plenty of time to see the local sights. The trip north from Soanierana Ivongo had been challenging, both mentally and physically, but also filed with incredible sights and experiences. Traveling R.N. 5 to Maroantsetra had also been my main goal when I originally planned the tour, and achieving it went a long way towards making up for some of the other goals that I did not accomplish due to my earlier breakdown. Though, to be sure, as I approached town I reflected on my earlier revised schedule that had me riding from Tamatave to Maroantsetra in three days. I had actually taken six. If I had really pushed it, and not had the delays from camera purchases and rainstorms, I probably could have done that section in four and a half or five days, but three would have been completely out of the question. The hilly, rocky section south of Mananara would have seen to that.
The improved conditions then allowed me to pick up my speed considerably. For the first time in several days, I was actually able to ride on my big chainring. Therefore I decided to make best time to Maroantsetra. There were only two small towns along the rest of the way, Rantabe and Voloina. I stopped in each just long enough to have a refreshing drink. Just past Rantabe, however, there was a slight delay as I had to utilize the last of the ferry crossings. That was only a minimal slowdown, and before long I was rolling along again.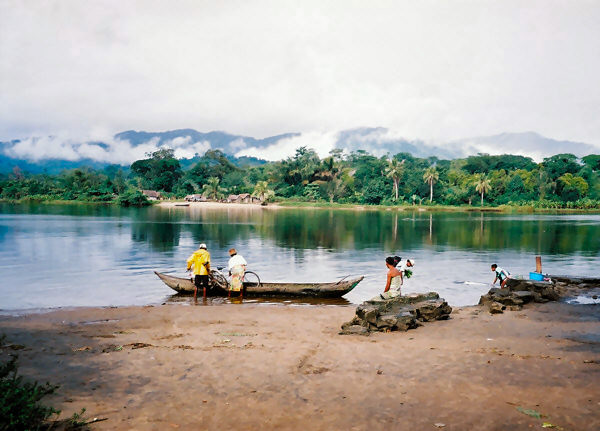 Waiting my turn to cross another river.
The last 25 kilometers to town were flat and the road was still wide and smooth. However, there were an increasing number of large deep puddles along that section of the road. Since I assumed that in such a wet region these puddles essentially never dried out, I past the time by imagining that the local folks gave each one a name, like; "The Lac that Baby Memy Always Splashed In" or, "The Chicken's Favorite Drinking Lac" Fortunately, there was usually just enough room to easily ride around those hazards, and I zig-zagged though like a slalom skier. In fact, I could maintain enough speed that on a few occasions I was able to catch and pass the local taxi-brousse, which had much more trouble than I did.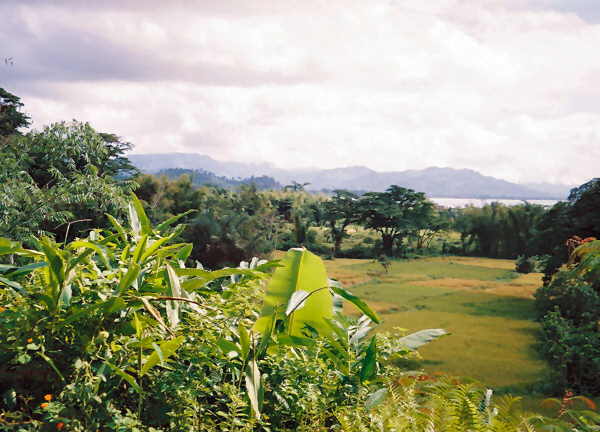 The road improves and the scenery is outstanding near Maroantsetra.
At about 1:30 P.M., I rolled in to town, tired, but satisfied with my accomplishment. My first task was to locate a place to stay. I had planned on getting a bungalow at the Relais du Masoala, which, according to my guidebook, was well worth its premium price of $50.00 per night. It was supposed to be located along R.N.5 just outside of town, but though I rode back and forth through the area a few times, I was unable to locate it. It was still there, I learned later, but either there was no visible sign, or I was too tired to see it, or both. Instead I settled in at the Hotel Coco Beach, which was located right on the waterfront, a short walk from town. This turned out to be a better, more convenient choice for me, in any case. A simple but nice bungalow with a private bath was about $14.00 per night. There was also a nice restaurant on the premises, though I was usually the only customer there.
For the rest of the day, I slowly took care of a few items. After cleaning myself up, I did the same to the bike with the help of the hotel's &quot:fixer" a nice fellow who led me to a garden hose that I could use to wash six day's worth of mud off of my machine. After that, I walked into town to check out the area, buy some groceries, and find a guide for to take me on my sightseeing excursions. The later was easy to find, and at an office just over the bridge at the edge of town I met Patrick, who would arrange things and show me around. We discussed the various options, and when I made my choice we agreed to meet back there in the morning to work out the details. Another brief, but heavy, downpour rolled though moments later and after it passed I decided to make my way back to the room, where, after gulping down the groceries I had just bought followed by a nice meal in the restaurant, I turned in early and slept soundly on an incredibly comfortable bed.

Anandrivola to Maroantsetra
Distance: 63 km
Weather: Partly Cloudy, Afternoon Showers, Maximum Temp: 23 C
Terrain: Flat to lighlty rolling
Roads Traveled: Route National 5 (tolerable dirt)



May 21-22
Sightseeing in Maroantsetra
- or -
Small Island, Damp Skies, Cool Creatures
In the morning, it was a real chore to lift myself up and out of bed. The previous six days had been physically draining and my body would certainly have enjoyed sleeping a little longer. Mentally, however, I was feeling great and quite excited about my forthcoming excursion. The Hotel Coco Beach, located as it was off the highway, on the shore of the waterway that lead out to the bay, provided a peacefully and relaxing place to rest, and that had also helped my state of mind considerably. Nevertheless, there was plenty to do, so early in the morning, I walked over the little bridge into town, and met my guide, Patrick, at the tour office.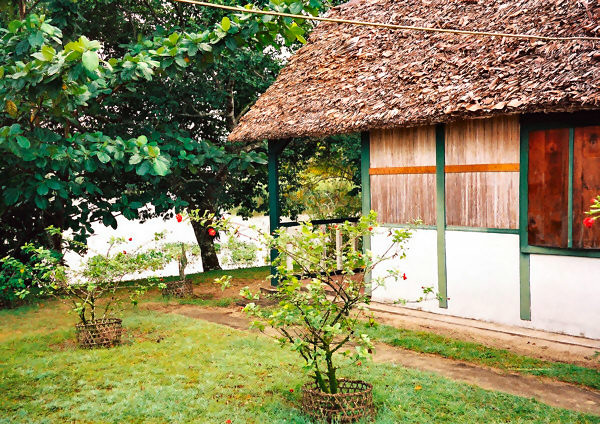 A pleasant bungalow on the waterfront at the Hotel Coco Beach.
There were two natural attractions in the vicinity, each of which could only be reached by boat, and, by that time, Patrick had already arranged passage for our visit. The larger, more distant site was Masoala National Park, which is located on the peninsula across the bay, and contains one of the largest, relatively undisturbed, areas of primary forest left on the island. I had hoped to visit the park during my trip, but Patrick felt that two days would not be an adequate length of time to make the long boat ride out and back, and still have time to tour the park. That was not a problem for me, since the alternate choice was equally appealing. Instead, we would make the shorter trip to Nosy Mangabe ("Nosy" is the Malagasy word for island,) which lies several kilometers out in the bay and is covered completely with dense secondary forest. The entire island is a strict nature reserve and is home to a great number of plant and animal species. Furthermore, its small size allows for relatively easy viewing of its flora and fauna. That sounded perfect to me, and I was anxious to make the visit. We would take a motorboat out to the island just before noon, spend the night there, and return the following afternoon. The cost for the trip was about $60.00, including the boat fare. There would be a fee of $9.00 to enter the park, but I still had the park tickets I purchased in Tana, so that was already taken care of.
There was just enough time for me to run into town to buy the groceries I would need for the next few meals. At the bustling outdoor market, I picked up several small loaves of bread, a bag full of my favorite treat, lychee, and, of course, a bunch of carrots. Across the street, at one of the small grocery stores, I added a bottle of water, a pack of cookies, a chocolate bar, and a big can of beef ravioli that had been imported from South Africa, to my bag of goodies.
From there Patrick and I made the short walk to the wharf, where boats of all sorts were crowded together in the small dock area. We had to hop across two other boats to get to or transport, which was a small, motorized launch. Moments later, we were off, bouncing over the choppy waters of the Baie d'Antongil. The trip took only about thirty minutes, and as we approached the island my anticipation increased as I could see the thick blanket of green that covered its hilly surface. This would be my very first up-close experience in an undisturbed tropical rainforest, and seeing such a place was one of the reasons I chose to visit Madagascar in the first place. Before long, we slid into the small cove where the park facilities were located, and up onto the brown sandy beach at its shore.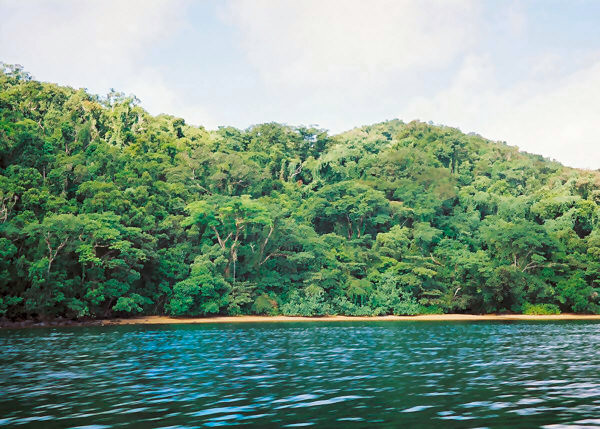 The forested hillsides of Nosy Mangabe.
There is only one building on Nosy Mangabe (with the exception of an unofficial fishing village on the far side of the island), the small office where the single ranger and his assistant work. It consists of a small room holding a single desk, a storage room, outdoor kitchen, and a place where the park staff and the visiting guides bed down during the nights. Tourists can set up their tents on wooden platforms covered with thatched roofs. There were only two other guests on the island at the time and, coincidentally, they were also Americans. Even more strangely, they had both grown up not far from where I had on the U.S. east coast, and currently lived only a short distance from where I did at the time, on the U.S. west coast. Small world indeed.
I wasted no time in setting up my tent on one of the platforms, and after a quick snack Patrick and I were off on our first hike. The trail immediacy vanished into the dark forest beyond the campsite, and the light that made it through the trees was not much more than what one would normally see at dusk. The thick canopy also gave one other benefit, for before long the forest lived up to its name, and a light rain began to fall. However, the thick foliage above, prevented most of the shower from reaching the ground, and I did not get very wet as we walked along. There are four main species of lemur on the island, but many other smaller creatures provided as much, or more, worthwhile viewing. These were the highlight of our afternoon walk, as the lemurs were not cooperating at that time. That was fine with me, as the brightly-colored mantella frogs, bizarre snails, and a miniature chameleon, only 2-cm long when fully grown captivated my attention. I also learned much about the trees and plant life of the island from Patrick who filled me in on many of their names and uses.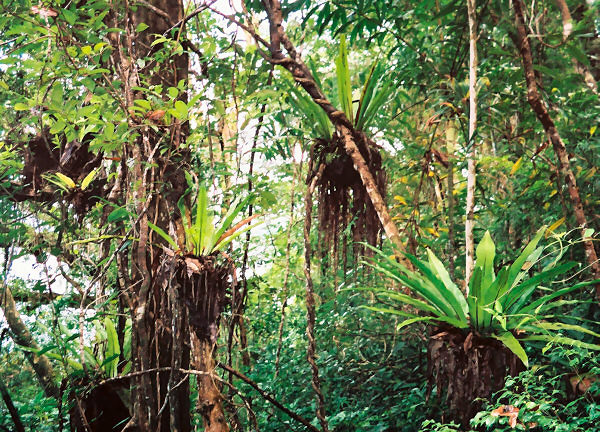 Dense rainforest foliage on Nosy Mangabe.
Before long, the trail started to climb up the steep hills that made up most of the island. The slopes did not give me very much trouble, in spite of my difficult travels of late, thought the rain made things quite slippery. After a while, we reached a small cave where several moss-covered stone coffins were located. The funeral customs of the Malagasy a bit confusing to a vhazaha like me, often involving two burial ceremonies, spaced years apart. I was not quite sure whether these vessels were temporary, or final resting places for someone's honored ancestor.
Continuing along the ridgeline, we came upon a rusting steel platform that once served as a lighthouse. That meant we were near the summit of the island, and after we climbed the ladder to the platform, I was rewarded with an interesting perspective by looking down at the forest canopy. The view would have been absolutely spectacular had misty clouds not been draping the hills. Heading back toward the cove, the skies cleared, but only a little. Patrick had said that the lemurs generally did not move about much when the skies were gray, since they didn't particularly like cool weather. There was obviously just enough sun out to stir things up a bit, however, as a short while later, a pair of white-fronted brown lemurs nosily jumped though the trees along the path. It was a short appearance, but I had now glimpsed my third lemur species of the tour.
Back at the campground I stretched out for a while and had my dinner in the tent, while Patrick and the ranger cooked for themselves at the park office. My feast of bread, carrots, ravioli, and a splendid dessert of lychee, was eminently satisfying. Our plan was to relax for a while and then go out for a nighttime hike to try and observe some of the interesting nocturnal fauna of the island. The star of the Nosy Mangabe nightlife was a oddball lemur called the Aye Aye. Apparently it is a bizarre insectivorous lemur that occupies an ecological niche similar to a woodpecker in a temperate forest and exhibits an eclectic assemblage of body parts. The Aye Aye was once believed to be close to extinction, and was actually introduced to nosy Mangabe in an attempt to preserve the species. However, the creature has been observed in many areas of Madagascar in recent years, so perhaps things are looking up. During our afternoon hike, Patrick had seen some fruit with characteristic teeth marks lying in the trail, so we planned on returning to that spot in hopes that the Aye Ayes would return there to feed that night.
Tramping along the trail in the dark wasn't easy, even with flashlights, and I stumbled a bit from time to time. Even more annoying were the rope-like vines that kept getting tangled around my legs. They, of course, did nothing good to the sore infections down there as they brushed by. After a while, we reached the spot where we hoped to see the lemurs. The other two American tourists and their guide had gotten there ahead of us, and they claimed to see a tiny Mouse Lemur climbing about way up in the trees. The mouse lemur is a primate that would fit in the palm of your hand, and Patrick was suspicious that the others had really seen one. We all sat quietly on the trail for a long time, but to my disappointment no nighttime creatures decided to pay us a visit on that occasion. So my opportunity to se an Aye Aye had passed by It was still quite peaceful and as I lay there, I had plenty of time to reflect on the extraordinary location that I was visiting.
In the morning we had one last opportunity to tour the island, and, hopefully, see some more wildlife, since the boat for the mainland would not return for us until 1:00 P.M. This walk would be the most successful of the visit, though as we set out, I was already feeling a little tired. Both parties set out heading for the side of the island that we had not visited the previous day, and took turns leading the way along the rolling trail. At one point, when Patrick and I were trailing the group, we encountered a energetic troupe of Brown lemurs. This time they provided a more thorough display, and I was able to observe them for perhaps fifteen minutes. The jumped about from tree to tree as lemurs are meant to do. This bunch also gave me my only example of lemur vocalizations, thought their pig-like grunts were not all that melodic.
Continuing on we reached a beach at the far side of the island where old rock carvings could be seen on large boulders. These were not made by the Malagasy, however, but rather by Dutch slave traders hundreds of years ago. Apparently, Madagascar was the primary source of captive slaves for the old Indian Ocean slave trade, a sad fact that I was not aware of before I visited the island. These days the spot bears no resemblance to its infamous past, and on that sunny morning it was quite a pleasant location for a walk. From there we had just about enough time to leisurely walk back to the campsite for our return to Maroantsetra.
On the way, I had the good fortune to observe yet another lemur species, the , though, once again, I only caught a distant glimpse. The black-and-white is an attractive, fuzzy creature, which, as its name suggests, is bedecked in a bicolor coat that gives it a slightly formal appearance. There were two members of the species nestled high in a treetop beside the trail. They were not particularly active at that time, unfortunately, probably due to the cool breeze blowing that morning. Nevertheless, I was pleased to see them and bring my count of lemur species observed in the wild to four.
Moving on, we shortly encountered a beautiful example of one of the most distinctive creatures of the island, the unusual Leaf-Tailed Gecko. This 20-cm long reptile has evolved an exquisite camouflage that resembles the bark of a moss-covered tree. A perfect adaptation to life on damp Nosy Mangabe. Normally, the gecko sits motionless along a tree trunk, but when it feels especially threatened it opens its mouth wide, revealing its bright-red interior. Just why the gecko feels that this behavior will help it evade danger remains a mystery to me. Luckily, I was able to get off one reasonable photograph of the little reptile. I certainly pined for my lost digital camera during my visit to the park, for I'm sure I would have been able to get many more spectacular images if it was still functioning. Nevertheless, the memories of that visit will stay with me for a long, long time.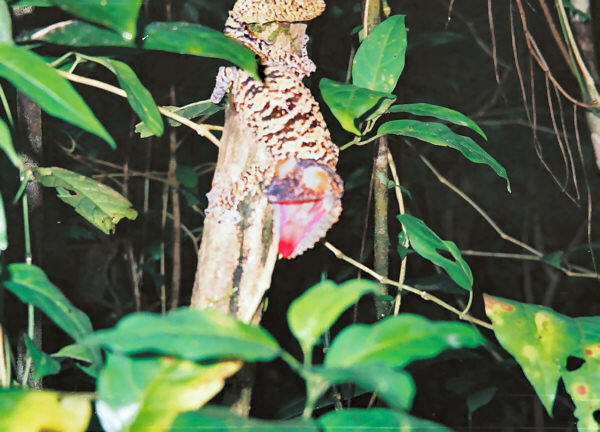 A distinctive reptile on Nosy Mangabe, the Leaf-Tailed Gecko.
After the quick boat ride across the channel back to town, I was dropped off right at the back door of the Hotel Coco Beach, where I thanked Patrick for his excellent tour. He, and all of the other guides I hired during my trip, were excellent sources of knowledge and experience, and I surely would have passed right by the great majority of the wildlife of the parks without noticing any of them if I had walked through alone. There was still a few hours of daylight remaining, but I had very little energy left. So, I took my time as I repacked my gear and disassembled and bundled up the bike for the next day's flight. From that point on, no matter what happened, I would consider the whole tour to be a big success.
Later that evening I had a nice meal in the hotel restaurant, which cost about $10.00. Afterwards, I was a little restless, and still a little bit hungry (there was always room for more food while I was on the island.) So, I took a relaxing stroll back into town to soak up some of the local atmosphere. The Sun had just gone down, and the streets of the town were practically vacant of taxis. There were quite a number of local people out walking down the middle of the main street with their families and friends, laughing and having a good time. Maroantsetra had virtually no outdoor lights, but the street was adequately illuminated by other means. Several people had just set up their nighttime food stalls on the sidewalk, and to provide light for their customers, most had set out a few candles along the curb in front of their grills. I took the opportunity to gobble up several tasty zebu brochettes and a salad of shredded cucumber. That seemed to top off my day quite nicely. The sight of the eerily candlelit streets of Maroantsetra filled with happy people was one of the most surreal and inspiring sights of the trip for me, and one that I will never forget.
Next: Oh, So Close...
~Go There~