Part Six:
On the Road Again and Tamatave
May 9
At last, I Can Ride Again
- or -
Escape From Tana, Part 2
Finally, after what seemed to be an unending delay, I was able and ready to ride again. But I was full of uncertainty. Would the bike hold up for the rest of the trip? Would I have any chance to make it to my remaining destinations and then back to Tana in time? And would I be strong enough after such a long downtime, filled with mild illnesses, to ride effectively? In the end, my relief to just be moving again superceded these worries, and I decided to take whatever I could get from the rest of the trip. Nevertheless, I would need to make it to Maroantsetra in five or six days, in order to catch the next of my scheduled flights. That would mean holding to a very aggressive riding schedule to cover the distance of 770 kilometers. After such a long layoff, I was more than willing to spend some long hours up on the bike, and if the roadways were in good shape, I felt that I would be able to pull it off. I knew that there was a good paved road to the coast at Tamatave, and for a considerable distance to the north. However, the last 230 kilometers to Maroantsetra would be on another poor road and I realized that it would be asking a lot to try and do the ride there from Tamatave in three days.
Before I left the city, I had one last errand to deal with. I needed to pay for the remaining three Air Mad tickets within a week, or my seats would be given away. Now that I knew that the bike was ready to go again, I decided to take care of that in Tana since I didn't think that I would be able to find easy access to another Air Mad office within that time. The Tana office was nearby, on the Ave. de l'Independence, though it didn't open until 8:00 A.M. So, it would be another late start that day. I was one of the first in line when the doors opened, but no one was in a big hurry to get things started and it seemed to take quite a while for the cashier's window to open. By the time that I had my tickets, finally completing all of my business in Tana, it was just after 9:30 A.M. I had lost about three hours of riding time so far that day, not exactly the most auspicious start to the hectic final section of the tour.
I was, not surprisingly, slowed a bit more by the usual crowds and confusion while trying to find my way out of the city. The typical lack of signage befuddled me once again, and I needed to ask directions several times. The route from Tana to Tamatave is one of the busiest on the island, as the latter city is the country's major port, so most everyone was able to point me in the right direction. Though even when I knew which way to go I moved along not much faster than a snail's pace, thanks to the jumble of people, animals, taxis and trucks competing for space on the thoroughfares. The roads themselves were sometimes wet from the light rain that had fallen during the night, occasionally cobbled, and almost always narrow, twisting, and hilly. Consequently, I inched my way along, and by the time I reached what appeared to be the edge of the city, it was late in the morning.
The crowds of people and motorized traffic continued to be fairly heavy toward the east as shops and homes were strung out all along the roadside. Things didn't settle down for about fifteen kilometers from the edge of the city proper, just past the small town of Ambohimangakely. At least the crowds of people that I passed through seemed to be a little more unimpressed by a vhazaha riding in their midst and my presence didn't cause the usual commotion.
Once I had completely broken free from the grip of the city, the countryside opened up again and the road returned to its more normal state of tranquility, with zebu being more common than automobiles. The physical condition of the road in this area was excellent (as it would be essentially the entire way to Tamatave,) and so the riding became easy and enjoyable once again.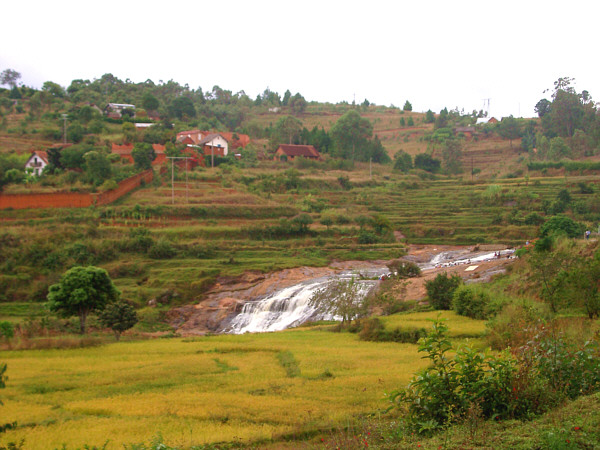 A pretty waterfall flows through the farmland of the eastern highlands.
Now heading east towards the ocean on R.N. 2, I traveled at a reasonable pace through the rolling terrain of the central highlands. I would eventually drop 1,200 meters before reaching Tamatave, but as with the first section, on the way to the west coast, the route lost very little elevation on that day. Instead, the highway wound through the small valleys of the area, occasionally climbing up generally light grades that rose perhaps 100 meters or less. I was curious to find out how much the long break had affected my level of fitness, and while I felt normal most of the time, these small hills revealed a weakness in my condition. I noticed right away that my climbing strength was not what it had been before, and I consequently had to gear down to a lower development than usual on every hill. I assumed that there would be much more descending than climbing on the way to the coast, so I was not too worried about that.
The farther I traveled from Tana, the more the feel of the countryside returned to what I had become accustomed to on this tour. The road passed through pretty, green farmland and numerous small towns. The latter once again featured the characteristic earthen architecture that was so aesthetically appealing to me. It was just about noon when I rolled into the town of Manjakandariana. Though it was only 47 kilometers from Tana, I stopped there for my midday break, as there were no other sizeable towns for quite a ways.
I sat down at a pleasant hotely and ordered the usual bowl of vary with meat. I knew that I should try and fill up then and there, but after eating only half of the meal I began to lose my appetite and was unable to finish the rest. This concerned me, as I knew that I needed to eat well for several days to maintain, or, hopefully, build up my strength. I thought that I could manage to eat some ice cream and, as I had seen signs for that treat painted on the walls of a few Tiko stores in town, I went looking for some. Unfortunately, since it was now past noon, all the stores were closed for the daily siesta. Had it not been for my late start, there would have been plenty of time to make it there before closing time. I didn't want to wait until two or three o'clock for them to reopen, so in a few minutes I resumed the ride to the east. Hopefully I would find my appetite again, and another source of food, later on.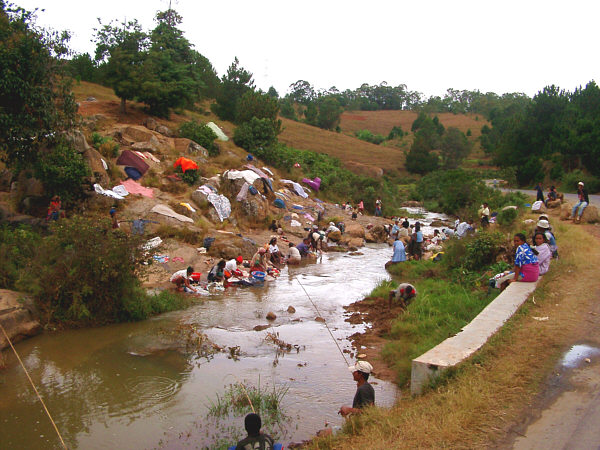 Local people washing clothes and fishing in a small river.
The area east of Manjakandariana was very pretty with sections of forest hugging the roadside from time to time. I was getting closer to the east coast all the time, and that part of the country is where most of the island's remaining rainforest is located. The chance to see some of that beautiful environment was one of the primary reasons I chose to visit Madagascar. Though most of the forests outside of the parks and reserves are greatly fragmented, and usually consist of second growth, I found them to be attractive nonetheless. And, true to their moniker, a few light showers fell as I passed through this area. That didn't bother me too much, as the rains were brief, and the misty air in their wake created a sense of a truly different world around the rugged green hillsides.
The remainder of the afternoon continued much the same way, rolling along under cool gray skies, without incident. At about 4:30 P.M., I arrived in the bustling town of Moramanga. This seemed to be a fairly lively place due to both its location midway between Tana and Tamatave and the small army base located there. At the edge of town, I noticed a petrol station that had an American-style mini-mart attached. I decided to stop there for food under the assumption that they might also have a bathroom available. I was correct, and made good use of the clean facility, the only room of its type I encountered, outside of tourist hotels, during the entire tour. I also bought some water, drinks, the long-sought-after ice cream, and a packet of cookies for the next day's breakfast. This time I was able to eat most of my snacks as I took a short rest inside the cool store. I had already traveled 105 kilometers so far that day and, considering my late start, that seemed adequate. However, since this was my first riding day since Ambovombe, when I was several hundred kilometers to the south, I miscalculated the early sunset that night I had lost a bit of daylight due to the flight back to Tana and, of course, autumn was taking its toll as well. So, as I left Moramanga darkness was falling quickly and I realized that I might have trouble finding a good place to sleep so close to town. To make matters worse, just to the east of town the road passed through a range of low hills. The riding was not really difficult there, but the lack of flat ground further complicated my search for a campsite. After trying, and rejecting, two or three locations, I finally set the tent up at a tolerable place with barely enough light to see what I was doing. I was closer to the road than I would have liked and the ground was rough and hard, but there was good cover from the surrounding bushes.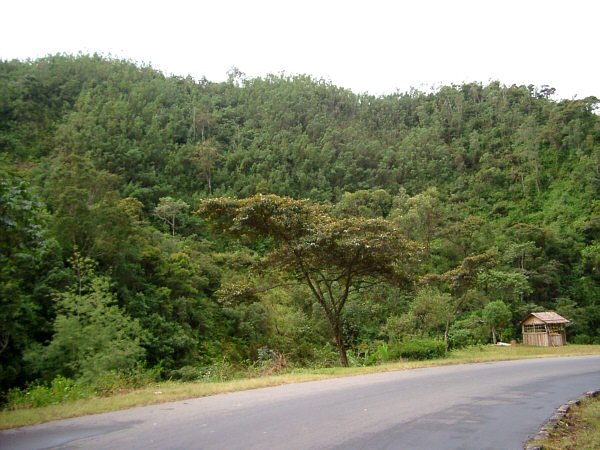 Now and then the road passes by patches of regrown forest.
I would not sleep much that night, however, though not due to the poor state of the campsite. The digestive troubles that had been with me since Toliara decide to exert their authority that night. For the past few weeks I had never had any problems sleeping through the night due to that little malady. However, that night I was forced to exit the tent five or six times during the night to fertilize a nearby bush. This less-than-pleasant task was made all the worse by the swarms of mosquitoes that were normally out and about after dark. Between simply having to go outside and then spending time tracking down and swatting the bugs that made it back into the tent with me, I had very little time left over for sleep.
Consequently the foggy state that my brain was in led me to make yet another ill-advised decision, one that would affect the outcome of the final three weeks of the tour. I knew that there was really no good treatment for the situation I was other than letting things "run their course", but spending the next few nights outside being bitten by mosquitoes that could potentially pass on malaria was not too appealing to me. So I dug into my bags where I found, and took, an Imodium tablet. I was aware that this is not a recommended course for travelers as this medication only postpones one's symptoms until a later date. In fact, the only reason I had two tablets with me was for the possibility that I would need them before the long flight home. I hoped that in this case they would help me get as far as Tamamtave without too much trouble. Indeed they would eventually keep me from squatting in the bushes, but instead would exact another price that would trouble me in a more significant way for the next two days.

Antananarivo to east of Moramanga
Distance: 115 km
Weather: Cloudy with a few brief showers, Maximum Temp: 24 C
Terrain: Rolling
Roads Traveled: Route National 2 (excellent pavement)



May 10
The Body Protests
- or -
I Really Wish I Hadn't Done That
It did not take me long to feel the effects of my poor decision when morning finally arrived. As promised, the medication I took had eliminated my frequent need to visit the bushes, but its common side effect of a loss of appetite became even more of a problem. In this case, it was not simply that I had no desire to eat, but rather that my body was sending signals that it did not want to be fed at all. I noticed this straight away when I tried to eat the package of cookies that I had brought for breakfast. I only managed to swallow two of them, and they went down about as happily as a mouthful of sawdust. To be sure, I knew that this was not good news, as trying to ride a long distance without food is a combination that most people would probably choose to avoid. There was no point in staying put where I was, however, and if I had any chance at all of making my upcoming flights I needed to go forward. Therefore, as the first rays of daylight were filtering through the trees, I set off, heading east again.
The scenery along R.N. 2 was green, and usually quite appealing, with sections of thick forest mixed with areas that had previously been cleared. Surprisingly, from a cycling point of view, I felt pretty good, or at least as well as I had the previous day. It still felt more tiresome than normal to climb each of the rolling hills that made up the topography of the area, but I moved along at a moderate pace nonetheless. I was a bit more affected, however, by the smoke from the local people's cooking fires. There were no large towns along the day's route, but a series of tiny clusters of homes lined the roadway. These made the first 30-40 kilometers east of my campsite seem like one long, linear village. The residents of these homes were up at dawn, as they probably always were, and their fires left a smoky blanket over each little valley that I passed through. That, combined with the smell of ranovola, the burned-rice tea, made me feel a little queasy as I passed through this region. I was now far enough from Tana that my presence was unusual to the locals once again, and the frequent greetings that the people shouted out as I went by, helped to distract me from thoughts of my own possible starvation.
I did my best to try and eat a little now and then, but without much success. Fortunately, I was still able to take in fluids, so that helped quite a bit. It was also my good fortune to expect to loose a fair amount of elevation on the day's route. As with the descent to the west coast, that on the east of the island came in small bits, with continuous rolling terrain in between. There was one fairly long descent, about 10-20 kilometers west of the town of Ranomafana, where I was able to relax for a while and pick up a little speed. It was a welcome change. If I had accomplished the route that I had planned back at home, I would have dropped out of the highlands twice, and climbed back up twice as well. Now, thanks to my earlier delays and the need to make air connections, I would only descend out of the highlands two times, but not climb back up at all. That felt a little like cheating to me, but under the circumstances, I was not complaining.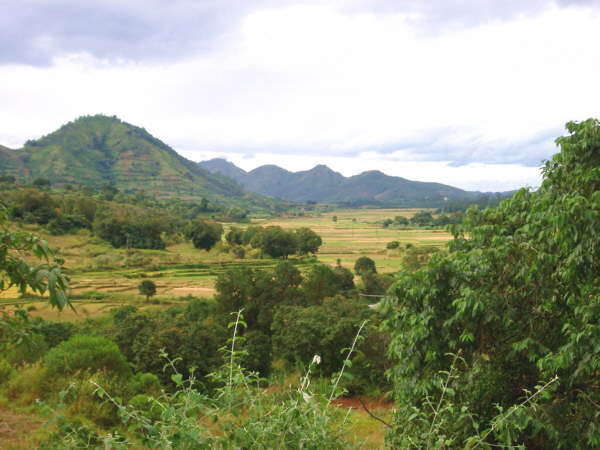 A Pretty valley near the edge of the eastern highlands.
At the base of one small hill, as I was moving along at a rather brisk pace, I hit a small, nondescript rock that somehow caused a pinch flat in my front tire. Luckily, there was a small settlement only a few meters away that had an open store. So, I picked up a couple of drinks and relaxed for a while before making the repair. It was a little disconcerting to have such a trivial little rock cause that problem, especially as I had thought that my tires were always well inflated. However, I was treated to a piece of good karma later on that same day. As I was rolling along admiring the scenery, I came across a place where sometime earlier several cases of Three Horses Beer must have fallen off the back of a speeding truck. As was common on the island, no one really bothered to clean up the mess, and as a result the former bottles were broken into small shards and spread out across the entire width of the roadway for about 20-30 meters. Of course, I didn't notice this until it was too late, but, to my utter astonishment I rolled right across the worst of the mess and had nary a single puncture. Whew. As it turned out, the pinch flat from the rock was, if the ridiculous episode in the prickly pear patch was conveniently forgotten, the second of only two flats I had on the entire tour. I felt pretty good about that considering the conditions that I was experiencing.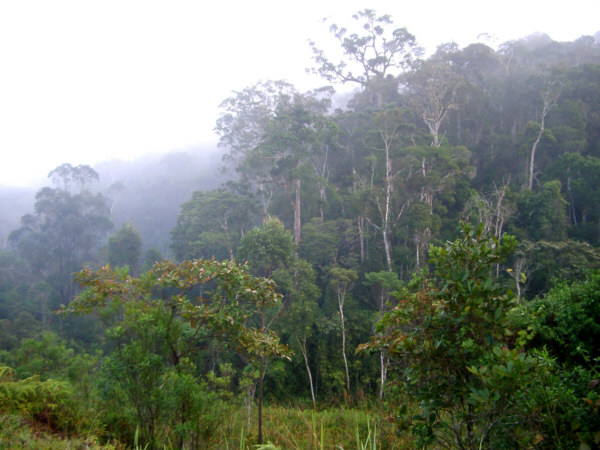 Mountain mist gives a surreal look to this patch of rainforest.
As the afternoon wore on, I was getting closer to the coastline, but the rolling nature of the terrain had not diminished very much. I was still feeling rather tired on all the climbs, but overall was holding up as well as could be expected. I had tried a few times to eat some light snacks, but, once again, this didn't work out too well. About 15 kilometers east of Ranomafana, the road turned toward the north-northeast, and I would therefore begin travelling parallel to the coastline a situation that would continue for the next several days. I had convinced myself earlier that at this point I would break out on to a pleasantly flat coastal plain where I could leave some of the tiring climbing behind for a while. Of course, I was considerably premature in that prediction, and, if anything, the frequency and steepness of the grades had increased relative to the morning. Additionally, I was now at the point where there would be no general loss of elevation, and therefore I would not get the benefit of gravity on my side as I rolled up and down between sea level and 100-200 meters.
However, as sunset approached I found myself about 15 kilometers south of Brickaville, the only significant town left on the way to Tamatave. I had somehow managed to travel about 125 kilometers so far that day, though just how I was not quite sure. In any case, that seemed like more than enough and I stopped for the night and set up the tent on the grassy crest of a cleared hill a hundred, or so, meters off the roadway. This was one of the nicer camp spots that I had experineced for a while, as the soft grass made a nice cushion, and the quiet openness led to a beautiful sunset and some pretty nighttime skies. With my level of tiredness I was not conscious long enough to do much stargazing that night, however.

Moramanga to Brickaville
Distance: 125 km
Weather: Mostly sunny, a few morning clouds, Maximum Temp: 31 C
Terrain: Rolling
Roads Traveled: Route National 2



May 11
A Liquid Day
- or -
Just Keep Rolling Towards Town
An advantage of my stopping point on the previous day was that I was only a short ride to the town of Brickaville, where, I hoped, I would be able to eat a filling breakfast. The ride there was fairly easy and I arrived before 7:00 A.M. Brickaville, also know by its official Malagasy name of Ampasimanolotra, is a scruffy, fly-infested town sprawled along on the banks of the Rianila River. It was a lively place, however, and as I rolled into town the markets and shops were just beginning to open up. I rolled around the streets of the town for a while, looking for something that might be appealing enough that I would actually be able to convince my body to let me eat it. The best that I could come up with was some tasty-looking carrots from the market, and a large bottle of cola from one of the Tiko stores. I sat down on the curb outside the store with the best intentions of trying to replenish my energy stores. However, the effects of the tablets that I had taken earlier were still with me, and the best that I could do was to force down one carrot, and drink the soda. This lack of nourishment made me quite apprehensive about my travels for the next couple of days.
I fully intended to rest there for a while longer to absorb whatever calories I was able to consume, but after a short time, the flies had driven me so crazy that I was obliged to leave. I had enjoyed a pleasant respite from the pesky insects during my few days up in the highlands. There the cooler weather made them less numerous and also less active. Now, however, I was back in the lowlands, their favorite turf, and they once again refused me even a few moments peace. I had recently taken to wrapping a dirty shirt around my beat-up legs while I rested, to make it harder for the voracious creatures to feed. Even this was not much help in Brickaville, so I simply gave up and continued the day's ride.
Heading north, R.N.2 crosses the Rianila over a noisy, one-lane steel bridge, and then continues on towards Tamatave. I was optimistic, as my map appeared to indicate that the road would run parallel to a few rivers along the way, which often means flat, or at least gentle, riding. It was not long before I was disappointed again, and a few kilometers beyond Brickaville, I was once again struggling up a rolling climb. It was instantly obvious that my exertion and lack of food on the previous day had taken its toll, as I would not normally feel so tired this early in the day. As it was I was on the edge of bonking before 9:00 A.M. I have dealt with sort of situation many times before, but usually at the end of a long day, not at the beginning. If I had been actually able to eat something, I would have not been too worried, but this business of foodless riding was quite disconcerting.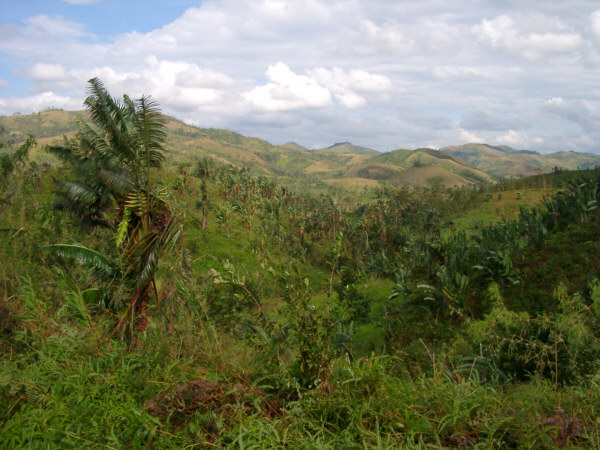 Other areas nearby show the severe effects of deforestation.
There were 104 kilometers between Brickaville and Tamatave, and I was very anxious to get there as soon as was reasonably possible. My strategy to deal with my physical problems was to ride for no more than 20 kilometers at a time, then stop for a long break to rest and take in as much fluids as possible, both bottled water and sugary drinks. Fortunately there were several small towns along the way, so I assumed that I would not have too much trouble obtaining the needed liquids. I was fairly sure that I could maintain a slow, but steady pace when I was on the bike. So, I timed the length of my rest stops such that I would arrive in Tamatave just before sunset.
I believed that I could pull of that day's plan without any real risks, but I was now obvious that my ambitious goals for the rest of the tour would already have to be modified. The schedule I came up with in Fort-Dauphin had lasted for only two days, but I was long past being worried about changes in the trip plan. It would be a little inconvenient to work something else out, since it would undoubtedly involve changing my airline reservations. The best that I could come up with, while lying on the front porch of a store during one of my rest stops, was to delay the first two flights by one week each, and cancel the third. That would mean that there would be no chance of seeing the southern highlands on this trip, as I would only arrive back at Tana shortly before my flight home. That was quite disappointing, as I was really looking forward to seeing some of the parks and towns of that region. However, this change would now give me ten days to reach Maroantsetra, as opposed to three, with two full days available for sightseeing once I arrived. I would also be able to complete the ride to the northern tip of the island as originally planned. Maroantsetra was probably at the very top of my list of places to see on this trip, so if I at least made it there I would feel satisfied. Since I probably didn't need ten days to get there, I decided to take another 3 days off in Tamatave. There I would hopefully be able to eat again, gain strength, and recover from the nearly disastrous effects of poor choice of pharmaceuticals
After I accepted that I would make those changes in my plan, the rest of the day was a little less stressful. Now the pressure to make it to Tamatave was off, at least as far as time was concerned. Though, I was still anxious to get there as quickly as possible so I could take a long shower, and find some ice cream or other goodies that I might be able to swallow. While mentally I was a little more relaxed, the terrain for most of the day failed to make things much easier. The hills continued to roll, and at one point, a few kilometers past the town of Ambinaninony, there was a rather significant climb to deal with. If I had been at full strength, I'm sure that I would hardly have noticed this one. With the poor condition that I was in, however, the winding climb, which couldn't have been much higher than 250-300 meters, seemed like an alpine pass. There were a few cool streams emerging from the hillside where I could splash refreshing water over my head, which helped quite a bit, especially considering that the lowland heat had now returned and the afternoon hovered in the upper 30's. The lack of traffic helped as well, as I did not need to concentrate too much on avoiding other vehicles, which allowed me to mentally relax a bit. Motorized traffic was not completely absent, as R.N. 2 was the major route connecting the port at Tamatave, to the rest of the island. Consequently, there were occasional trucks carrying freight containers passing in either direction. They were generally not too aggressive in their driving, however, I noticed several crashed-up containers abandoned along the roadside along the way. This made me wonder if I might not have been a little generous with that assessment.
The landscape through which I traveled that afternoon frequently gave me an unfortunate glimpse of more effects of deforestation. Many of the hills in the area were barren, showing only a shadow of their former productivity. I also often had to ride around large piles of fallen brush that were strewn about the road. I thought that this must have been due to a cyclone that had hit the area months earlier. Given the Malagasy tendency to leave a mess lying around, that guess seemed logical. It was not until I had been back home for several weeks that I realized that this damage was due to Cyclone Manou, which hit the area on May 9, three days before I reached Brickaville. In fact, the light showers that fell while I was in Tana were actually associated with that fierce storm. Perhaps, for once, my delays had worked out for my benefit.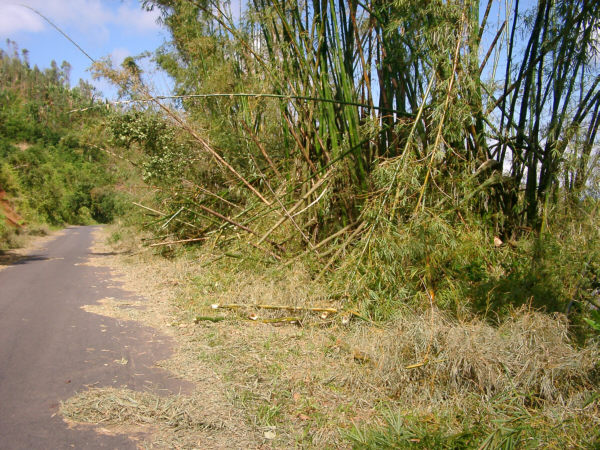 A recent Cyclone left quite a mess on the roadside .
I was beginning to think that I would never break out of the rolling hills that were so tiring to me. Finally, though, after my last rest break in the little town of Farandrana, I rolled out onto the long-sought-after coastal plain. From that point there was still another 26 kilometers to go before I reached Tamatave, but the level terrain allowed me to pick up a little speed. My body was completely spent at that point, though the mere thought of making it to town somehow kept me going.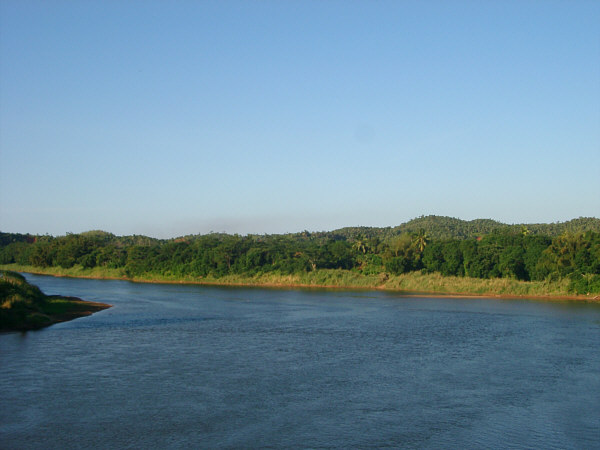 The Rongaronga River is one of many that reach the Indian Ocean along the east coast.
My plan to arrive in Tamatave just before sunset seemed to be working out just about right, but it was going to be close. I had to stop every few kilometers to take a sip out of my last, rapidly emptying water bottle, but with the road now flat I expected to have just enough time. If I had been a little less tired, and a little less focused, I would have appreciated the fairly pleasant conditions of this part of the route a little bit more. There were some interesting date palm plantations along the roadside, as well as groves of bamboo and other interesting greenery. Traffic picked up considerably as I neared town, though the usual dominance of non-motorized transport continued. At one point I passed what appeared to be an army base that was hosting what appeared to be an outdoor music festival. There was a huge crowd there sitting in the fairground, happily enjoying themselves. Had I passed by a few hours earlier, it would have been fun to join the crowd there for a while and take in some local culture. However, it was almost 5:30 P.M., and the events there seemed to be winding down, as it would soon be dark. Once again, my tiredness and tardiness caused me to miss out on some potential entertainment. As I passed by the gate, I merged into the stream of folks who were already heading back to town. Most of them were cycling or walking, and that situation made me realize that I had, in fact, arrived in Tamatave.
Like all of the other larger Malagasy cites that I visited, the city of Tamatave proper was surrounded by a more sprawling, crowded, and chaotic "outer city ". Americans might use the term "suburb&quot: for such a place, but the comparison with an American suburb falls short, as the area was much more congested that the actual city itself. My first impressions of the city were of that area. Though I had been in the country for seven weeks, and had seen a lot of crazy places, that part of town still left my head spinning, of course, my virtual exhaustion probably contributed to that as well. As I entered the city buildings housing open markets, shops, and other businesses crowded up against the road, which was now sandy and wavy. As it was probably the busiest time of day, the street was jammed full of people, bikes, animals, taxis, and motor scooters, as well as large trucks trying to make their way out of the port. Several kilometers earlier, I had passed a construction site that appeared to be building a direct route for the trucks to reach the highway without passing through town. At that time, however, they needed to push their way through the sea of humanity at the edge of town, which made things even more hectic and slow.
With great care and patience, I somehow managed to thread my way through the crowd without running into anything or getting run over by anything. When I reached the built-up part of town, things calmed down considerably as there was now a grid of streets for the crowds to disperse though. Of course, as usual, the lack of any signage made it hard for me to find my way around, especially in the rapidly dimming daylight. I had a copy of a city map in my notes, and had picked out a place to stay from a guidebook, but none of that seemed to help. I rode around and around seemingly in circles for what seemed like an eternity. Eventually, I became so frustrated that I got of the bike at a corner that looked just like all the others, to try and get my bearings. There was still no way of really telling exactly which streets I was standing on, but for once my luck changed and I glanced up and accidentally noticed that right across the street was my intended destination, the Hotel Noor.
Amazingly relieved, I walked across and checked in for a stay of four nights. The rate was about $22.00 per night. I rather liked this hotel, though it was not the nicest one in town it was classically designed, with rooms that were reached after climbing a long winding wooden staircase, and, most importantly, it was very quiet. The only drawback was that they did not want me to bring my bike up to the room with me. Instead they put it in a narrow alley alongside the building, protected by a locked door. This would normally give me cause for concern, but at that time, I was simply too tired to worry about it.
Somehow I had managed to make it to Tamatave despite the fact that I had traveled the last 242 kilometers in a semi-bonked stated of near starvation. The ride from Moramanaga was probably one of the most difficult stretches of my personal touring history. As a reward, I suppose, the cycling gods allowed me to begin to feel hungry for the first time in two days as I lay crashed out on the soft bed. The prospect of food now excited me, and after I hurriedly cleaned up, I dashed across the street and bought a take-out pizza, one of my favorite touring foods. It tasted great, in spite of the rather strange combinations of toppings used on the island. It was not long after I finished my first meal in days that my eyelids slammed shut and I drifted away into a much-needed night's sleep.

Brickaville to Tamatave
Distance: 117 km
Weather: Sunny, Maximum Temp: 37 C
Terrain: Mostly Hilly
Roads Traveled: Route National 2



May 12-14
Rest Days in Tamatave
- or -
How Much Is It Possible For One Person To Eat In Three Days?
Tamatave, also known by its official Malagasy name, Toamasina, is the second city of Madagascar, in terms of both size and cultural and economic importance. As I have already mentioned, it is the country's major port, receiving ships from Asia, India, and many other regions of world. That fact has probably contributed as much as anything to the city possessing more of a "modern" feel relative to the other cities I visited on the island. Useful, if not particularly attractive, masonry buildings, seemingly of 1950-1970's vintage, dominate the architecture of the city, with a few colonial embellishments here and there for good measure. This contrasts sharply to the distinctive cityscapes of Tana, where the blend of modern styles with traditional highlands earthen materials creates a unique feel to that town. In Tamatave, if one did not know they were in Madagascar, the city itself would not do too much to give that information away. Of course, the presence of the Malagasy, who have an especially friendly and laid-back attitude in this town, would clarify the issue in short order.
The city center extends for several blocks in all directions from a small cove on the Indian Ocean created by a spit of land where the berths of the harbor are located. The main commercial street, with a few nice hotels, restaurants, modern stores, and most importantly a couple of Internet centers, is the Boulevard Joffre, which runs parallel to the ocean. Most of the civic offices are located along the broad, palm-lined Avenue de l'Independence, which intersects Blvd. Joffre at the center of town. Also along the Avenue, are the town's two main supermarkets, the only real examples of such establishments that I had seen since Tana. At the end nearest the ocean is a ShopRite store, which is fairly old and small, but still filled with enough "exotic" foods like ice cream, vegetables, orange juice and peanut butter to satisfy my needs. At the opposite end of the Avenue, not far from the currently unused train depot, is a larger, brand-new supermarket called Score that I, unfortunately, didn't discover until just before I left town. The choice of foods there is close to what one might find in a similar market in the States or Europe, and it is the place to go if one wished to satisfy a craving for canned soup or Red Delicious apples.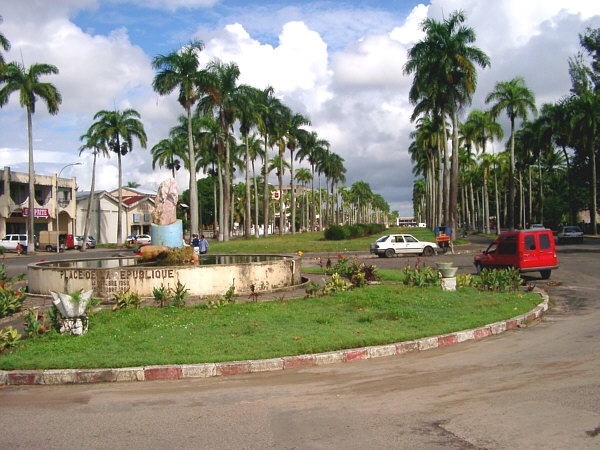 The Place de la Republique and the Avenue de l'Independence in Tamatave.
Another aspect resulting from the city's maritime history, is the somewhat more diversified make-up of the local population. There is a considerable Chinese community in town, as well as touches of Indian and Arab cultures. Many of these international influences are most easily seen in the commercial part of town where there are many shops with non-Malagasy or non-French names. I quite enjoyed that aspect of the city, as it allowed me to blend in a little more than I would have in other places, or at least, not stand out as much. This was very much appreciated, as it helped me to relax and recover during my stay. Another nice characteristic of the city was the continued use of bicycles as transport by the local population. There are increased numbers of cars and trucks on the streets, as you might expect, but they are still largely beholden to the crowds of walkers and bicyclists. Of course, the drivers there exhibit a bit more impatience than in other parts of the island, but there is not much good that that will do for them, as the non-motorized segment of the population still largely calls the shots, for the time being at least.
On Monday, my first day in town, I had a simple plan for the day; sleep late, eat, eat some more, check and send e-mail, eat, take a nap, have a snack, find a place for dinner, and turn in early, after a bedtime snack, of course. Sleeping late meant 8:00 A.M., three hours after my usual rising time during the trip, and the long, quiet sleep on a soft bed felt wonderful. As I ventured out into town I could tell right away that it was a good thing that I was not riding on that day. My energy level was extremely low, and simply walking around sort of wore me out. Fortunately, since I was in no big hurry to do anything, I just took it easy as I strolled toward the center of town. After a while I had found my way to the ShopRite where I picked up a bag full of tasty looking food, and set about eating it right away. I was glad to feel no remaining effects from the sinister Imodium tables I had taken a few days earlier, and so I had no problems downing my feast. A short while later, I found a nice place to use the Internet, on the east side of Blvd. Joffre, not far from the Hotel Joffre. The connection there was reasonably speedy, and the rate seemed typical, though I can't quite remember exactly what it was. About a block away was a popular open-air, diner-style cafe called Adam & Eve that served, among other things, thin, but tasty, milk shakes. I had a nice lunch there, and returned several more times during my time in town. The rest of the day went by as planned. Slow, relaxing, and a culinary extravaganza.
Tuesday, was slightly more active. I had one important errand to attend to, namely, a visit to the Air Mad office to change the dates of my future flights. I set out to take care of this first thing in the morning, as I knew from my experience in Tana that things could move rather slowly in such endeavors. The office is on the west end of the Ave. de l'Independence, and was not too crowded when I arrived at 9:00 A.M. After a while, it was my turn to sit down with one of the agents, and try to describe the changes that I wanted to make to my schedule. My poor French didn't help in this matter, but eventually I managed to get myself seats on the later flights to Antalaha and Diego Suarez. The agent was simply able to write new dates on my tickets, so they did not need to be reissued. Air Mad still uses paper tickets almost exclusively, often hand-written. I needed to be very careful with these so as not to destroy them on my travels. Canceling the last flight, from Tana to Fianarantsoa, and getting a refund, took a little longer while someone opened up the cashier's window. It turned out to have been a mistake to pay for the tickets in Tana, but who knew that I would need to change them so soon?
The rest of the day, I basically wandered around and explored the town. The market was, of course, on my list of places to stop. Tamatave's version was under a covered pavilion, so the food was not lying about in the baking sun, as was the case in many other places. It was always quite an experience to stroll though the markets, and this one was no exception. As usual, it was often hard to identify exactly what all the items were that were out for sale, especially in the seafood section. However, fish was not what I was looking for on that trip, but fruits or vegetables were the order of the day. Because of the time of year, the selection was not as great as it could have been. Salad greens, onions, and the like, were available at the vegetable stands, but I settled for another bunch of carrots. I was really hoping for some tasty tropical fruit, but I had had my fill of bananas and pineapple, which was practically all that was available. A little disappointed, I began to make my way out through the noisy crowd, and just as I reached the exit I noticed a woman who had an interesting pile of something red at her stand.
It turned out to be Lychee, one of nature's most perfect foods, though I didn't realize that right away. I had seen ladies selling bunches of lychee along the roadside to the west of town. I never stopped to try any since I was operating in no-food mode at the time. Had I realized then just what they were, I would had certainly made an exception and picked up some along the way. Originally from southern china, lychees are now abundant throughout the tropical Indo-Pacific region. Lychee is similar to mamoncillo my favorite treat from my tour of Cuba in 02002. Both fruits consist of a large seed surrounded by a delicious white- to cream-colored pulp and a leathery, but easily opened skin. The skin is cracked open simply by squeezing the fruit, which is about the size of a golf ball, and the pulp is then sucked off the seed. The flavor is wonderful, a little sweet and a little tart, perhaps resembling a mix of apple and grape. However, while mamoncillo is green and smooth on the outside, lychee, at least the variety grown in Madagascar, is red and its skin is covered with think centimeter-long tentacles. These make the fruit look rather hairy. The vendor let me taste one when she saw that I was not sure what they were. As soon as the skin popped open, I knew that I had struck gold, and I bought a whole kilogram on the spot. That discovery lifted my spirits tremendously, especially as I imagined that I would be snacking on this delicious treat many more times during the rest of the trip.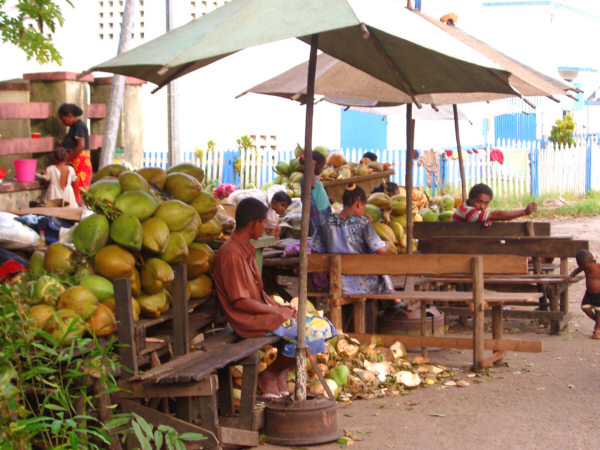 This stand serves fresh coconut milk at the Tamatave Market.
I the evening, I did nothing in particular, mostly munching on my prized find back in my room. In the evening I went out to find a nice dinner. With the exception of the two days of starvation en route, I had been nibbling this and that, wherever I could find food, for several days. Since, my appetite was now fully restored, I felt that I deserved as nice a meal as I could find. I first tried the attractive-looking restaurant at the Hotel Joffre, but they were not serving for a couple more hours, so I simply wandered around until I found someplace appealing. Eventually, I found my way to a place called Zoreal on the south end of town. They had not quite opened yet either, but they let me in anyway. Zoreal had a nice looking menu with Malagasy, western dishes, and pizzas, but I was interested in filling up with a lot of protein, since that had often been absent from my diet on this trip. So, I ordered a nice zebu steak, which really hit the spot.
On Wednesday, my final day in Tamatave, I had nothing particular that I needed to do, so after checking my e-mail again, I just wandered around for most of the day. In the morning, I somehow found my way to the entrance to the port facilities. I assumed that I would not be allowed in, but I decided to just keep walking to see if anyone said anything. To my surprise, no one paid a bit of attention to me. I thought as I walked around, just how unlikely it would have been for me to stroll around unescorted through a major shipping port back at home, given the level of hysteria at the time. It was nice to not have to worry about such things.
This was not your typical Madagascar sea port, filled with pirogues, and boats that may have been built at Belo-sur-Mer. No, the vessels docked here were oceangoing containerized cargo ships, LNG takers, and similar craft, a definite link in the chain of the global petro-economy. Stacks of containers three or four levels high created a colorful labyrinth in the yard that one could easily get lost in. Through this maze giant mobile carriers, looking like overgrown versions of something from a child's sci-fi toy set, plucked the large containers up, restacked them out of the way, or delivered them to a waiting ship, where even larger cranes lifted them on board. I absolutely felt like a Lilliputian amidst Gullivers as I walked around the place. It was an interesting experience, and definitely something different from my normal touring routine, especially on this tour. I spent an hour or two wandering around, wondering where all the ships had arrived from, and waving to the friendly sailors. A bit of activity like that meant only one thing; time for more food.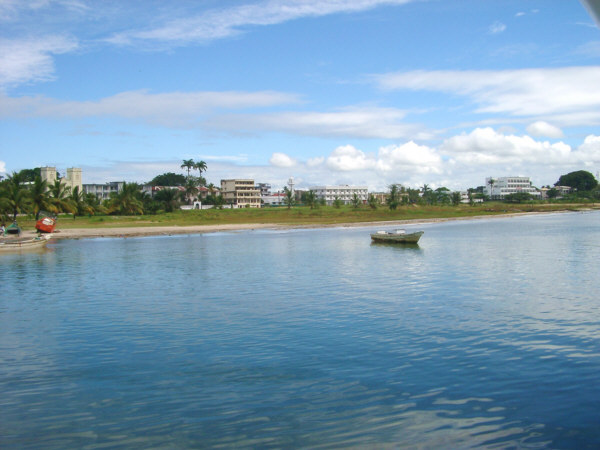 The skyline of Tamatave, as seen from the port.
As I made my way back towards town looking for an inconspicuous eatery for lunch, I encountered a heartening crowd. The previous day, I had seen many young people cleaning up trash on the shoreline. They belonged to a group called The Nature Club and they were celebrated their job well done with a ad-hoc parade through the streets of the city. Two or three busses, whose radios provided music for the group, brought up the rear of the procession. However, the great majority of the club members took part in the party by riding their bikes. There were several hundred kids in all, and they filled a few blocks from curb to curb, taking over a whole section of the city and requiring taxi drivers to exhibit a rare measure of patience. Their enthusiasm and smiles were contagious and made me wish that I had my bike there so that I could join in. At that instant, I felt like I was back home riding in a monthly Critical Mass.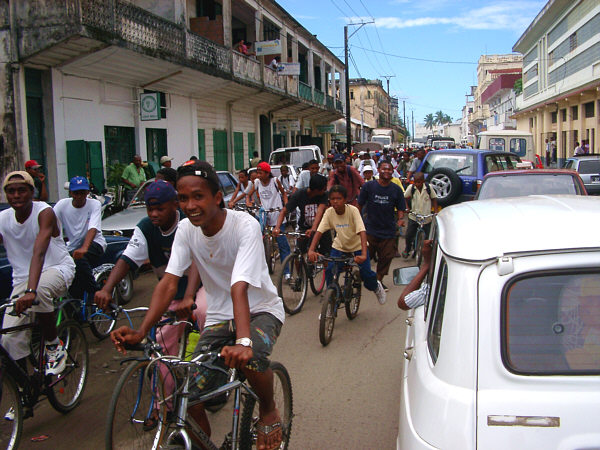 The Nature Club celebrates their beach clean-up with a group ride through Tamatave.
In the afternoon, I went for another walk, this time along the shore to the north of town. There appeared to be something like a lighthouse a fair distance away, but I didn't have quite enough energy to get that far. Instead I just strolled along for a while looking at some pretty little gardens along the beach, and some fairly topical-looking homes just inland. After a while a came to a large, yellow building that, after a moment, I identified as the local hospital. From time to time over the previous few weeks, I thought that I might try to find a physician to treat my poor digestion and the infections on my legs, which were not really going away. Looking at that facility gave me a little pause to think about that idea. Most of the windows were open and I could only guess at the number of flies that were buzzing around inside. Of course, I was probably letting my imagination get the bets of me.
Later in the evening, after giving my gear a quick once-over, I ventured out for one last meal in town. This time I stayed close to home and visited the Malagasy restaurant across the street from the Hotel Noor. A bowl of vary was a given, but the main attraction was a streetside grill that was serving large, tasty brochettes of chicken and zebu, with a shredded carrot salad, all of my favorites. I certainly filled up that night. After my meal, I wasn't feeling quite ready to turn in just yet, so I ambled about the streets of town for a while. In addition to the usual late-night street vendors selling various types of food, I witnessed several local people putting up makeshift shelters for themselves on the sidewalks. The first thought that crossed my mind was "Well, it reminds me of being back home in California.&quot The difference was that the street people of Tamamatve seemed just like ordinary folks who lacked a permanent home, unlike their counterparts on the streets of Berkeley who, after being treated as outcasts for so long, have sunk into a dark well of hopelessness.
Tamatave gave me exactly what I needed just when I needed it. The three days spent there had done wonders for my health, which had been at a low point shortly before. The availability of a lot of good food helped a lot, as did the chance to spend a little time in a place that seemed a little more familiar than many other places I had recently been. At that moment, however, I felt essentially restored and ready to set out again on one of the most anticipated segments of the tour.
Next: A Goal Achieved...
~Go There~