Part Five:
The Big Wait
April 24-30
Rest, Recovery, and Repair in Fort-Dauphin
- or -
Did I Mention That I Needed Rest?
I always knew that one day I'd have to deal with a major mechanical problem during a tour. I've had the usual occurrences of tire problems, chain problems, and, unfortunately, wheel problems, among others, in the past, but nothing that caused me to stop for more than one or two days. I suppose that I shouldn't have been too surprised that the hub failed, considering the extreme conditions that I encountered over the first two weeks of the tour. However, the part that failed was a top-of-the-line Phil Wood hub, which has a reputation for durability, so that was a little disappointing. I suppose that they had never met Madagascar before, though. On the other hand, I probably needed a week's worth of rest much more than I needed to keep riding at that point, so perhaps the bike unintentionally did me a big favor. I was probably in worse shape than the non-functional bike was for the first few days that I spent in Fort-Dauphin. I still had digestive issues, the infections on my legs and hand were still going strong, and to make matter worse, I was now experiencing other symptoms, like a low-grade fever, profuse sweating and dizziness whenever I tried to eat. I was not sure whether this was the results of some new tropical bug I had picked up, or simply a condition brought on by the infections I already had combined with physical exhaustion from the efforts of the previous few days. In either case, I would be down for a while, which was fine as I would apparently have plenty of time for rest. Hopefully, I would feel better by the time I had the bike ready to go again.
If you're going to get stuck somewhere in Madagascar, Fort-Dauphin is not a bad place for it to happen. Fort-Dauphin is one of the most picturesque towns on the island, with its prime location on a green peninsula ringed by attractive beaches, and surrounded by the azure waters of the Indian Ocean. A series of impressive mountains lie just beyond the edge of town, and their lovely, forested slopes provide a stunning backdrop for this small to medium-sized town. The peninsula where the town sits is located at he southeastern tip of the island, and is in a distinctly different botanical zone from the desert region that I had just crossed to get there. Here, the landscape is covered with plants more commonly thought of as tropical, including palms, hibiscus, and many more, due to the increased precipitation the area receives. I would have been able to see the interesting transition from a dry to moist climate had it not been dark during most of the taxi-brousse trip the night before. I hoped that I would be able to visit some of the places that I had missed that night before I left the area, preferably on the bike, once it was repaired.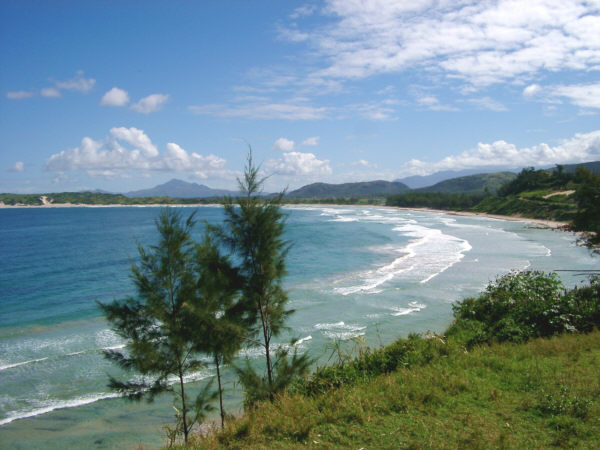 The scenery is spectacular in Fort-Dauphin.
Fort-Dauphin, in many ways, seemed more like the off-the-beaten-path town I had expected to see in Toliara. This was undoubtedly due to its relative isolation, with the only two roads to the rest of the island being a rough road though the Spiny Desert and another, nearly as challenging, route along the coast to the north. There was a substantial tourist industry here, however, with most people probably being attracted to the town by its beautiful beaches and proximity to several nice parks and game reserves. Most of these guests arrived by plane on the daily flight from Tana and very few, if any attempted to come by bicycle, as I had done. Consequently, there was a decent amount of modern services in town, including some much-appreciated shops such as a hardware store, a small supermarket, and a few nice western-style restaurants, Of course, there were also the standard Malagasy hotelys and a bustling outdoor market. Most important to me at that time was communications to, and delivery service from, the outside world. The town seemed on first glance to be connected well enough that I would be able, one way or another, to make the repairs that the bike required.
My new home, for an indefinite length of time, was the Sahil Hotel. This was a fairly small place, with something like eight rooms, located on a hilltop where the business district adjoins a residential area, on one of the main streets of the town, Bazarikely. My room was basic, but perfectly adequate for my needs, with a comfortable bed and a private bath (including hot water that would eventually emanate from the faucet if you let it run long enough.) The location of the inn, at the edge of a vibrant Malagasy neighborhood, made it a little tough to get a lot of sleep at times, however. The local residents visited with each other out in the street, just below my window, until late into the night. At dawn I was often rousted by the street vendors, like the man who carried maybe ten live chickens by their feet along the street looking for buyers, or the lady who walked by every morning with a large basket of fruit on her head shouting "Mananasy!!" (the Malagasy word for pineapple).
I really enjoyed the Sahil. The inn was run by several nice ladies who seemed to be quite happy that I was staying there. By the time I left they had taken to calling me "Monsieur Mikal" and though only the Madame de la Maison knew any English at all, I was able to communicate well enough with my hosts to learn a few interesting facts about the area. At first I sensed that they were a little surprised that I wanted to take my bike up to the room, but when I tried to explain that I wanted it close by so I could clean and repair it, they let me bring it up. I was also able to get my clothes washed there, though the staff was amazed at just how ripe they smelled after being carried, in a closed bag, across the desert for six days. The room rate was about $10.00, and even though I could not tell them exactly when I planned on leaving, they let me check in without leaving any deposit or paying for anything until I checked out. I thought that this was rather trusting (my bill ended up being over 1 million Francs, after all!) The best thing about the place was the nice restaurant that was located on the premises. They served a nice selection of dishes, such as grilled chicken, spaghetti Bolognese, zebu steak, and some very tasty soups. Believe me, after many meals of vary, I greatly appreciated the tasty meals there. Even better, the cost of a nice dinner was only about five dollars. By the time I left town, I had sampled almost the whole menu, more than once.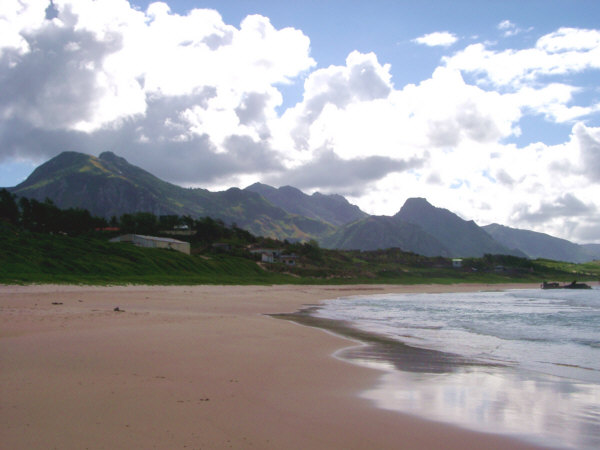 The town sits on a peninsula and is surrounded by some nice beaches.
There were only three items that I wanted to accomplish on Thursday, my first full day in Fort-Dauphin, clean myself up, find a place to get Internet access so I could contact the States to arrange for parts and help to make my needed repairs, and, most importantly, eat. The first was not as easy to accomplish as one might expect. I did not sleep well that night, and getting up and moving about was a chore unto itself. By the time I had managed to wash off six day's worth of road off of my body and some of my gear, it was well into the morning. After that I went out and jumped in a taxi to find a place to get 'Net access. I was still so tired that I didn't feel like walking, though that might have been faster. I had a hard time describing to the driver what I was looking for, as he probably had never been in an Internet café, and I saw no readily visible possibilities as he drove me across town. I ended up taking four different taxis, to four different locations (one of which was correct, but I didn't realize it at the time,) before I finally located the right place. There was a nice, cool, office belonging to the telephone company located in the basement of the post office, though the entrance was around the building, on its back side. They had five or six decent PCs available for use, and this time the connection speed was quite satisfactory. I would spend many hours there during my stay in town, but that morning all I wanted to do was send out one message to the Phil Wood company, the manufacturer of the hub, seeking help. I provided as much information on the problem as I could and hoped that they had a solution that would get me going again. I was not sure if the part could be fixed on the spot, would require replacement parts, or would need to be exchanged entirely. I was willing to do any of these options, though the thought of relacing my rear wheel under the current circumstances was not very appealing. Due to the twelve-hour time difference, I knew that I should not expect a reply until the next day. So, having accomplished that, I picked up some food at the little supermarket, and went back to the Hotel, where I plopped down in bed again, only rising long enough for a light dinner at the restaurant later that evening.
On Friday morning I was not feeling very much better, after another restless night. I still tired out easily from just walking around town, and felt a little queasy whenever I tried to eat anything substantial. I was considering whether I should try to visit a doctor, just in case my symptoms were indicative of the onset of something more serious. However, I didn't see any medical facilities at all in town, except for a small pharmacy that only seemed to be open for a few random hours every few days. Since it was a Friday, I decided to watch myself closely, and if I didn't feel any better by Monday I would look for help then. Fortunately, I received some encouraging news when I checked my e-mail later that morning. The nice service representative at Phil Wood had replied to my inquiry right away, which I greatly appreciated, and had a set of replacement pawls, ratchet ring, and the special tool needed to remove and install the ring, ready to ship out to me. He only needed an address. I fouled up that apparently simple task, which lead to an extremely frustrating delay. I won't rant on too long about this, but apparently DHL, the only major shipper that had a link with the local shipping company in Madagascar, didn't like the format of the address I had provided. So, instead the package went out using the USPS Global Express Mail service. That seemed fine to me, since I have usually received good service from the USPS. But this time, things did not work out too well, as I will describe shortly. Under the best of circumstances, I should have expected the package to arrive in about a week, so I assumed that I had until the following Friday, or at the very latest the Monday after that, to relax and enjoy my stay in Fort-Dauphin.
Saturday and Sunday were fairly slow days, as I was still pretty weak, and did not feel like doing too much. I basically just spent a little time on the 'Net, took a few slow walks along the nice beaches, and tried to eat as much as I possibly could to help regain my strength. I made an effort, at every opportunity, to include as much protein in my meals, to make up for my almost total reliance on carbohydrates during the first part of the tour. By Sunday evening, I was felling quite a bit better, and was able to finish a large, tasty dinner without feeling dizzy. So, I decided that I would not need to try to visit a doctor, and would leave the medical facilities available to Malagasy people who might have had a greater need than I did.
When Monday arrived, I was feeling well enough to venture out into the surrounding are to do some sightseeing. My main goal was a visit to Andohahela National Park, which I was forced to miss on my way into town. I stopped in to the main local tour company, Air Fort Services to see what they had available. They had many options to choose from, including a longer tour to out to Faux-Cap, but I was not interested in going all the way back to Tsiombe, the site of one of my most tiring nights, to get there. I decided to stick with my original plan and made arrangements for a guide and driver to take me to Andohahela. This turned out to be one of the most expensive visits of the trip at about $110.00 for the day. I would have much preferred to get there under my own power on my bike, but relented to the need to use a hired van in this situation. My guides would meet me early the next morning at my hotel, so until then, I was able to relax a little more.
In the morning my guide Narciss, and driver, Dauphin, arrived right on time. Though I was still a little groggy, I jumped in the van, along with a bottle of water, some oranges, and a couple of packets of cookies to tide me over during the trip. We then headed west, along the road that I had used to enter town the previous week. Though this time, with the bright morning sun, I could see clearly the extremely beautiful scenery as the road passed through the mountains to the west of town. I was a little frustrated, because this route looked like a really great ride, and I had missed it. The road, which was a little rough in a few places, but quite rideable, wound through the green hills, but did not make any significant climbs, as the hills were fairly widely spaced. I decided then that when I had repaired the bike, I would make a test ride out to this area again before leaving town, That way I could verify that everything was in good working order, and make up for some of the distance that I had missed earlier. Andohahela Park is split into three separate sections, one covered with dense rainforest, one in the spiny desert, and one called the "transition forest" which combines elements of the first two, as its name suggests. We would visit the latter two sections on this trip.
Before long we had arrived at the first stop, the Spiny Desert parcel. This was located about 8 kilometers off the main road. The access road was dirt, but I thought that I would have had no trouble making it had I been able to try by bike. I was, perhaps, a little less interested in seeing this section, as I had already seen quite a bit of Spiny Desert plants on my ride across the south. However, the chance of seeing wildlife here was greater than in the other sections, so that was a plus. I was pleasantly surprised at the interesting forest contained in this part of the park, though. Many of the plants were the same as I had seen before, but as this area had never been cleared or grazed, the size and variety of the plant life here was superb. This was what the whole southern part of the island had looked like in the past and it was like an different world. As we walked along, Narciss described the different plants, and what uses the local people had for them. There were many that were used as medicines for various conditions and I was wondering if any would help me fight off the tropical bugs that I was carrying around with me. There were numerous small reptiles and some pretty birds as well, but the stars of the show were a little shy at first.
We were almost to the end of the trail when Narciss, who could spot even the smallest creature, no matter how well camouflaged it was, directed me to look into the treetops. The object of our attention were not small creatures this time, but a group of Verreaux's Sifakas jumping about in the trees. Sifakas are a type of lemur, and this type, in my opinion, is one of the most beautiful. They are about a meter tall, with silky white fur, a black face, and a long white tail. Along with the ring-taileds, Sifakas are one of the few lemurs that occasionally walk on the ground, but when the do so they adopt a peculiar gate, standing erect and bouncing about with their arms outstretched upwards. There were five or six in the immediate vicinity when we found them, and they declined to demonstrate their dance for me and instead stayed up in the trees. However, when they jump from tree to tree, as they did frequently to maintain a comfortable distance from us, they also do so in a rather different way. Instead of diving forward, like a monkey might, they jump outward but keep their bodies vertical the whole time. This way, when they reach the next tree, they can grab on with their hands and feet simultaneously. We lingered in the area for a while, and I was able to observe them quite well for several minutes. They were, in fact, among the most beautiful creatures, of any sort, that I have ever seen.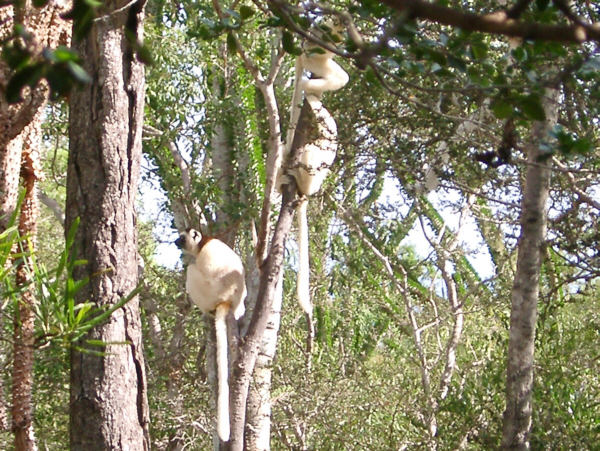 A group of Sifakas play in the trees in Andohahela National Park.
Our next visit was to the area of the park that contained the transition forest. This was located several kilometers to the east, back towards Fort-Dauphin. The increased rainfall in that area supported plant and animal life from both the rainforest and desert communities, as well as some species found nowhere else. The chance of seeing any lemurs there was much less, so the main attraction would be the exotic plant life and the beautiful mountain scenery. When we set out for our hike I was beginning to feel a little sluggish. The day so far had not been very strenuous, so obviously I was still feeling the effects of my recent maladies. It was not very long before the trail began to climb up the side of one of the small hills of the rolling local landscape. I managed well enough, and the appearance every few meters of some new, bizarre-looking plant helped keep me from feeling tired.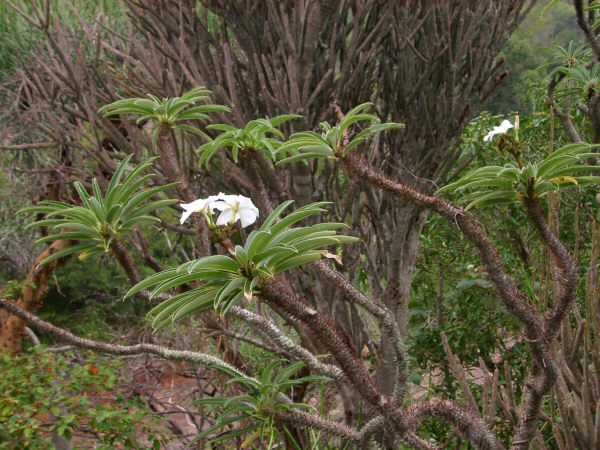 An odd plant in the Transition Forest, Andohahela National Park.
Narciss, who spoke English quite well, explained the names and uses of most of these plants as we walked along, but little of the complicated nomenclature stuck in my mind. Nevertheless, it was nice to simply observe and learn a little bit about the forests in this area. The trail rolled along the top of a ridgeline for a while, and before long I was greeted with a nice view of a pretty, rapidly flowing river in the small gorge below. In this, the wetter part of the island, rivers flowed with much more vigor than those rather placid waters that I soaked in, or slogged across, in the southwest. The hilly countryside also created some beautiful waterfalls as the river wound its way towards the sea. Continuing on, the trail sloped down into the gorge and eventually we reached the riverbank where the park's campsite was arranged around a wide, still pool in the river. If it had not been a cool, slightly damp day this would have been an excellent place to take a quick dip. The campground was basic, but very attractive, and if I had managed to visit the park on my way to Fort-Dauphin as planned, it would have been a great place to stay, provided that I could have convinced the ranger at the gate to guard the bike. There was also a campground in the spiny desert portion of the park, but I did not see that one. The trail crossed over the river, and made its way back to the entrance along the opposite bank. There were many more interesting sights to see on the way back, and the return trip topped off and already enjoyable day.
An attractive river cuts through the forest, Andohahela National Park.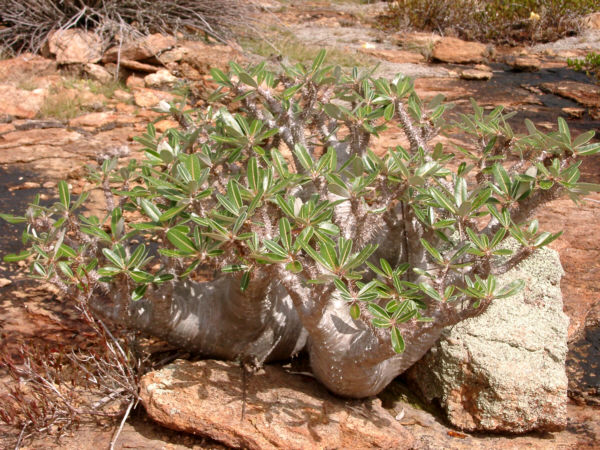 This plant is endemic and found only in a small area of Andohahela National Park.
The trip back to Fort-Dauphin was as pretty as it had been before, but the rapid pace that our driver was setting over the very bumpy road rattled my wits. This was a good reminder of just how inferior I find automobile travel to be, and all the way, I was thinking to myself how I would rather have been on the bike. When we were about half way back to town, some folks by the side of the road waved for us to stop. Two men dressed as soldiers asked Narciss if we could give them a ride into town. He asked me for my permission, and I replied that it was their van, and if it was ok with them, it was ok with me. So, they jumped in the back and we were on our way again, zooming along the still-bumpy road. After several kilometers, one of the soldiers shouted to the driver to stop, and both men jumped out and ran off towards a small village on the roadside. We continued on and my confusion was only clarified when I noticed that one of the men, who apparently not been feeling too well, had tossed his lunch all over the back of the van. It seemed a little rude to me that they had not even mentioned it and just ran off, and I felt a little sorry that I had not been selfish and declined to share the ride, thereby relieving my guides of the unpleasant task of cleaning the mess up later on. Who would have guessed, I suppose?
In any case I was very glad to have gotten the chance to visit this park, and satisfy one of my goals for the tour, though not exactly in the way that I had intended. The rest of the week was fairly relaxing, as I was not expecting the arrival of my package of parts for a few more days. I simply took it easy and lounged about town for a while. I did know, however, that I would need a large wrench to remove the damaged ratchet ring once the new parts arrived. So, I spent one afternoon walking around the busy market. There I purchased a big bunch of carrots, the food that seemed to satisfy my queasy stomach more than any other, and ate them while I looked around for an appropriate tool. There were a few stands selling used hardware, and at one I bought the largest adjustable wrench they had, for the equivalent of a few dollars. There was not much else left to do but wait. Already, I was beginning to feel the urge to move on and not risk missing any more of the sites that I wished to visit. I only hoped that the wait would not last much longer.



May 1-8
Time For "Plan B"
- or -
A Return to Tana
My plan for the rest of the tour was to follow the route that I had originally planned, though the delay would most certainly mean cutting out a considerable portion at the end. Just how much would be determined, in part, by exactly when I could get moving again. I would head north, along the east coast as far as a Farafangana, then turn inland and climb into the highlands once again to visit the cities of Fianarantsoa, Ambalavao and a few others, as well as two very interesting-looking national parks, on the way back to Tana. From there I would ride through as much of the northern part of the island as time permitted. The key would be to not trap myself somewhere that would cause me to miss my flight back home. This was not an easy situation to predict, as the haphazard road network, taxi-brousses that were not much faster than I was, and irregular air schedules meant that I would need to always keep a practical way back to Tana available in case of more delays. Not that I would have complained too much about missing my flight home, mind you! The road north from Fort-Dauphin as far as Vangaindrano, about 230 kilometers away, was dirt, and given the rainy weather in the area, it was probably mostly mud. However, after that, the rest of the route to Tana was entirely on the paved highways. I was tremendously looking forward to reaching the good roads again, as well as seeing the parks and towns of the southern highlands. More than that, however, I just wanted to get my tour going again and get up on the bike. I was feeling better, though I probably did not have all my strength back, and had seen most of what Fort-Dauphin had to offer, so I was anxious to start again.
Friday came, and went, and there was no package. Saturday came, and went, same result. On Sunday there was no delivery service, so I knew that I would get nothing on that day. To pass the time, and also test my stamina, I decided to go for a hike in the area. I set out to the north, and was thinking that I might walk up Pic Louis, the tallest of the mountains that encircled Fort-Dauphin. To be sure, the view from there would have been spectacular. However, I could not locate the proper path that would take one up the mountain, so I simply continued to walk north along the coast road. This would, at least, give me a chance to do some reconnaissance in preparation for my planned ride along the same route. The road was indeed muddy in several places, but to my surprise, I don't think that it was nearly as bad as some that I had traveled over already. That was somewhat encouraging, I felt. It was a pretty route as well, with small homes surrounded with blooming hibiscus and poinsettias (one of the Malagasy's favorite non-native plants.) Further along, the road slid into some denser forest which would be my first taste, albeit slight, of Madagascar's rainforest. I walked past a constant string of tiny villages and, as usual, surprised the residents by passing by on my own. Along the way, I encountered some local men who were carrying giant bamboo poles (perhaps 30-cm thick, and 4-5 meters long) on their shoulders. There was a game reserve about 7 kilometers north of town and I thought that I would try to go that far, and hopefully grab a quick drink there before the walk back to town.
After a while, I reached the Reserve de Naohampana, but since it was Sunday, it was closed. However, one of the guides was hanging around the entrance, and he said that he could take me on a tour of the place. There was no one else there, and the idea of visiting at that quiet time seemed quite appealing. The tour cost $8.00, which was pretty standard for park guides. However, I learned that rooms in the lodge, which was the type of place that most "normal" vhazaha tourists would need to stay when out looking for lemurs, cost upwards of $150.00 a night. Ouch. It was a pretty place, and there were supposed to be several species of lemurs living there (many of which were unfortunately tame due to their constant exposure to banana-wielding tourists.) Sadly, most of the lemurs were shy that day, and the only ones that we saw were another group of Sifakas. So, my lemur species count would stay at two for the time being. There were many other interesting thing to see there, though, such a giant tortoises and cinnamon trees.
After a nice visit, I said goodbye to my guide and set off on the long walk back to town. I was getting quite hungry and thirsty, but I knew that there would be not much available along the way, unless I wanted to try and find something in one of the small villages. I decided to keep walking and along the way, ran into a couple of European vhazaha ladies who were watching their companions try to push their four-wheel-drive truck out of the mud hole in which it was stuck. I was glad that I never had anything that heavy to push. It seemed to be longer walking back than it had been on the way out, and when I finally encountered a small Tiko store at the outskirts of town I happily bought a large soda and some snacks and sat on the beach to take that all in. In all, it was about an 18-kilometer walk, and I felt that since I had managed that without too much difficulty, that I would be ready to ride once again.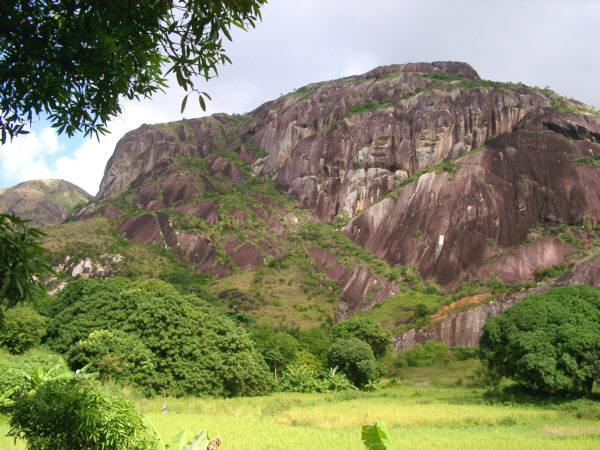 Verdant scenery north of Fort-Dauphin.
Monday came, and went, and still there was no package. Now, I was really beginning to feel anxious. My frame of mind was not helped by the fact that the USPS's so-called online "Tracking Service" was about as close to useless as it was possible to be. It only told me that the package was put on a plane one week earlier, but after that it apparently had fallen into a black hole. My daily routine over the previous few days and been; head out in the morning to check my e-mail and see if the USPS had any more information, then wait for the afternoon plane to arrive from Tana, then check with the package delivery service to see if anything arrived for me, and then, when nothing did, return to the Hotel where I would say to myself, "Alright, if the parts arrive tomorrow I can still make it to X, Y, and Z." Each day that passed, of course, caused me to chop off more places that I had hoped to see from the route, and increased my level of frustration accordingly. So, now that I was well into the second week of waiting, I decided that I would have to come up with a new plan.
This would certainly require me to take at least one domestic air flights, and so I pulled out my Air Mad timetable and my maps, and tried to figure out some solution that would let me see as many of the places left on my list in the remaining time. It was not easy. Air Mad has a very good route network connecting most of the major towns on the island, but many of these are only served by one or two flights each week. Since I had only about three full weeks left before I needed to be back in Tana, and a lot of riding and sightseeing that I still wanted to do, the best solution that I could come up with was rather complex, and would be quite challenging. "Why not at least try?" I told myself. The worst that could happen was that I'd need to modify the route once again.
My new plan was as follows. I would contact Phil Wood, and ask them to send me a second set of parts (which they thankfully did right away), this time shipping them via DHL to be held for pick-up in Tana. I would fly there to meet the package in a few days. DHL offered a guaranteed transit time to Tana of four days, which would hopefully have me riding again on Friday. Leaving Tana, I would ride along my original route up the northeast coast through Tamatave and on to Maroantsetra. The latter town was probably at the top of my list of places to see on this tour, and I wanted to get there at any cost. From there I would need to take another short flight over the roadless Masoala peninsula (I was originally planning to take a boat, but I'd done plenty of that already) to the coastal town of Antalaha. Next I would ride to the northern tip of the island and visit Diego Suarez, which was close to a national park that I wanted to see. In Diego, I would need to catch another flight back to Tana, as there would not be nearly enough time to do the ride back, as I had originally planned. I would have just enough time to ride south into the highlands as far as Fianaratsoa, visit Andringtra and Ranomafana National Parks, and fly back to Tana to catch the flight home. Obviously, this was a very complex itinerary, and if it was going to work, I would need to avoid any more misfortunes, as well as put some serious mileage on the bike during the riding days. Fortunately, a good portion of this route was on the paved highways, and though I new things would be tough, and I would need to be a little lucky, I decided to at least make the attempt.
Logistics would now be a constant concern for the rest of the tour, as I tried to pull this off. Though, as this plan would, hopefully, get me going again, I was at least feeling that I would soon have things under my own control once more. That raised my spirits quite a bit. First I needed to make my reservations with Air Mad, and then worry about bringing the bike along. There was an Air Mad office in Fort-Dauphin, and it was a fairly easy matter to make reservations for all the flights, and fortunately I didn't need to pay for any of them right away. The total cost would be about $400.00 for the tickets, and perhaps some more for being over 20-kg weight limit for baggage. Since this was an unexpected cost, I thought it would be a good idea to withdraw some cash against my credit card to avoid depleting my reserves. This time Credit Lyonnais could not do the transaction, but the Bank of Africa could (however, only for MasterCard, not VISA.) It did take the bank the better part of a day to take care of this, but after I had the cash, I felt a little more comfortable.
Now, I had about a day and a half left before the flight to Tana, and I spent most of that time wondering how the bike would fare on all of the forthcoming plane trips. I assumed that the longer flights would be not much of a problem, since they were on larger planes, either a Boeing 737, or an ATR-42 turboprop. The two shorter flights, however, were potentially more of a problem. On the shorter routes, Air Mad used small TwinOtter aircraft, which seat something like fifteen people. I had no idea what sort of room they had on board for baggage, though the agent at Air Fort Services said that they would be able to take the bike. I had learned not to believe anything until I saw it with my own eyes, so I was still a little unsure about that. Of course, I had no case or box available, and it was not likely that I would be able to find one for each of the flights. So, I did the best I could under the circumstances. I removed the pedals and saddle, which I stuffed into my panniers, and as well as the handlebars and both wheels. These were lashed to the frame using some nylon twine that I purchased from the local hardware store. I tried to protect and reinforce the frame by inserting my helmet, sleeping pad and tent in various open places of the frame, and tying them snug as well. The whole load was about as compact as I could make it, and I hoped that it would be adequate.
The flight to Tana was scheduled for Wednesday morning and at the appropriate hour, I said farewell to the ladies at the Sahil Hotel, stuffed all the gear into a taxi and headed out to the Fort-Dauphin airport. The terminal was small non-descript building placed alongside the single runway. I was one of the first passengers to arrive and as I checked in the agent did not seem to pay much attention to my unusual load of gear. It was all piled onto the giant mechanical scale that was used to weigh each passenger's bags. My total came out to 32 kilograms, 12 over the limit. The airline charges a fee of 1.5% of the ticket price for each kilogram over the limit, so for me that worked out to about $18.00. It made me feel much better to have all of that taken care of while I waited for the flight to board. Any concerns I may have had about the airline accepting my bike melted away as I watched the other passengers check in. Many brought all sorts of crazy-looking baggage to be checked, including straw baskets overstuffed with who-knows-what. I halfway expected someone to bring on a live chicken. It was Madagascar, after all. Then I knew that I was surely ok when another man checked his bike as well, and he had not done nearly as thorough a job of packing his as I had. He had only removed the wheels and tied them together, leaving the saddle, pedals and bars in their original positions.
The plane that I would be traveling on arrived shortly before our scheduled departure time, and the ground crew did a quick turnaround, exchanging the bags and boarding the passengers. This went more quickly, of course, due to the absence of any sort of security inspections. Definitely a nice thing not to have to worry about. The flight took of precisely on time and I sat back and tried to enjoy the scenery on the 1.5-hour trip. It was, of course, quite nice, but I was feeling a little sad that I was not traveling through this beautiful, mountainous part of the island on my bike as planned. Before long I was on the ground once more at Ivato Airport. The bike and the rest of my bags emerged unharmed a few moments later, to my great relief. Once again, I had to run the gauntlet thought the mob of porters and taxi drivers to get out of the airport. As I tried to do so, I ran into the same fellow who I had hired the first time I landed. He repeated his offer to show me all around Tana, but I explained to him that I needed to spend most of my stay in town repairing the bike. So, he hooked me up with one of his taxi-driver friends who would take me into town. My destination was the Hotel Indri (the Indri is the largest species of lemur left on the island,) which was in the hectic commercial part of town known as "Lower Tana". I chose that as a place to stay because it was only couple of blocks from the DHL office, which I thought would be very convenient.
It was almost 5:00 P.M. when I arrived at the hotel, and they told me that they had a room available but only for one night. I took it on the slim chance that my package might already be in town, and I could potentially be riding the following day. The rate was around $20.00 and the room was adequate, though a little noisy because it was on the first floor facing the street. I had just enough time after I checked in to run over to the DHL office just in case. No package. I was getting used to hearing that, but I was not surprised this time, as it was not really expected to arrive until the following day. I thought that I would try to track the package on the 'Net, and two bellhops from the hotel showed me the way, though a drizzling rain, to the closest Internet Café. It was four or five blocks away, on the Avenue de l'Independence, the main commercial street of the area. There were a couple dozen PCs there, with a nice level of bandwidth, at a surprisingly affordable rate of something like $1.50 per hour. I was pleased to learn that the package had arrived in Paris earlier in the day. It should, therefore, have been placed on either the overnight Air Mad flight or the next days Air France flight. The first alternative would work better for me, but either way, I was overjoyed to see that it would be on the island sometime the next day.
On Thursday, I moved my belongs a few blocks away to the Hotel Mellis, which was similar in cost and amenities to the Indri, but since my room was on the third floor this time, was a little quieter. Another check of the DHL Website showed the package as still "in transit" so I assumed that I would have most of the day available to see a little more of the city. My first stop was to the first real supermarket I had seen in a long time, located on the Ave.de l'Independence, where I picked up some of my long-forgotten touring favorites, such as ice cream and peanut butter. Of course, I also had the urge for some carrots, and they had some nice ones available there as well. After a refreshing lunch made from these items, a had the rest of the afternoon free, so I decided to walk up to the historic buildings on top of one of Tana's many hills.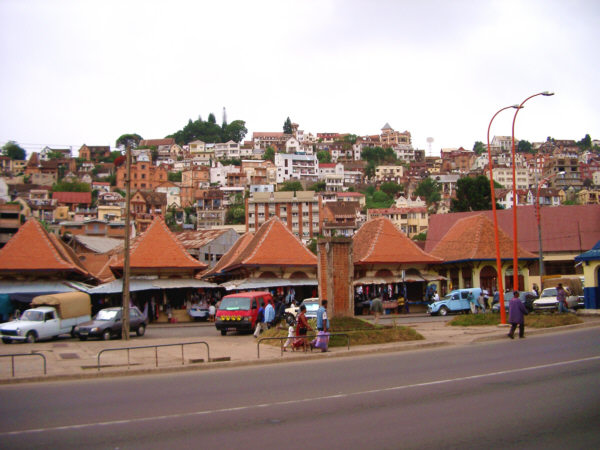 A crowded hillside above a Tana Marketplace.
There was a light rain off and on during the day, but I thought that if it was going to rain it might as well happen when I was off the bike, so I didn't worry about it too much. I headed out and walked up Ave.de l'Independence, which is lined with a number of modern businesses of the type one might find in any large western city. Tana definitely has an odd mix of cosmopolitan life juxtaposed with more traditional homes and shops all jumbled together in a chaotic arrangement. However, after being in the country for over a month, I was now much more comfortable dealing with all the craziness, and this time my stay in Tana did not seem as intimidating as the first had. I simply walked along, not really paying much attention to where I was going. After climbing up winding cobbled streets and stone staircases I reached the top of the hill at the center of the city. The view from the top was impressive, and with the lack of tall building to get in the way, I could see for a considerable distance in all directions. The homes of the city, which were mostly colored in various hues of brown, contrasted sharply with the green rice paddies that wound their way through the flat parts of the town.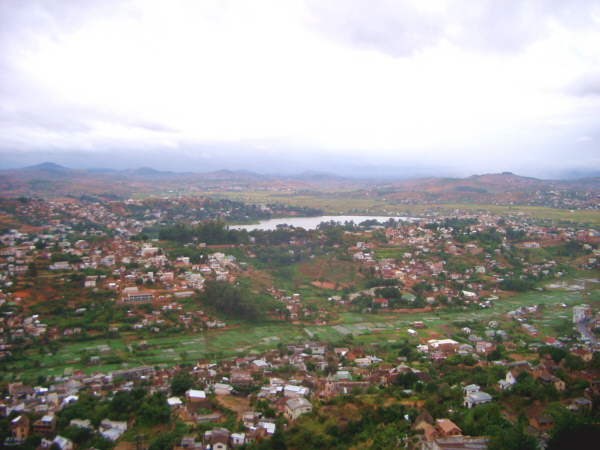 A view of Tana from one of its many hills.
My first visit was to the former Prime Minister's palace, which was now a museum focusing on the history of the country. It gave me a nice chance to escape the short downpour that had decided to erupt just as I had reached the summit of the hill. Inside some impressive exhibits and artifacts were on display including gifts given to the pre-colonial monarchs of the country by their European counterparts, such as Queen Victoria of England. This visit gave me some worthwhile insight into the pre-colonial history of the country. From there it was only a few tens of meters walk to one of the counties most beloved, and tragic, landmarks, The Rova.
The Rova was built by in the era of the first monarchs of a unified Madagascar, King Radama I and Queen Ranavalona when the seat of government was moved to Antananarivo in the 19th century. This landmark palace housed the official rules of the island until the onset of colonization. As I walked thought the main gate a friendly man named Memy invited himself to be my guide, and showed his official certification to prove his worthiness. I happily accepted his assistance, and as we walked around the site he told me many interesting facts about the buildings and the monarchs. The palace itself was wooden on the interior, with stone walls and turrets around the external façade. As with most traditional Malagasy buildings, the roof was supported by a single pole in this case made from a single mighty palisander tree, one of the most important species in the island's rainforest. According to Memy, the particular tree used for the central pole of the Rova was harvested in a distant province of the island. From there it was carried by hand to Tana, and was not allowed to touch the ground during the long journey. Many hundreds or thousands of Malagasy must have participated in this effort, and as the story goes many lost their lives along the way.
However, a visit to the Rova today is tempered by the sad fact that the palace and many of its surrounding buildings were destroyed by a suspicious fire on the night of November 5, 1995. The cause of the fire was assumed to be arson, but the culprit was never identified. The entire wooden structure of the palace was gutted, leaving only the warped stone walls, which today appear as a haunting skeleton. The loss of their most important cultural site was a very tragic moment for the people of Tana, who watched in horror as the flames lit the normally dark nighttime sky. I felt a little cheated not to have been able to see the palace as it was meant to be, but my annoyance was trivial compared to the loss felt my the whole Malagasy culture. There are plans to rebuild the palace, but, as is so often the case, they are stalled for lack of funds. I did learn a lot from my day's excursion, though as the afternoon wore on, I knew that I had other matters to attend to.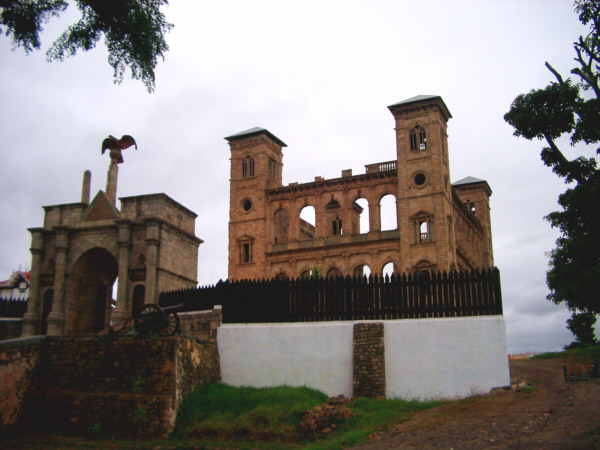 The ruins of the Queen's former home, The Rova.
After my visit to the Rova, I made my way back towards the Hotel Mellis and when I arrived there was a message waiting from DHL letting me know that my package had arrived. Hurrah! I dashed over to the office to pick it up and the agent there could tell by the look of relief on my face that I had been desperate to receive it. By the time I got back to my room, it was almost five o'clock, and I wasted no time in starting the repair. The package contained everything that it was supposed to, new pawls, a new spring to hold them in, a replacement ratchet ring, and the tool needed to remove and install the ring. I quickly untied the rear wheel from the bundled bike and set upon the first task of the job, removing the damaged ratchet. The removal tool was similar to a bottom-bracket tool, with a splined insert that fit into the ratchet and an outer knob with hexagonal wrench flats. That presented the next obstacle that I needed to overcome. I pulled the big adjustable wrench, that I had bought back in Fort-Dauphin, out of my bag and discovered moments later that its jaws would not quite open wide enough to grasp the tool. They were only short by one or two millimeters, but that was enough to render the tool useless. Then my choices were to either wait until morning and find a shop that may have been able to help, or venture out into the streets of Tana to find a larger wrench on my own.
Since I was extremely anxious to get going, I chose the latter option, so I could, hopefully, still have a full day available for riding in the morning. Of course, I had no idea where I might be able to find a giant wrench in the nearby area, but since I was in the heart of the commercial part of town, I hoped that someone would be able to provide me with the location of a good hardware store. That would not have been a problem had I been looking in the daytime, but by that time it had gotten dark and all the shops were closing up one by one. The first place I found was already closed, but there was still one man there who told me about another store that might still be open. It was several blocks away, so I ran off to find it. When I arrived at where I thought I was supposed to go, there was a shop selling housewares, and it was closing up as well. I didn't see any tools available there in any case. I was getting a little desperate, so I tried running through the open market in case there was someone selling used tools there. No luck. Plenty of food, clothing and trinkets, but no tools.
I asked anyone who looked like they might be able to help, but that was often more time consuming than useful. Neither my French, nor my Malagasy were good enough to effectively convey the question, "Where can I buy a great big wrench?" Finally someone pointed me down a dark but crowded street where there was a well-stocked hardware store only a couple blocks away. As I expected, however, it was already closed, at least officially. I could see through the window that they obviously had what I needed and since the lights were still on and people were inside, I asked the security guard at the door if I could quickly go in. He declined my request, but I didn't want to give up so fast. There was a man standing behind one of the counters, and when he looked up I waved a fistful of 25,000 Franc notes in the air and pointed to the rack of tools. He came over, and I showed him the tool that I needed a wrench to fit and he went off and came back with a big, and outrageously expensive, socket wrench. I shrugged that I didn't really need something that elaborate, and he finally let me come inside, where I immediately scooped up an adjustable wrench that was larger than the one that I already had. It still required a fair amount of cash, the equivalent of $40.00, but though all the changes in my plans were catching up with my budget I was not going to worry about that at that time. So, I thanked the man for his help and went off to the cashier to pay for the item.
Back at the room, I felt a little amazed that I was able to successfully pull of my wrench-hunt, and hoped that that was a signal that my luck was starting to change for the better. Not quite yet, as it turned out. With all the parts and tools I needed I set about removing the old ratchet. Not surprisingly, try as I might, I was not able to move the old one, not even a bit. It was stuck in there tight as could be, and even though I am a big and fairly strong guy, I failed to break it loose after an hour or so of trying. Next, I tried a trick that works sometimes for stuck lab equipment back home, and chilled the inner ring with ice to contract it a tiny amount which would hopefully allow it to move. No go that time, either. I suspected that the thread compound that was put on during installation was holding the ring fast. So, as a last resort, I decided to try heat, on the assumption that the compound used worked in a similar way as red LockTite. Of course, the new problem was that I had no way to make fire, or any other sort of intense heat.
Once again I was back out on the streets of Tana looking for something. This time I thought it shouldn't be too hard to accomplish my mission, even though it was now very late at night. I was correct in that hypothesis, and after only a couple of blocks I was approached by one of the many cigarette vendors that wander the streets at night trying to earn some cash. They look rather old-fashioned with a flat box filled with packs of the vile product suspended in front of them by a cord strung around their necks, and I brushed him off quickly as I would for anyone trying to peddle tobacco. Then, as I walked away, I did a double take and shouted back to the man. I realized that if he was selling cigarettes, that he probably had some way to light them. He was quite perplexed that I only wanted to buy his butane lighter and not any tobacco, but I was insistent that it was the only thing I wanted. He let me have it for a couple of bucks, and I happily returned with it to my room.
As I had hoped, after a few minutes of careful heating of the ratchet ring, it begrudgingly gave way, much to my relief. From then on the repair went relatively smoothly, and after a while I finally had a fully-functional bicycle again! It was about eleven o'clock when I finished putting everything back together, and I was definitely ready to get some sleep. First, though, I had to decide what to do with my pair of now-useless wrenches. I thought about giving them to someone on the street, but I didn't really want to go out again. So, instead I went downstairs to give them to the hotel staff. I found them in a back room all having a meal together and it took me a few seconds of cumbersome explanation, after I plopped the heavy tools down on the table, to get the idea across that I was giving the tools to them. Once they realized that I was a big hit with the crew. After all, the new wrench alone cost twice what I had paid for my room.
I should mention here that Tana has a reputation in all the guide books for petty theft and pickpockets. In fact, I was warned more than once by the hotel staff to be careful with my bag as I walked around the city. However, in my experience, I never felt the slightest bit uncomfortable under any circumstances. No one "accidentally" bumped into me or gave me any other indication that nefarious events were at hand. And, to be sure, I did everything that one was not supposed to do, such as walking alone down narrow back streets at night (especially during the great wrench-hunt.) I would not encourage anyone to take any unnecessary risks, but I was happy to feel that I did not have too much to worry about in Tana. Of course, that fact that I am quite a bit taller than the typical Malagasy person might also have had something to do with that.
In any case, I was overjoyed to finally have this long delay behind me and to be able to ride again in the morning. One week to regain my strength would have been acceptable, but two was simply too much to give up out of an eight week tour. I realized as I turned in for the night that the 15 days that I needed to make this repair was the longest period of time that I had not ridden a bike, even for a brief period, in at least ten years. And that occurred right in the middle of a long tour on the other side of the world!
Next: Moving Again, At Last...
~Go There~