Stage 2: Adelaide to Singapore
An unplanned diversion, but full speed ahead
I originally booked a cabin on the M.V. Theodor Storm, for a cruise from Fremantle, Western Australia, the port that serves Perth, to Singapore, just a few weeks before I left home in May 02005. I was lucky, and very happy to make that reservation as there are currently relatively few ships sailing that route. So having a new ship become available just as I was about to leave, and especially one that was scheduled to call Fremantle on a date that fit in with my schedule quite well, was a big plus. With everything booked and paid for, I put the sailing largely out of my mind, except for the need to get to Fremantle by the end of October. Of course, nothing is ever so simple.
When I rolled into Carnarvon, on the Western Australia coast, with 4 or 5 long days of riding left to reach Fremantle, I was tired and slightly behind schedule, but there was just enough time to make it. At that point I thought it would be a good idea to check on the ship's progress, as container ships are prone to delays. After finding the number for the Fremantle port operator, I called, and was surprised to learn that the Theodor Storm was no longer planning on stopping in Fremantle (and no one had bothered to tell me. Oops!) Container ships are also prone to port changes, but such events are only supposed to happen to other people's trips! I was told that I could join the ship in Adelaide, 3 days earlier than my original boarding date, if I desired. Getting to Adelaide, on the coast of South Australia, would require a last-minute air transfer. With my only options being flying to Adelaide, or flying directly to Singapore from Perth after finishing the Stage 1 ride, I originally decided to skip the sea journey and fly from Perth. However, on the following day, while riding south, I changed my mind, as I really needed the quiet, and unavoidable, rest that a sea journey would provide. So, a hectic, costly, and tiring transfer by bus to Perth, and plane to Adelaide ensued, and I was not happy about that at all. But once I was in Adelaide, it was a fairly simple matter to get to the port and sign on to the ship.
It was a fairly short time before the Theodor Storm's cargo holds were full (the reason that it would not go to Fremantle,) and we set sail. The ship was the newest of all of the ships on my plan, being delivered in only 02004. Newer ships are moving away from aesthetics and amenities when it comes to the crew facilities and quarters, and that was the case on this ship, with my cabin being quite adequate, but slightly less attractive than the one I had on the Direct Kestrel. On the other hand, the ship was considerably faster than many older ships, and we zoomed by Fremantle in just a couple of days. At least I think it was only a couple of days, I'm not quite sure since I was asleep for most of the first few days. Asleep, that is, until we hit some rough seas in the Southern Ocean, that tossed us about a little. I had planned to overhaul the bike while at sea, but with most of my bags and gear sliding back and forth across the floor, that didn't seem to be such a wise plan.
I also wanted to get most of my slideshow for Stage 1 completed while at sea, but we were too fast for even that. With another port change along the way (we were supposed to stop at Kuala Lumpor before Singapore, but skipped that call as well) it turned out to only take six days to sail from Australia to Asia. The voyage was the first thing that took a shorter time than anticipated on the Tour so far, which was kind of nice, but, ironically, I actually could have used a little more rest. Nevertheless, after a few days I got my wind back and spent a little more time chatting with the officers up on the bridge or walking around under the containers. Those activities were made all the more pleasant thanks to the calm seas we encountered after we rounded Cape Leeuwin and turned north
There was a bit more to see along the way compared to crossing the Pacific, as we passed through the Sunda Straight between Sumatra and Java, past the remnants of the Krakatoa volcano, along the northwestern coast of Java, and then, a couple days later, into the Singapore Straight, which contained more ship traffic than anywhere I've ever seen. Along the way the climate quickly changed from the chill of the southern ocean, to the thick, warm humidity of the tropics, conditions that I would need to deal with for several more weeks. All in all, however, this was a pleasant voyage, if a little quick and hectic.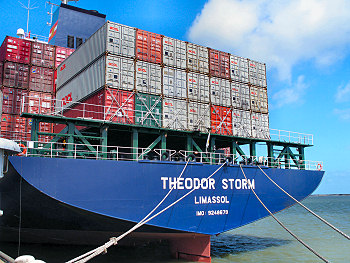 The Theodor Storm in Adelaide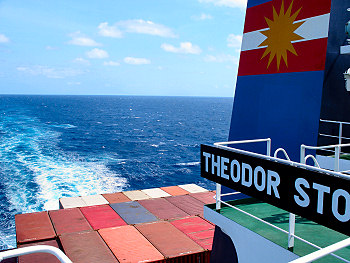 The Theodor Storm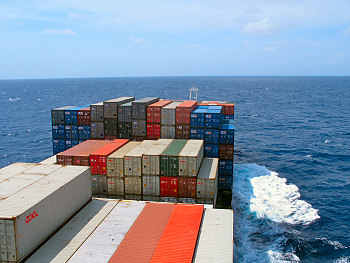 Under way in the Indian Ocean
---
Post-Tour Index | Articles Index