Stage 3: India to Africa
(The Long Way)
Annoying politics make for an unpleasantly complicated transfer, but a welcome rest
I knew before staring the tour that there were few good options for traveling by sea from India or Sri Lanka to East Africa. Actually, at the time, there was a weekly container service from Colombo to Mombassa, which was exactly what I was hoping for, but that line did not carry passengers. Then there were rumors about a new ferry service from southern India to Dubai. This was supposed to provide an economical way for migrant laborers to travel from India to the rich lands of the Emirates. While not getting me all the way to Africa, Dubai was fairly close and it seemed like a good possibility. I checked the Web frequently and always learned that the service was supposed to start "any day now." Of course, the actual launch date kept getting pushed into the future, and as it turned out the line never did begin sailing. I waited for that possibility as long as I reasonably could, but eventually gave up on it. The last option available was a ship that sailed from India to the Mid-East, Europe, and onward to North America. It, however, left from Mumbai, in northeastern India, so taking that ship would cause a big reorganization of my route through India, though the date of sailing was reasonably close to where I needed it to be. Even after learning that it would not be possible to leave the ship at any of the Mid-East ports, which would have been much more convenient, I booked the ship, as I was extremely reluctant to fly the entire way to Africa.
One big reason for that was that after all of the ups and downs of Asia, I was completely worn out, both mentally and physically, and I definitely needed the enforced rest break provided by a few weeks at sea. The situation was made even worse by a nearly calamitous encounter with Indian Customs, when I tried to pick up my shipment of supplies upon my arrival in Mumbai. After resolving that at the last minute, with the time-honored method of donating cash, I was even more exhausted, and after boarding the London Senator, I literally slept for three days solid, only waking long enough for the three meals served in the mess. Indeed I barely noticed as the ship set sail, and headed to the northwest into the Arabian Sea. The ship was one of the nicer ones that I have used, with a comfortably furnished cabin, a friendly crew, and pretty good food.
There were three ports of call scheduled in the Mid-East/Africa region, Jebel Ali, in the United Arab Emirates, Jeddah, Saudi Arabia, and Alexandria, Egypt. While I really did not desire to disembark in the UAE or Saudi Arabia, I was still hoping to convince the Egyptians to let me get off in Alexandria. However, for whatever reasons, it is strictly forbidden to leave a ship at any of those ports. That meant that I was going to have to stay on board all the way to Gioia Tauro at the southern tip of Italy, and then find my way back to Africa from there. Years ago there would have been a ferry service from the northern Mediterranean area to Alexandria, however, those days are long gone. The result was that I had to fly all the way from Italy back to my starting point in East Africa, a distance that was comparable to what would have been had I flown directly from Mumbai to Africa. However, the rest break provided by the sea voyage was well worth the extra cost and time of the additional flights. As my earlier sailings did not involve any intermediate ports of call, I was at least looking forward to some shore leave during that trip. Of course, nothing is every straightforward, and, for various reasons, the only time I was able to go ashore was at Jebel Ali, and then only to a small store located on the premises of the port.
At least the route was a little more interesting on that trip. We made two passages through the infamous Straights of Hormuz, which were uneventful, a pleasant cruise up the entire length of the Red Sea, and, best of all, a fascinating transit of the Suez Canal. After that passage, was the port of Alexandria. I still seriously was considering bribing the Egyptian Immigration office, to let me get off, but with a few days of chores and repairs still left, I gave up on that idea. It was completely frustrating, however, to look out at the city of Alexandria, just beyond the quay, which would have made a nice arrival point for Africa, and be forced to remain on the ship. After our departure, from Egypt, it was only a few fast days before the ship arrived in Italy, though calling the port at 5:00 A.M., a traditional arrival time for the tour, I missed the pretty passage through the Straights of Messina.
While the sea connections back to Egypt were nonexistent, the air connections were not much better. The best option turned out to be a multi-city flight from Reggio di Calabria, to Rome, to Athens, to Cairo. I chose not to visit Rome, but decided to break the journey in Athens and Cairo, in order to see some of the impressive sights of those two historic cities. Cairo was probably my favorite, and I completely enjoyed visiting the Pyramids and the wonderful Egyptian Museum. Getting from there to the new starting point of the Stage required another flight, as I really had neither the time, nor desire to tour through Sudan, though I would certainly have enjoyed riding south through Egypt. Eventually after 19 days at sea, and 5 unwanted air flights, I reached my destination, ready to start the ride for Stage 3. At the time I thought my next ship, which had been booked for months, would be much simpler that the one I just left, though getting to it on time now appeared to be a big problem, thanks to my delayed arrival in Africa. Had I know that the next sea crossing would turn out to be even more complicated and delaying that the one I just finished, I might have made different plans right then and there.
---
A post with, mostly, the same information is:
~HERE~
---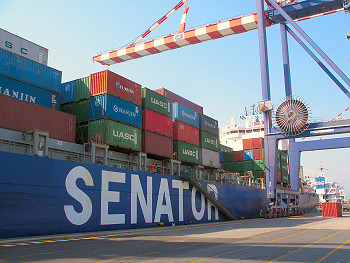 The London Senator at port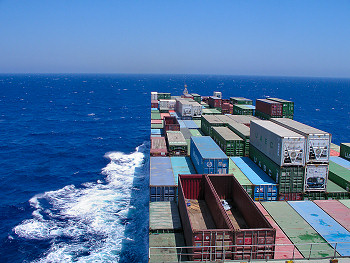 The London Senator sails up the Red Sea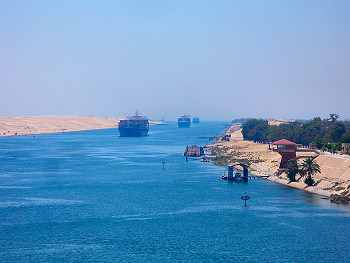 A convoy of ships follows us through the Suez Canal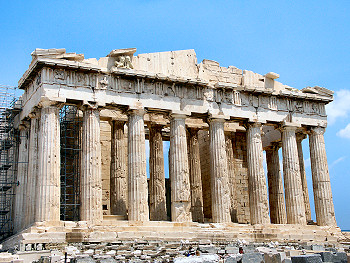 A quick stopover in Athens and the Parthenon
Finally on African soil, in Cairo, of course
---
Post-Tour Index | Articles Index